So, now that you've heard about my passion for making themed meals for your kids, are you unsure about how to get started?  I'm going to give you a peek into my kitchen (don't you love snooping through other people's stuff?) to show you some of the tools I always have on hand for a fun lunch.  Also, just so you're not frightened by the apparent cost of acquiring these supplies – I am very cheap frugal.  If I have it here, it's probably not very expensive.  I also live in the middle of nowhere (Don't believe me?  Wal-Mart is literally a half hour drive for us.), so I don't have many options in terms of stores at which to shop.  If I can find these things, chances are you can too.  In each section below I'll give some tips about how to save money when buying these supplies.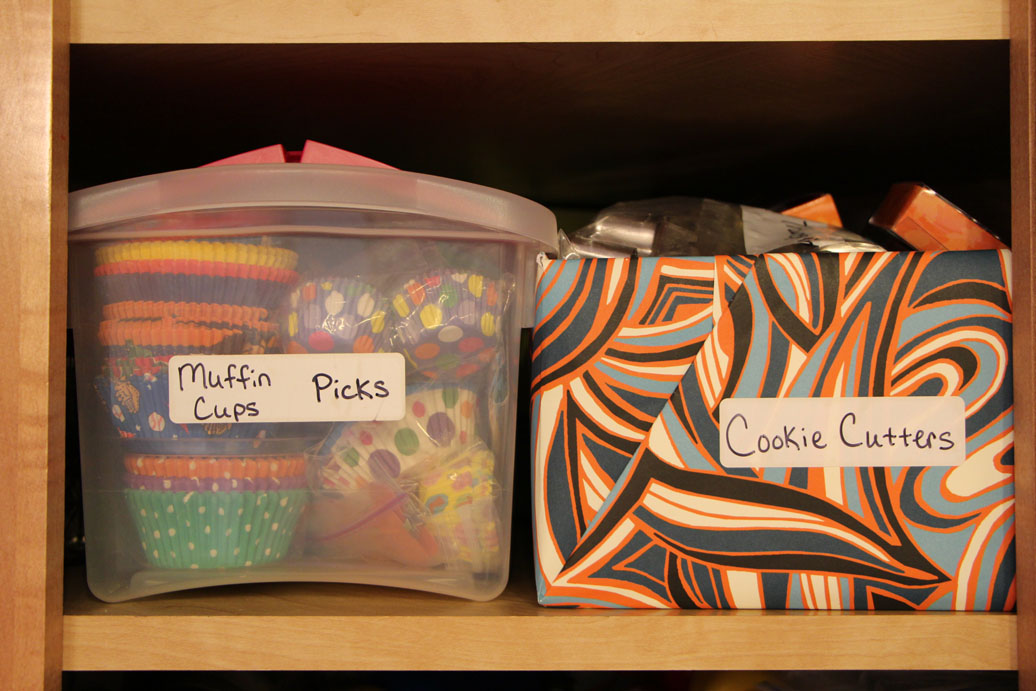 First, this is my main storage for my supplies – I'll show you inside these boxes in a moment.  It's nothing fancy, but I didn't want to spend any money and I had these boxes on hand.  My husband has big feet, so I took one of his gigantic shoeboxes and covered it in a fun wrapping paper; this could easily be done to match your kitchen's decor.  These are stored in one of our upper cabinets that I was able to clean out to make room for these boxes.  I wish I had more room, or a better way to organize, but for now this works.
Inside the "Muffin Cup" box is…  ding, ding, ding, you guessed it!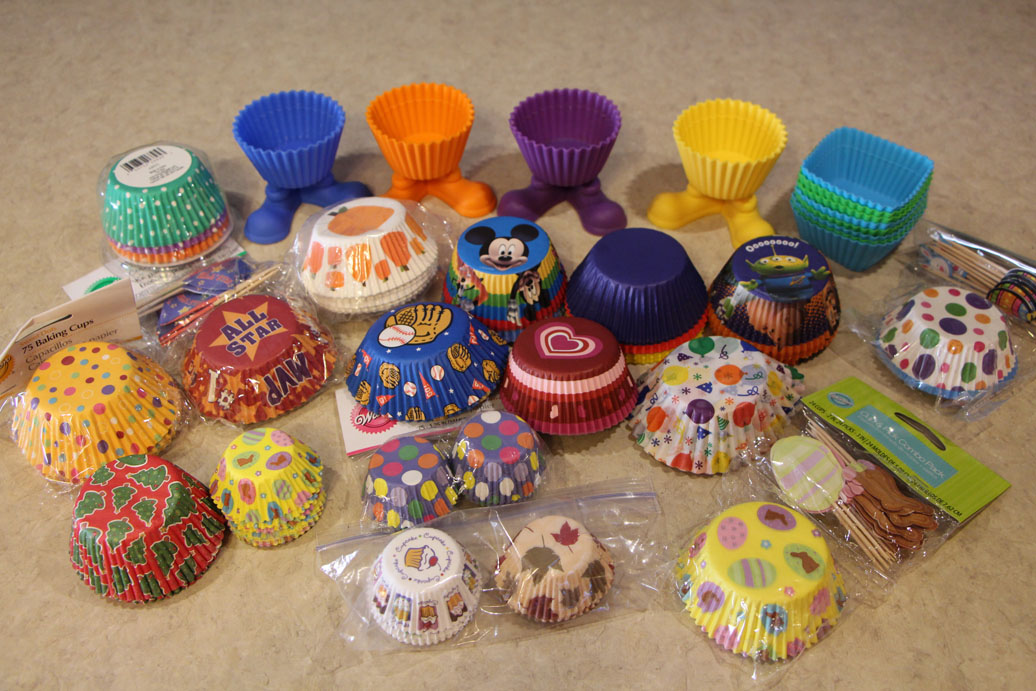 This is my current collection of muffin cups.  It looks like a lot, but this is what's built up over three years.  As you can see, I have pretty much every major holiday represented, which leads me to my first money-saving tip.  Shop at the dollar store!  Dollar Tree has packs of muffin cups, packaged with matching food picks, every holiday for only $1!  I also keep some basic liners, like the solid-colored or polka dot ones, for days when I don't want to be "theme specific" or for when we actually want to make muffins in our muffin cups.  A pack will last you a long time, because you're only using a few each time you serve a themed meal.  Some of my favorites, though they are more expensive, are the silicone kind.  I love the cups with the little clown feet – they make any food you put in them more fun!  Our newest additions are the square silicone cups.  These make great dividers in my son's lunchbox.  Both sets of silicone cups were purchased on Amazon.
Next up are food picks.  These are a great, easy way to add color and carry your theme throughout the meal.  These are basically fancy toothpicks used to pick up foods like grapes or other cut fruit.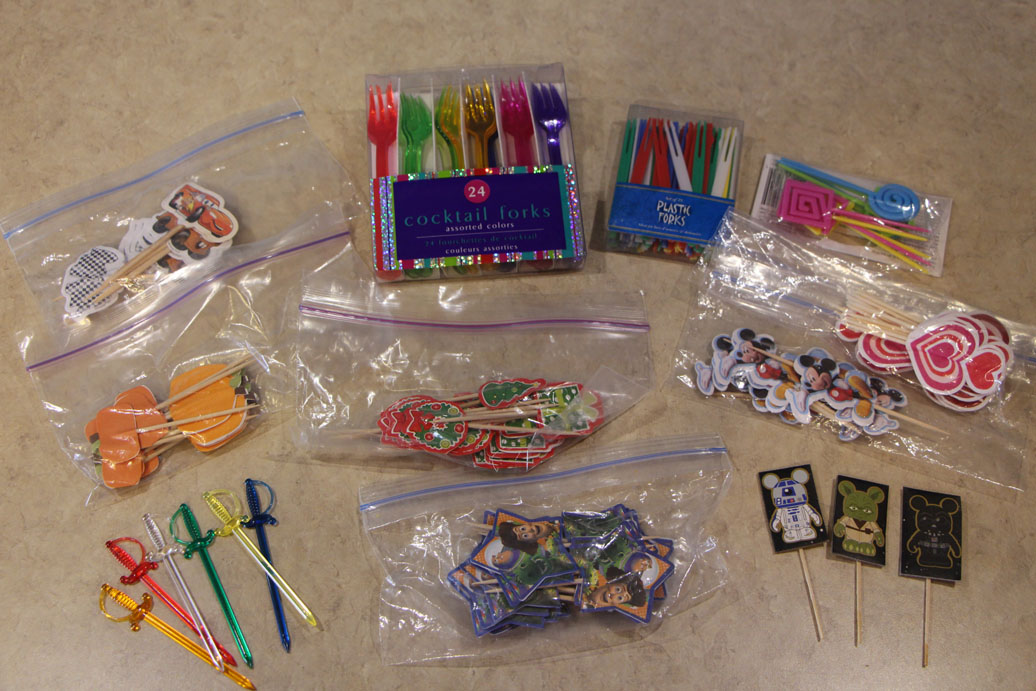 I have a few different kinds.  First up are the paper pictures on wooden toothpicks.  These come with the muffin cups like I discussed above.  Money-saving tip: I have made my own in the past when I wanted some to match a particular theme.  Just print off little pictures from the Internet (or use your kids' stickers!) and tape to the top of a toothpick.  The Star Wars picks in the bottom right were made from the boxes of some Disney toys we purchased.  The more substantial picks are actually from a party store and are intended for serving appetizers.  I have mini forks, two different kinds of plastic toothpicks, and plastic swords.  Obviously, the swords are the favorites – what boy wouldn't love to eat his grapes from a sword?  They also go great in a pirate-themed lunch.
I often use cookie cutters and sandwich cutters to easily incorporate a theme into a lunch.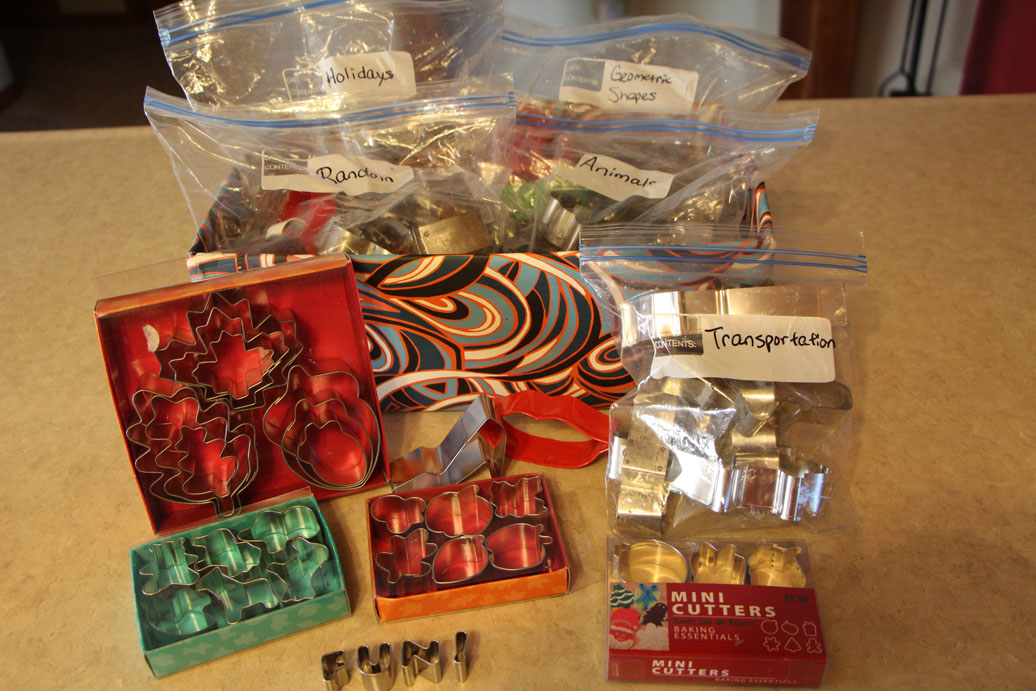 These are my cookie cutters.  I have them divided into zip top bags labeled Holiday, Geometric Shapes, Random, Animals and Transportation.  I have a few boxed sets that I keep separately and I just got a great set of mini alphabet/number cutters made by Wilton (they're the little letters at the bottom of the photo).  Now, buying all these cookie cutters could get pricey, but I have only purchased a few of these.  I was visiting my mom's best friend and telling her about the meals I make for my kids.  She was cleaning out her kitchen at the time and coincidentally, was getting rid of all her cookie cutters.  She even gave me some antique six-sided cutters – really cool!  My husband's mother and aunt picked up the box sets for me as gifts.  The cookie cutters that I did purchase were all on sale; several were found at a kitchen store that was going out of business.  So, my money-saving tip for these: ask around.  You may have some relatives that have lots of cookie cutters they're not using anymore.  Otherwise, look for sales.  If your knife skills are better than mine, you could even print out simple shapes from the Internet, lay them on top of your food and cut around them.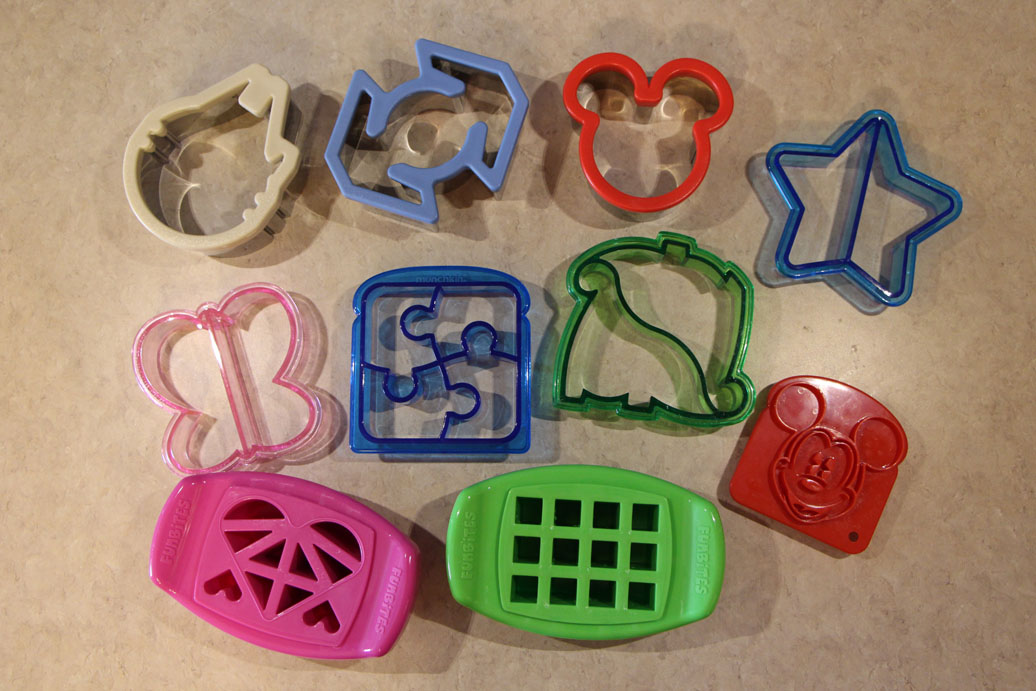 Sandwich cutters are basically thicker cookie cutters, normally about the size of a piece of bread.  The Star Wars and Mickey Mouse cutters are heavy-duty metal (purchased from Williams Sonoma and Walt Disney World).  The star, butterfly, puzzle and dinosaur are cheap plastic and are readily available at Wal-Mart.  The red Mickey face is a toast-imprinter that we purchased at Walt Disney World.  You press it into a piece of bread, and then the face will show up after it's toasted.  My newest acquisitions are the pink heart cutter and the green square cutter at the bottom (they're so new I haven't even use the pink one yet).  These are from funbites.com and are used to quickly cut foods into small shapes.  So far, I've used the green one to cut my 1-year-old's toast, but I am planning to make tiny sandwiches, quickly cut pancakes and cut shapes from fruit.  Who knows what else I'll dream up?
Next time I'll showcase a few more random items that don't make appearances as often, but are still really fun.  Remember, it doesn't take much to make your meals memorable!