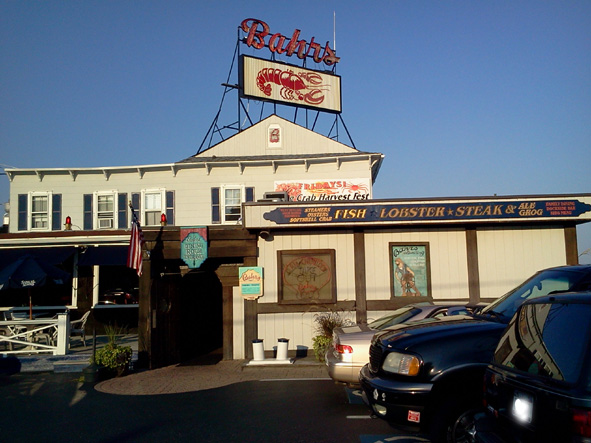 Bahrs Landing
2 Bay Avenue Highlands, NJ 07732 (732) 872-1245
Across from Sandy Hook National Park, (yes there is a National Park in New Jersey and its beautiful!) is the strange town of Atlantic Highlands.  I can't explain why it's strange it just is! 
Ask anyone who's been there.  One great reason to visit this strange place is Bahrs Landing a seafood restaurant that's been around forever.   My birthday is on January 2nd and trust me no one, not even my own mother, feels like celebrating. Sometimes even I don't want to, but my husband won't hear of it. So we go to Bahr's because its quiet and we can have the place to ourselves.  I've been there when storms are coming in and it's just  intoxicating. Makes me forget I'm a year older! A little about the décor.  This is not a fancy place.  It has a nautical theme with old wood floors, tables and chairs and paper for table cloths. The floor in the main dining room is slightly uneven, so be careful with the martini's. (Maybe that's the intoxicating feeling, but whatever.)  There is a bar when you first come in, but I don't think I've ever sat at it.  They also have a small gift shop and sell tee shirts, mugs, etc and their own clam chowder.  You can sit along the windows that overlook the marina on the Shrewsberry River that runs through Rumson. If Rumson sounds familiar it's because "The Boss" lives there.  A few years ago there were dolphins in the river (Yes dolphins in New Jersey waters)! Told you it was strange. They have an outside stand called Moby's that's open in the summer.  The fried clams and lobster rolls are great. (You can also eat outside at the main restaurant.) There's an outdoor bar that's open in the summer. This place is mobbed on weekends in the summer.  Go at your own risk. After you are seated your waitperson will bring drop biscuits with whipped butter and coleslaw. Our favorite thing to order is the large raw platter, 10 raw oysters, 10 raw clams,  your pick on the size, briny and fresh, with 10 huge, cold, crispy shrimp cocktail.  All served on a tray of crushed ice and sea salt.  Heaven!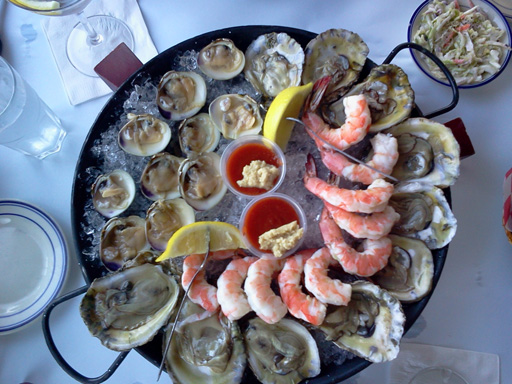 They have a smaller version if you want your own or are not gavones like we are! The tuna tower is excellent, as is the coconut shrimp, and they are known for their steamer clams, (piss clams in NJ) but the platter is my favorite.  It's hard to eat more after this, but we always manage to devour more biscuits and a shared broiled seafood platter that has a mound of the best big belly fried clams.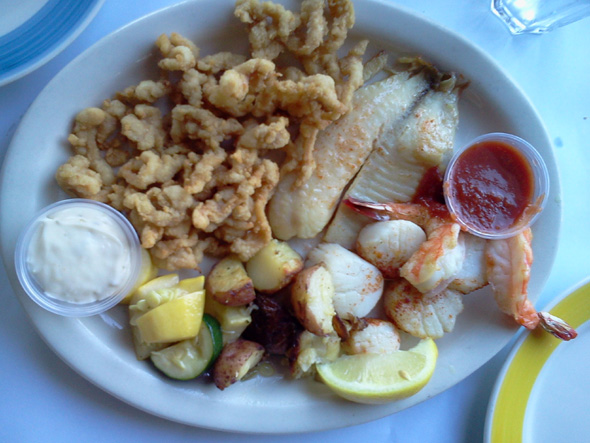 I'm not really a dessert person, so I can't comment on them. With the ever popular martini, and a bottle of wine the meal usually runs us $100 – $120.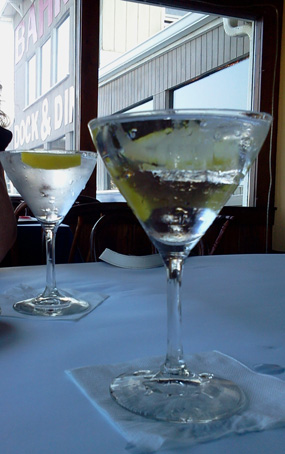 Not bad for the super fresh seafood you'll get.