Brick Alley Pub & Restaurant
140 Thames Street
Newport, RI 02840
(401) 849-6334
I woke up this morning and decided to take a day trip to Newport, RI with my husband Kevin. The day was beautiful and full of sun so we packed up our SUV and off we went. While driving over the Newport Bridge we decided to visit the famous Thames Street and Brick Market Place in Downtown Newport, RI.
First we started on Thames Street browsing in all of the unique shops along the way. We personally love little jaunts like this. We enjoy talking with the locals and are always amazed what the locals can teach you about the history, local foods, and the fun their city has to offer. We noticed there was even a Segway tour through this area of Newport.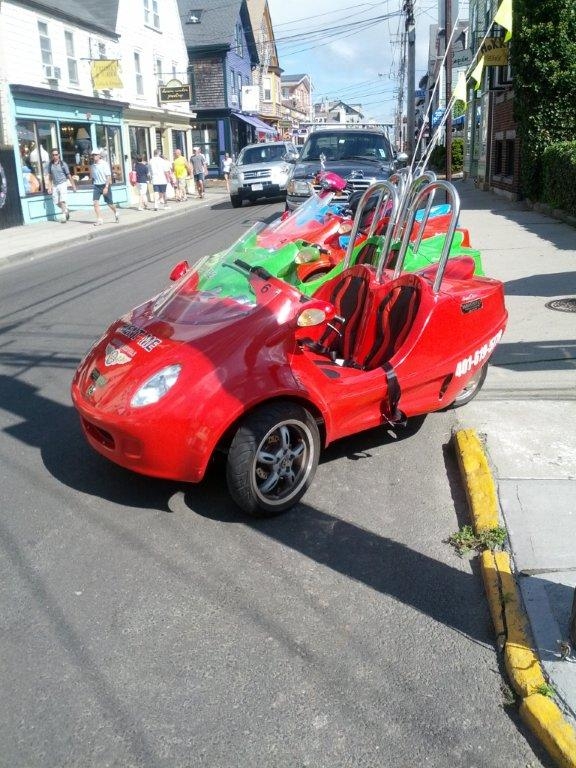 We decided to take a side trip off of Thames Street onto Wellington Avenue and walked through King Park, a public harbor walking area along the Newport Harbor. We took photos of the Newport Bridge and a beautiful garden along the way.
Next we visited the famous Brick Market Place and once again browsed through all of the unique shops talking with the locals. We noticed that Bowen's and Bannister Wharves was across the street so that meant more walking, more shops. The Bowen's and Bannister Wharves is located right on the Newport Harbor on America's Cup Avenue. We came upon someone carving an ice sculpture of a fish outside one of the local restaurants on the Wharf and Destination Chocolate! Oh…..the smell of chocolate is all I am going to say!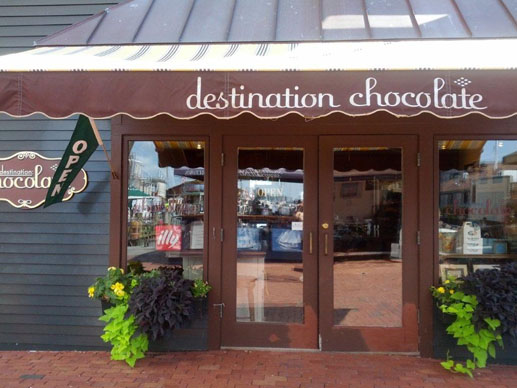 After all of this walking we jumped back in our SUV and took a ride around Newport while deciding on which area we may like to have a late lunch. We came upon this farm along the way where the horses where right up near the side of the road and you could pull over to take photos and say hello and that we did!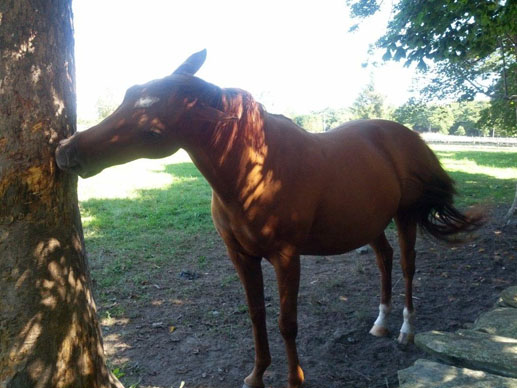 Needless to say we ended up back on Thames Street and decided to "wing it" for lunch. We came upon the Brick Alley Pub & Restaurant which looked very interesting from the outside with its bright yellow awnings and clean appearance.
We were sat at our table almost immediately which was located slightly near the bar. I had to check out the décor here before I could even think of looking over their menu. I remember thinking to myself that this place is just WAY COOL! Very eclectic inside……not what you would expect from the outside as you'll see from my photos.
After all of my excitement we started looking over the menu and were greeted by Sandra our waitress. She took our drink orders and greeted us with a nice smile. We decided to check out their lunch specials for the day. They had 4 on this particular afternoon. White Bean Chili in a cup for $4.95 or a bowl for $6.95, ½ Rack of Baby Back Pork Ribs traditional hickory smoke or tangy honey mustard for $12.95, Fresh Watermelon and Blueberry Salad for $9.95, and a Fig and Prosciutto Pizza for $11.95.
Their standard Lunch menu has a wide variety of choices from Starters, Soups, Salads, & Pizza, to Main entrees with Chicken, Steak, Pork, and Seafood. (Insert Menu Link in here)
We decided to place our orders next. I ordered the Lobster Bisque in a cup for $5.95 and the "Fat Tuesday" Salad New Orleans style hot sliced Cajun chicken breast with lettuce, tomatoes, cucumbers and hard-cooked eggs with warm, spicy honey mustard dressing topped with crumbled bacon for $ 12.95. My Lobster Bisque was very creamy and had just the right amount of flavor for my taste buds and my salad was a decent size with a generous amount of chicken and I really enjoyed the spicy honey mustard dressing which was warmed!
Kevin ordered the House made corn tortilla chips minus the cheese and a side of their homemade salsa, which was excellent for $8.95 and he choose the Bacon Cheeseburger and French fries for $11.95. The Bacon Cheeseburger and fries came out just as they were ordered and were enjoyed!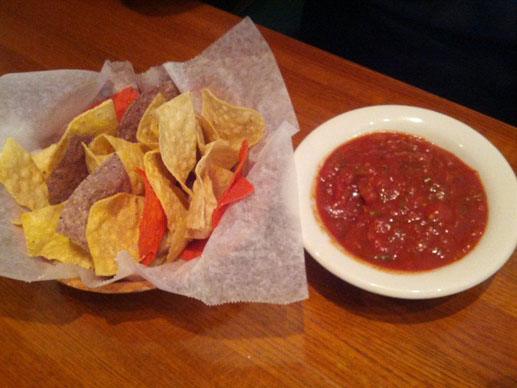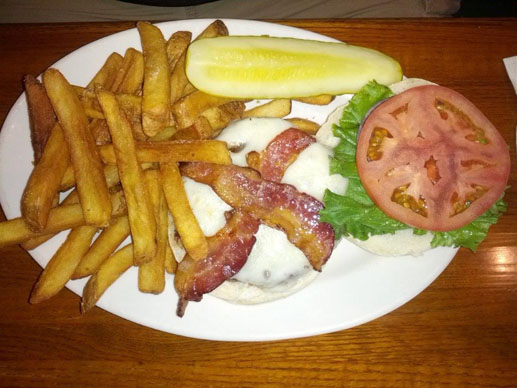 We did not choose this menu option but after seeing if for myself I thought it was worth mentioning. They offer an Unlimited Soup, Salad & Bread Buffet A la carte per person for $ 11.95. As is the case with any buffet, sharing will result in an additional a la carte charge. A Salad Buffet Combo for ONE person is also available. If you are having a burger, sandwich, starter or lunch entrée priced at $7.95 or more you may add the salad buffet for an additional $6.95. This special offer is designed for one person. As is the case with any buffet, splitting or sharing is not permitted.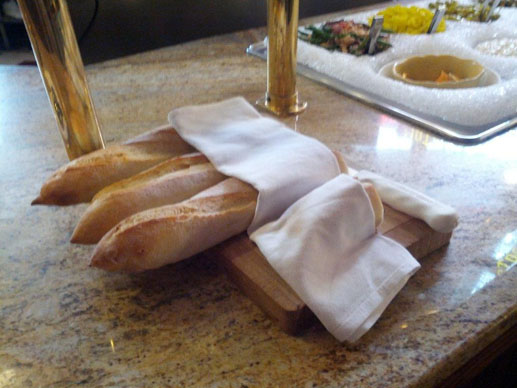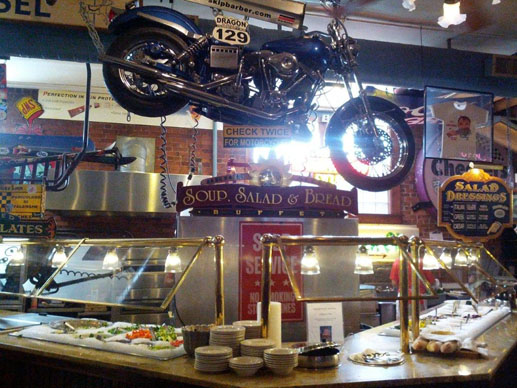 I took a walk over to check out the salad bar and get pictures of course because of my WOW! factor in this restaurant. I noticed the salad bar to be well stocked and very clean.
Overall we had a very nice time in Newport meeting the locals. To our pleasant surprise I do not think we could have stumbled upon a better choice than the Brick Alley Pub & Restaurant for lunch. They do have an additional bar and seating on a second floor of this restaurant. Our waitress Sandra was very pleasant and attentive to our needs. The food was delicious and served in a timely manner.
My favorite was the interior of this restaurant with all of its "eye candy" novelties at every corner and turn! Many of them bringing back memories and showing my age….LOL! I found this restaurant to be very family friendly, good for all ages and a great place for conversation. We found the restrooms to be updated and clean.
The Brick Alley Pub & Restaurant is located at 140 Thames Street across from the Brick Market Place in Downtown Newport, RI. The Brick Alley Pub & Restaurant offers a warm and cozy fireplace in the winter and comfortably air-conditioned dining rooms in the summer. They also offer private parties and gift cards. You may also purchase a t-shirt at the bar to remember your dining experience and they do have a website www.BrickAlley.com