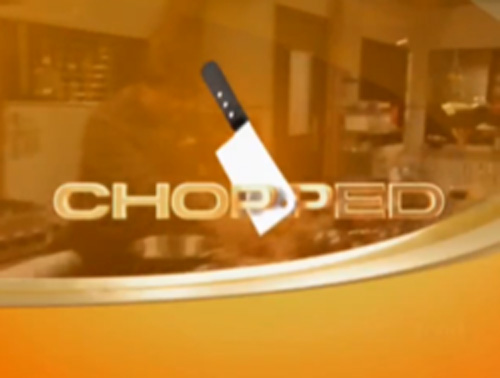 When I'm not eating food, thinking about eating food, cooking food or writing about food I like to watch TV about food.  I feel this makes me a well rounded human being.
One of my favorite food related TV shows currently on television is Chopped on the Food Network.  In a nutshell this is a cooking competition program that pits four chefs against each other.  They must produce an appetizer, then a main course and then a dessert, each within a certain amount of time and featuring ingredients provided by the show's producers.  They are judged by a panel of three judges who eliminate one chef at a time until one is left and wins a cash prize.
The twist to this show is that they have to use all of the items in their 'mystery basket'.  Now here's where it gets fun, the mystery items range from the super easy (potatoes) to the truly bizarre (Squid genitalia).  Inevitably there is one item that one of the contestants has ever seen or heard of before.  Of course one of the judges will immediately rattle off what that ingredient is, where it's grown, how it's used and how 'tricky' it is to incorporate into a meal in just 20 minutes.
One of the things I love about this show is that even though it's an hour long I can fast-forward through it and get it down to about 20 minutes (thank you TiVo).  I skip through the introduction of the chefs (don't care) and get right to the opening of the baskets.  I love seeing the looks on their faces as they pull out something like red-hot candies in the appetizer round.
I also love watching them frantically cooking while trying to make us think they actually know what they're doing ("I like my shrimp raw so I chose not to cook them").
Then they are judged.  What can be better than watching others being judged?
I fast forward again through the contestants discussions of why they had such difficulty with the time limits (duh…you knew what you signed up for) and then fast-forward again to the revealing of the worst dish and the person who has to leave.
This is where I truly love my TiVo.  I love watching this part in slow motion.  I try to pinpoint the exact moment their dreams are shattered!!!
All things considered it's probably the most impossible set-up in which anyone can cook but it seems like there is an endless supply of contestants who try.
My dream…..Chopped with famous chefs!!! Wouldn't you love to see Ina Garten, Gordon Ramsay, Paula Dean and Rachel Ray all have 20 minutes to create an appetizer out of ahi tuna, pickle relish and root beer?!?!