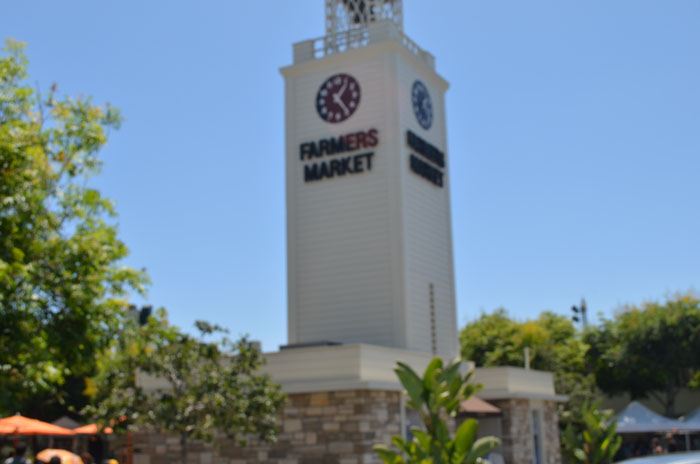 6333 West 3rd Street
Los Angeles, CA 90036
(866) 993-9211
Los Angeles has some of the most incredible food opportunities anywhere in the world.  From small bistros and cafes to themed eateries to restaurants owned and operated by major celebrity chefs (and some TV/film/music celebrities), LA is one of those places that has something for everyone.
However those places aren't where I return to time-and-time again.  My favorite place to eat in Los Angeles is the LA Farmers Market.
Located on the corner of 3rd and Fairfax the LA Farmers Market, or The Original Farmers Market as it's sometimes referred, has been in existence for over 75 years.  It started out as a way for a group of local farmers to sell their goods.  They displayed their freshly harvested produce on the back of trucks and car tailgates.  The market grew as more farmers and merchants arrived.  Homemade structures sprang up and as part of an expansion and reconstruction project ion 1941 the iconic Clock Tower was erected and remains a symbol for the market to this day.
Today the Farmers Market remains home to local farmers as well as restaurants, shops and services such as a barbershop, shoe repair and others.  It's also attached to The Grove shopping district that offers a pedestrian mall with high-end shops and eateries.  The Grove has also become a popular spot for celebrity sightings.
The food choices at the LA Farmers Market are incredible and range from pizza to donuts to crepes and even gourmet French cuisine. My favorite place to eat is Magee's Kitchen.
Now I have to tell you I'm a pretty lucky guy….I've had corned beef in a lot of different places including legendary eateries New York, Las Vegas and LA.  In my opinion THE BEST corned beef sandwiches anywhere come from Magee's Kitchen in the LA Farmers Market!!!
Other foodies I've traveled with have tried their other sandwiches and salads and say they are incredible in their own right but I just can't bring myself to order anything other than the corned beef.  I have been known to have a sandwich for lunch, walk around the markets and the Grove and come back for another at night.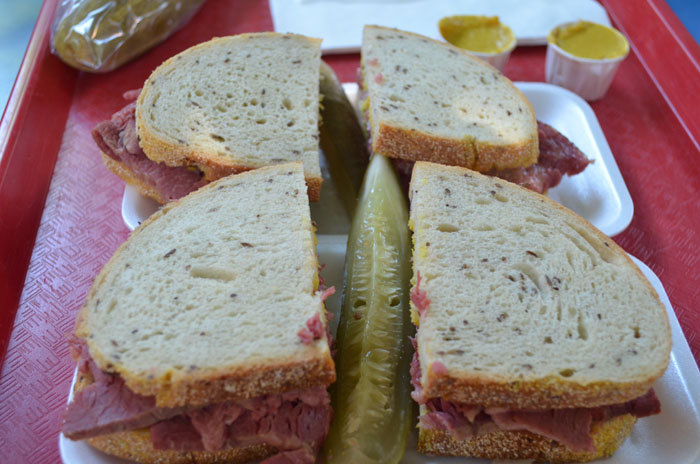 The corned beef is fresh, moist and incredibly tender.  Make sure you ask for the horseradish and mustard mixed together on your sandwich….and little on the side as well.  All it needs is one of their classic dill pickles and I'm all set.
Another of my favorites is Bob's Doughnuts.  Made fresh throughout the day these large donuts are some of the best anywhere.  Pair one with a specialty coffee (my choice is a Mocha) from the nearby Coffee Corner and you will forget Dunkin Donuts even exists.

Now let's talk beef jerky!!!  I will admit I am a bit obsessed with jerky.  I have tried all of the manufacturers brands and I buy it any time I see it in a specialty store or butcher.  I even make it at home from my own special recipe.  If you love beef jerky as much as I do please make sure you stop by Marcondo's Meats.  Their jerky is homemade and delicious!!  It can be a bit pricey but you can purchase it by the piece so you can try it before you buy more.  I have been known to purchase their beef jerky by the pound.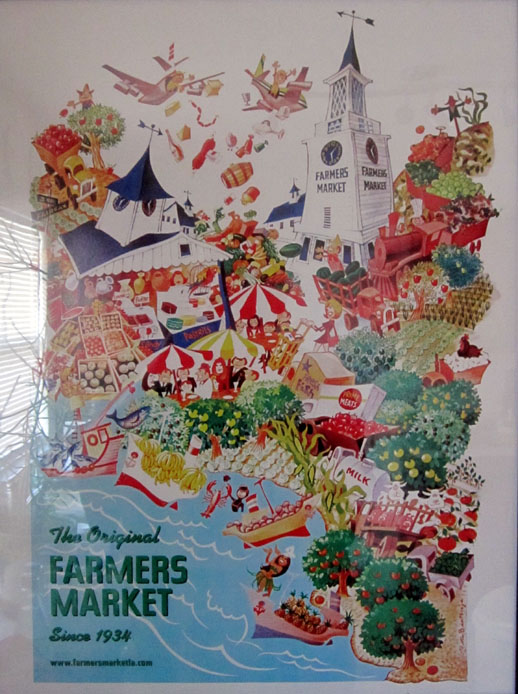 SUPER COOL TIP:  Something I stumbled across a few years back that is still offered at the Farmer's Market is a very cool poster.  It makes a great souvenir and the best part is that it's FREE!!  Just go upstairs to the offices and you will see a bin of them labeled 'Take One'.  If you don't see them out ask the folks working there.  We have one framed in our kitchen as a reminder of the place we love so much that is located more than three thousand miles away.
For more information on the LA Farmers Market, including a map to all of the restaurants and shops I mentioned above, please visit http://www.farmersmarketla.com/