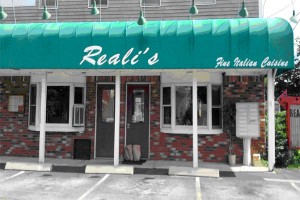 Reali's Fine Italian Cuisine
79 Putnam Pike
Johnston, RI 02919
(401) 231-3004
After enjoying a night out at Reali's recently I felt a desire to share my dining experience. My husband and I arrived at approximately 8:00PM on last Friday evening. It was during the opening ceremonies for the London Olympics and the restaurant was less crowded than usual on this particular evening. We were greeted by our hostess upon entering the restaurant and sat at our favorite table in the corner of this small Italian eatery. It's the one with the "BIG" cushy chair!
After just a few moments at our table we were greeted by our server, Sara and given our menus along with the specials for the evening. I am always impressed on how well a "good seasoned" server can rattle off the evenings appetizer and entree specials along with their ingredients. Especially when I need to keep my menu open just to remember what I am ordering!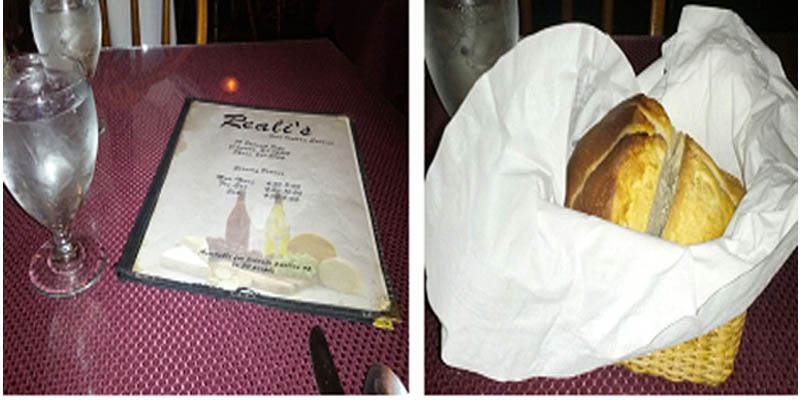 Our hostess then served us with a basket of warm, just out of the oven Italian bread and olive oil for dipping. As we savored our fresh warm Italian bread we started the difficult decision of which appetizer to order. It is always difficult to choose which appetizer to try as they all sound so good.
To mention just a few you can order Fried Mozzarella, Bruschetta Bread made with cannellini beans, tomatoes, scallions, fresh basil sautéed in olive oil, garlic, mozzarella and romano over Italian toast, Sautéed Portabellas in a butter, wine and garlic sauce, Stuffed Cherry Peppers stuffed with Italian Ham and Sharp Provolone cheese. We decided on the Fried Calamari, tender rings of calamari battered and lightly fried and tossed with hot pepper rings for $9.99. I found most appetizers to range in cost from $7.99-$11.99.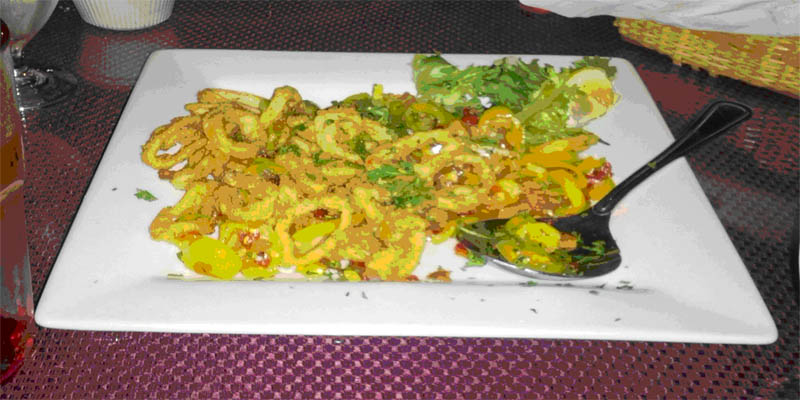 Our order of fried calamari was delivered to our table by our server Sara. These were the most tender, melt in your mouth, fried calamari rings I have ever experienced! As you can see from the picture there is plenty in one order to share with others.
I did notice 3 salad offerings to choose from on the menu. Insalatta with a blend of mixed greens, tomato, cucumbers, pepperoncini peppers, onions and olives for $3.99. Antipasto and a Caesar Salad ranging in price from $5.99-$12.99. We decided to skip the salad and go right into deciding on our main course choices for the evening.
When it comes to entrees there is something to satisfy just about any taste bud. I found the menu to offer a wide variety of Veal, Chicken, Seafood, Steak, and Pasta entrees. To mention just a few you can choose from Veal Francaise, lightly battered veal medallions sautéed in a lemon butter wine sauce for $18.99. Shrimp and Chicken Lorenzo sautéed with prosciutto and tomato in a butter wine garlic sauce blanked with mozzarella cheese over penne pasta for $22.99. Chicken Italia, boneless breasted chicken, sautéed with spinach, artichoke hearts, and red roasted peppers in a marsala wine topped with belgioso sharp provolone for $18.99. Lobster Ravioli, jumbo lobster raviolis in a pink Alfredo sauce for $19.99. Steak All Mama 16oz., pan cooked with mushrooms and scallions in butter wine and garlic for $22.99.I found most entrees to be priced with in a range of $14.99-$23.99. I did notice there is not a children's menu offering if you are dining with little ones.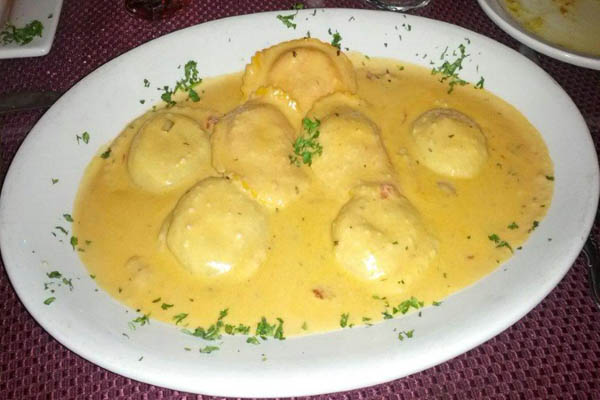 I decided to order the Lobster Ravioli with the pink Alfredo sauce. To this day I have not found another Italian restaurant that compares to the Lobster Ravioli at Reali's. The pink Alfredo sauce is prepared to be so smooth and creamy and the raviolis are packed with lobster. All I can say is YUM!!!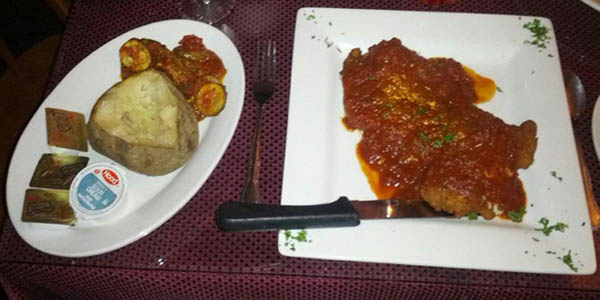 My husband ordered the Veal Parmesan with baked potato and zucchini and yellow squash in a house sauce which he also enjoyed.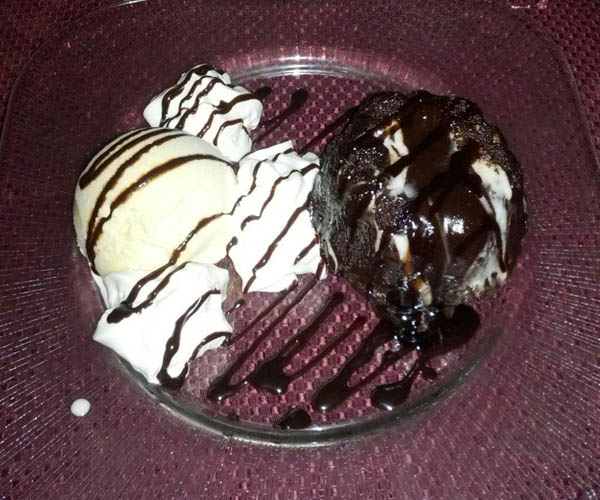 I went solo on desert and there is a reason I passed on having a salad. That reason would be the chocolate molten lava cake with vanilla ice cream!
I LOVE this small Italian eatery for their consistency in having good food! I have never had a poor experience or meal here. They offer a wide variety of Italian dishes to choose from on their menu. Reali's has a small, cozy and clean atmosphere, personable and courteous staff. Sara made our evening out an enjoyable one with her smile and attention to detail while tending to our needs.
Reali's Fine Italian Cuisine restaurant is located at 79 Putnam Pike, Johnston, RI 02919. Dinner is served Monday-Thursday 4:30-9:00PM, Friday-Saturday 4:30-10:00PM and Sunday 4:00-8:00PM. During the summer months they do close on Sunday and Monday evenings.