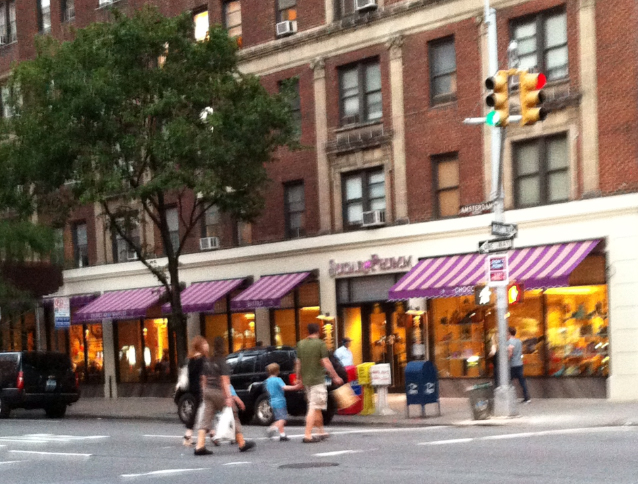 377 Amsterdam Ave
New York, NY 10024
(201) 785-2253
 One of the nicest things about living in New York is that you're never very far from an outrageous dessert. But if you want to go to a real sweet shoppe, your options have been mostly confined to the East Side, whether it be Dylan's or Serendipity uptown, or Economy Candy downtown. Of course, that can also mean a two hour wait for a table, crowded into a tiny hallway jam-packed with tchotchkes.
As of this past week, West Siders have a new option. Sugar and Plumm, a chain based in Paramus, NJ, opened at 377 Amsterdam.
When a new place opens in our neighborhood, I usually "like" them on Facebook.  It's a good way to get a feel for the establishment's tone, look and menu. Sugar and Plumm was no exception. Immediately upon liking them on Facebook, I was bombarded with pictures of brownie towers topped with ice cream, milkshakes with waffles and bacon sticking out the top, and a lot of uniquely shaped chocolate. Though I don't have the sweetest tooth, I was particularly enticed by the promise of fried chicken and waffles, juicy burgers and creative adult beverages. My husband was less enthused, remembering a long afternoon spent on line waiting for sundaes at Dylan's Candy Bar, the buzzing chaos of sticky children surrounding us.
I decided to hedge my bets by settling on a Saturday night dinner.
Sugar and Plumm is a lot calmer than the name of the place would suggest. Spacious and airy, with bright, colorful murals and purple chairs, the north end of the restaurant is sit-down only; there's counter service and a shoppe immediately adjacent.
The night we were there, the staff was clearly still trying to work things out (our server had to check which cognacs their bar stocked), but everyone was attentive and cheerful, a complete rarity in the modern age of "how can we do less and make it look like more, or at least hip?" I ordered the "adult" iced coffee, the chicken and waffles, and the grasshopper shake (think thin mint). My husband ordered a Remy Martin (luckily, the only cognac they carry), the macaroni and cheese and the strawberry shortcake.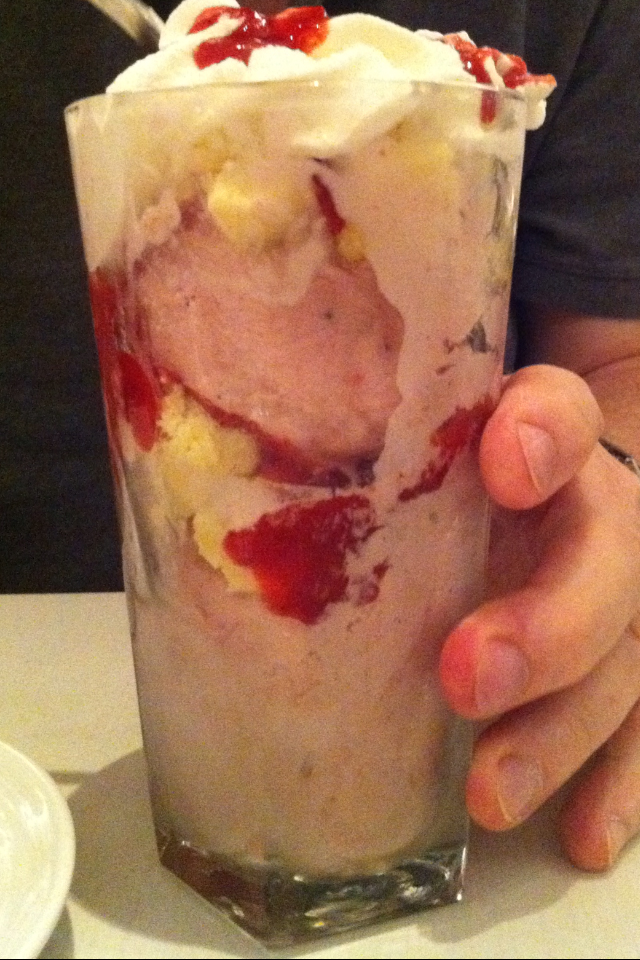 The chicken and waffles was the highlight of the meal; the chicken was extremely well seasoned, and the maple syrup tied the chicken and waffles together without being too, too sweet. It's nice to have a place closer to home than Harlem that serves this dish correctly. My husband's meal was less successful, but it happened to be a hazard of not looking at the menu closely enough to see what ingredients were included. We both really enjoyed our desserts, although by the time you're done eating your meal, it's difficult to have a filling dessert on top. We both thought the desserts would have made a perfect excuse for a trip on their own, without dinner.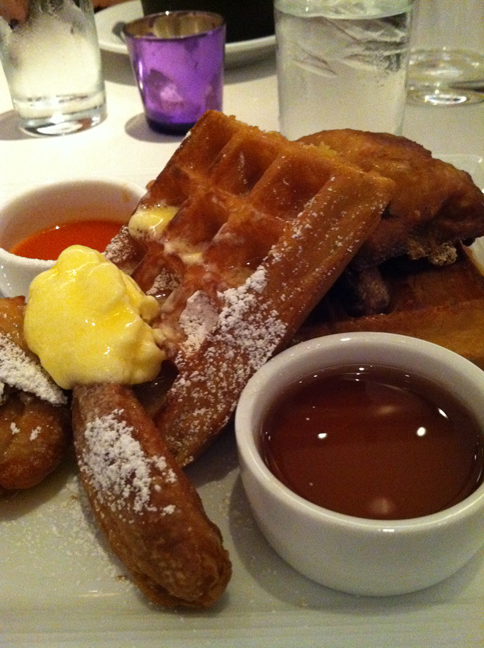 At $98 for two people (including tax and tip), Sugar and Plumm isn't a cheap night, but was certainly reasonable for our neighborhood, and the fact that we both drank. After we finished eating, we explored the "candy store" section for a bit. The merchandise was outrageous, from chocolate purses to candy stilettos, and walls of candy to be bought by the pound.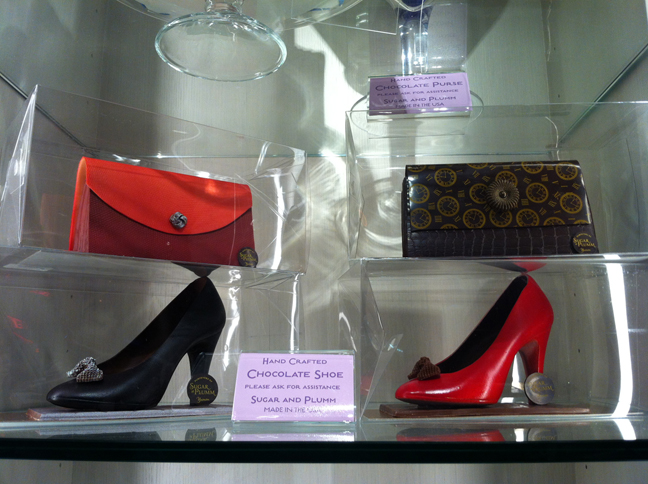 The selection was not nearly as varied as Dylan's, but it doesn't try to be. Sugar and Plumm aims to be an upscale candy store with imagination to be a homestyle restaurant, the friendliness to be attractive to young children, and the class to pull it all off
I do regret not trying the waffle and bacon milkshake, and certainly look forward to going back again to try it out; maybe not with the huge meal beforehand.