Foodie Tales is about food fabulousness and the many ways we experience food.  As a foodie I seek out many kinds of food encounters.  In my work as a veterinarian I also see the times when the food experience goes horribly wrong.  This story is about a dog named Maya and how a bad experience led to a uniquely sweet celebration in which of course food was involved.
Maya was a big fluffy herding dog and was so miserable when I met her during an emergency shift early one morning that she didn't even lift her head from the floor when I came into the room.  Her owner was a fisherman taciturn to the point of silence, fortunately accompanied by his more outgoing girlfriend.
Maya had been vomiting, and had stopped eating.  As I worked my way through the diagnostics, it became clear that she was most likely suffering from severe pancreatitis.  The pancreas is most well known for its role in producing insulin to help us regulate our blood sugar levels.   It also produces digestive enzymes to help us digest our food.  The pancreas can sometimes start releasing those enzymes within itself, causing inflammation, pain, and nausea.  At best it resolves with some supportive care over a few days.  At worst it can be fatal, and Maya was sick enough to be at risk for the worst consequences of the disease.  She was having the worst experience ever trying to digest her food.
I made up a cost estimate and went to explain to her owners that she needed to stay in the hospital on IV fluids and medications until her vomiting was controlled, and that she would benefit from a transfusion of plasma.  Unfortunately, although they loved her more than anything, they couldn't afford the nearly two thousand dollars it would cost to hospitalize her.  None of us was ready to give up on her, but she needed lots of care, and fast.  The fisherman's girlfriend was a nurse and she asked if they could take care of her at home.  I explained to them that we couldn't let Maya have anything orally, even water, in order to let her pancreas rest and recover, and that she needed fluids plus several medications.  I couldn't let her go home without treatment, as she was in the twin agonies of severe pain and nausea, two of the worst feelings in the world.  She was also dehydrated and could easily progress into a state of systemic shock and die if we didn't intercede.  In addition, she couldn't be around even the smell of food or her pancreas would respond and potentially worsen her condition.
They wanted to try, so I taught them to administer subcutaneous fluids and injections, and I prepared injections for pain and nausea as well as big bags of fluids.  We gave Maya her first treatments together.  They then took her home to see if she could make it with what they were able to do for her.
I've never been more worried about a patient or felt more helpless.  She had a potentially very treatable problem, but the home care was going to be less than ideal.  With the severity of her symptoms and lab work I was afraid that I had sent her home to die in distress.  I had allowed her owners to take on a huge medical task when I knew the best thing was for her to get intensive care in the hospital.
I spoke with Maya's owners every day.  They were fantastic, and tended her around the clock.  I saw her on a Saturday so when we got to Monday and she was still hanging in there I started to feel hopeful.  We had a hitch when she developed profuse bloody diarrhea but we were able to manage it with more medication, and then she slowly started to get better.  A few weeks later they brought her in and I got to see the real Maya for the first time, happy and wagging her tail and asking for biscuits.   Her owners were incredibly grateful and I was too.  She could go back to having a terrific relationship with food.
A few weeks after that the fisherman appeared at our front counter.  He carried a white plastic kitchen garbage bag heavy and bulging with something and heaved it over the counter toward the staff.  As he passed the bag over, everyone jumped as a two foot long prehistoric looking spiny leg tore through the bag and jabbed out at them.  After asking that the bag be given to me with his thanks, using more words at once than in almost any of our encounters, the fisherman quickly disappeared.  I was in our treatment area when one of my staff members appeared, holding the bag at arm's length.  She handed it over to me and when I looked inside, it held not just giant Alaskan king crab legs, but also huge hunks of frozen filets of halibut and salmon.  My fisherman had brought me the cream of his catch from a trip to the dangerous icy waters of Alaska.  Food was the currency of his livelihood and the magnificent trove of seafood was the sweetest gift I ever received from a grateful client.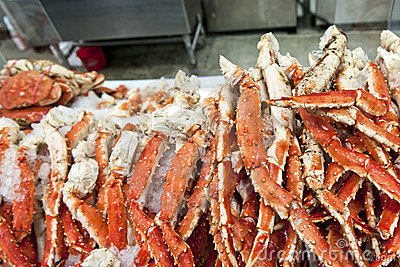 Looking at the bounty in the bag, I knew that a special gift had to have a special use.  My best friend Rhonda's 60th birthday was coming up and we would of course have a special party for her.  Her boyfriend is an awesome grill-master, so I knew he would make perfect use of this choice seafood.  The bag was too big to fit in my home freezer, so I kept everything in the big freezer at work until Rhonda's birthday party.
Rhonda and I have a tradition of spending a leisurely time at a spa on our birthdays, and we had an especially good time on this landmark day. We lingered a little longer than planned and were late getting home.  When I dropped her off at her house, I told her I'd go get the fish and bring it back over to thaw for the party the next day.  Her boyfriend said they would drive down to the hospital with me, so I wouldn't need to come all the way back.  It was a little strange, but I didn't protest more than once, so soon they were following me down to the clinic.  I retrieved the seafood and put it in the back seat of their car.
I returned home to get a phone call from Rhonda.  It turned out that her boyfriend had been planning for weeks to ask her to marry him on her birthday, and his plan included ring shopping followed by a special dinner out.  Our delayed return from the spa had put him in a time crunch.  He decided that they could go right from picking up the fish to the jewelry store and get there before it closed, so he proposed to her in the car in the parking lot of my hospital, with the giant crab legs in the back seat.  And that was how the crab legs came to be known as the engagement crab legs.
The next night Rhonda's boyfriend grilled the fish on cedar planks, infusing the halibut and salmon with the aroma of the northwest.  The crab legs were the best I'd ever had, sweet, buttery and succulent.  Their inherent briny ocean essence was sublime and the smoke of the fire brought them to perfection.  A friend designed a special drink for Rhonda's birthday, the Rhondatini.  As we drank Rhondatinis and ate Alaskan seafood Rhonda told the story of the fisherman, his dog, the giant crab legs and the parking lot proposal.  Some party goers didn't hear the whole story clearly and later asked me if the fish and crab were unfortunate veterinary patients of mine who didn't make it. 
Today Rhonda and her husband are a happy couple, Maya still has a good relationship with her food, and the Rhondatini is a symbol of a most happy celebration.  I still love to eat seafood from Alaska, but nothing has ever surpassed the engagement crab legs.
The Rhondatini
Created by Terri Sullivan
1 part vodka
1 part Alize passionfruit liqueur
1 part Jarritos grapefruit soda
2 parts pomegranate juice
Fresh mint
Lemon peel twists for garnish
Combine all ingredients in a shaker over ice.  Shake well and strain into a martini glass.  Garnish with a lemon peel twist.