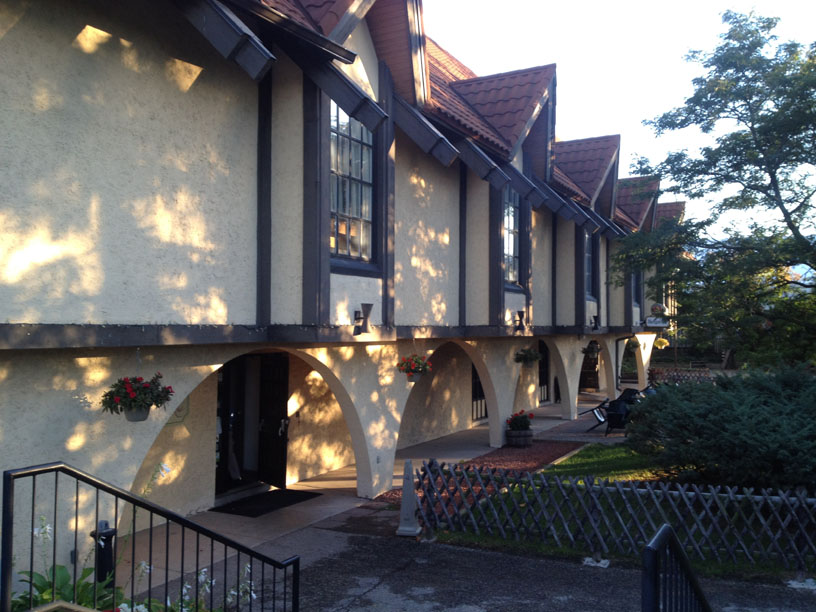 Concordia Club – "Schenke"
429 Ottawa St. South
Kitchener, Ontario
Canada
Willkommen to Oktoberfest!! …I hope I wore my elastic lederhosen.
Kitchener has a long history of German Mennonite heritage in the area.  So much so that up until 1916 our fair city was actually called Berlin.  History would prove that a name change probably worked out for the best. Every October for 9 days Kitchener hosts what I am constantly told is the largest Oktoberfest outside the mother land. Those German clubs, festival tents and restaurants host as many as 1 million guests during this period and as many as a quarter million out of town visitors to the region. In all honesty, living in the area, the official Oktoberfest festivities hold very little interest to me. I can appreciate folks want to have a good time and enjoy some great food and copius amouts of ales and lagers. Being that this area is driven by a number of larger, quite recognizable Canadian universities you  can only imagine what some of the crowds are like. You can also imagine what large quantities of beer and fried foods can do to put a damper on the atmosphere. Seeing as I enjoy myself some German cuisine without ruining my shoes we thought we'd head out for a quiet dinner at one of the largest German clubs in the area.
We headed out to the Concordia Club and their small restaurant "Schenke" on a Friday night. The literal translation of Schenke is tavern. We like to head to this place on a Friday night as we like to take advantage of the buffet that always features the all you can eat schnitzel which is basically a thinly breaded pork cutlet.  The restaurant itself is fairly small, counting the tables I can't imagine capacity to be any more than about 100-120 people. We showed up around 6:30 without a reservation. We were greeted at reception by a tiny elderly man whom I assume is the owner. We have never been here when he was greeting and seating guests.  After a quick look in the restaurant all the tables appeared to be occupied. Now, instead of telling us it's going to be 20 minutes or so for us to be seated this poor little frail gentleman went into the back and, by himself, dragged out a small table and a couple of chairs. Keep in mind we were rather awkwardly seated in the middle of the restaurant I couldn't help but appreciate the effort he put forth.  Upon entering the dining hall it is more reminiscent of your grandmothers recreation room of the 1970's with some embelishments and murals on the wall. It could definitely use an update but all the cheesiness contributes to the atmosphere of this place right down the the wait staff all wearing traditional dirndls.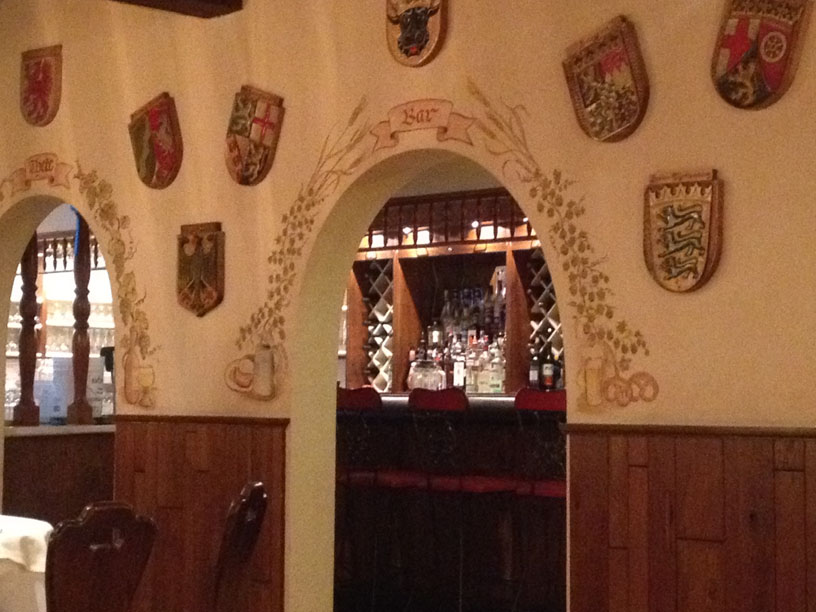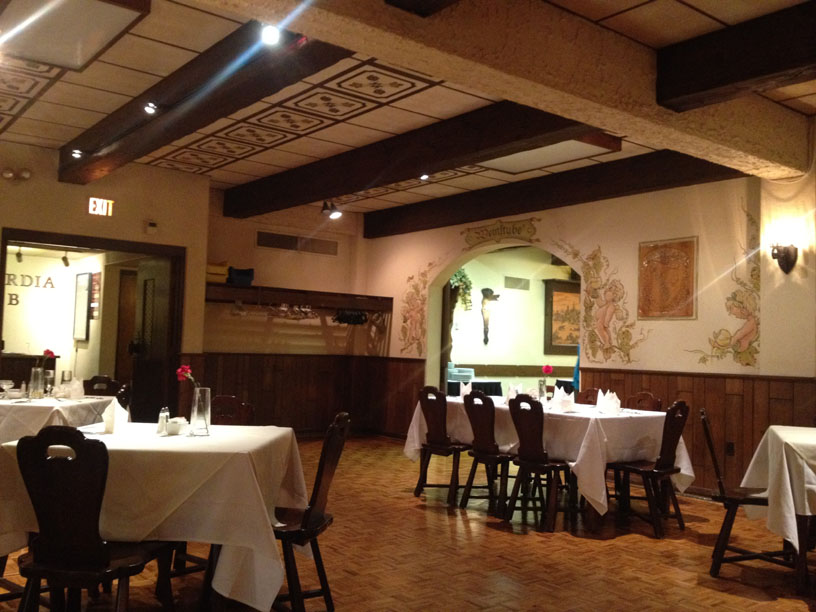 On this night my dear wife decided to indulge in the buffet. At $15.95 this buffet includes a salad bar which consists of numerous in house made salads including a traditional german potato salad and cucumber salad that I personally love. Here you will also find a variety of pickled items (gherkins, onions, beets, etc.). They were also serving a home made beef and cabbage soup that looked terrific and my wife seemed to enjoy. The hot buffet selections included pork chops, chicken souvlaki, mashed potatoes and gravy, veggies, saurkraut and of course the aforementioned schnitzel. You will also find a small dessert table which traditionally contains black forest cake, apple strudel and various other prepackaged pies, tarts, etc. The desserts are typically not the star attraction at the buffet but make a decent ending to an otherwise good meal.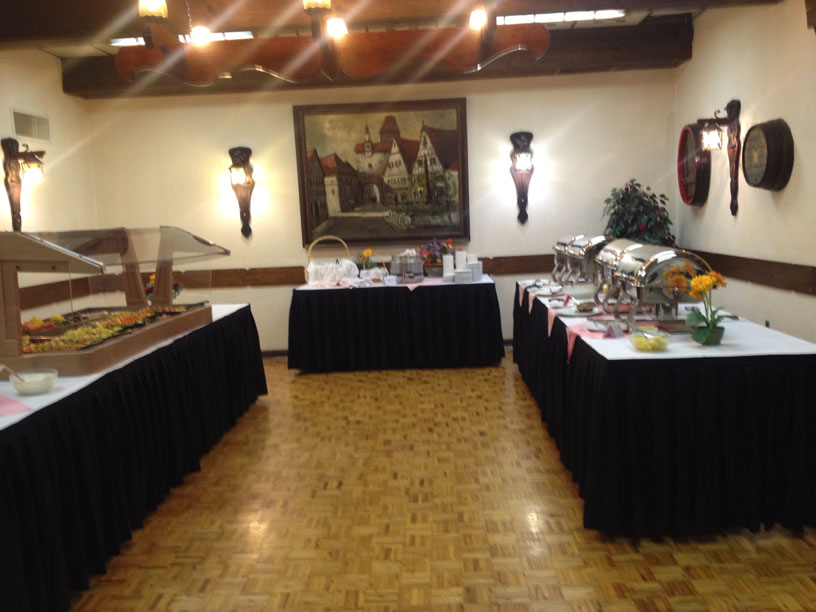 I decided to go rogue this time and order a la carte off the menu. The menu has a number of traditional German type cuisine as well as what we would call "Canadian" food. Basically the same as what Americans would call American food. There is a fairly extensive schnitzel menu of about 6 different schnitzels including pork, veal, chicken and different accompaniments and sauces. I decided to go with the Franz Joseph schnitzel ($15.25) that is a breaded veal cutlet stuffed with mustard and swiss cheese. If I find anything on a menu that says stuffed with cheese I figure it can't be all bad. I decided to upgrade my home fries to the home made cheese spaetzle ($2.00) and an additional side of red cabbage ($3.25). The schnitzel was very good but the no contest winner to me was the cheese spaetzle.  I have decided that this is my new favorite side dish I've ever had. To the extent that I would order a full order as a main dish the next time we go. We enjoyed our meals with nothing more than a diet pepsi and water to wash it down however there was a fairly decent bar menu with 6 imported German beers, Belgium and domestic beers on tap as well.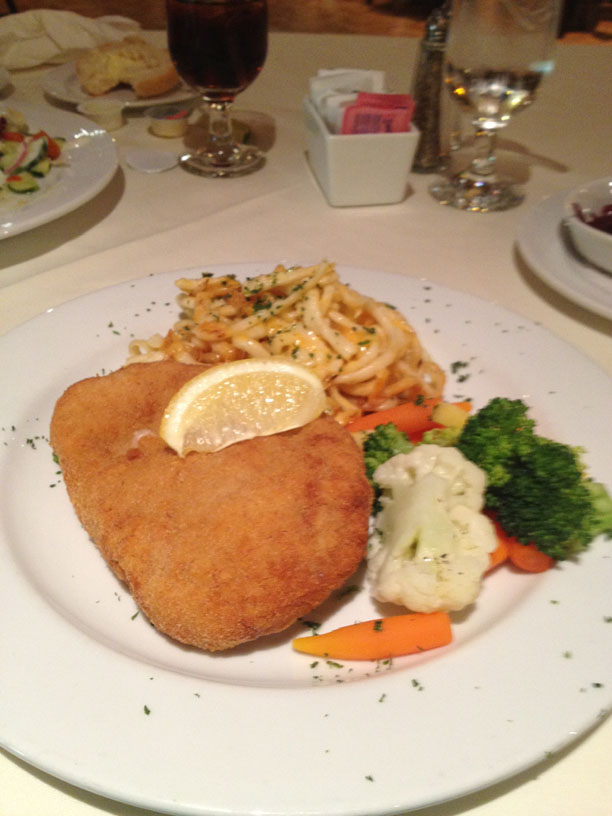 Our bill with the buffet, entree and additional side as well as beverages was just under $44 before tip. If you can get past the outdated decor and the cheese factor you can easily head out for a good tradtional Oktoberfest meal without the insanity of the official Oktoberfest ambiance.
Auf Wiedersehen