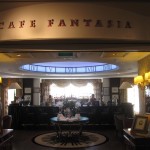 Cafe Fantasia
Disneyland Paris
Before I tell you about Cafe Fantasia I have to back up a little and give you some details about our Adventures by Disney (ABD) trip.
As I've mentioned in the past this is a special trip for ABD.  Usually the Knights and Lights Adventure (which this is) ends in Paris.  Dreams Unlimited Travel has worked with ABD to develop a special add-on to these trips where we go as a group to Disneyland Paris.  If you take the 'regular' ABD Knights and Lights Adventure (i.e. not with Dreams Unlimited Travel) you can still go to Disneyland Paris (DLP) but you would have to make your own arrangements at the hotel, for transporation and for meals.
Not only are we traveling as a group to DLP but there are very special events and surprises planned through ABD at Disneyland as part of this unique adventure.  We have had some awesome experiences!!  One of the things ABD did this year was to try to schedule more 'park time' so that all of us Disney Fans can maximize our time in the parks.  One way they did this was to give us lunch/meal vouchers instead of planning a sit-down/group lunch on the days we are in the parks.  I posted previously about our experience at Restaurant des Stars; that day we used one our meal vouchers from ABD.
Today we attempted to use our meal vouchers again while in the Disneyland Park.  I say attempted because we weren't very successful.
One of the restaurants where our voucher could be used was the Plaza Gardens Restaurant on Main Street.  We arrived at the restaurant at about 11:30 AM.  There were two others tables of folks already seated and 3 people in line waiting to pay (this is a buffet where you pay before you are seated).  I approached the podium and presented my meal vouchers.  This was apparently the first time the lady working the register has seen these vouchers.  After punching every key mutliple times and checking and rechecking the voucher she finally called a manager for help.
The wait was getting so long that I told Kevin it didn't make sense for both of us to stand around so he might as get us a seat and start to get his food.  Afterall, how much longer could this take?  Well, he found a table and had his food and I was still waiting for the manager to figure out how to ring in the vouchers.
It was at this time I noticed Kevin was heading to the table and was 'intercepted' by a Cast Member.  I watched as they interacted (I could not hear what was said) and finally Kevin handed the food he had gathered at the buffet to the cast member and came towards me when he said 'Let's go, we're not eating here!!!'.  I asked for our vouchers back and we left.
What had happened was Kevin wanted to sit at a table that was half bench and half chairs.  The Cast Member told him he could not sit there as it was meant for 5 people and we are only two.  Kevin explained that it would be more comfortable for him to sit on the bench instead of a chair as he has a bad knee and his back was hurting him.  The Cast Member insisted that since we were two people we had to eat at a table for 2 people.  Kevin pointed out there were only two tables occupied and 3 people waiting to pay – the restaurant was empty with many empty tables of all sizes.  It didn't seem that we would be taking seats from other guests.  The Cast Member didn't care and said if we didn't want the table for two we couldn't eat here and promptly took the food out of Kevin's hands.  That's when he came to me and we left.
Needless to say we weren't happy and decided to just leave the park.  What an incredibly aweful experience in a Disney theme park!!  Had this been WDW and there wasn't a language barrier I would have went to guest services and complained but I decided it wasn't going to get us anywhere.
I suggested we eat in the hotel.  We couldn't use our meal voucher but I didn't care at this point, I was so mad I just wanted out of the park.  We had eaten in Cafe Fantasia on our last trip and remembered we really enjoyed it so I thought we would give that a try.
This is where a very bad experience become one of our most enjoyable afternoons at Disneyland Paris.
Cafe Fantasia is located in the Disneyland Hotel on the same floor as the restaurants.  It's a cozy little bar area that serves food.  The space is an homage to Disney's classic Fantasia with artwork from the film.  Even the walls are covered with the sheet music from the movie.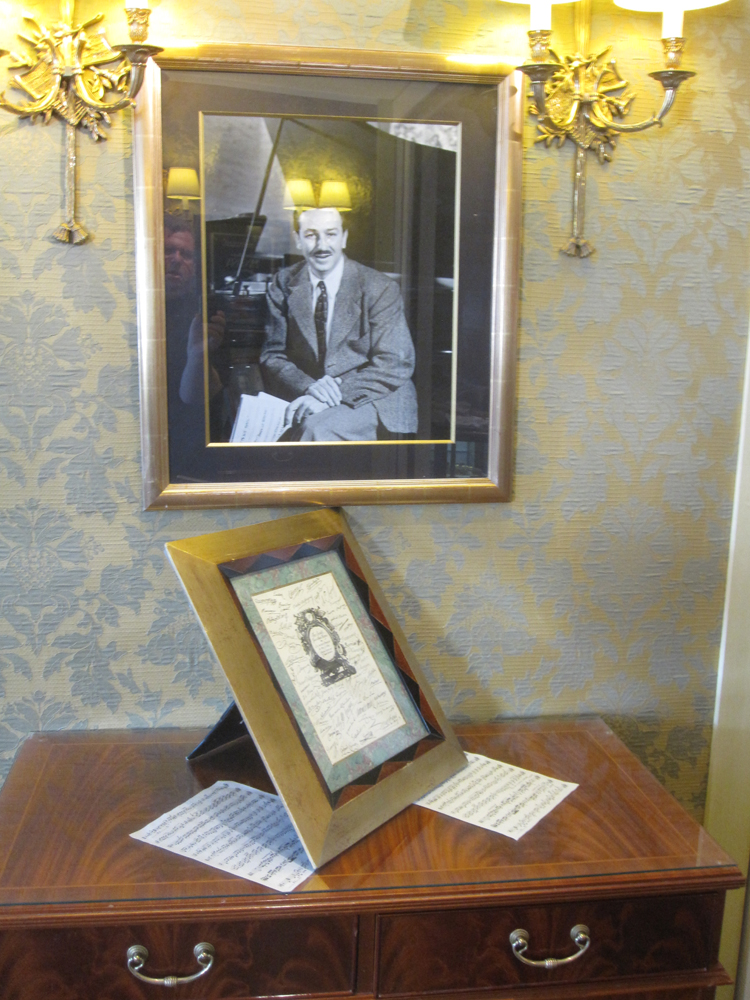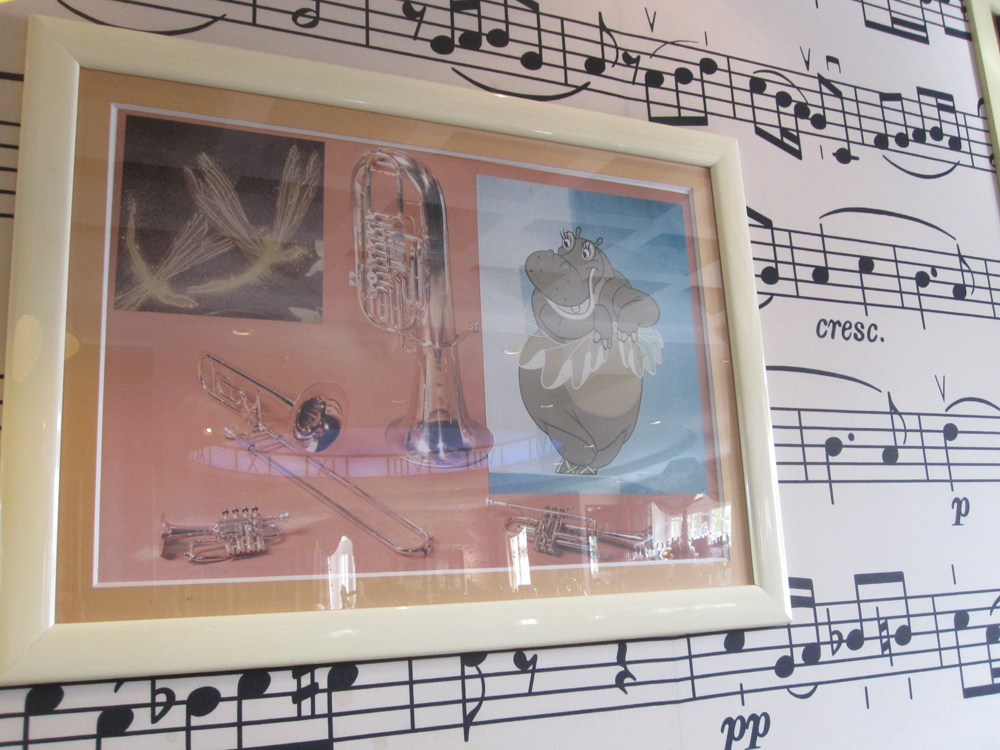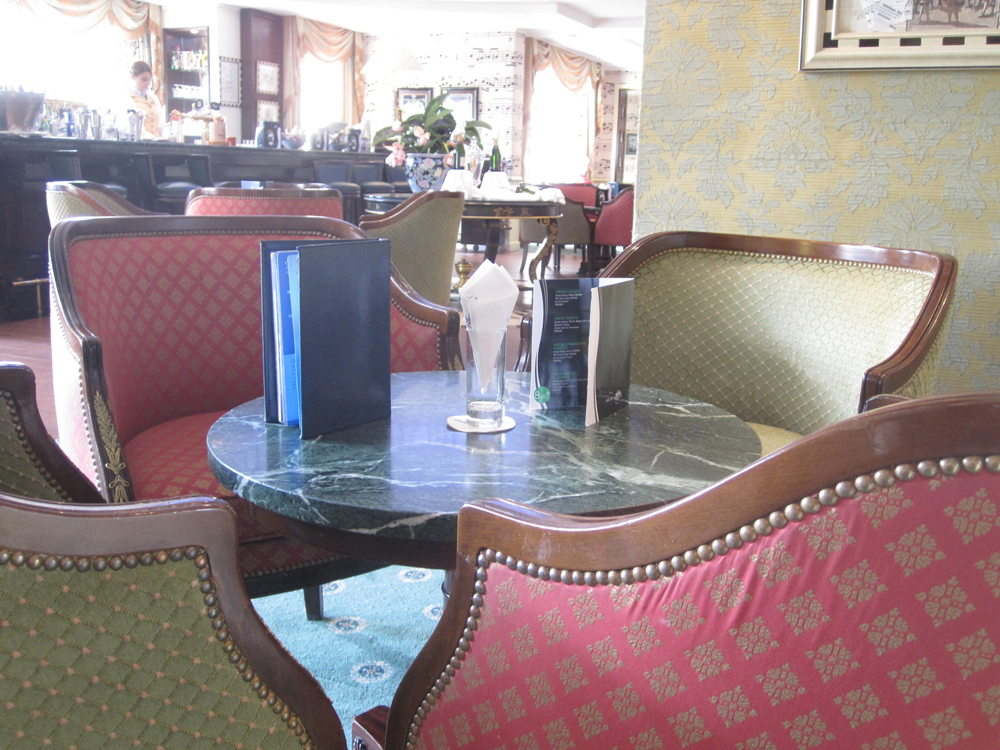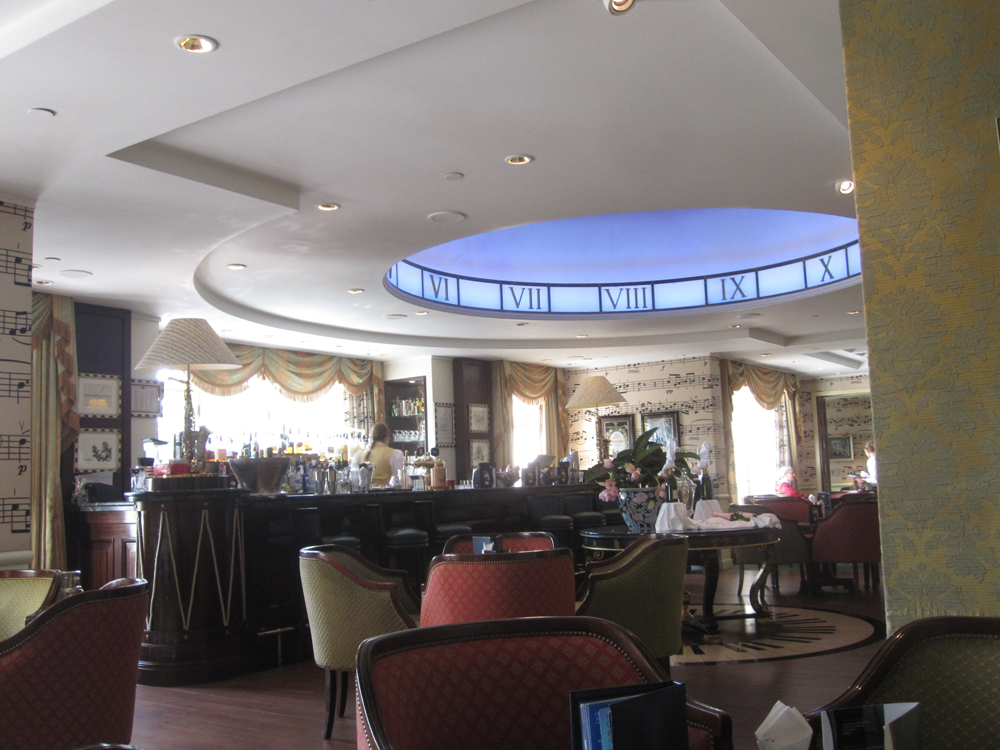 The menu is limited.  It is mostly specialty drinks but the back two pages are all about the food.  We started with some appetizer/bar-snacky things.  We ordered olives with olive bread, tomatoes and mozzarella with a pesto sauce and miniature sausages.  Everything was so good that I wanted to re-order, but I knew we were going to order something more 'substantial' so I held off.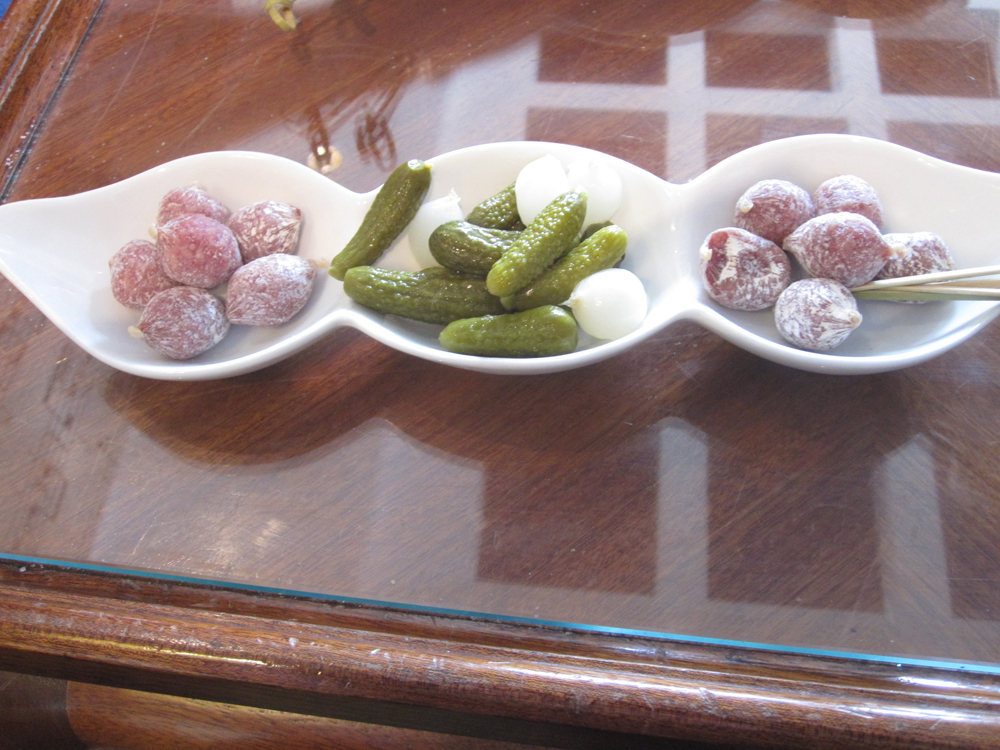 After our appetizers we ordered two of the open-faced sandwiches.  One was cheese and tomato, the other was ham, cheese and tomato.  These are placed under the broiler so the cheese is melty and the bread is toasted.  Both were served with a small side salad and really good potato chips. These were so freakin' good they made me forget about the bad experience we had earlier in the park.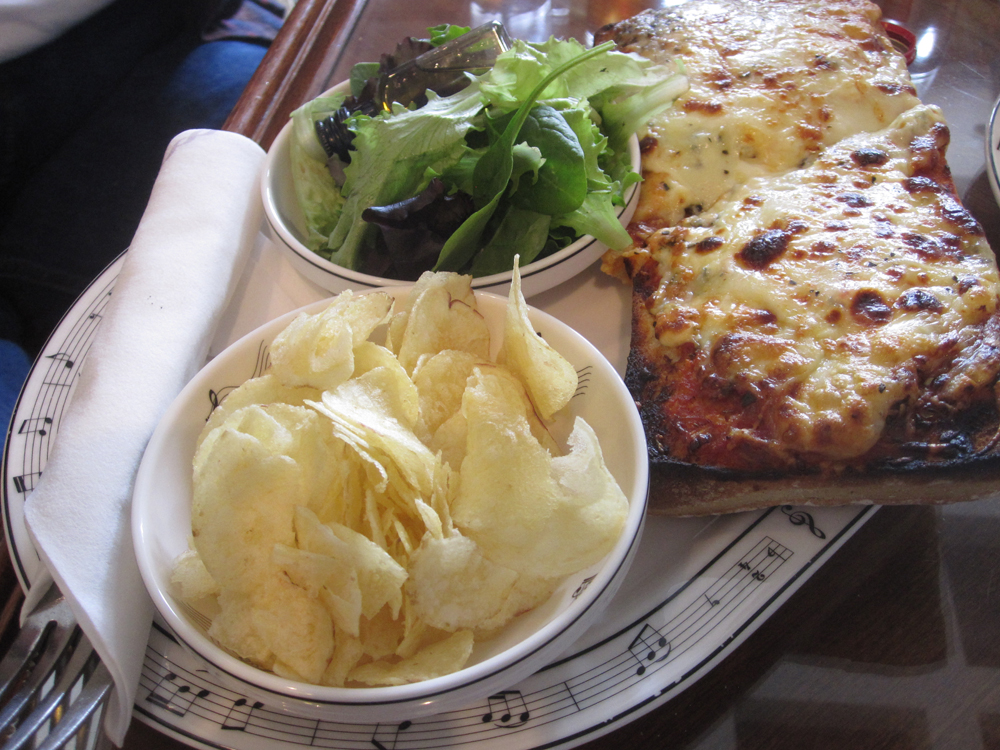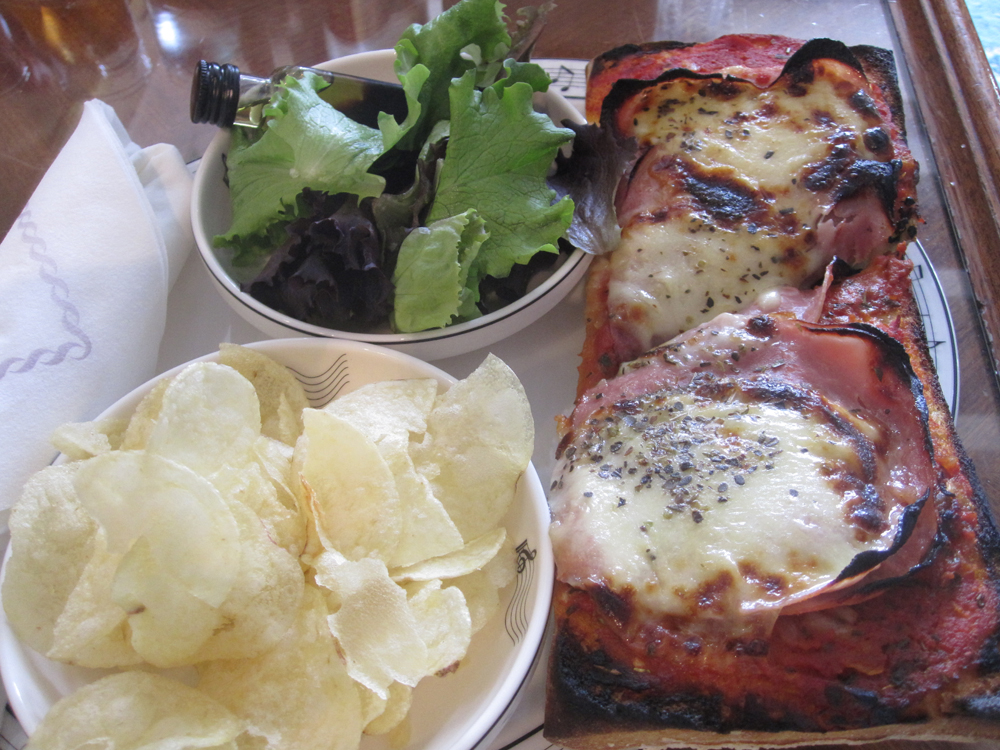 Not only was the food really good but the atmosphere is calming and the decorations are beautiful.  Our waitress was not only efficient but very sweet and a pleasure to talk with.  She had worked in Epcot in the France pavilion as part of the college program and you could tell that working for Disney meant the world to her.
I have never been so grateful to have had such a bad experience in a theme park as we had trying to eat at Plaza Gardens.  Otherwise we wouldn't have had one of our most magical meals at Cafe Fantasia.