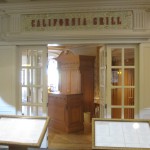 California Grill
Disneyland Paris
During our journey from Paris to Disneyland Paris our Adventures by Disney travel guides were kind enough to make us dinner reservations for the night of our arrival.  The California Grill is one of the most popular restuarants at Disneyland Paris and last year we weren't able to get a reservation.  We were very grateful to our guides for helping make these arrangements.
The restaurant is located in the Disneyland Hotel and has a vaguely early American theme, but not quite.  One member of our group described the decor as 'Grandma's Closet'.
A very special feature of this restaurant is that if you are seated in the right area you could overlook the main gate of the Disneyland Paris park.  We did, and it was extremely beautiful all lit up for their 20th Anniversary Celebration.
As I mentioned in a previous post this was a very long day for us and we were all a little tired.  We actually thought about cancelling the reservation but we very much wanted to experience this restaurant so we soldiered on.
After being seated we were met with a roll and some butter.  Yes, the rolls were being served one at a time.  Being so hungry and having come from such a hectic day it was all I could do not to yell at the waiter to leave the freaking basket of bread with us – but I did not, I was civil – afterall dear this is France.
Just after taking our drink order the waiter presented us with an amuse-bouche, compliments of the chef.  It was a tiny plate with a tiny pyramid on one site and a tiny blob of pink mousse on the other.  We were told it was a salmon appetizer.  They were tasty, but very small, and it was eaten quickly.  Don't let the picture fool you – the amount of mouse we received would barely fit in a shot glass.  Have I mentioned that it was tiny?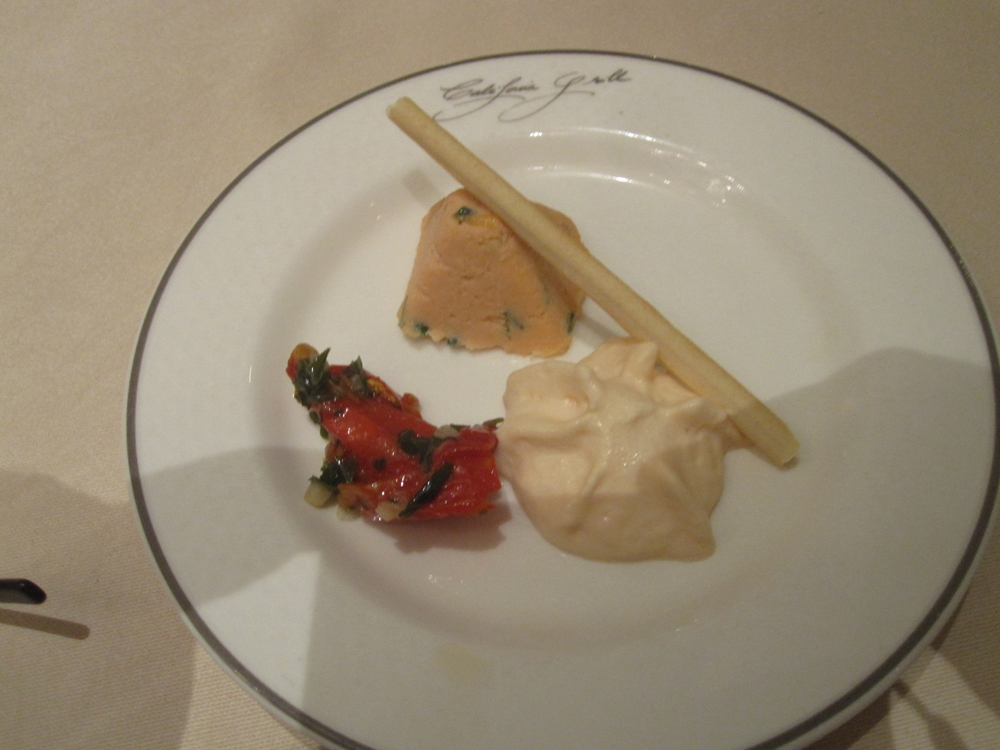 We then went on to order our meals.  We started with a cheese sampler plate (which was very good). We also ordered a few different appetizer, however we all wound up getting the same entree – the California Burger with French Fries, but more on that later.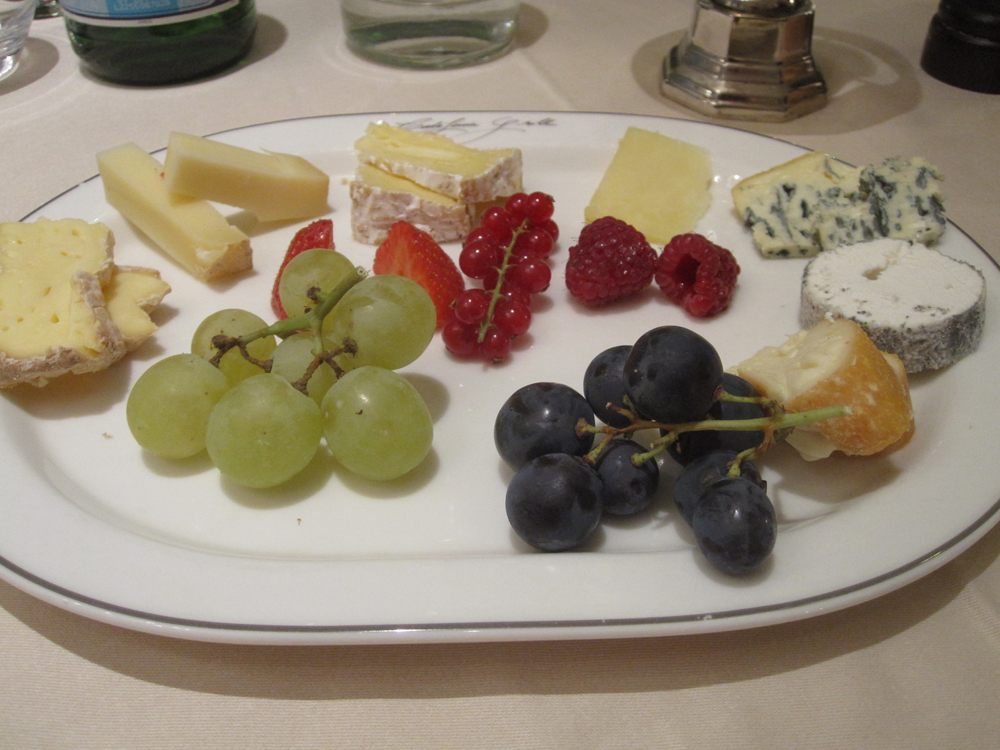 For my appetizer I had the Pizzetta; think small, rectangular pizza.  I enjoyed it but some who tasted it said it reminded them of Ellio's frozen pizza.  I think I was just so hungry I ate it without thinking.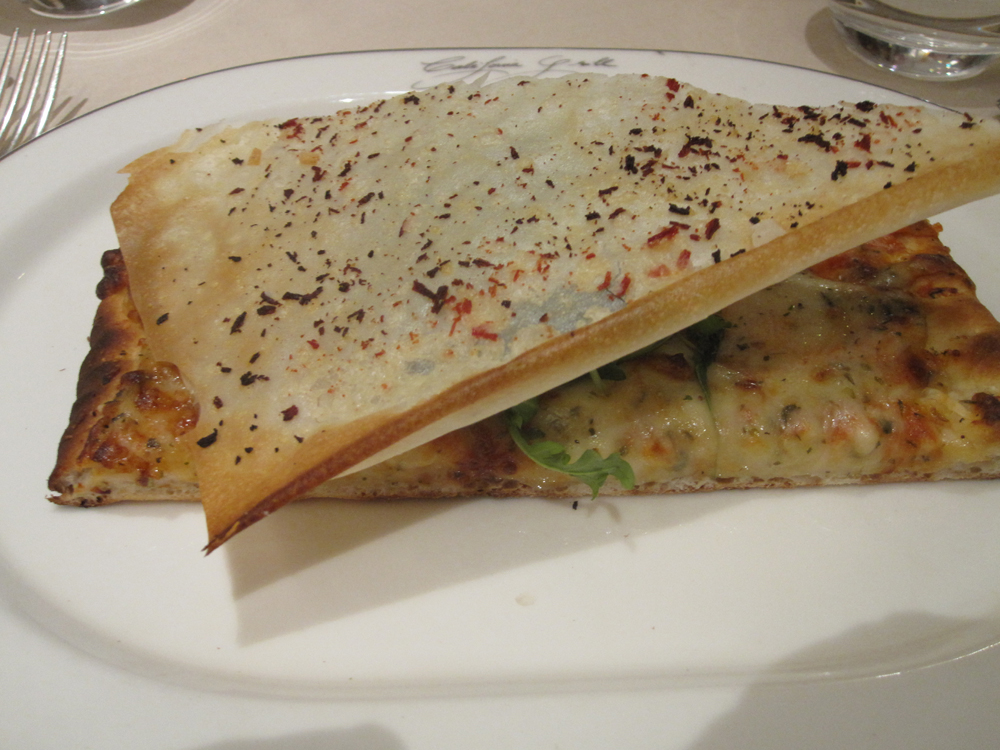 Another member of our party ordered the Cobb Salad.  While tasty and fresh it was a very small bowl of salad for 17 euros (about $20).  I must warn you, the outrageous pricing at this restaurant will be a recurring theme for this restaurant.
Another member of our party ordered the house foi gras in a spice bread crust.  It was very tasty but, again, obscenely expensive at 28 euros for a small sliver of foi gras.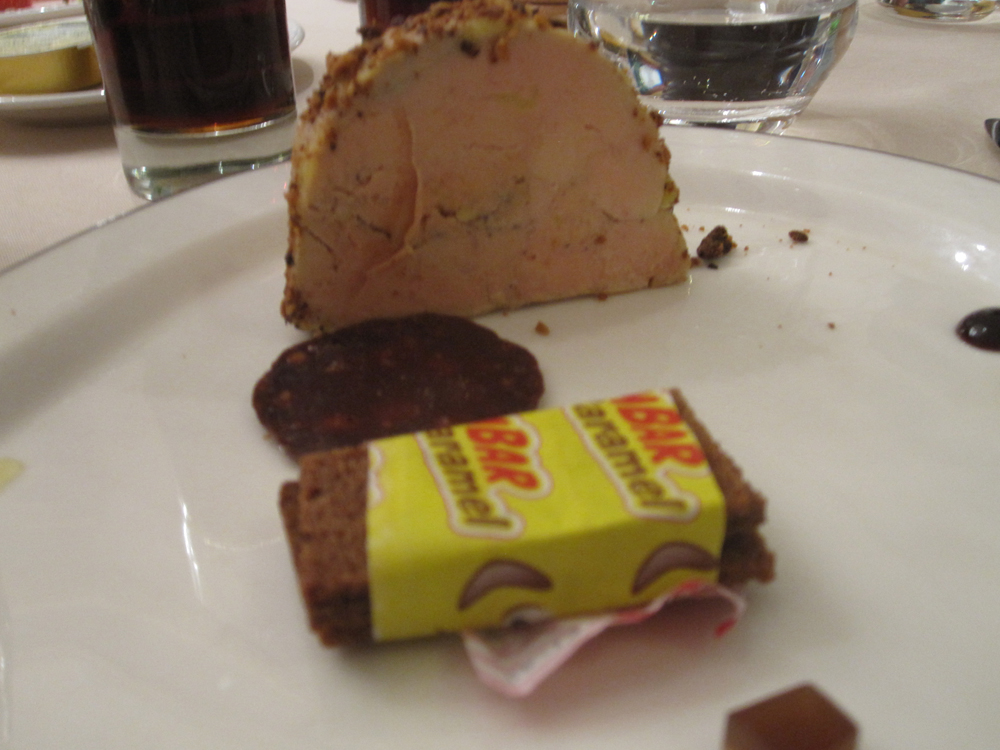 Now onto our main course.  As I mentioned we all ordered the California Burger.  This was partially due to our waiter's description. When one person asked about the burger it was described in such a way that we all thought it sounded magnificent.  This would surely be the best burger we would ever eat!!
Upon ordering we had an issue with how we wanted it cooked.  One person asked if it could be done medium well.  The waiter went on to tell us (with a very thick, French accent) that the chef insists that the beef not be cooked more than medium as it will ruin the flavor.  OK, we were willing to play along, 6 people each ordered the medium burger.
What a let-down when our burgers arrived.  I think we all had this vision of a giant, thick, juicy burger that we weren't going to be able to get our hands around.  Boy, were we wrong.  Not only was the burger on the small side (one person compared it to a McDonald's Quarter Pounder – which wasn't too far off) but they were all cooked well done!!  At this point it just became comical.  We had paid almost 40 euros each for this entree and we could have gotten something just as good, if not better, off of the dollar menu of any fast food burger joint in the U.S.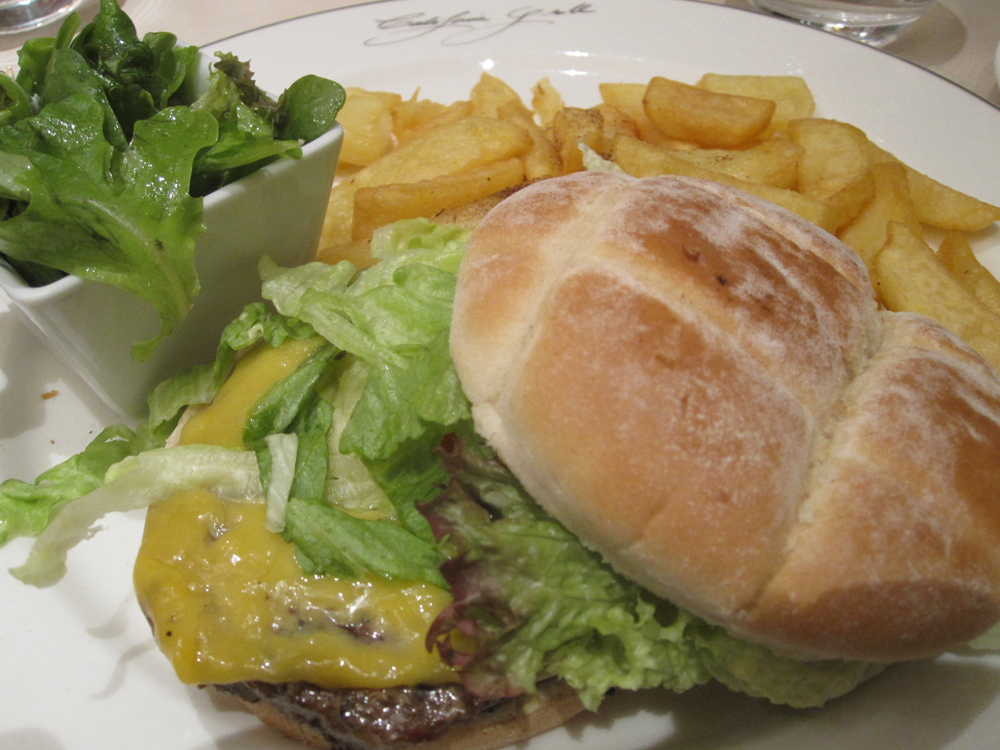 By the time we finished our sad burgers we were all exhausted and ready for bed.  We asked for the check and was given another gift from the chef – it was a plate of four little cookies to share amongst the six of us.  I'm not sure if they were even eaten.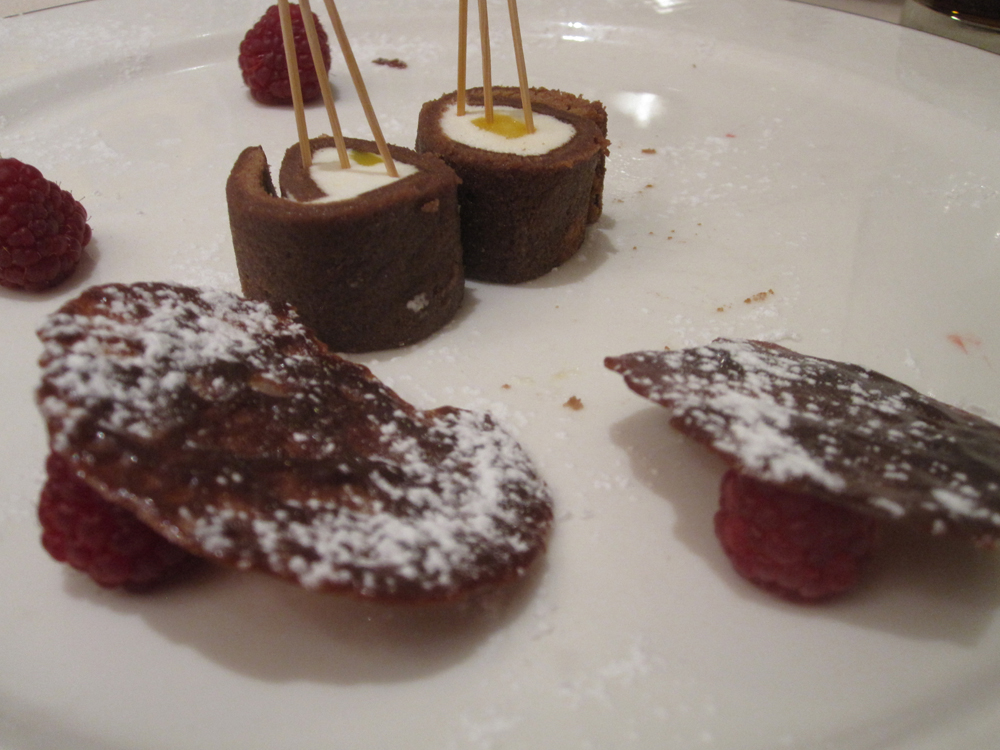 All tolled dinner for the 6 of us came to over 400 euros (over $500+) and the food was mediocre at best.  Keep in mind this was for one cheese plate, 5 appetizers, 6 burgers, 2 beers and handful of sodas.
Don't let the name fool you, this is not the same California Grill that we have in Walt Disney World in Orlando!!