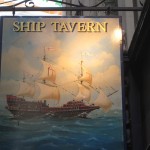 The Ship Tavern
12 Gate Street  Holborn
London WC2A 3HP, United Kingdom
020 7405 1992
Day one of our trip is our arrival day. The majority of our traveling companions don't arrive until tomorrow but we know from experience that we need one full day to get acclimated to the time zone change and shake off the jet lag. Being 'out of sorts' with the time can provide a challenge for the foodie. We are hungry at 'off' times and not wanting to settle for something fast or familiar we asked the concierge at the hotel if there was a local place that was close and that would serve a good midday meal on a Sunday.
We received two suggests, one of which was quickly dismissed by the other person working the desk, but they both agreed on The Ship Tavern.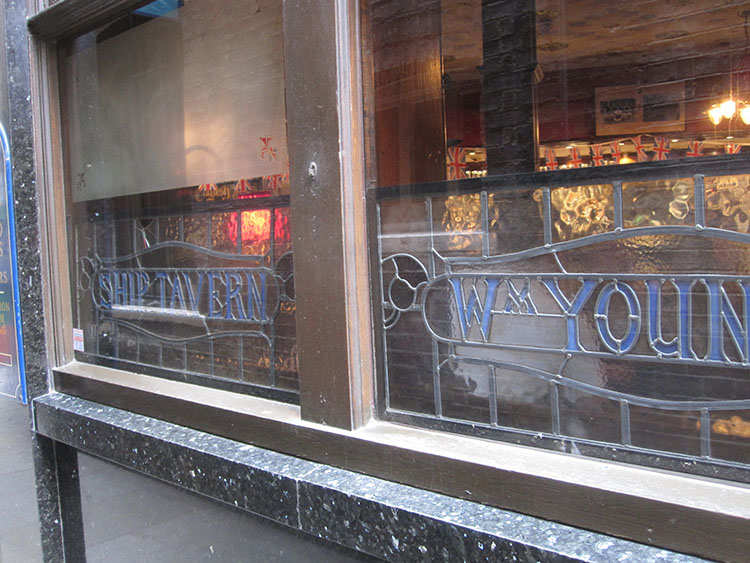 Literally steps from our hotel, The Ship Tavern was tucked down a tight alley inLondonthat I might not have ventured down on my own. It felt like we were stepping back in time as we approached this small pub. At first I thought we were eating in a 'themed restaurant' made to look like a proper English Pub. After a few minutes I quickly realized this was the real deal!!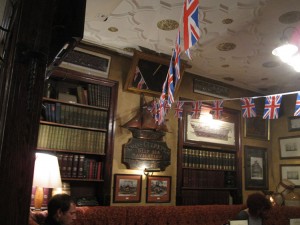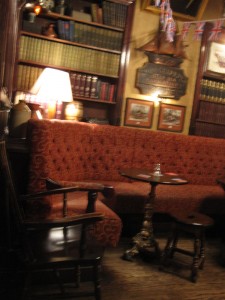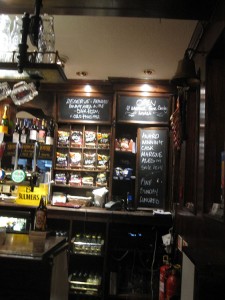 We were encouraged to find our own table and we could go upstairs if we wanted. We opted to stay downstairs and boy are we glad we did. The dining area is a mix of bar seating, small tables and a few 'proper' tables – all existing amongst an eclectic array of decorations that was obviously collected and found over the many years of history of this pub.
We quickly found out that we had stumbled upon Sunday Lunch and there was still time to order off of that menu.
We started with a baked camembert appetizer. It came with toasted bread and a fruit compote. Well, what could ever be wrong with baked camembert – absolutely nothing!!! The cheese was creamy and warm and the fruit accompanied it beautifully. I was actually amazed that we received the exact right amount of bread for the cheese. The ratio was perfect!!! I'm actually thinking about leaving the hotel room now and getting more.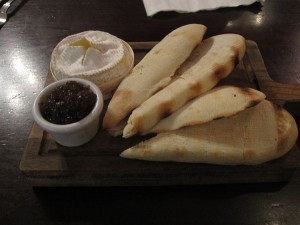 For our main course we both ordered the dry aged roast beef. This was at the suggestion of our greeter, and boy was she right!!! It came with Yorkshire pudding, cabbage, honey glazed carrots, roasted potatoes and cauliflower in a cheese sauce – all swimming in a rich beautiful gravy.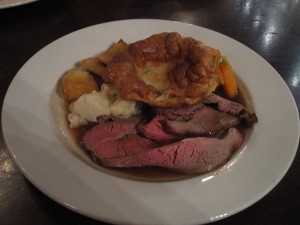 The first bite was a little bland but after a small amount of salt and some horseradish sauce for athe meat it all seemed to come together. This was an incredible home cooked style meal.
We ended with a sticky toffee pudding and Eton mess, which is a meringue and fruit mix. Both were excellent but the sticky pudding won hands down!!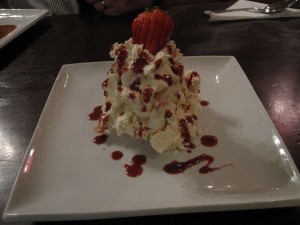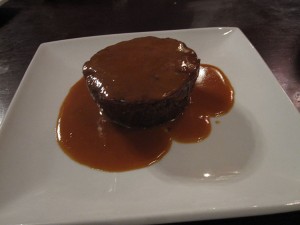 The best part of the evening came about half way through our meal and had nothing to do with the food. Not only was it Sunday lunch day but it was also live music night. Normally this doesn't thrill me but in this atmosphere it was perfect!! 5 musicians on brass and string instruments played a mix of jazz and 1940s and 1950s standards. They were accompanied by a young lady who sang beautifully.
It was a magical, unexpected evening that couldn't have come at a better time for two weary travelers.