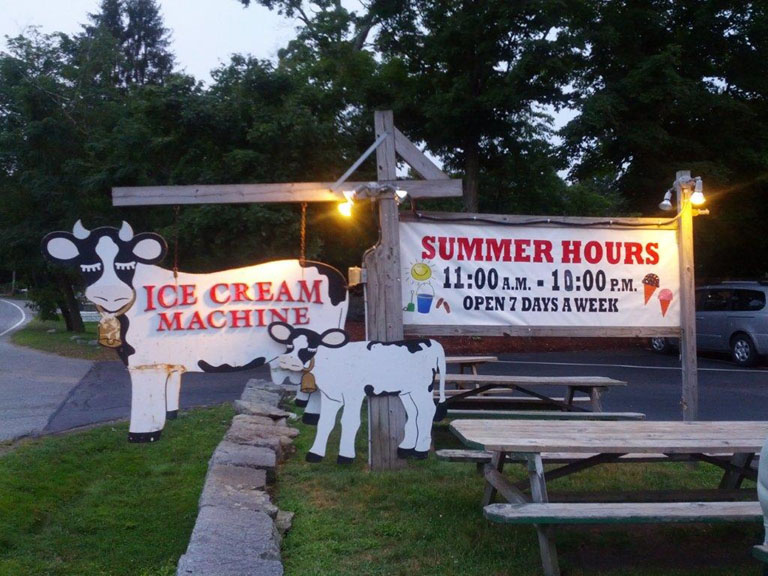 4288 Diamond Hill Road
Cumberland, RI 02864
(401) 333-5053
The Ice Cream Machine has been a favorite place to gather for many RI and surrounding Massachusetts locals since they began serving home-made old fashioned ice cream in 1977. I am very picky when it comes to ice cream and have always relied on my favorite store bought names until I discovered the "yummy" factor of the Ice Cream Machine.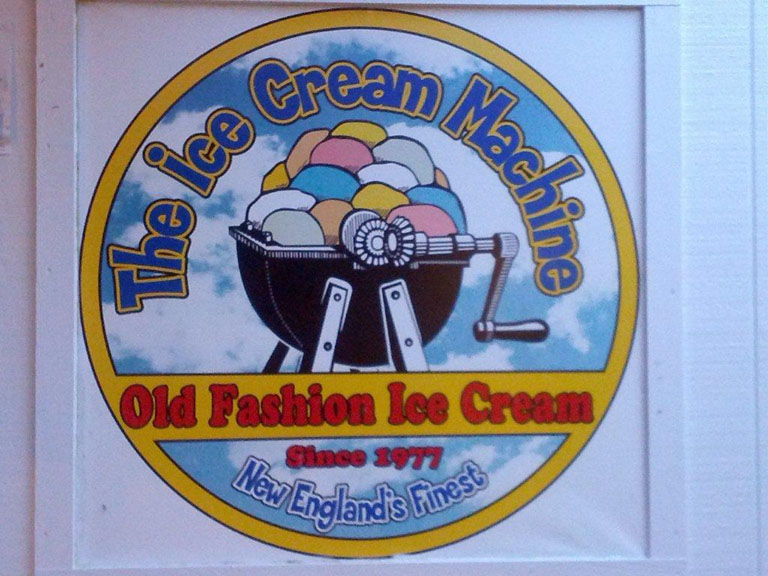 My first visit was totally accidental. I was on a drive through the back roads of northern Rhode Island with a friend when we drove by noticing this out of the way ice cream stand. Naturally, since I believe that ice cream should be part of the five food groups, I suggested that we stop and that is what we did. This was 27 years ago. I remember it like you would remember your first love. I ordered Chocolate Chip in a sugar cone with chocolate" jimmies" or "sprinkles" depending on which part of the country you are from. The chocolate chips were big , chunky slabs of chocolate mixed in with the creamiest ice cream I think I had ever tasted. My friend ordered Black Raspberry in a sugar cone. My friend and I do tend to talk a lot when we are together and I remember our conversation stopped that afternoon for about 10 minutes. Since this discovery I have been a regular to the Ice Cream Machine.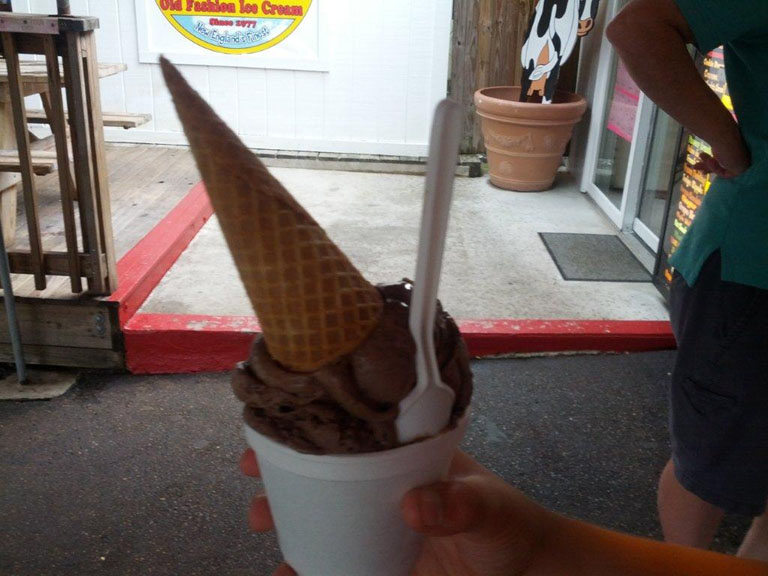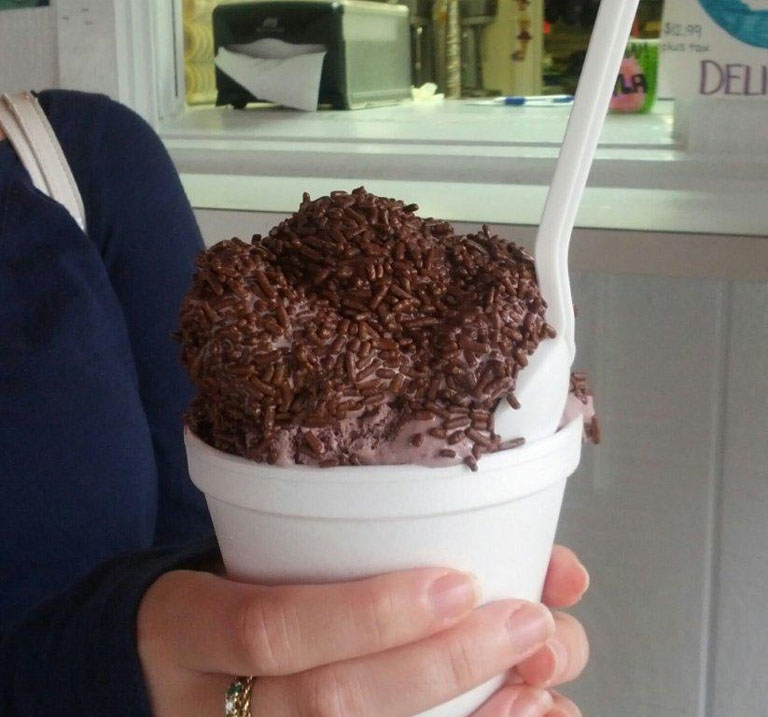 Kevin and I take regular trips here during the Spring, Summer and Fall each year. We also join friends and family here for an afternoon of delicious ice cream and great conversation. I have switched my favorite ice cream flavor to their White Chocolate chip and I now get it in a cup with dark chocolate chips as a topping and mix them together before having that 10 minutes of silence. Kevin is a bit more adventurous with his flavors and tends to get the flavor of the season or their Sherbet ice cream. For example in the Fall you'll enjoy flavors like Pumpkin, Apple, Caramel Apple and Pumpkin low fat yogurt.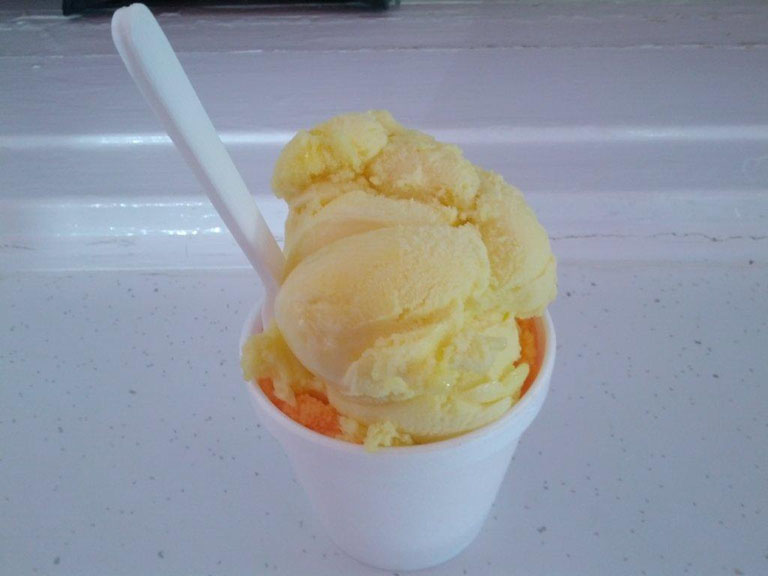 The Ice Cream Machine offers a long list of ice cream flavors and toppings to choose from along with numerous ways to eat your ice cream just how you like it. To just mention a few you can get your ice cream in a cup or a cone (sugar or wafer) with a kiddie size scoop for $3.59, a small with one scoop for $3.89, a medium with 2 scoops for $4.69 or go for the gusto and get a large with 3 scoops for $5.00.
For those that are somewhat adventurous you can get a sundae in a cup with your choice of ice cream, topping, whipped cream, nuts and a cherry in a kiddie size for $3.89, a small for $4.79, a medium for $5.75 and a large for $6.19.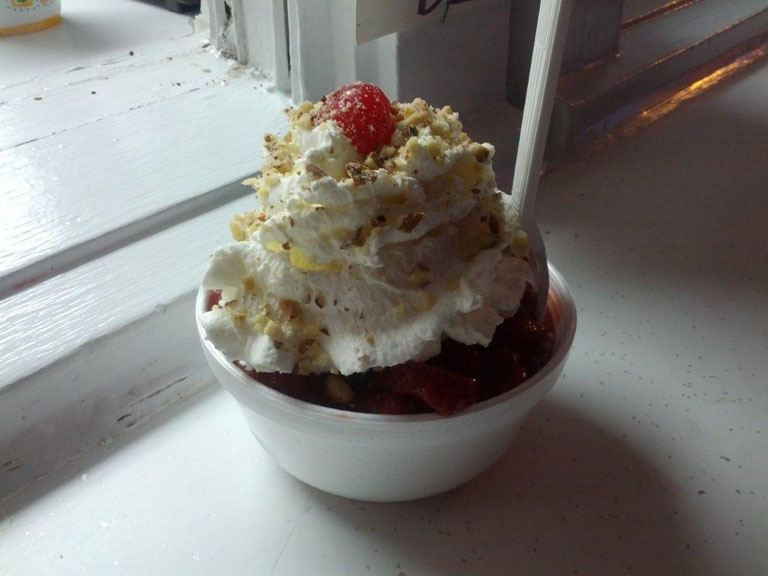 One of my other favorites is the Cookie Sandwich with 2 large chocolate chip cookies and your favorite flavor of ice cream in the middle for $4.10.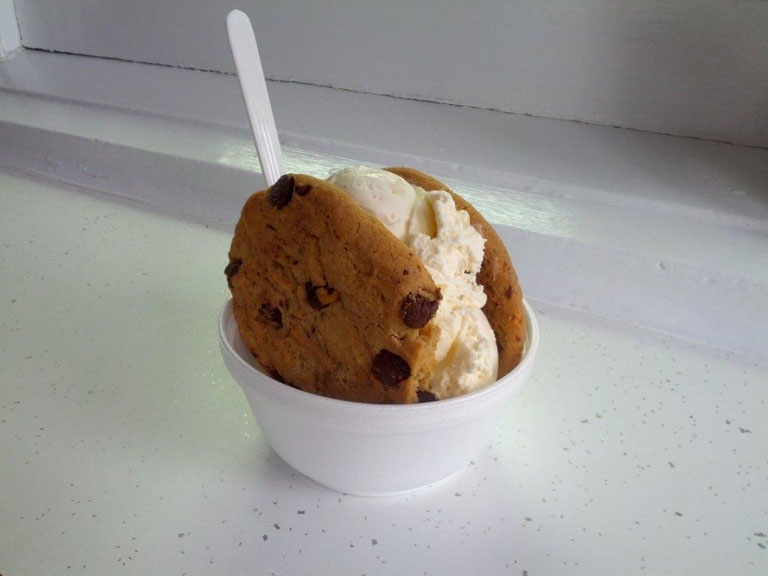 Then there is the Banana Split, a favorite of my uncle Jerry after I coerced him into ordering one, with your choice of ice cream, toppings, whipped cream, nuts, and a cherry for $6.89.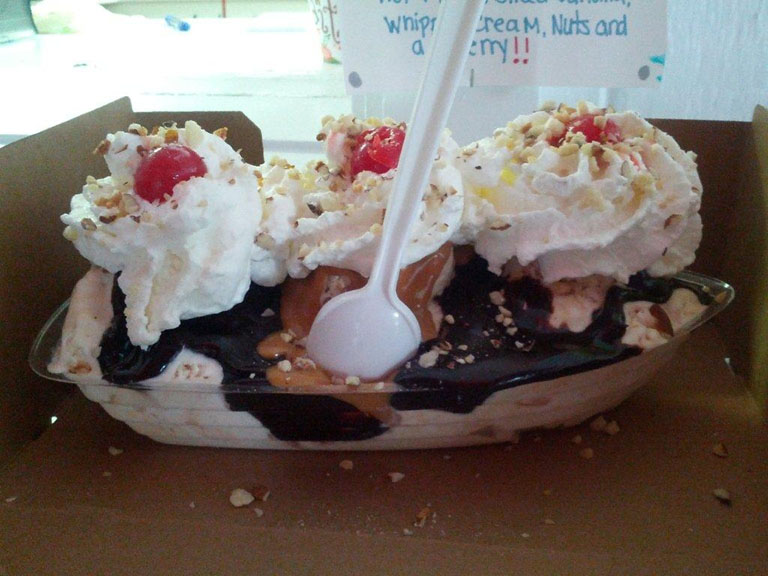 The Ice Cream Machine opens seasonally 7 days a week with varied hours through the Spring, Summer, and Fall. They offer much more than I listed above including whole ice cream pies that can be ordered year round for the holidays or your special occasion. I do suggest calling ahead for their winter hours as they are limited days and hours. You can still enjoy a cone, a cup or a sundae in the winter during these limited hours. This is a great spot to get together with friends and family.
There is no indoor seating or public restrooms but they do have ample outdoor seating that is covered in areas so you can still enjoy your ice cream in the rain. There is plenty of parking on both sides of the street and if you keep your eyes open you may get a glimpse of the Ice Cream Machine kitty walking around outside. Many people do bring their dogs along since you can also purchase a special frozen treat for your pet.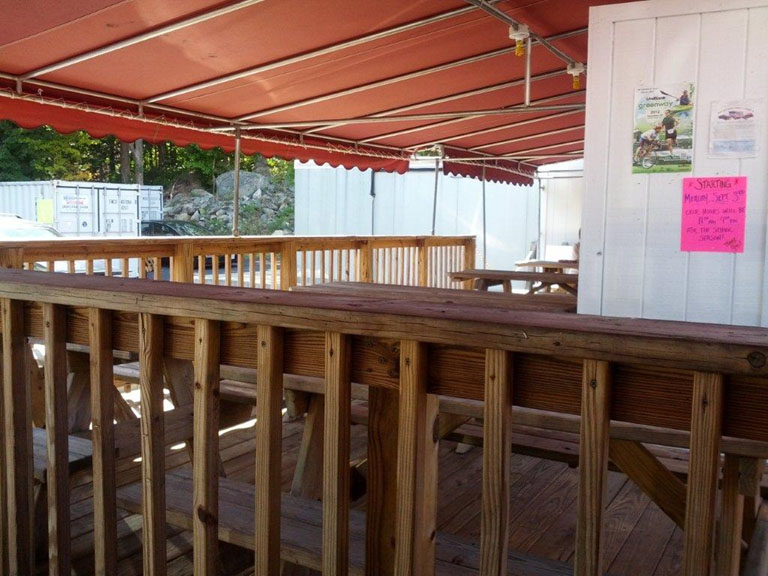 Don't be surprised if you arrive and the lines are very long. This is a very popular local ice cream stand and well worth the wait. A word of caution when ordering, their portions are very large and if you order a small you may be surprised by the amount of ice cream you get. If you have a small appetite for ice cream I suggest you order the kiddie size portion. If you are very adventurous go for their famous Diamond Hill Sundae with 4 scoops of ice cream and 4 toppings! Make sure to bring cash as they do not accept checks or credit cards.
The Ice Cream Machine is located at 4288 Diamond Hill Road  Cumberland, RI 02864 (401) 333-5053
After writing this article I think I may just have to take a trip to the Ice Cream Machine! ……P.S. and I don't share my ice cream…just ask my husband!