Last time in my A Peek Inside My Toolbox – Part 1, I showed you a few of the supplies I use to make themed meals for my kids.  In this second installment, we're going to check out some of the extras that you can use to really put the meal over the top.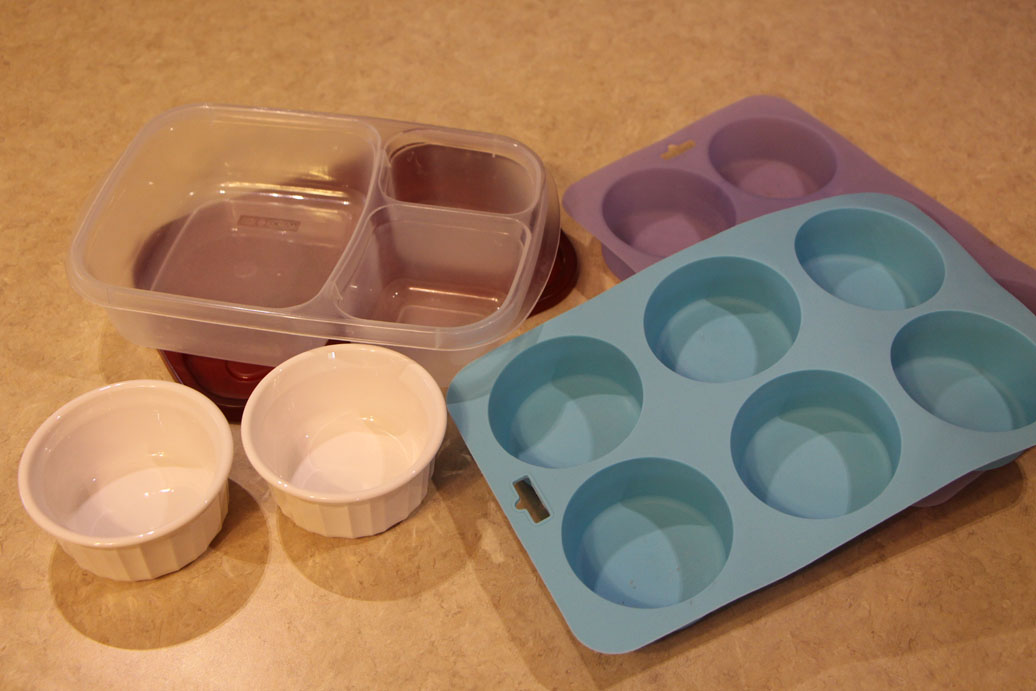 These are the containers that I normally use to serve a themed meal in.  The one on the left is called an EasyLunchbox (http://www.easylunchboxes.com/).  We have four of them and my son uses them for his school lunches.  One of the things we love about them is the separate sections, making them great to fill up with a themed lunch.  The silicone muffin tins are what get used most often for our meals.  I like that they only have six sections, as opposed to a full-size normal tin.  It ends up being the perfect amount of food for our kids and offers them a nice variety.  I got these in the dollar section at Target and I've heard that they have shaped tins around the holidays.  Unfortunately, I live an hour and a half from the nearest Target, so I haven't been able to get any of these yet.  I have six of the white ramekins, which are useful for when we don't have enough foods to fill one of the other containers and only need a few.  I actually got these as a wedding gift years ago and have never really had a use for them, so I'm glad they're actually serving a purpose now.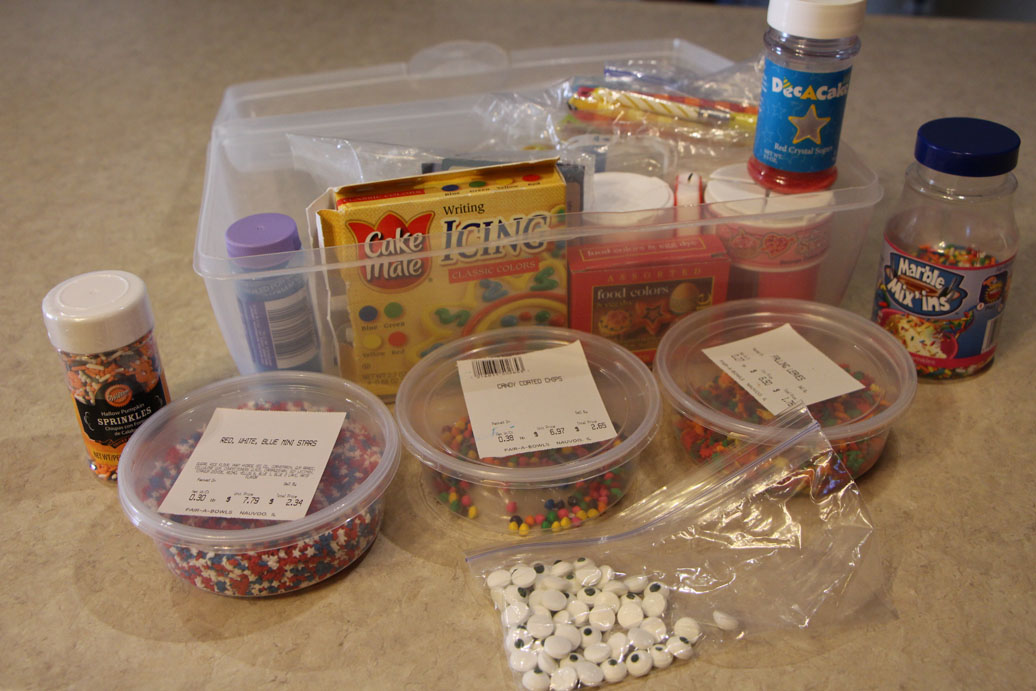 Sprinkles!  These can be added to lots of different foods, just for fun.  My kids didn't used to be big yogurt fans, so I added a few sprinkles and all of a sudden, they thought it was great!  I have all the normal kinds of decorating sprinkles, plus a few specialty sprinkles.  The special sprinkles include Halloween, colored stars, chocolate-covered dots, and autumn leaves.  The three plastic tubs in the photo were bought in bulk at a kitchen store, so they were pretty inexpensive.  My favorites are the candy eyes!  I use a tiny dab of icing or peanut butter to stick these on random things.  What kid wouldn't love to find their lunch staring back at them?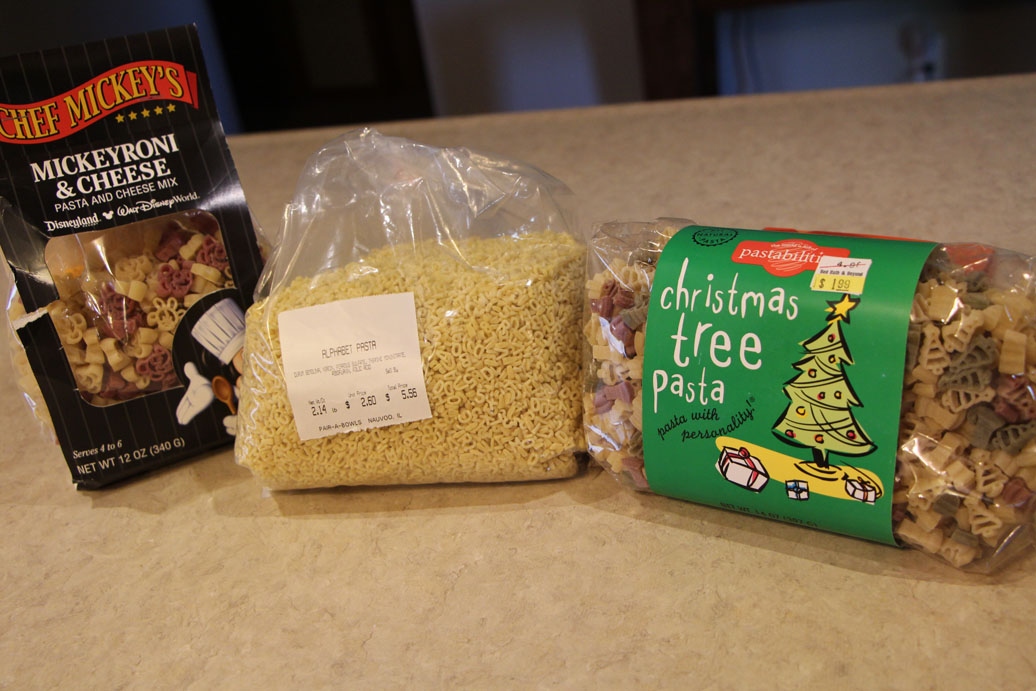 The three different pasta shapes are what happen to be in my cupboard at the moment and are for fun mac n cheese – Mickey Mouse, alphabet and Christmas trees.  The Mickey Mouse pasta was purchased at Walt Disney World, the alphabet pasta was bought in bulk from a kitchen store and the Christmas tree pasta was only two dollars after the holidays (make sure to check the expiration date and this can be a great way to save money!)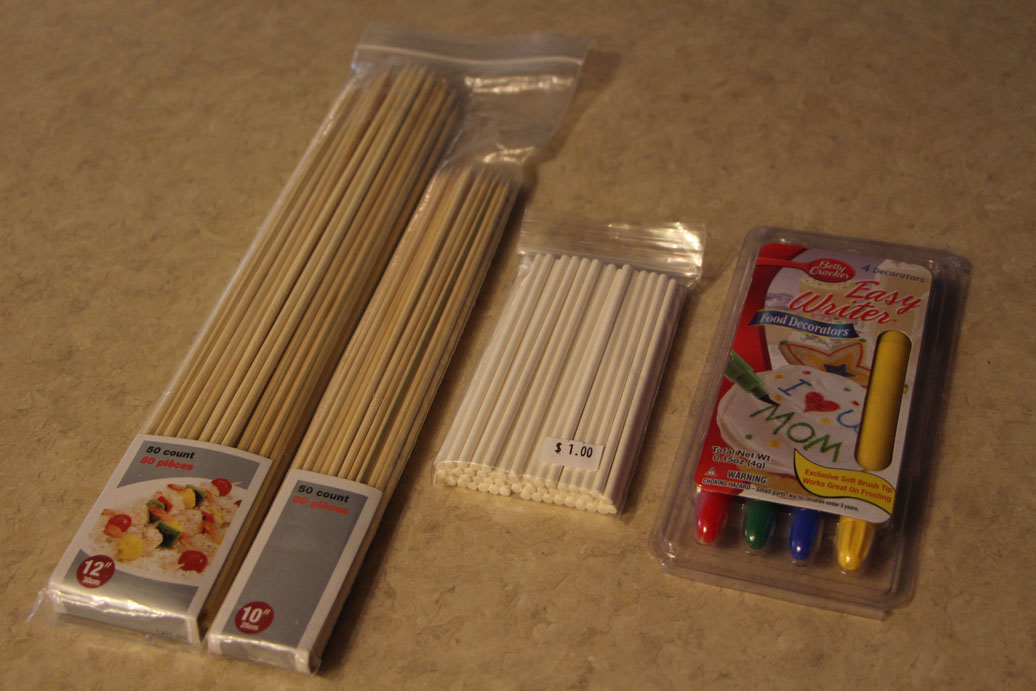 Skewers are always a fun way to serve foods and the combinations you can make are endless!  Just be careful of sending them in school lunches where they may poke another kid…  Lollipop sticks serve the same purpose as the skewers – food is always better when served on a stick.  I bought these for a dollar at the same kitchen store sale I've mentioned before, because normally these can be quite pricey.  Last but not least is a really neat product: food-safe markers!  I got these at Wal-Mart and they can be fun to use to add faces to sandwiches or any other plainly colored food.
So, those are my supplies!  As I said in the beginning, don't feel like you have to go this crazy or spend much money.  Keep your eyes out for bargains and think creatively.  Remember, it doesn't take much to make your meals memorable!