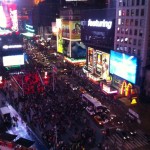 Broadway Lounge
1535 Broadway 8th fl.
Manhattan, NY 10036
(212) 398-1900
Sometimes, the best way to be "in the know" is to act like a tourist.
My husband and I are definitely not particularly fond of tourist joints, and Times Square is our least favorite neighborhood in the city, despite being the home to the theatre district. However, there is one restaurant that we can't help but patronizing as a guilty pleasure and that is the Broadway Lounge at the Marriott Marquis.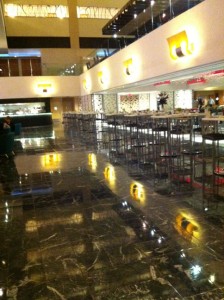 Eight floors above the chaos, the Broadway Lounge is an enormous space with floor to ceiling windows. On any given night after the theatre, people from all over the world can be found enjoying a cocktail or indulging in a late night snack. Pat and I recently went after taking in the revival of Ibsen's "An Enemy of the People."
We were lucky to get a seat right next to the window; some nights it's difficult to get a good view. The lounge is "seat yourself" with (sporadic) table service. After ordering drinks, we perused the menu, which is not large, but contains some neat things like platters inspired by NYC food trucks, flatbreads, sliders and American cuisine.
At $18, the bacon cheeseburger is pricy, but very large and comes with a bowl of crisp, well seasoned fries. My husband ordered the meatballs with garlic bread, which at $14, seems like a bargain (and was reportedly very good), but don't order it if you've got a big appetite.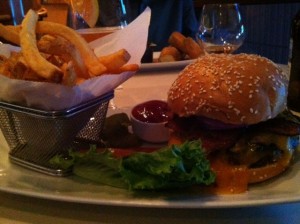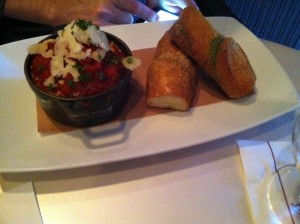 As good as the food is (and the menu changes seasonally), the real star here is New York. From our table, we could see almost all of Duffy Square, the Broadway theatres that line the east side of Broadway, and even at 11:30pm on a Friday night, the thousands of people milling about, enjoying a fall evening with friends.