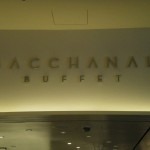 Bacchanal
Caesar's Palace
Las Vegas, NV
More than one way to BUST in Vegas.
We recently had the opportunity to spend a weekend in Vegas. Las Vegas is well known for it's gambling and debauchery but you can't look past the abundance of food options. Ranging from your simple In-n-out burger to your stuffy celebrity chef restaurant. We typically don't plan a lot of our meals and  fly-by-the-seat-of-our-pants when spending time in Sin City. That being said, when I was doing a bit of research for this trip (we brought our 16 year old son with us so we needed to look for something other than plunking my butt at a slot machine) I found an article for a new buffet.
Bacchanal was the name, a new 17 million dollar buffet that had recently opened up in Caesar's Palace. For us, Vegas has been a new destination for us. We  were not around for the famous all you can eat $3.99 buffets. Most of the buffets we've seen or experienced have been priced considerably higher and this is no exception. A Saturday afternoon dinner cost us $42.99 per person. That was with a couple dollar discount with a players card. That's a little tip I can pass along. We didn't even gamble at Caesar's  but signed up for the card which literally took 2 minutes and it gets you a discount to the buffet. Other than the cost of this buffet we also heard about the herendous line ups that folks had experienced. I don't object to waiting in line, especially when it's expected but we did decide for an early dinner to minimize this the best we could. We arrived on Saturday at about 4:30. From the time we stepped foot in line til the time we were seated was about 40 minutes. Not bad considering I was hearing of reports of 2 hours.
The very first thing that struck me was the decor. This was not your ordinary buffet. It had a very modern look with a ton of glass and very modern sharp edges. Even the tables and seating were nice. Gone were the typical buffet booths and wood chairs. We were instead seated at a nice square table with very comfortable padded armchairs that you would be more likely to find at a hotel lounge. Gone was the chaotic buffet atmosphere and what we had was a very nice, relaxing atmosphere. We were then promptly met by our server who took our drink orders and briefly described the dining experience at Bacchanal.
Bacchanal is slightly different than your common "line" buffet. It consists of 9 "show kitchens" with more than 500 items. The show kitchens are broken down in the following cuisine.
Mexican – enchiladas, tortillas and made to order tacos. This also includes a salsa bar with various salsas.
Italian – pasta, lasagna, meatballs and antipasto
Chinese – made to order stir fry, soups and dim sum
Japanese – sushi, sashimi and cooked fish
American – BBQ smoked meats, numerous carving selections, sliders and onion rings
Seafood – oysters, mussels and varieties of crab and prawn
Pizza – many varieties from their own wood fired oven
Deli – soups, cheeses, salads and charcuterie
Dessert – souffles, gelato, creme brulee and numerous cakes, cookies and macaroons
I always start a buffet visit with a perimeter walk so I can come up with a strategy. My eyes are typically bigger than my stomach so I need to plan what I'm going to choose in order to not put myself in a food coma. I know you're probably thinking, who plans a buffet? A word to the wise, if you were to ever plan your meal at a buffet, this would be the place. I could not possibly see how one could even sample from every cuisine without needing to be carted out on a stretcher. In my opinion, one of the coolest things about Bacchanal is that a large number of their dishes already come portioned if you will. You will find items such as fish and chips, onion rings and the sort displayed in tiny fry baskets with a smaller portion than one would typically grab if it was just served in your traditional serving tray. Other items were served in individual skillets. These presentations were not only pleasant to look at but it really controlled portion size. That's a bonus in my mind. I sampled mostly from the American, Mexican and Italian kitchens and I must say that everything I had was fantastic. Some favorites of mine were the meatballs, lasagna and I really enjoyed the sweet potato tater tots. The other great thing about the 9 separate kitchens is that you avoid the ever annoying long, continuous buffet line. You are free to roam about from area to area without so much of a wait or delay.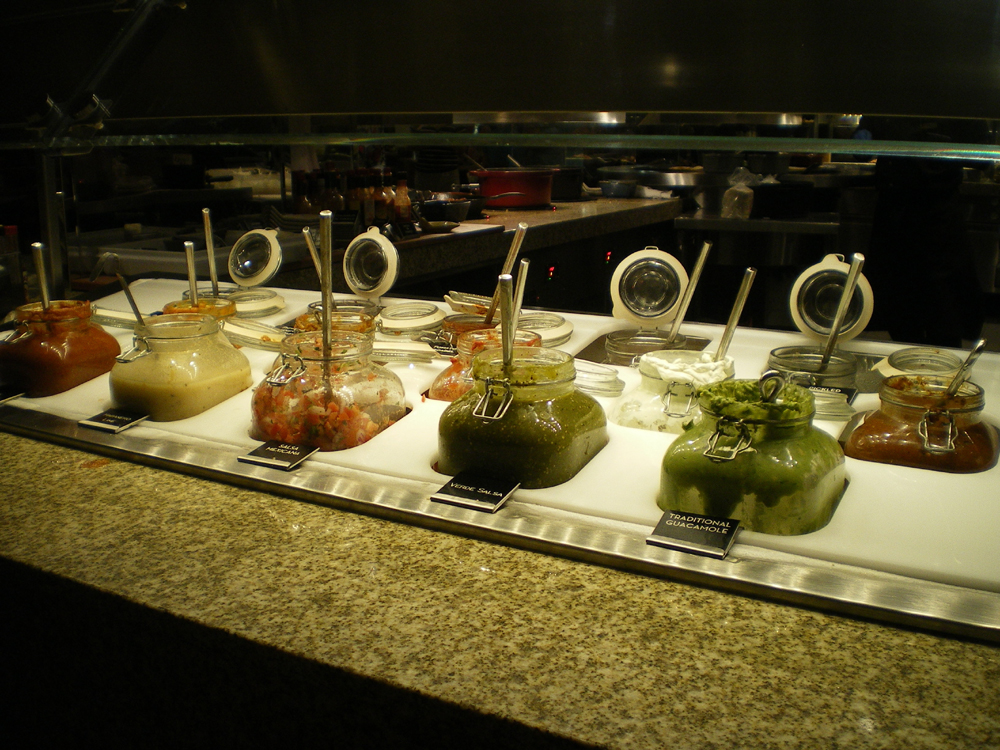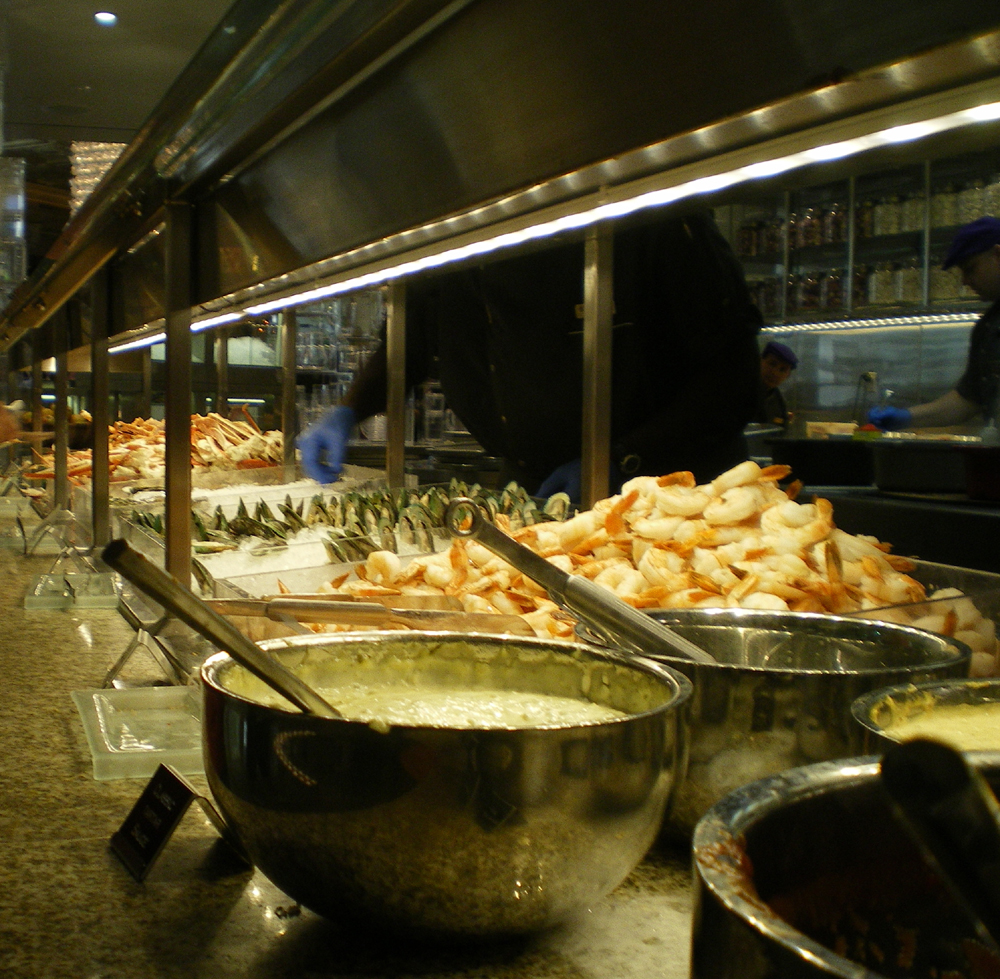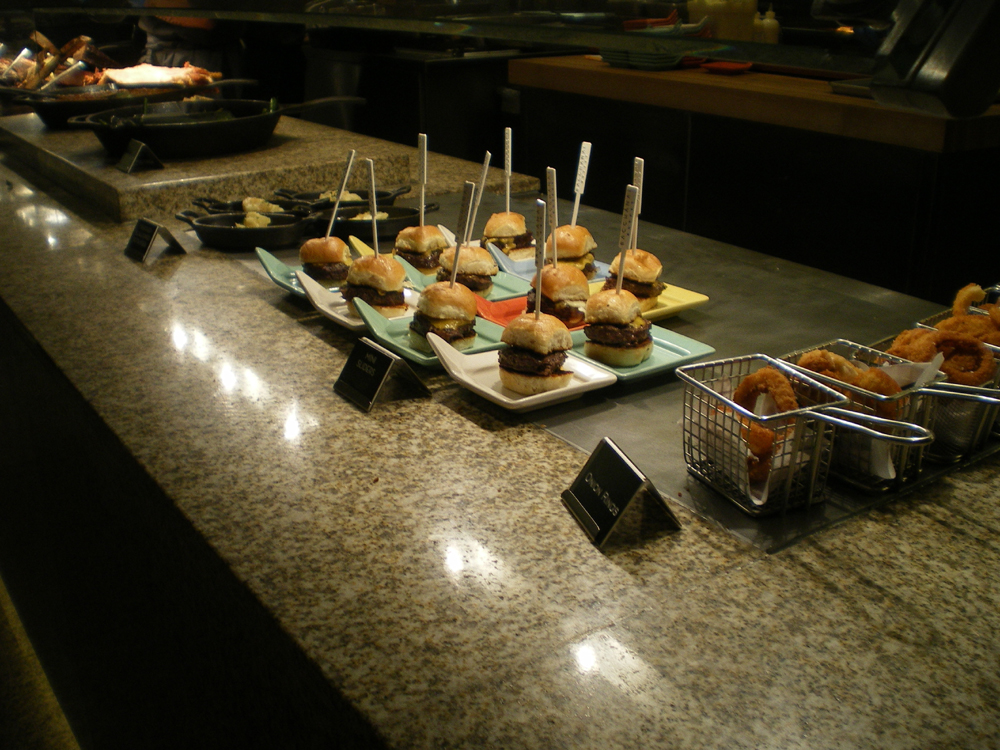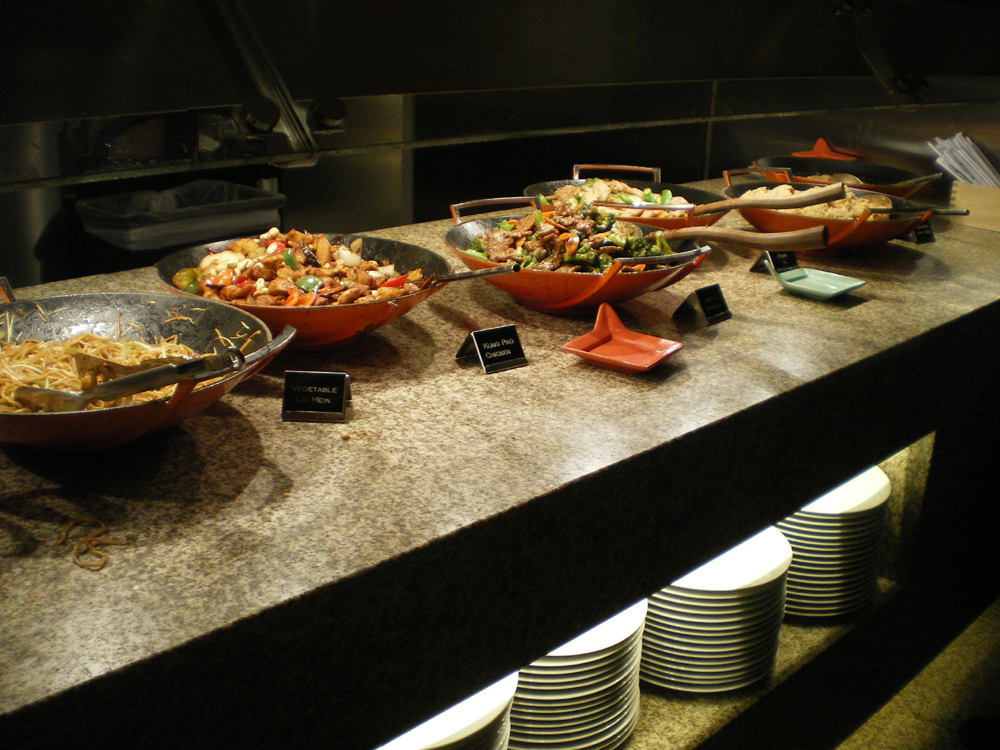 To me, no buffet is complete without a good dessert station. Bacchanal is no exception.  It without a doubt had the best dessert buffet I have ever experienced.  The dessert station is right in the middle of the restaurant and has different selections on all 4 sides. Now I've been to some large dessert buffets but nothing compares to the choices and quality at this place. One of my guilty pleasures are souffle's. I can't get enough of these things. One of the signature selections at Bacchanal is the made to order pistachio souffle and it did not disappoint. Fluffy, moist and flavorful. Couldn't ask for better. They had cake pops, macaroons, fresh baked and warm chocolate chip cookies and a large assortment of cakes, cookies and everything in between. My wife enjoyed a made to order crepe with fixings of your choice. There were of course some items left on our plates but it wasn't due to it not being terrific, it was more to make room to try something else.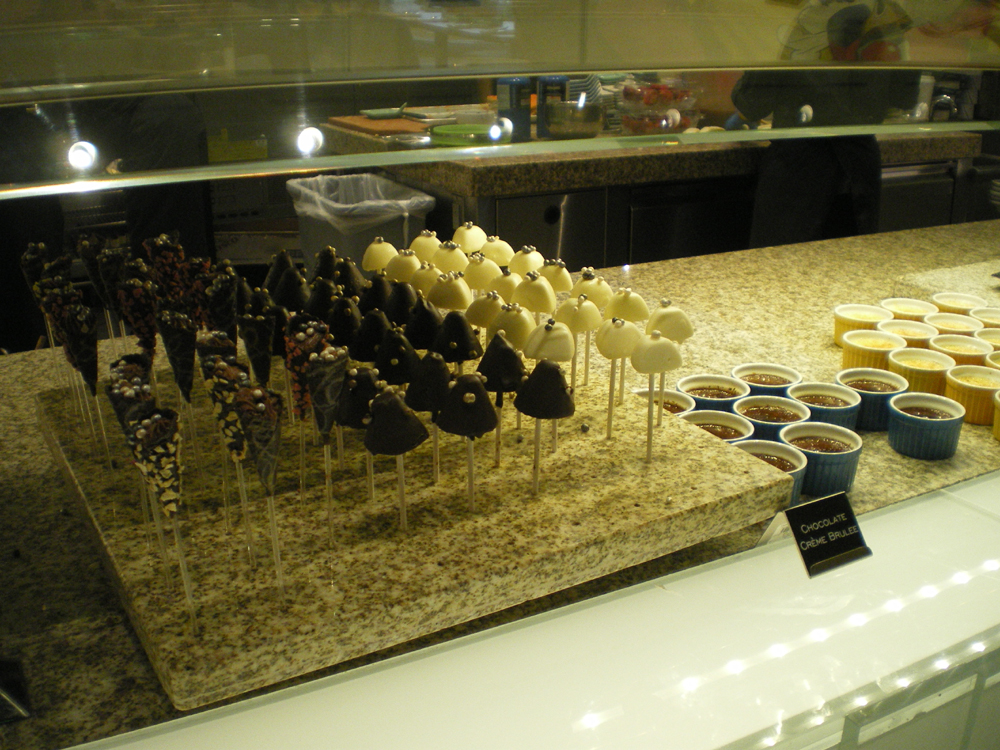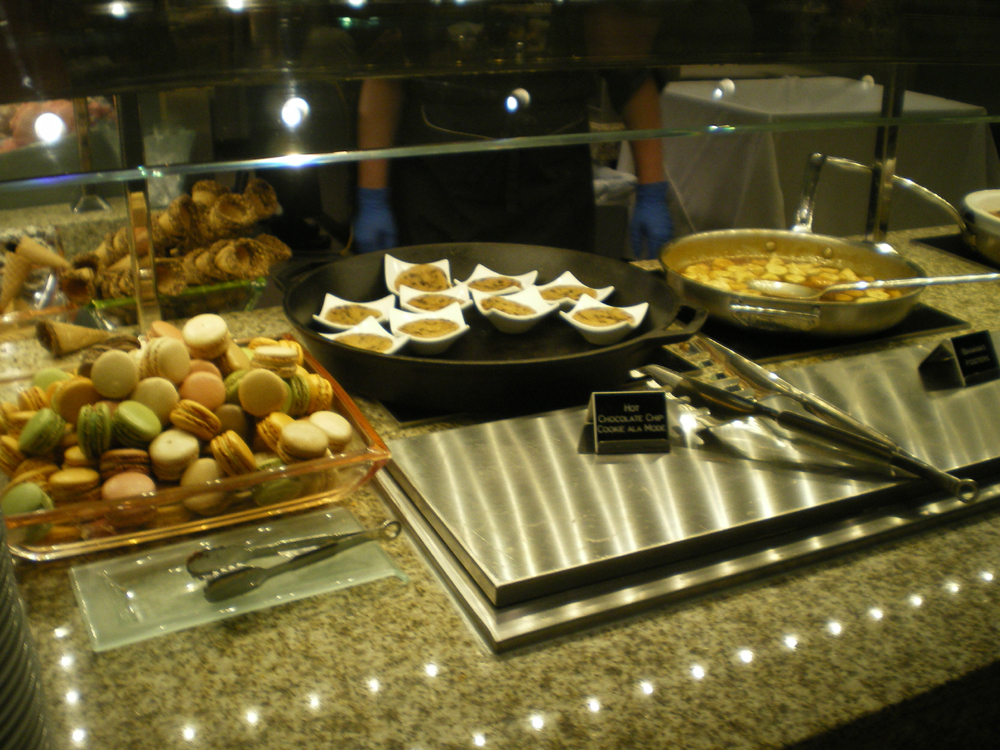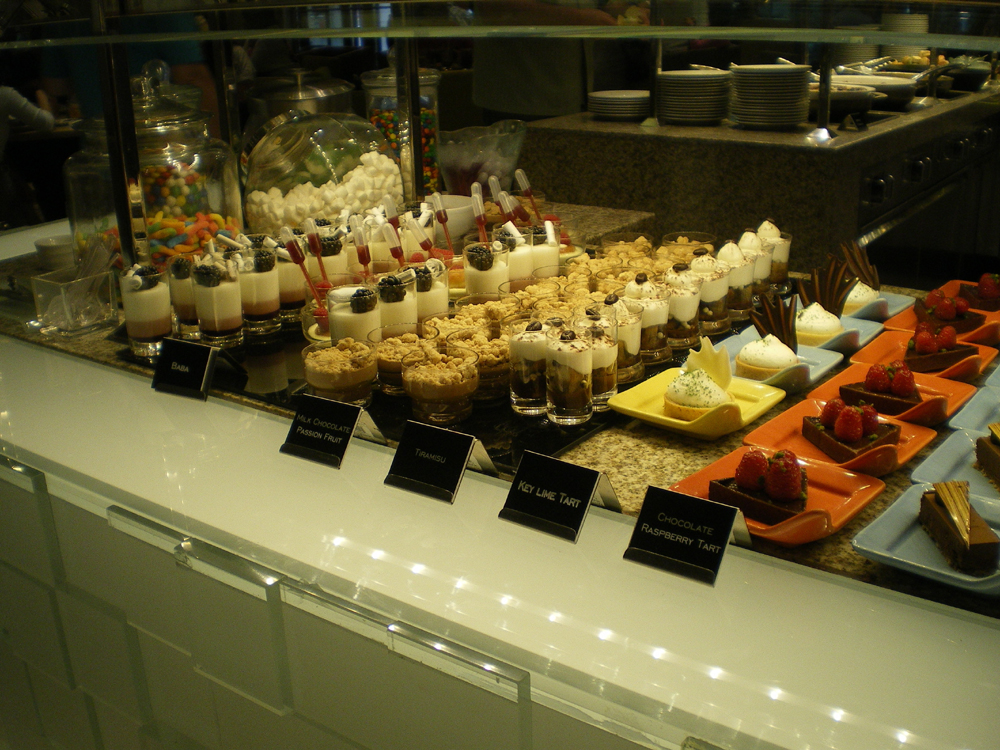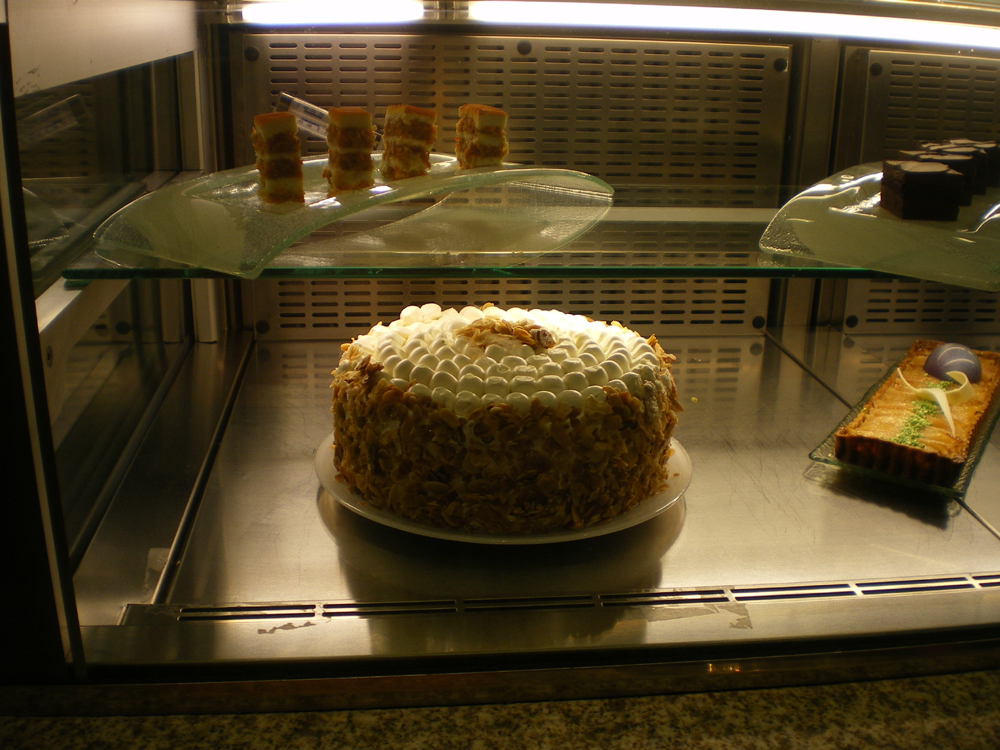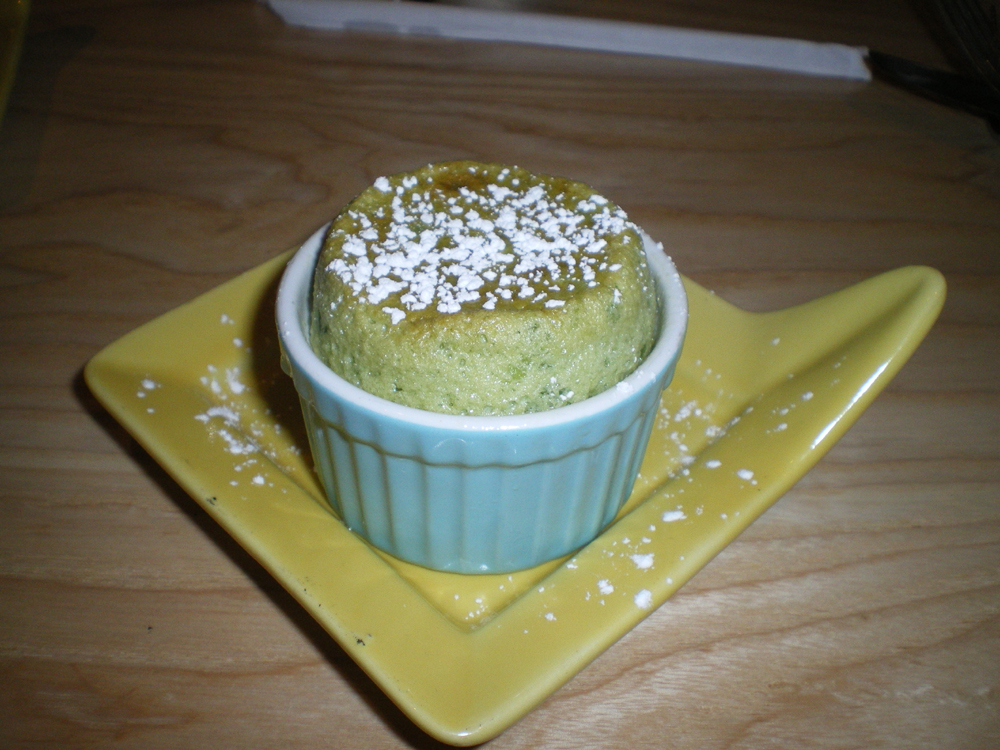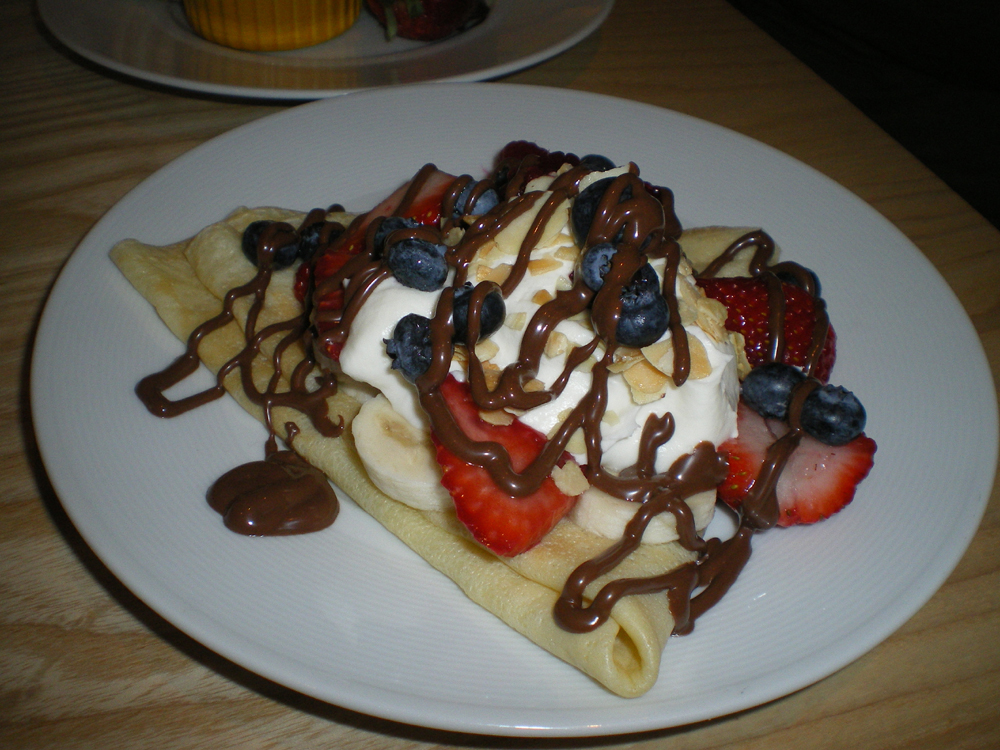 At just shy of $45 per person it's obviously not inexpensive but we really thought the quality of the service was akin to any a la carte restaurant that we would have quite possibly paid more for. Please don't let the price tag scare you away. If you are ever in Vegas it is definitely worth a break from the craps table to head over to Caesar's and Bacchanal for a buffet experience you will not soon forget.