Our family loves fall – the sights, the smells, the tastes.  As a result, we seek out activities that will allow us to experience these as often as possible.  A tradition that David and I started when we were first married was visiting an apple orchard at least once every fall.  We've continued this since having our kids and it's been really fun to see them start to enjoy the outing as much as we do.  As much as we love spending a day walking through the orchard picking apples and taking pictures among the trees, that's not our favorite fall outing.  There's not much better than a ride on a hayrack through the woods with friends and cuddling under blankets, then heading back to a warm fire, hot dogs cooked on sticks, and gooey marshmallows and chocolate smooshed between two graham crackers.  Luckily, we live in a rural area, so hayracks, woods and bonfires are easy to find.
Sometimes though, it just doesn't fit our schedule to be outside enjoying the season.  When that happens, we bring the outside in with our food.  I created this muffin tin for our kids as a way to taste all the flavors of fall in one yummy meal.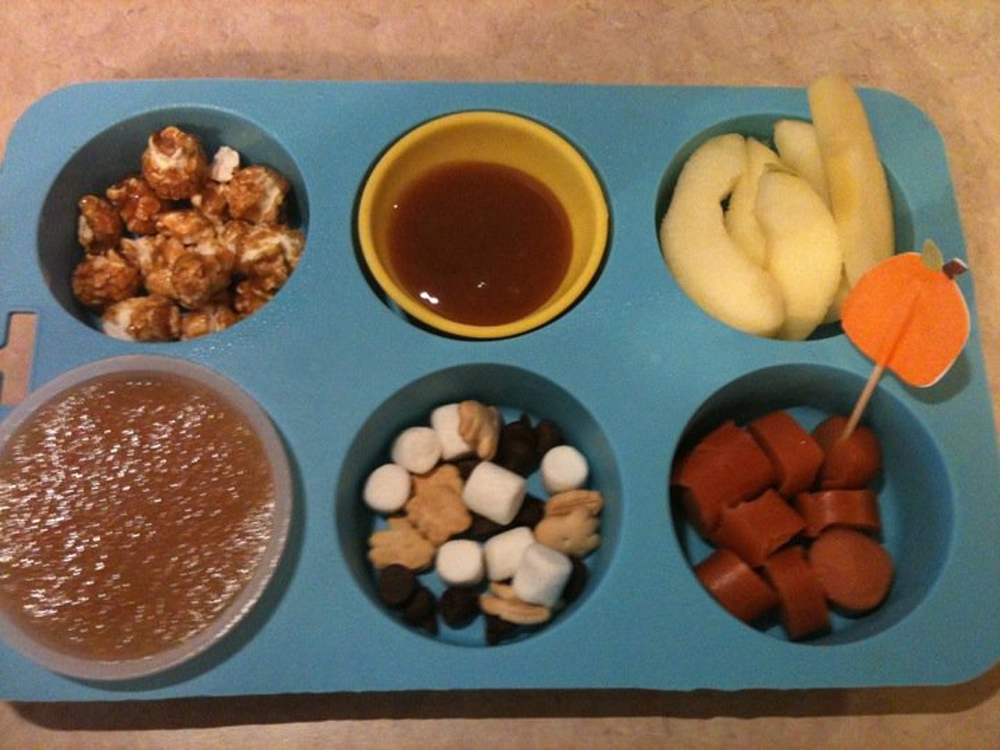 In this meal, I served caramel corn, apples with caramel dip, cinnamon applesauce, deconstructed s'mores, and hot dogs with a pumpkin pick.  The s'mores were my favorite and I was kind of proud of this idea!  It was very spur-of-the-moment when I realized I needed another food to fill the tin.  The s'mores included chocolate chips, mini marshmallows and mini graham cookies.  I LOVE chocolate and eat it almost every day in some form.  I've passed this love on to my kids, so they were pretty excited about this addition as well. 
With Thanksgiving just around the corner, we have also been looking for ways to remember things we're thankful for and to talk about all the blessings in our lives.  I decided to let my kids have two lunches where they each picked out their favorite foods that they were thankful to have, and that would be what I served for lunch.
The foods my kids chose for the first lunch were M&Ms (remember the love of chocolate?), veggie straws, peanut butter and jelly sandwiches, popcorn, grapes and candy corn.  Obviously not the healthiest lunch, but they were happy and they did eat the sandwich and grapes before the candy.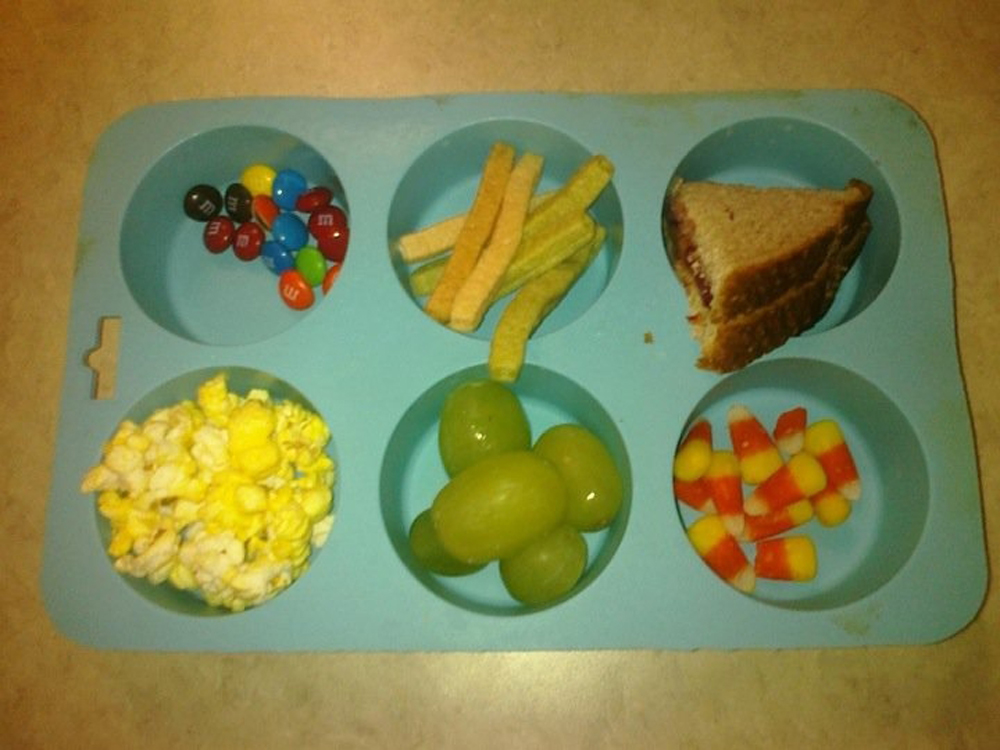 For the second lunch, they chose foods that ended up coming together to be a slightly more well-balanced meal than the last.  This tin included Jell-O, corn, 2 grilled cheese sandwiches, a brownie and veggie straws.
These meals could be done as simply or as complicated as you want.  I only let the boys pick from foods I had on hand and that could be served quickly, so we didn't have anything that needed to be baked or prepared ahead of time.  You could easily ask them for the menu the night before, or on grocery day, and plan ahead if the requested foods were more elaborate. 
I hope these meals will give you some ideas of ways to celebrate the fall season with your family.  Remember, it doesn't take much to make your meals memorable!