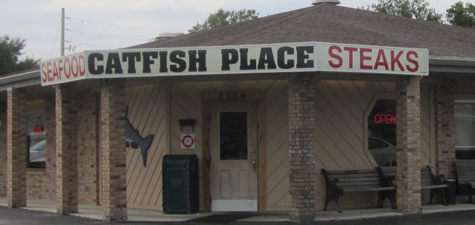 The Catfish Place
2324 13th Street
St. Cloud, FL 34769
(407) 892-5771
Is there a restaurant in your town that you drive by all the time where you've never eaten?  For me that was The Catfish Place.
I'm not sure why it took me 10 years to try it.  Maybe it was the name.  Maybe it was where it was located or how it looked from the outside.  Maybe I thought all you could get there was catfish.  I really don't have a reason, but I'm glad I took the chance and gave it a try.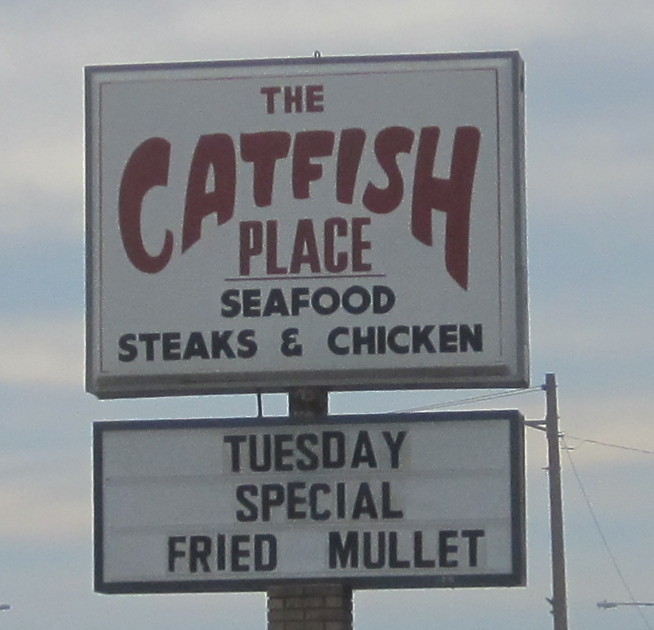 This is one of those places that's just as unassuming inside as it is from the outside.  Very much themed around catfish, gators and hunting it has an eclectic mix of art and style.  If you can't get past the half deer protruding from the wall painted to look like a forest, just ask to be seated somewhere else….. the food is worth it!!
As the name suggests the menu is very heavy with fish, much of which is proudly labeled as locally caught.   If the more 'exotic' choices on the menu like alligator or turtle turn you off just keep reading, you'll find many old standbys like shrimp, scallops, haddock and more.
Our latest visit to The Catfish Place was actually inspired by my father who was in town for a visit.  We asked him what he felt like having for dinner and he said he wanted fried shrimp.  We kind of racked our brains for a bit trying to come up with ideas of where to go when finally The Catfish Place came to mind.  I'm not sure why this restaurant was an after-thought but we hoped the fish would be good and it's close to home.  So off we went, Kevin, my father and I.
Now before I tell you about our meal I have to admit something.  I have an obsession. It's fried pickles.  Whenever I see them on a menu I have to get an order.  I tell myself it's just to see how each restaurant makes them; the truth is I love fried pickles.  We added some fried clam strips and mozzarella sticks to the appetizer order in case my Dad didn't care for the pickles (which I secretly hoped he didn't so I could eat them all myself).  Everything was hot, fresh and delicious…..even my Dad liked the pickles!!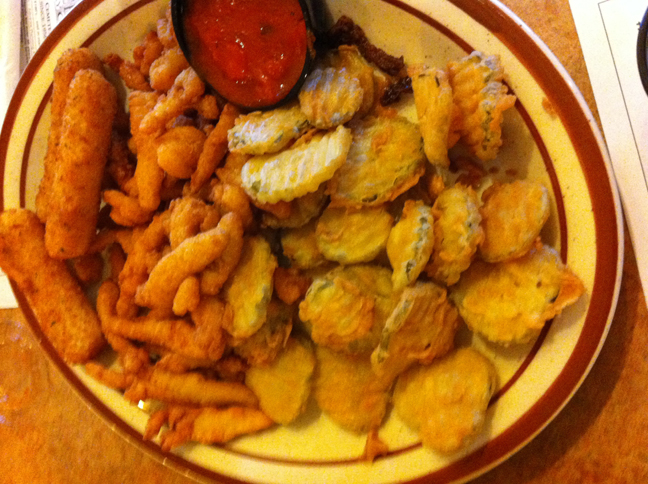 Kevin has a similar obsession with hushpuppies and he ordered an appetizer portion for the table.  He loves them.  Me, not so much.  Apparently you're supposed to put honey on them.  This kind of grossed me out a bit and I just had one.  I wish I knew in advance that they came with every meal.  By the end of the night we were inundated with hushpuppies.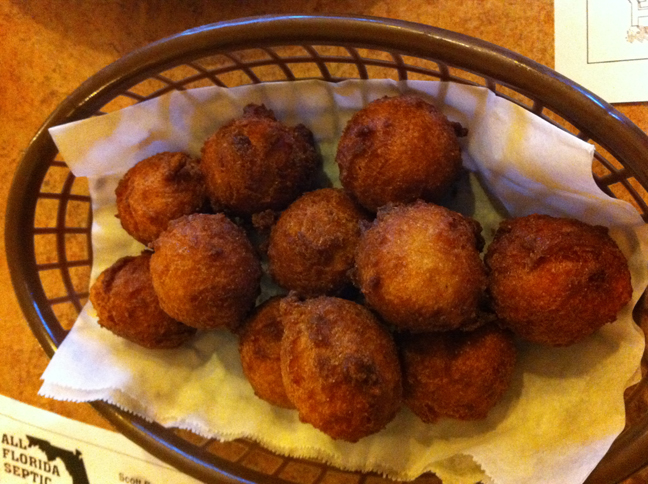 For dinner we all tried something a little different.  I went for an alligator, catfish and clam combo.  It came with more of the hushpuppies and two sides. I chose mash potatoes and the "special", green beans with baby potatoes.  The fish, shrimp and gator were all tender and tasty in a nice light batter.  The potatoes were good, but the star was the green beans and potatoes – holy smokes were they awesome!!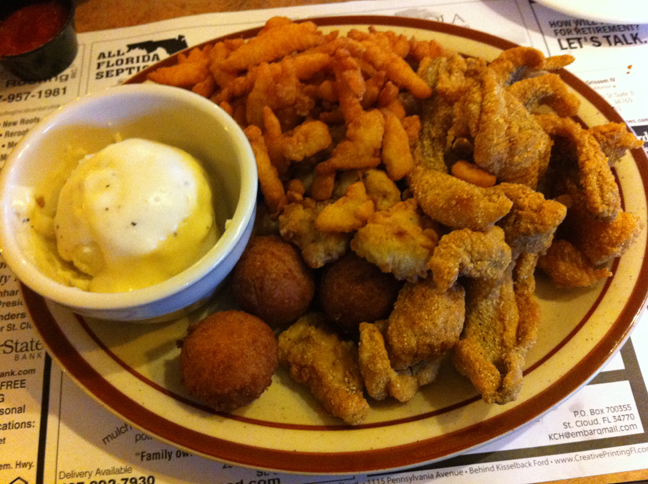 My Dad, who was on a quest for shrimp that evening, ordered a senior's shrimp platter.  It also came with hushpuppies and he ordered corn and French Fries as a side.  He liked everything and I was really surprised at how much food he received.  I actually intentionally over ordered because I thought he wouldn't get enough and he could pick off our plates.  Not only was he full and happy he had left-overs.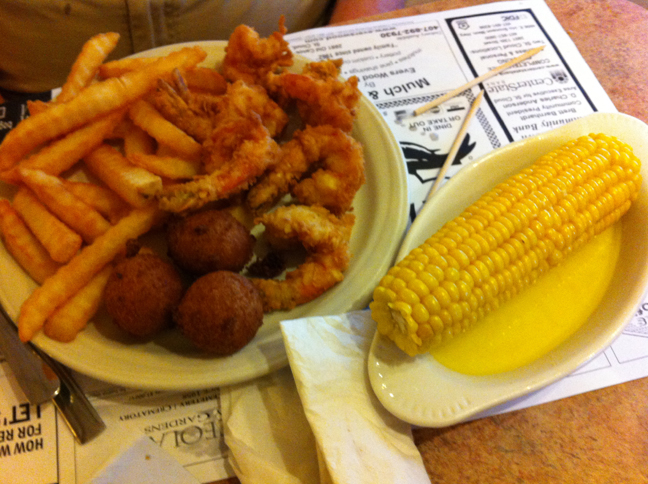 Kevin got a shrimp, scallop and clam strips combo.  His sides were the green beans and hash browns and of course the ubiquitous hushpuppies.  He loved everything except the hash browns which were a bit under-done.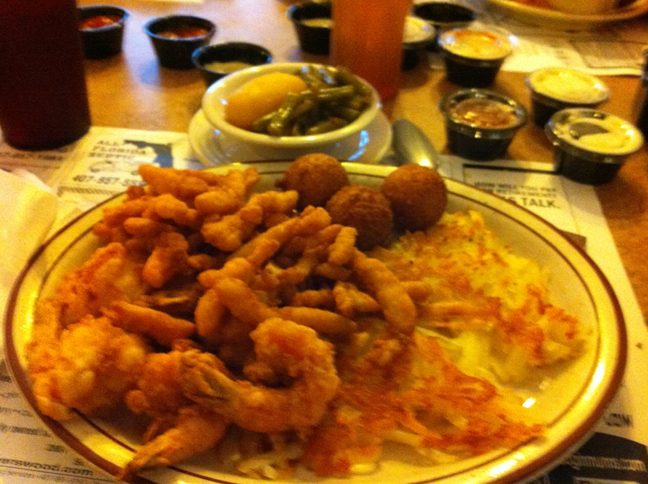 What I really like about this place is the fact that you can pretty much create any combo platter you want.  You can choose from a multitude of main items and sides to get just the perfect meal you're craving.
In addition, the portions are huge and the pricing is very reasonable.  The three of us left stuffed and had leftovers for two days and the bill was under $80 (including tip and a glass of wine for my Dad).
If for some reason you find yourself in a small town called Saint Cloud Florida, I highly recommend a trip to The Catfish Place.