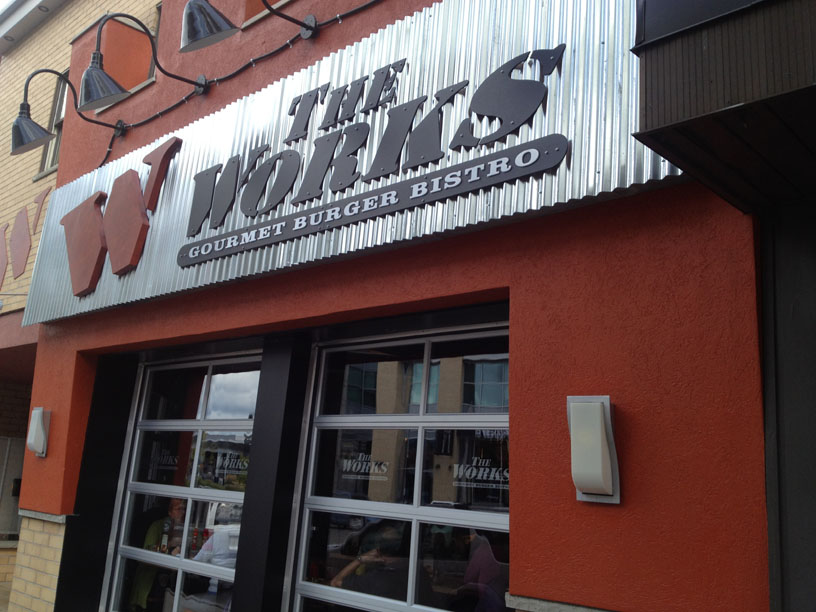 The Works – Gourment Burger Bistro
92 King St. South
Waterloo, ON
519-885-6000
 PB & Bacon??
I  don't really fancy myself a "foodie" by definition. Maybe I don't fully appreciate the word but I don't pay a great deal of attention to the preparation process, where the ingredients come from or the presentation of my plate. Simply put…..I just like good food. I also don't have the sophisticated palate like some other foodie's may have. As an example…if it swims in the ocean, I don't eat it. My only exception to that rule is if you throw enough batter on there and fry it and serve with a substantial side of tartar sauce.  When I go to a new restaurant I tend to find myself gravitating to the sandwich section of the menu. A good sandwich or burger with some great fries or a salad and I'm just as happy  as the person next to me eating their lobster or filet mignon. Don't get me wrong, I say eat what you like. If you enjoy the seafood and good cuts of meat I say indulge. Just don't be too shocked if we're at a high end steak house and I'm eating the burger or chicken.
That being said, when I overheard  some coworkers talking about a new burger establishment that opened up in the area my ears perked up like a kitten that heard someone shaking the treat bag. I have had burgers from all over and am known to treat a burger like others treat a fine wine. I've lived in my area here for about 6 years and have had maybe 2 burgers that I would consider so good that I would make a second trip back. That is about to change.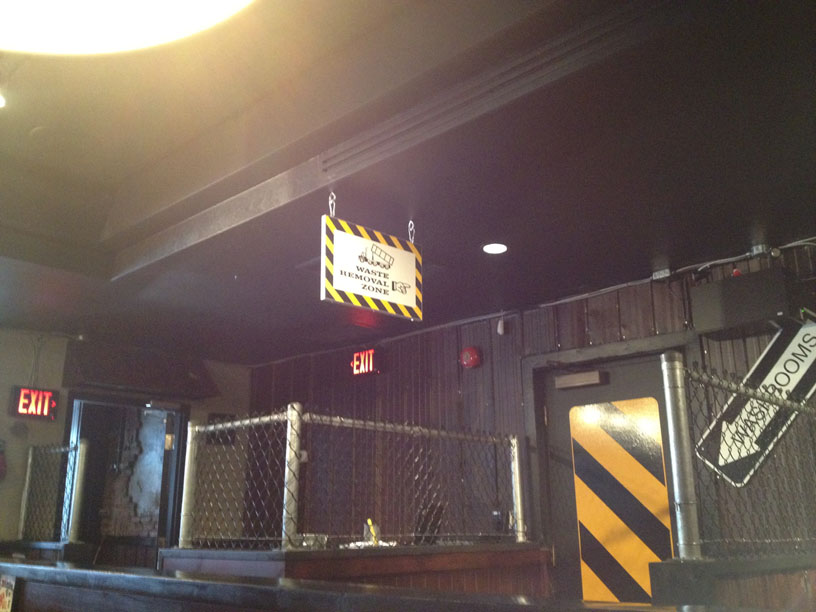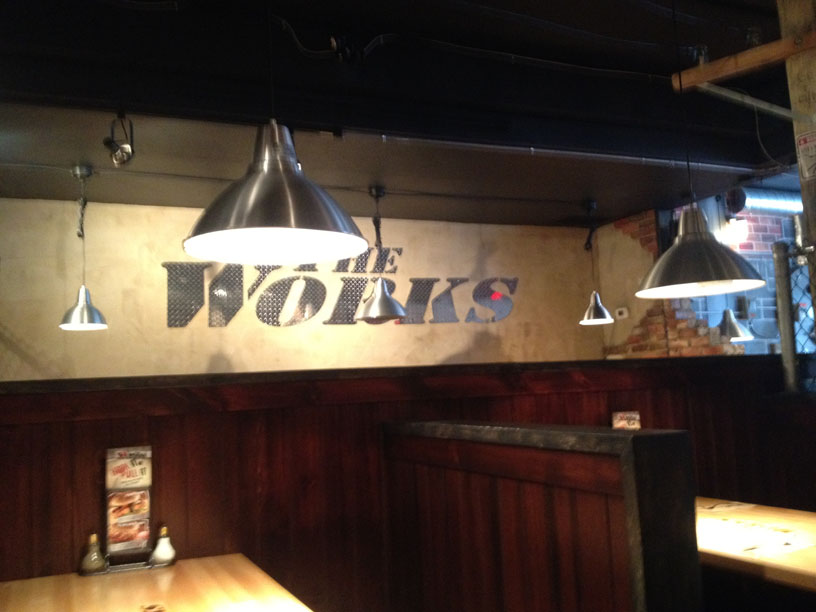 Upon entering The Works it was like we were stepping into an industrial factory. Non descript wooden tables and the walls and ceiling were covered with water and gas pipes giving it almost a steam punk feel. We were handed our brown paper menu with a brief description as to how the ordering process works. We needed a few minutes to look over our choices so I'll get back to the order process shortly. The menu, although overwhelming, is broken up into simple sections. There are the Shift Starters (Appetizers) that include everything from a tower of onion rings to crispy dills (deep fried pickles). We didn't have any appetizers this trip but I can tell you that it may sound strange but fried pickles are delish! You will also find what they call gourmet burger salads and sams (sandwiches). You will then find some options for High Octane Poutine. Those unfamiliar with poutine it is basically fries covered in cheese curds and gravy. Easily one of my favorite side dishes as I have mentioned before and will probably mention again . Cheese makes everything better. High Octane Poutine is essentially poutine to the extreme. As an example the Lipstick on a Pig is poutine with cheese curds, gravy, pulled pork and bold bbq. At $9.89 it's a little pricey for fries but easily enough to share. Besides, how do you put a price on awesomeness?  You will also find a number of beverage choices from soda, wine, beer, smoothies, floats and what I might consider the best milkshake I've ever had. When trying out new restaurants like this that seem to put a focus on milkshakes I always like to try a banana shake. This has become my measuring stick. I ordered a medium banana shake ($5.91) that was served in a 16oz measuring cup. Really creative idea to serve beverages I thought but was somewhat concerned that they put more thought in the presentation than the ingredients. Nope…I was wrong. Quite possibly the best shake I've ever had. Definitely hand made with real ice cream. None of that fast food poured out of a machine kind of milkshake. I counted 34 different milkshake flavors and combinations.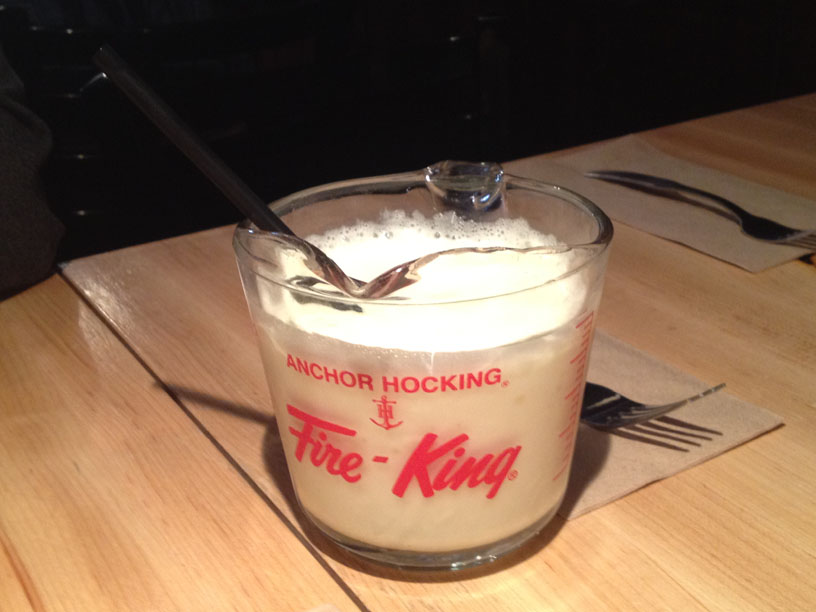 Now for the main event. This joint is all about the burgers and that is what brought us here this day. There are 5 steps in ordering a burger at The Works.
Step 1 – Choose your patty. Choice of ground beef, whole chicken breast, ground turkey, gourmet veggie, portobello mushroom or lean domestic elk ($3.39 upgrade)
Step 2 – Burger toppings. There is an extensive menu of 70….yep….70 burger combinations that they have created for you. You can go with a local favorite like the Oktoberfest (bbq smoked brisket, smokey bbq sauce, jacke cheese and onion ring) or be a little more daring with the San Francisco Treat (kraft dinner and cheddar). Take a trip around the world with the Down Under (caramelized onions, egg, purple beets, grilled pineapple and gouda).
Step 3 – Bun option with choices of white, whole wheat or gluten free
Step 4 – Side Dish choices of fresh cut fries, broccoli, celery, cucumbers, sweet potato strings, spicy die cut chips, mashed potatoes or bold slaw. You could also choose to upgrade your sides to choices such as onion rings, kraft dinner, poutine and more.
Step 5 – Add-ons. You can choose numerous burger add ons from an extra patty to jumbo shrimp to brie cheese.
Being that I'm a self proclaimed burger nut I was like a kid in a candy store with this menu. There were dozens of combos that I wanted to try but I researched this menu a bit before we made the trek and I had my eye on a couple. I finally decided on the SK8R Boy (peanut butter, jack cheese and strip bacon) @ $12.91 with an upgrade to the poutine ($2.96) while my wife, not being as adventurous, went with the Ho Hum #2 (cheddar cheese and crispy bacon) @ $12.74 with a side of onion rings ($3.56). We both went with the ground beef patty which is a 1/2lb freshly pressed patties. This was my only small issue. I mean, I love my burgers but wish I could have chosen a 1/3 or even ¼ pound option as 1/2lb can sometimes be too much for me. The patties though were done perfect and the bun was fresh and slightly toasted which is always a nice touch. My wife really enjoyed her burger and thought the bacon was done to perfection. The onion rings themself were some of the best I've had. They were breaded, not battered, and seasoned perfectly. Even the onion itself had a great flavor to it. Now, for my order, I may need to take a few minutes to just fantasize about it. There are 2 things I left with at the end of the day. There is a place to get a good burger in our area and I may need to be an addendum to my motto. It may need to start reading "Cheese makes everything better and all burgers need peanut butter". I must admit that I chose a burger with peanut butter as I could not imagine what that would taste like. After having said burger my only question is…."why isn't everyone doing this?" This choice of topping was absolutely perfect and the sweetness of the peanut butter goes perfect with the ground beef and saltiness of the bacon. I can't wait to have this again. The poutine that came with my meal was equally satifying. Gravy was fantastic and the cheese curds were nice and fresh. Our bill before tax and tip was just under $46. More than your average burger meal but well worth it in my mind.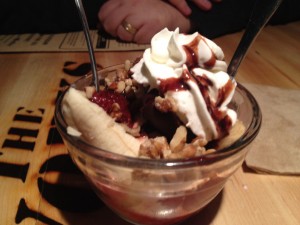 My wife and I have started to try to eat a little healthier. In order to try to make this lifestyle change easier to take on we have allowed ourselves a "cheat day", which is Saturday or "faturday". We sometimes tend to think days in advance where we are going to indulge on Saturday. I have a funny feeling that The Works will be a regular stop for us on the weekend for the forseeable future.