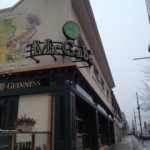 McCabes Irish Pub
352 King St. West
Kitchener, ON
519-743-3400
mccabesirishpub.ca
A few months back we went to a local food and drink expo in our area. This is something they've been doing the last couple years. Its essentially a food and drink "trade show" where you have local suppliers, vendors and restaurants sampling their offerings. While there we sampled some beef sliders from a local Irish Pub called McCabes. We enjoyed it to the point where we thought we needed to give this place a shot. Pub food ranks up there with diner food to me as quite possibly my favorite "cuisine". There is nothing I like more than having a nice appetizer and sandwich or burger for a meal and pub grub is usually where I can find both in great quantity and quality.
Upon entering the restaurant it was you typical Irish pub setting. Large bar area and dining room with dark wood booths and high top tables with enough Guinness and clover decor to satisfy all you Irish needs. The menu read exactly as expected. A large variety of appetizers, sandwiches, burgers, wings and traditional pub grub. You could have a simple burger or club sandwich or go with the traditional fish and chips or Steak & Guinness pie. For an overview of all offerings I would suggest checking out the online menu as its too varied to list here. I did find it intriguing to see the some Canadian/Irish infused dishes such as Irish poutine but I decided to save that for another visit. There was also of course a variety of beers on tap both domestic and imported.
On this day we decided to try a couple of appetizers and sandwiches that caught our eye. For appetizers we went with the antojitos which is a favorite of ours. Basically a tortill wrap filled with peppers and cream cheese and baked and then served with salsa and sour cream.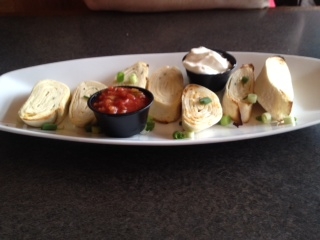 My personal choice was the breaded pickle spears. This is an appetizer I discovered a couple years ago and have fallen in love with. There is just something about the crispy breading and the crisp and tangy taste of the pickle that I think go perfectly together. This was served with a house made caesar dressing. The dressing was good but very heavy on the garlic so I decided to leave it be. I love garlic but apparently garlic doesn't love me. Both appetizers were very good and I would have no problem ordering both again.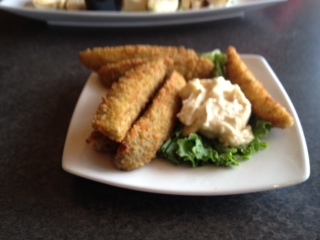 For lunch we went with the McCabe's burger which was a burger made with locally farmed beef and Irish bacon and English cheddar. The burger was good althoug I found the meat patty had a little too much filler for me. The bun however made up for that. A locally baked artisan bun that was incredible. I chose to have this served with fresh cut fries and they were done perfectly for me. Slightly over done and crispy.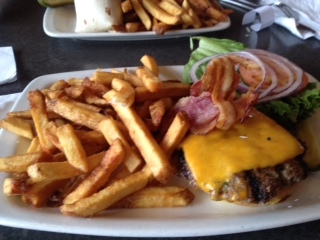 Our second choice was the Buffalo Chicken wrap which is served with your choice of sauce. We went with the Irish Beer BBQ sauce. We thought this was also very good and the chicken tenders were also house made and the breading was near perfect.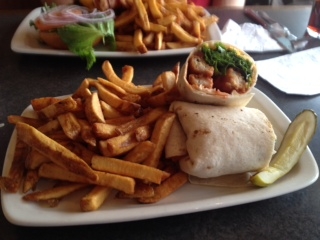 For the two of us to have appetizers, entrees and a couple of sodas it was $60 with tax and tip. A fair price for what we had I think. Aside from the shaky service I would definitely give this another shot as there are other menu items I would like to try. If you're ever looking for a decent Irish Pub and a McCabes franchise is in your area. Give it a try. Nothing says Irish/Canadian like a pint and a poutine.