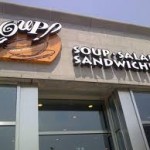 Zoup
75 King St. South
Waterloo,ON Canada
519-747-9687
www.zoup.com
Let me say that I am very much a creature of habit. I basically go to bed at the same time every day, have the same morning routine, etc. That sometimes translates to our dining as well. A typical Sunday for us is grocery shopping, laundry and of course football. Somewhere in between groceries and football it has become tradition to go grab lunch at a local restaurant called Zoup. This is a franchise that is sprinkled across the U.S.and has in recent years found a home here in Waterloo.  This place is akin to the soup nazi from Seinfeld without all the structure.
They of course specialize in soup but also have about 8 sandwiches and 6 or 7 salads. It has a bit of an cafeteria feel to it whereas you enter the line at one end and exit at another. First you come to the soup station where you can try samples of as many soups as you like. Every day they have 12 different soups (70 varieties in total). You will find a couple of standbys every day. These favorites include the Lobster Bisque and the Chicken Pot Pie. Both of which are very good and crowd pleasers. Most often you will also find some sort of Tomato and an Italian Wedding with Turkey Meatballs. There is also quite often seasonal offerings such as Chopped Vegetable in the summer and Pumpkin Bisque in the fall. Both of which I'd love to try but have never been available on my visits. Soups are available in 4 sizes. These are side, cup, bowl and XL. Once you have decided on your soup you go to the register and place your order. A very popular option is the "try 2" where you get a side of soup (option to upgrade to cup or bowl) and either a half salad or half sandwich.
Part of the appeal of this place for us on a Sunday is that all the menu items have the nutritional info, as well as the weight watchers plus points, made available. After our "cheat" day on Saturday this allows us to get back to our regularly scheduled diet without too much problem. In fact, I almost find myself looking more forward to my soup on Sunday than my "faturday" meal.
On this week my wife opted for the half salad and half sandwich combo rather than go with a soup. She had the Turkey Club with the Loco Burrito Salad. Both of which are really good and fresh. As I mentioned earlier I am a creature of habit. I have about 4-5 soups that I bounce between and almost always go with the same sandwich. This day was no different. I had the Mexican Chicken soup (cup size) and the 4 Cheese Melt sandwich. Most of the sandwiches are served on an excellent ciabatta bread and every soup comes with your choice of roll. We always go with the sourdough. We love sourdough and this little soup place has some of the best we've ever had.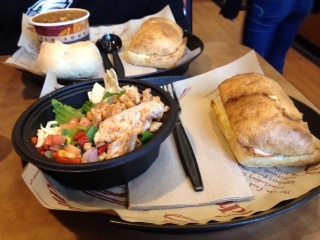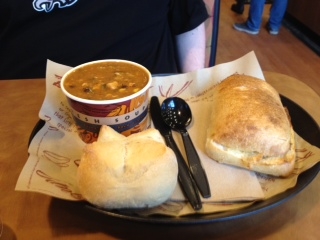 In my mind there is almost nothing more comforting than a nice bowl of hot soup and a sandwich and this little franchise has done nothing to disappoint.