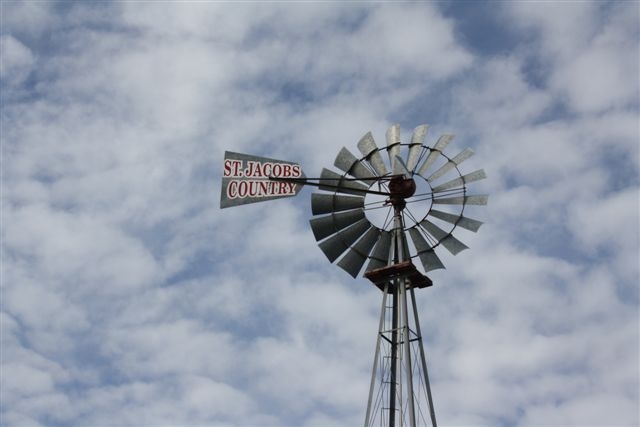 We were recently aboard the Royal Caribbean Cruise Line (RCCL) cruise ship The Allure of the Seas and if you're frequent reader of the posts on this site, you have read of some of our dining experiences.
I'm going to tell you about another one.
150 Central Park is aptly named as it sits in the Central Parkarea of the ship. This is a unique "open air" part of the ship. There are trees, plants, flowers and other things you'd find in a park and it's bordered on two sides by residential towers. It's possible to book a stateroom overlooking Central Parkon the Allure and Oasis of the Seas.
150 Central Park is the "gourmet / fine dining" option onboard both ships. There is a $40 per person surcharge for dining in this location. I've been lucky enough to dine there twice. The second and most recent visit was much more successful than the first.
After our first visit to 150 Central Park, I would have described it as stuffy, pretentious and "trying too hard". (Not every dish requires foam. Foam is overused and over played. If you are a chef….I believe most people don't like foam.  Stop with the foam.
My opinion changed with our most recent visit. What seemed forced and pretentious previously, seemed much more natural and fun.
Let's talk about dinner….
150 Central Parkis a beautiful, elegant space. Of all of the dining venues on the Allure and Oasis, this is the one where looking sharp is rightfully expected.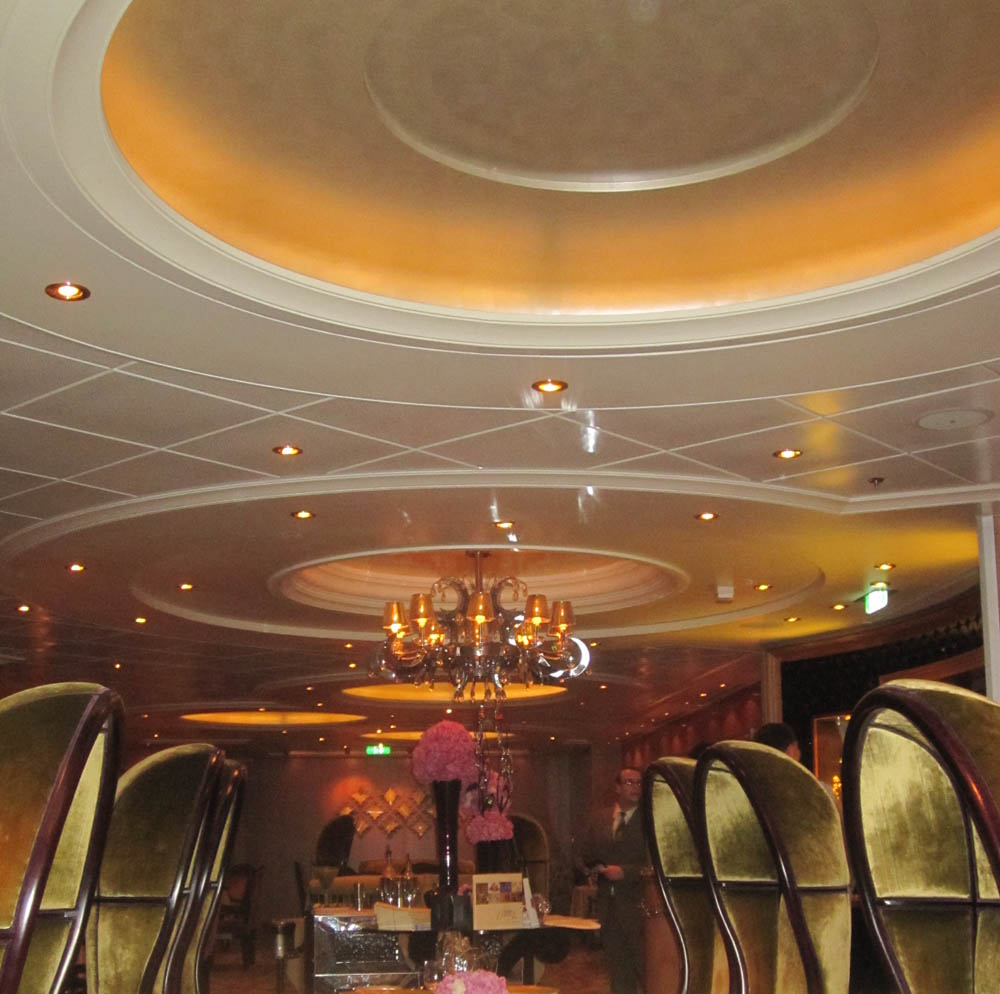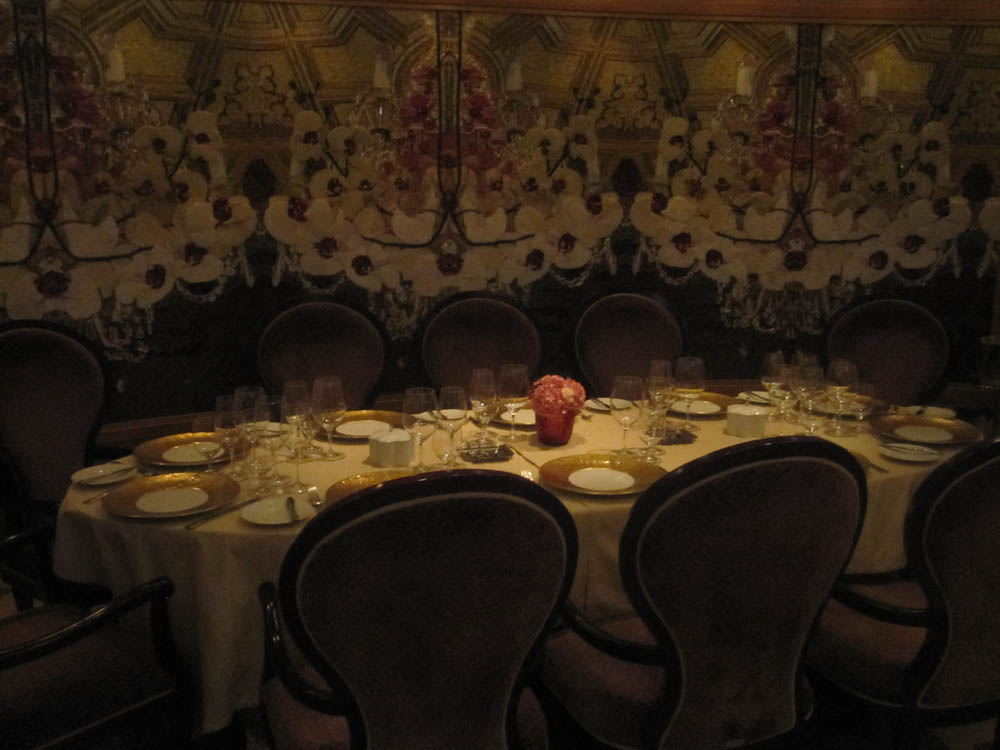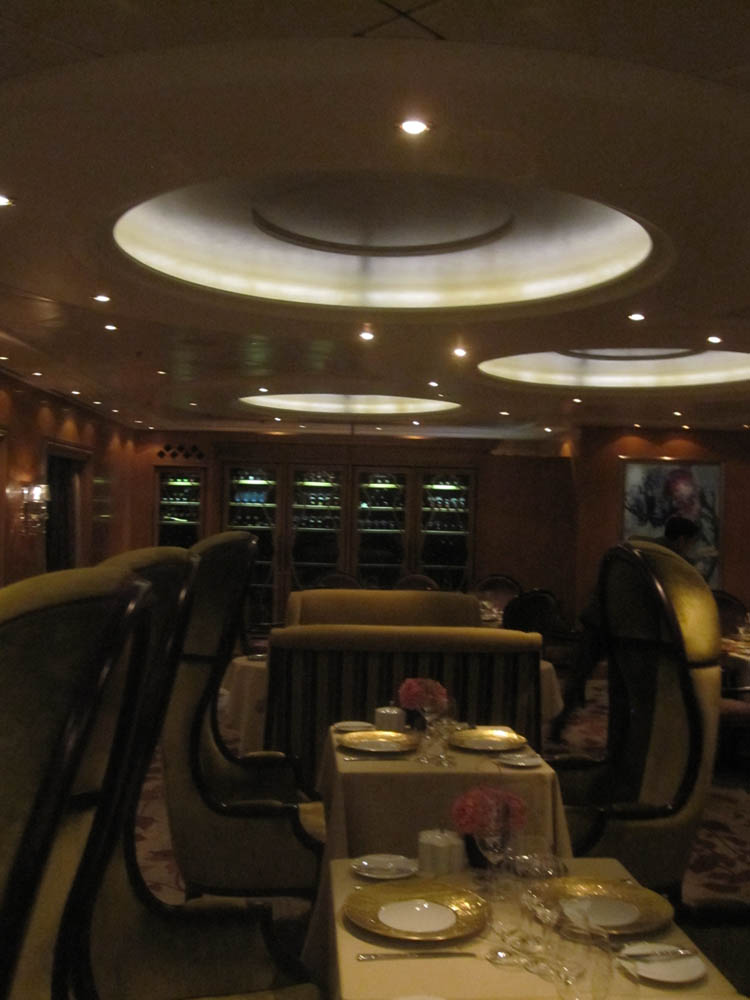 Once seated, our server greeted us with a basket of warm rolls. He also uncovered a selection of salts from around the world.  He explained that the butter served with the bread is unsalted and that the salt would add to the flavor. There were six varieties of salt and they range from mild to more flavorful. There is a smoked salt and even one with a slight sulfur taste.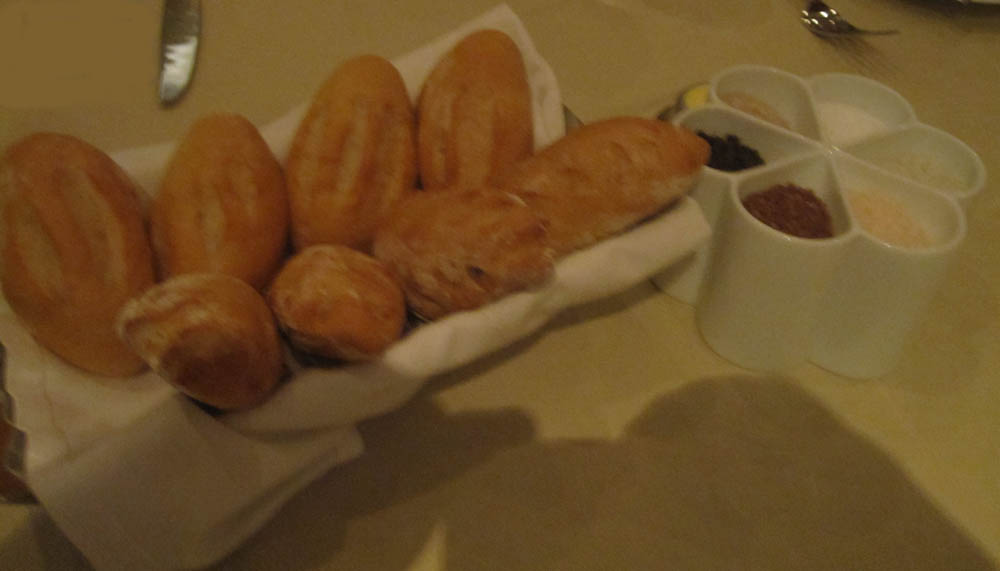 Sprinkling your bread with salt is A) delicious and B) fun. While I'm sure that the health risks would suggest that this not be an everyday activity, it's okay on vacation. I'm sure of it.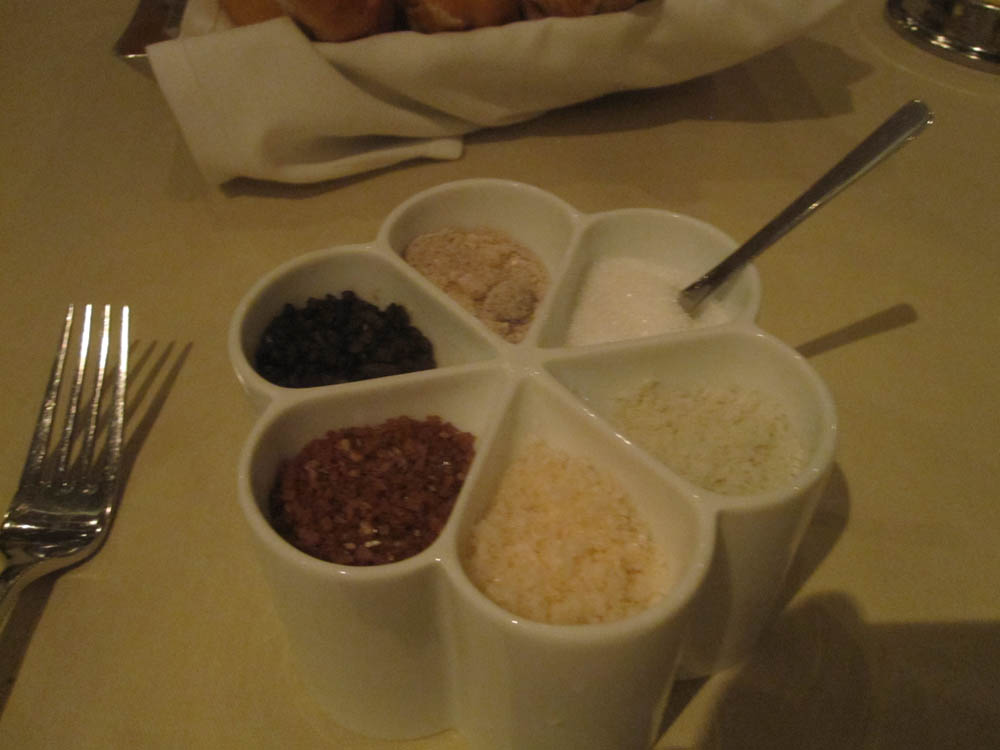 After experimenting with the United Nations of salt, it's time for dinner. The menu is fixed except for your entrée.
Here's the menu from our visit….
150 Central Park Autumn Salad – fall berry granola, crusted duck confit, red-eye aioli, bitter green salad, duck prosciutto, mocha swirl brioche, huckleberry aigre-doux
I don't know what aigre-doux is, but the salad was terrific. We could have eaten more.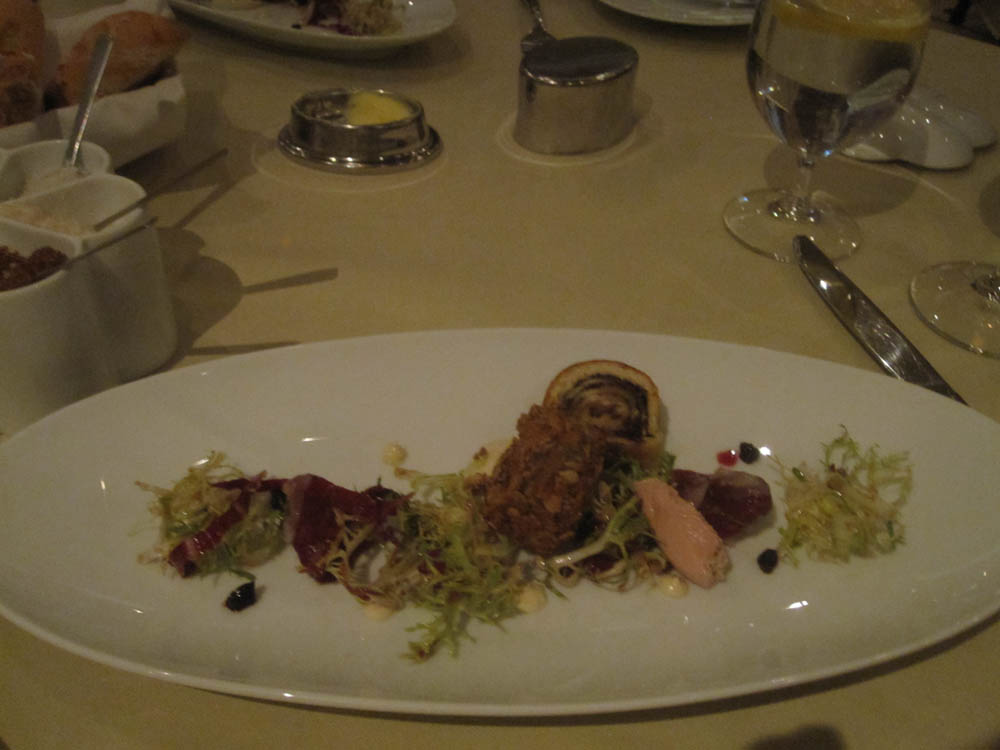 Roasted Chestnut Veloute – gingerbread croutons. quince chutney, whipped cider mascarpone, shaved celery.
This tasted like the holidays in a bowl but was presented as a small bowl of debris to which our waiter added the soup part of the course. I think this is silly and unnecessary, but it seems to be the "in thing to do".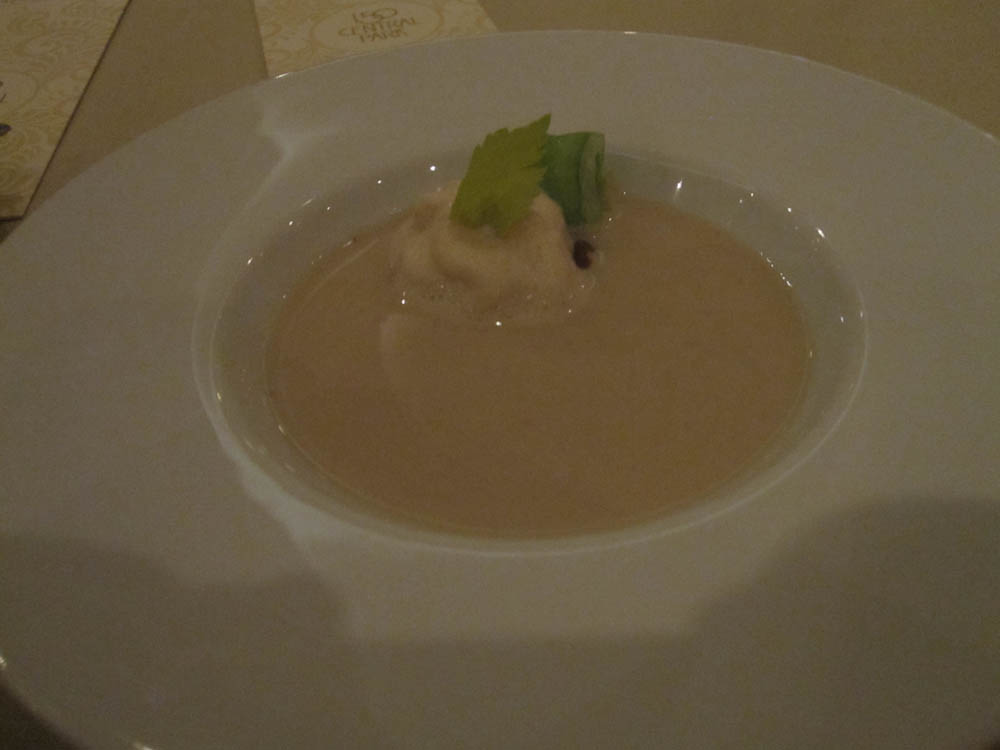 Clams Oreganata – house made wakame fusili, steamed little neck clams, oregano breadcrumb "sand", salsify variations (???), sea beans, American paddlefish caviar.
Even with the pretentious description, this has a sushi quality and tasted like the sea. It was light and fresh and briny. It must have been the salsify variations.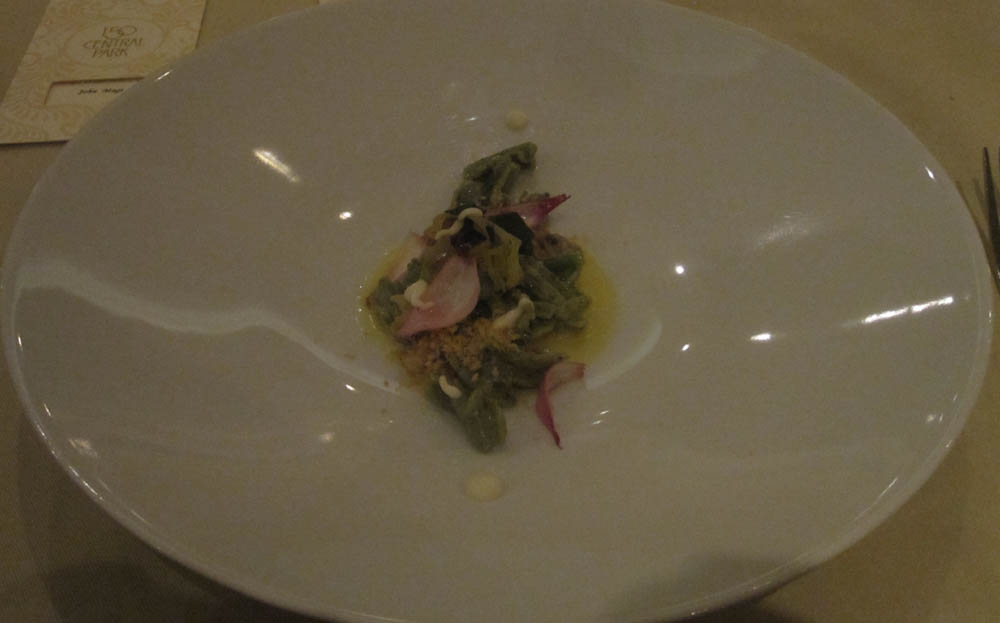 Seared Scallop with Miso Braised Berkshire Pork Belly – kabocha squash puree, spicy soy caramel, pickled plum pudding, Swank Farms pac choi, bacon sabayon.
I bet Swank Farms pac choi is superior to other farms pac choi. I cant prove it, but I'll believe that it is. This was incredible. It was a fancier version of scallops and bacon. Bacon should be part of everything.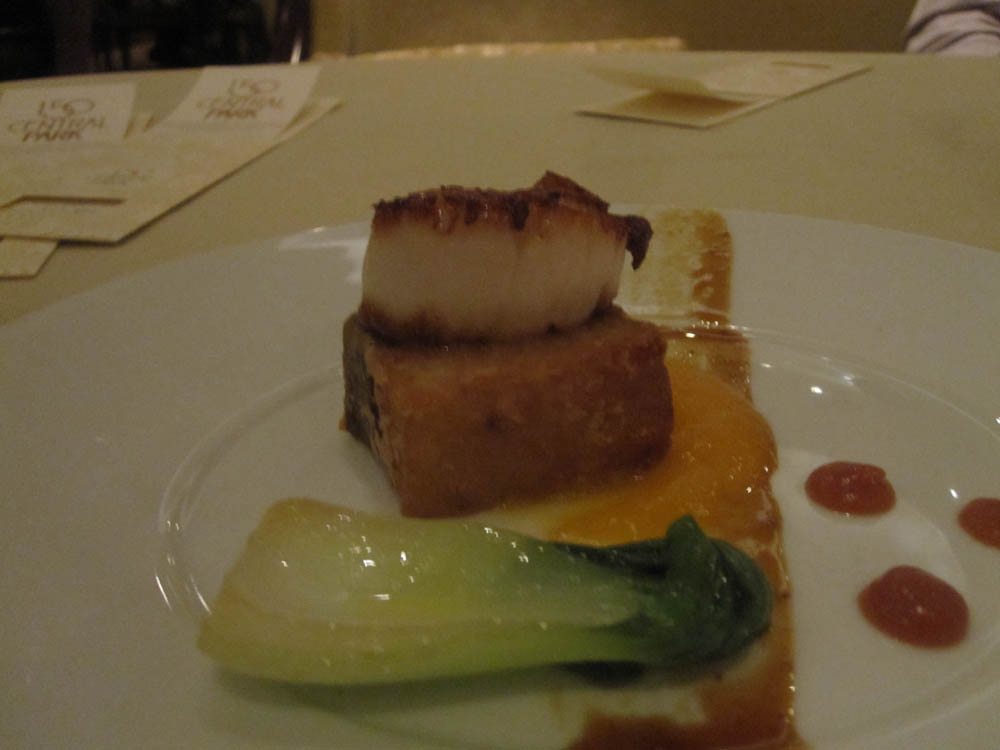 Then there were two entrees from which to choose.
Modern Shepherd's Pie – Guinness braised lamb shank pave, glazed Thumbelina carrots, pickled mustard seeds, caramelized cippolini onions, rosemary – hot potato espume (a very fancy word for foam).
I'm not a fan of lamb, but John loved this. I don't know what else to say, but when he was done the plate was empty to the point of being swiped clean by an exotically salted piece of dinner roll.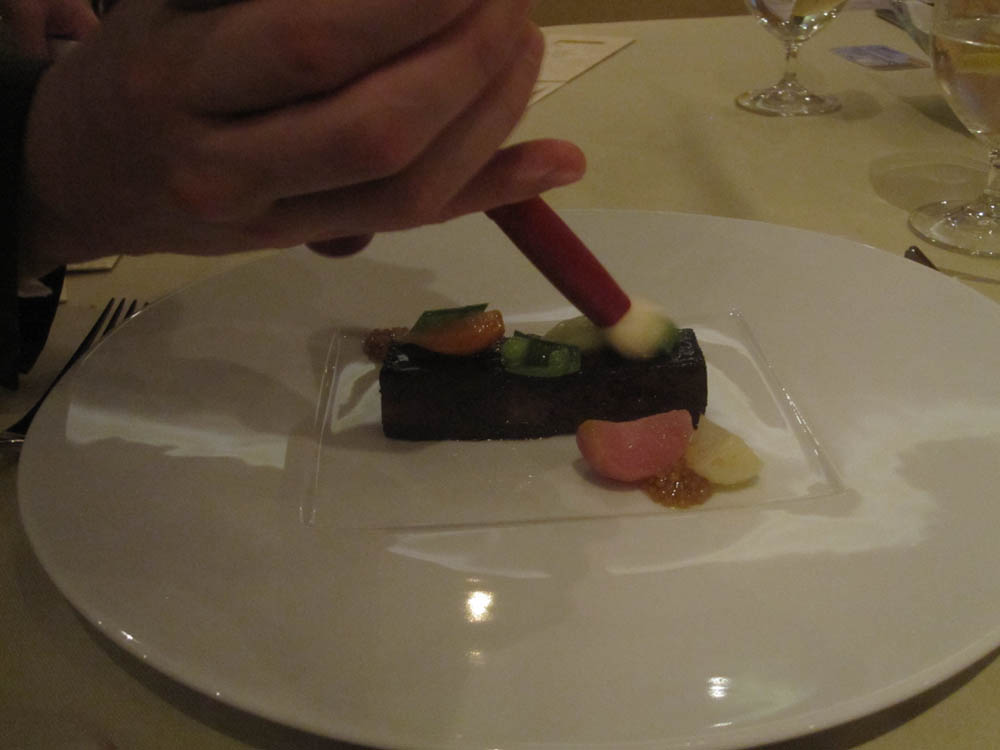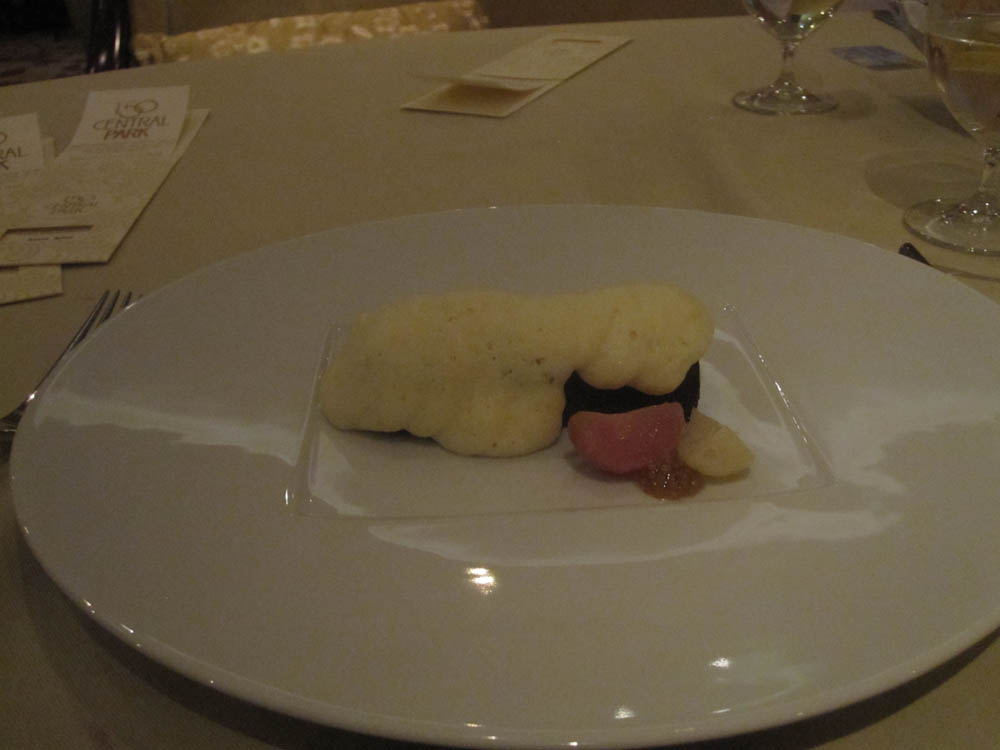 Harris Ranch Beef Tenderloin "Reuben" – spice rubbed pan seared filet, rye bread puree, mashed Brussels sprouts, pickled tomato puree, gruyere potato dauphinoise, thousand island hollandaise.
This tasted like a deconstructed Reuben and it was FANTASTIC.  This is what I meant by this being a more "fun" experience. This was a skillfully made entrée that offered some familiar flavors. If this were offered at a restaurant locally, it could become one of my favorites.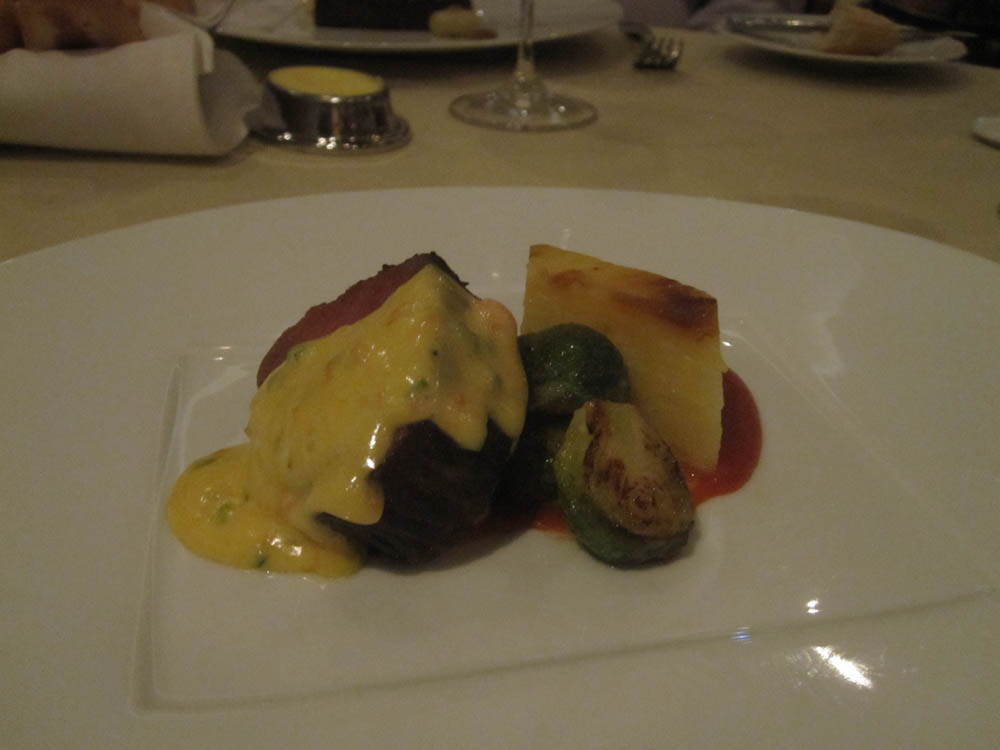 And now for dessert…
Toasted Pistachio Genoise – orange blossom crème fraich ice cream, honey poached cranberries, sweet pistachio cream, crispy orange meringue (tasted like Bayer chewable children's aspirin), whipped cranberry syrup.
This was okay. There was a bit too much going on and the afore-mentioned baby aspirin flavor was a turn off. That being said, it was the only low point in the entire experience.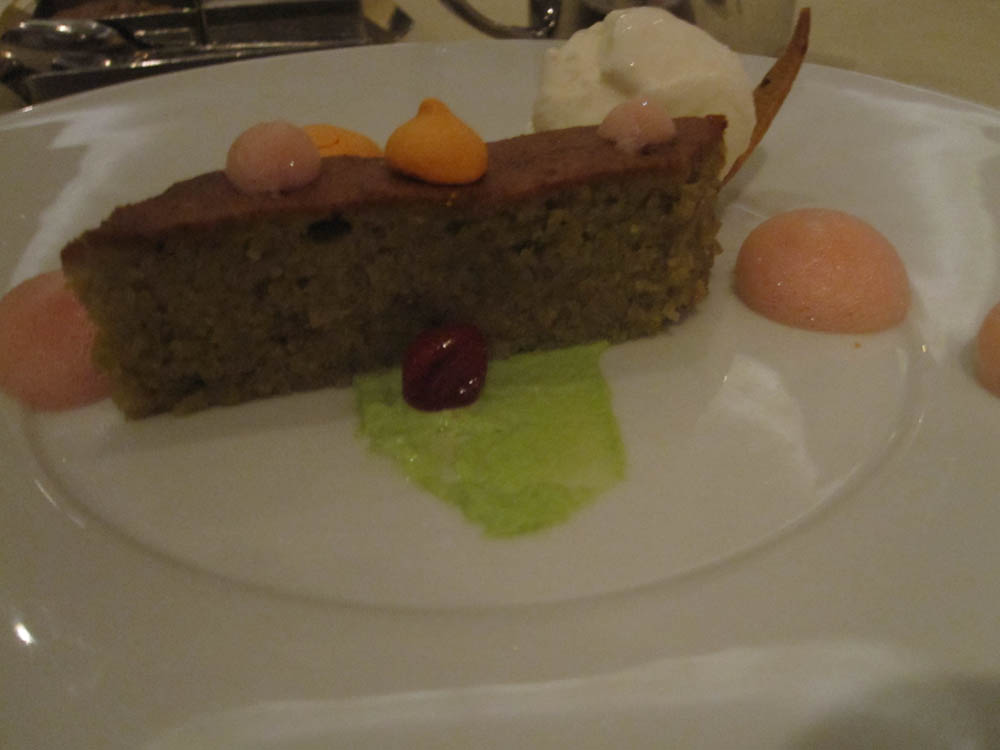 The cocktail….
150 Central Park has a signature cocktail. It is the Cucumber Martini. It's light and refreshing and served in a very special glass. The top piece of the glass (yes…..the top piece) is shaped like a typical martini glass except for the fact that there is no stem.. The bottom piece is a ball shaped glass that is filled with ice. The top piece sits in the bottom piece in order to keep your drink chilled without being diluted. It's light and refreshing and decidedly different.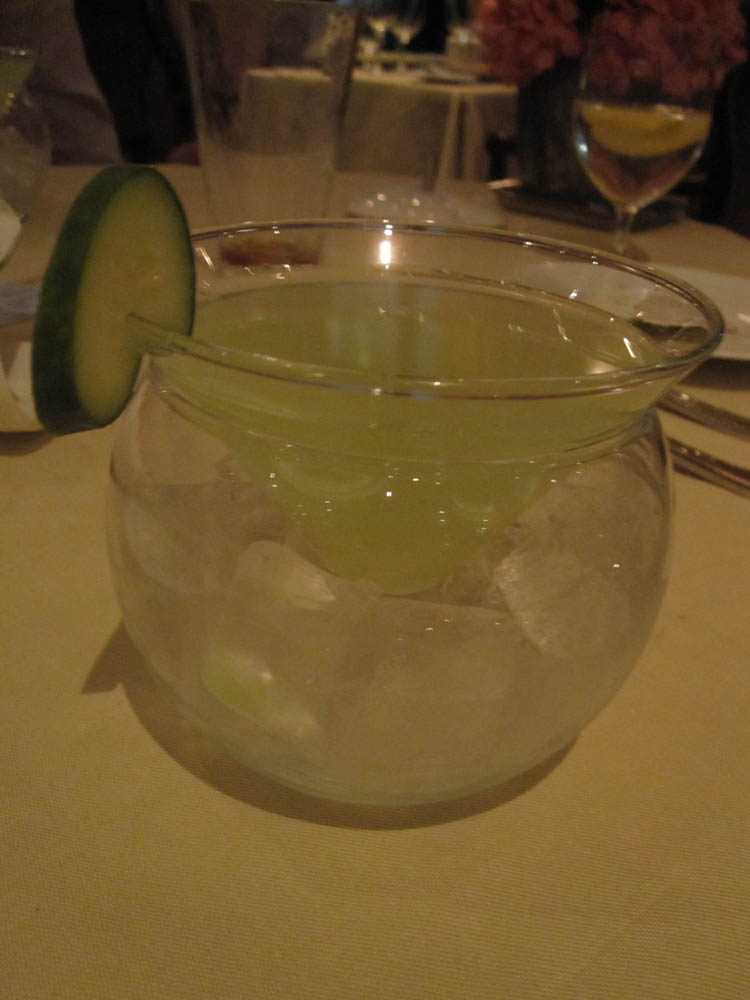 After this last experience, I can say that I will definitely be back at 150 Central Park on our next Allure / Oasis cruise.
Don't let the wordy descriptions fool you. This is great food and a great experience.
You should give it a try when you have the chance!