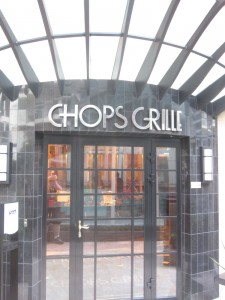 Chops Grille is the signature steakhouse restaurant on Royal Caribbean Cruise Lines (RCCL) Allure of the Seas.  It's also on several other ships including the Oasis of the Seas and the Freedom Class Ships (Freedom of the Seas, Libertyof the Seas and Independenceof the Seas) and is being introduced to other classes of ships as they go in for their scheduled rehabs.  I've had the pleasure of eating in Chops Grille on several different RCCL ships now and each time the experience has been the same, excellent!!
This restaurant is described by RCCL as an American-style steakhouse and is decorated to match that theme.  Warm and rich tones make this space feel like you are in a private club.  With windows that look out onto the ships Central Park you truly feel like you are in an upscale restaurant in New York City.
My one complaint about the time we ate here was that the restaurant was at capacity.  Every table was full and this made for a loud dinner experience.  I think they actually moved the tables closer together to get more people in.  We could hear every word spoken by the members of the large party behind us.  Luckily we were seated at a window table that offered us a view that wasn't just of other patrons.
The meal began with a wonderful crusty bread that came with both butter and a cream cheese spread.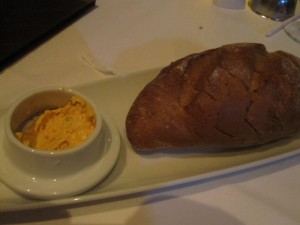 For our appetizers we ordered the mushroom soup, shrimp cocktail and a salad.  Everything was very good.  I particularly enjoyed my soup, it was hot and very flavorful.  If I didn't have a full meal coming I might have gotten another bowl.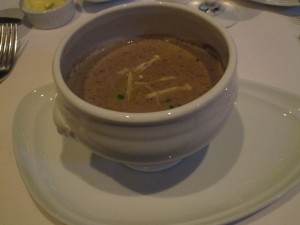 The shrimp cocktail was also very good and came with three large shrimp.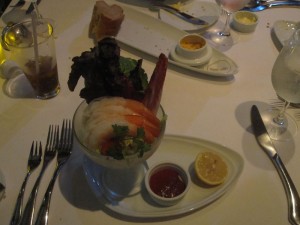 The salad was one of the biggest surprises.  It was quite large and could have been a meal unto itself.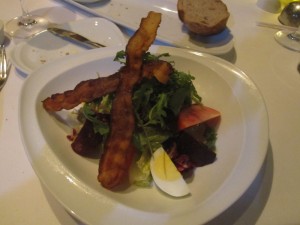 For our next course (yes, we had a course between our appetizers and entree) we ordered the warm goat cheese soufflé.  Man-oh-man was this good, again I could have ordered another if I weren't expecting a lot more food.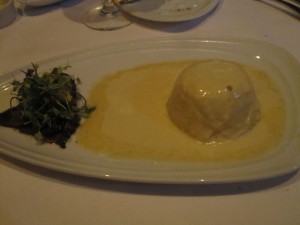 We also had the Ahi Tuna appetizer.  The portion of Tuna was a bit small but it still very tasty and very fresh.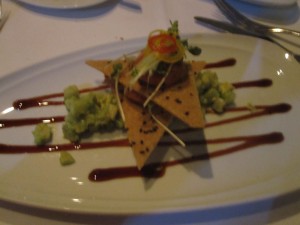 Next up was our entrees.  There are plenty of options on the menu but we came for the steak and that's what we ordered.  Two of us had the 10oz Filet Mignon and I had the 10oz New York Strip Steak.
The filet was good but I have to say I think mine was better.  It was supposed to be served with a BBQ glaze but I asked that mine come without it.  I prefer the sauces they offer; which include a cabernet reduction, a classic béarnaise, green peppercorn sauce and chimichurri sauce.  I like to try all the sauces and usually ask that they leave them at the table but there wasn't enough room. I was impressed that the waiter seemed to anticipate when I wanted more sauce and was always present and ready.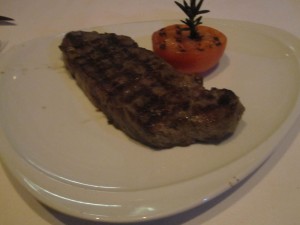 In addition to the steaks we ordered our sides family style.  Sautéed mushrooms, green beans, asparagus, broccoli and a huge baked potato all came to the table at the same time as our entrees.  They were all good, but the real star of this show is the meat which is super flavorful!!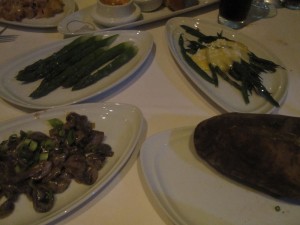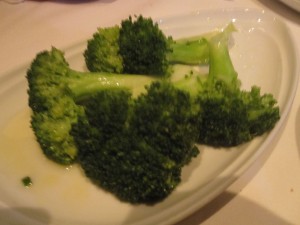 For dessert two of us tried the Red Velvet Cake and I had the Chocolate Mud Pie.  If you've read some of my other blogs you know I'm not a huge dessert person.  When I saw the choices on the menu I even contemplated ordering a bowl of soup for dessert.  I am so glad I didn't!!  My Chocolate Mud Pie was killer and I finished the whole thing!!  The Red Velvet Cake was not my cup-of-tea but those who ordered it really enjoyed it, especially the luscious cream cheese icing.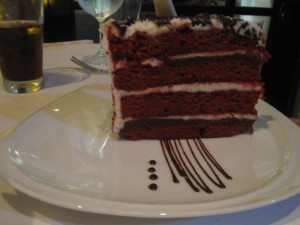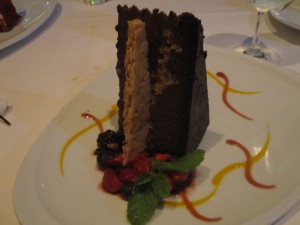 There is a service charge of $25 per person for this restaurant.  Keep in mind this one price is for all-you-care-to-eat.  If you want to order three shrimp appetizers and four steaks you are welcome to do so.
Dinner at Chops Grille is truly a special experience and a great meal.  If you are a steak person this is one venue you will have to try.  I guarantee you will not be disappointed