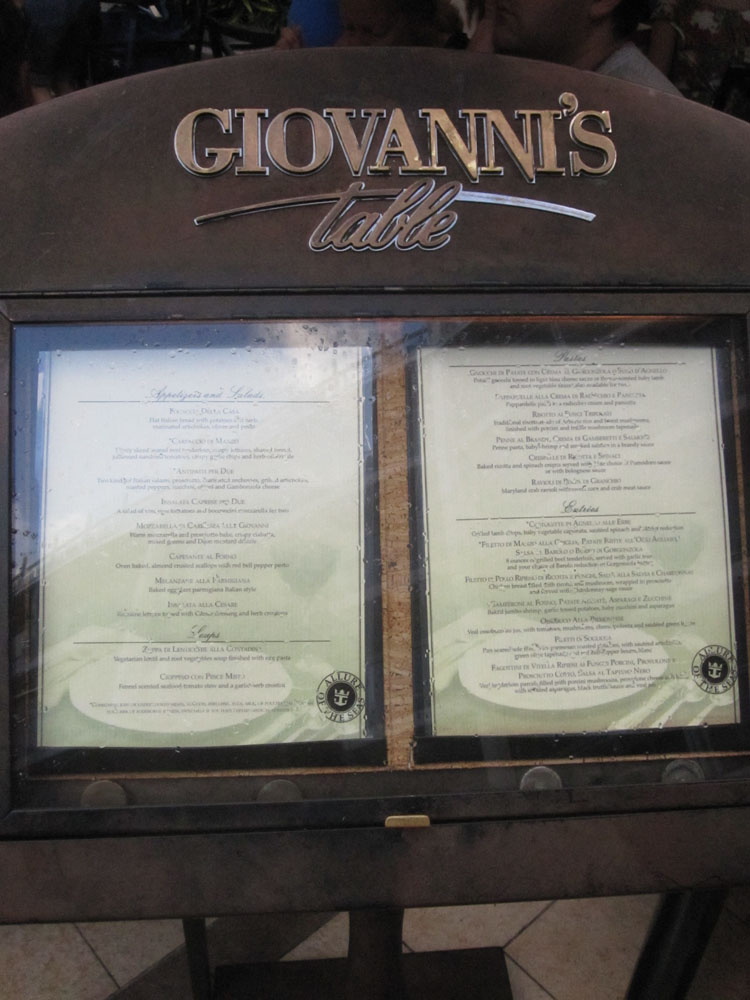 Giovannis Table is one of the signature restaurants on both the Allure of the Seas and Oasis of the Seas Royal Caribbean Cruise Line ships.  This restaurant has an additional service charge ($20 per person for dinner and $15 per person for lunch) and is their flagship Italian eatery.  It's location in Central Park truly makes it feel like you are miles away from a cruise ship which happens to be miles at sea.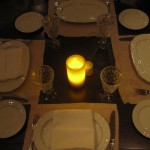 The space is elegant and intimate with no more than 20 tables of varying sizes.  The dress code is suggested as resort/cruise casual (no bathing suits, flip flops, tank tops, etc) and is no way fussy.  When you first enter the restaurant you are greated by a large Proscuitto slicer.  In my opinion this should be in the entry way of every establishment where I eat, including the gas station where I get coffee and a donut in the morning.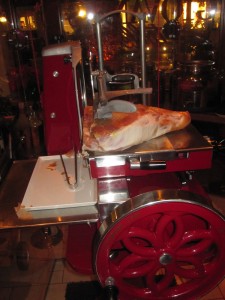 After being seated we were treated to some of the best food and service I have ever experienced on a cruise ship.  The staff is attentive but not over bearing.  Food is delivered quickly and timed perfectly. 
At first bread is brought to the table and an olive oil and balsamic vinegar glaze is poured into a small dish and covered in cheese if you like.  The bread is warm and crusty, just as a good Italian bread should be.  The bread and dippings are followed by an appetizer plate for the table with proscuitto from the wonderful slicer, sun dried tomatoes, olives, marinated muhrooms and cipollini onions and a small but well dressed side of greens.  Just enough of everything to get us even more excited about our upcoming meal.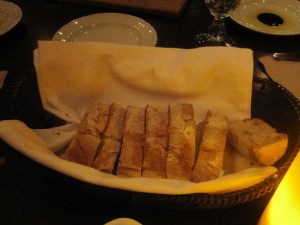 Before the waiter takes our order he tells us that the appetizers can be served family style if we prefer.  I immediately reply that I do not intend on sharing anything!!
Having been to Giovannis Table on a previous cruise we knew that there were certain items we had to order.  One was the baked mozzarella wrapped in proscuitto.  We knew how fantastic these were so we ordered two!!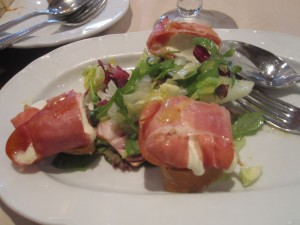 After that we each ordered our own baked eggplant appetizer.  No sharing here, we knew these were 'individual portions' and would be too delicious to share.  One hint, ask that they leave these in the oven a little bit longer than usual so that the top gets nice and brown (can I hear you drooling?)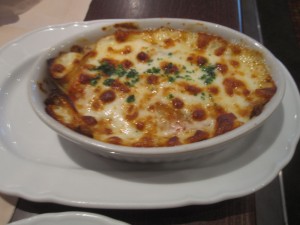 We also ordered a mushroom flatbread to round out the appetizer portion of our show.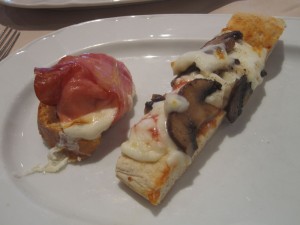 We had actually eaten in Giovannis Table 3 times over the course of our 7 night cruise so I can't exactly remember which entrees were ordered when.  I do know that the appetizers were prettty much consistent each meal since they were so good.
One entree ordered during our cruise was the lasagna.  The waiter suggested a side of meatballs and I gladly capitulated.  The lasagna was incredible; cheese filled and meaty with a nice fresh, homemade sauce.  The meatballs were OK, but I have to say I'm a bit of a meatball snob.  Growing up with and having spent most of my life around some amazing cooks it's hard to impress me with a restaurant meatball.  These were good – but after one bite I decided to leave room for other goodies.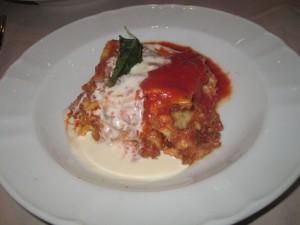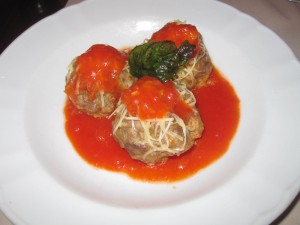 Another entree I had was the Veal Osso Bucco.  This was served over a rich cheesy polenta and was incredible.  The meat was tender and the sauce was spot on.
For one of his meals Kevin ordered the stuff shrimp.  Four very large shrimp were delivered and while he enjoyed them he commented that it was odd that they were split, stuffed and somehow still in the shell.  Who serves stuff shrimp in the shell?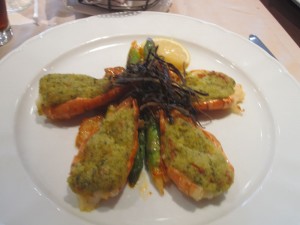 On another occassion Kevin ordered the Lobster stuffed ravioli.  These were incediblly flavorful in a light cream sauce.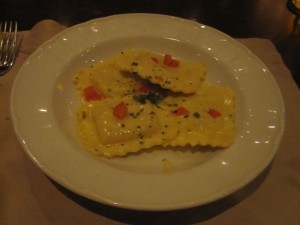 Other entrees we tried were the mushroom risotto and filet.  Both were very good, but in my opinion there are far better choices on the menu.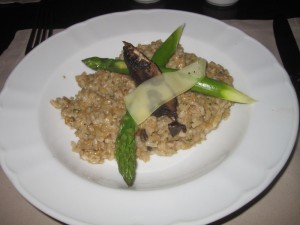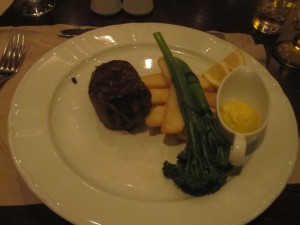 For dessert you are presented with the dessert cart that has chocolate cake, tiramisu, panna cotta and minature cannolis.  I tried a little bit of everything, and they were good, but I asked the waiter to slice me some more proscuitto for dessert – which he did happily.
In my opinion our meals at Giovannis Table were the best we had on the ship (all three times).  My traveling companions disagree and say their favorite was 150 Cenral Park.  I will review that later but let's just say that I am right and they are wrong.
I understand that many people will not be happy paying an additional $20 per person for dinner on a cruise ship where there are so many free food options.  In my opinion this is well worth the $20 and more.  One of the discussions we had was what exactly is the $20 service charge supposed to cover.  I was under the impression it was a gratuity for the staff working the restaurant but others disagree.  In any event everyone in the restaurant did such a great job we gave them an additional gratuity.
I think the logical comparison for people who have also sailed on Disney Cruise Line (DCL) ships will be between Giovanni's Table on RCCL and Palo on DCL.  In my opinion Giovanni's Table is a better overall experience for dinner.  The restaurant is elegant without being stuffy and the food is more 'rustic Italian', which I prefer.  However, there is nothing like Palo Brunch on the Disney Cruise Line ships!!