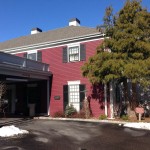 Daniel Webster Inn
149 Main Street, Sandwich, MA 02563
(800) 444-3566 | (508) 888-3622
http://www.danlwebsterinn.com
Picture an old but elegant New England Inn dating from the 1700's.  Picture Daniel Webster spending time in the summer on Cape Cod.  Picture Valentine's Day 2013 at this same inn.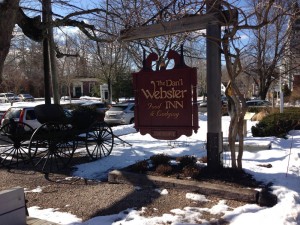 Valerie and I have enjoyed special meals, and one very special, romantic over-night stay, at the Daniel Webster Inn several times over the years.  Its become our go-to place for elegant dining on Cape Cod.  So, due to lots of other things going on in our lives right now, we both failed to plan ahead for a special Valentines Day activity.  Suddenly it hit us, why not head to the Daniel Webster for lunch?  Capital idea!!!
One of the things we like about this place is that even before you are seated there is a great waiting area with a warm, welcoming feeling.  Especially important on a snowy New England winter day.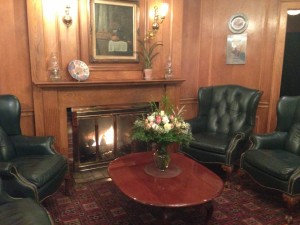 And they've even provided something for those unruly children. 
Although we hadn't made reservations (recommended on busy days like Valentines Day) we were slightly early for the normal lunch crowd and were able to be seated immediately.  We had a choice of two different dining rooms (there are actually four different rooms which are used during the summer season).  Today we chose the conservatory over the tavern.  The same menu is offered in either room.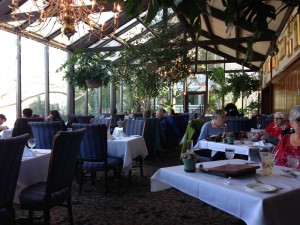 The menu here isn't one of those huge things that takes 20 minutes to review.  The approach here is to focus on a few dishes and do them well.  That said, there are a few unusual items on the menu and some daily specials.  After perusing the menu while munching on some really good, baked on the premises rolls, we decided to share our favorite starter, Lobster Chowder.  That's right, not the more common lobster bisque, or the ubiquitous clam chowder, but the Daniel Webster's own Lobster Chowder.  It arrived piping hot and is served with oyster crackers.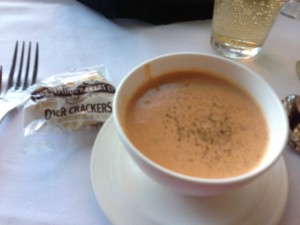 I mentioned that in addition to the regular menu there are also a couple of special offerings.  One of those choices was a swordfish dish prepared in casserole with spinach, shrimp and finished with a brandy sauce.  Valerie immediately decided that was for her.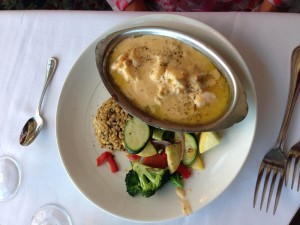 I was very tempted to do the same but we have a general rule that we will get different things when we eat out so that we can each try something different.  So, I went with a Roasted Haddock dish which is prepared in a unique ground corn, smoked bacon and shrimp coating.  Its then topped with a mild salsa of fresh tomato and roasted peppers.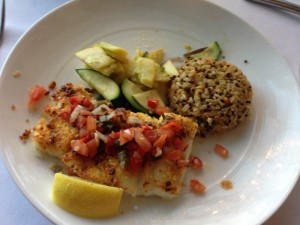 Both dishes were ver good, but I'd give the edge to the swordfish in this case.  At this point we were full but felt obligated to at least look at the desert menu.  After all, it was a special occasion.  The Daniel Webster Inn must employ a very good desert chef because we had a really hard time deciding which desert to share.  Ultimately we went for the Homemade Chocolate Lava Cake.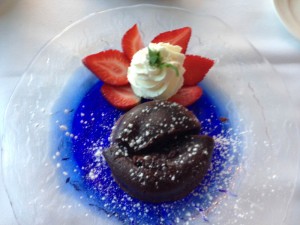 Yes, served with strawberries and whipped cream.  Together with a cup of coffee it was just a wonderful way to wrap up a special meal.
Total cost was $75, which included two glasses of wine.  Not an inexpensive place to eat but certainly reasonably priced for what you are getting.