Baseball is huge in my family.  My husband was born and raised in Chicago and he bleeds Cubbie blue.  He has passed this love on to our boys and they spend all winter waiting for Opening Day (March 31 this year) so they can start watching the games, listening to the games, discussing the games…  Next month, our middle son turns 5, and in keeping with the tradition his older brother started before him, he will get to go to his first Cubs game at Wrigley Field this summer.  I decided to use the anticipation for opening day, as well as Jonah's first game, as the jumping off point for some fun baseball-themed meals.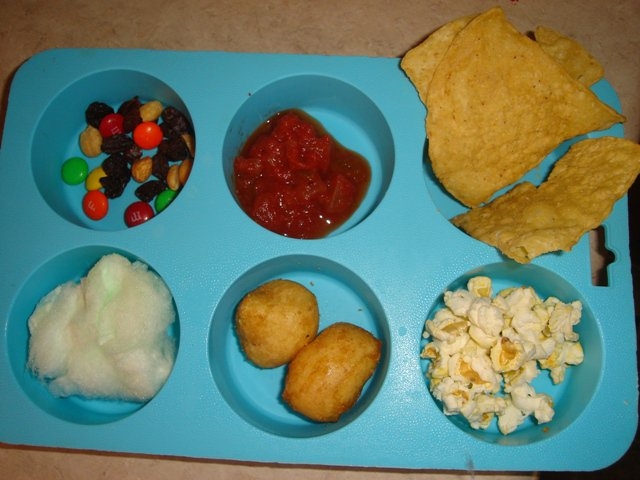 To give Jonah an idea of some food he may enjoy at his game, the first meal is a collection of classic ballpark snacks.  The top row is trail mix and chips and salsa.  For the trail mix, I just threw in some M&Ms, raisins and peanuts, but this could be tweaked to your kids' liking or made with whatever you have on hand at the time.  To make the "nachos" even more authentic, you could add some cheese, but my kids wouldn't have eaten that, so I didn't bother with it.  The bottom row has cotton candy, corn dog nuggets and popcorn.  I happened to have cotton candy on hand because I ran across it on clearance.  While not nutritious at all, it's fun to have available when you need to add a yummy cloud to a themed meal.  The corn dog nuggets could be done as a regular corn dog or even a hot dog or bratwurst if your kids would prefer those.  Any of those would still fit the theme.  Other than the cotton candy, these are all foods that people are fairly likely to have at home (or certainly be able to obtain easily).  If you didn't have cotton candy, you could serve ice cream, another popular stadium treat.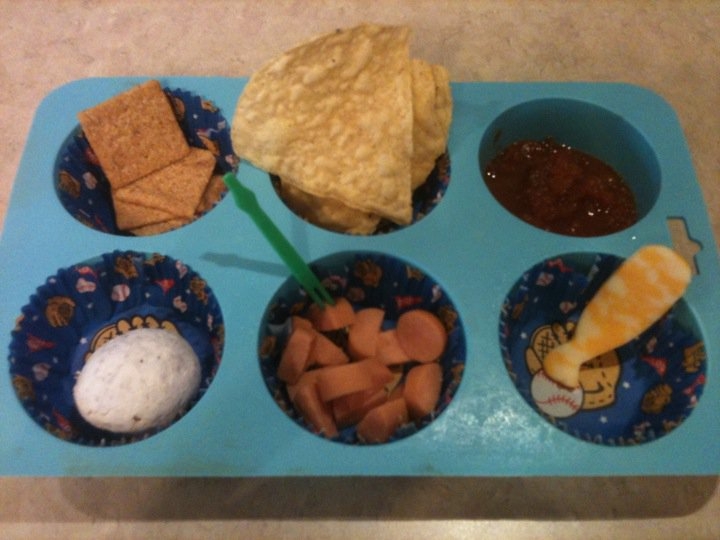 The second meal we had represents more of the actual game itself.  I served square wheat crackers to symbolize the bases, with tortilla chips that are shaped like the infield (salsa is alongside for dipping.)  In the bottom row, my favorite addition was the mini powdered sugar donut "baseball."  This is a rare treat in my house, because even though I love these donuts, they're way too messy with kids!  The middle cup holds hot dogs – not a part of the game, but definitely a ballpark classic.  In the last cup is a baseball bat that I cut out of cheese.  I didn't have a cookie cutter for this, so I just cut it out with a knife.  The boys gobbled this meal right up!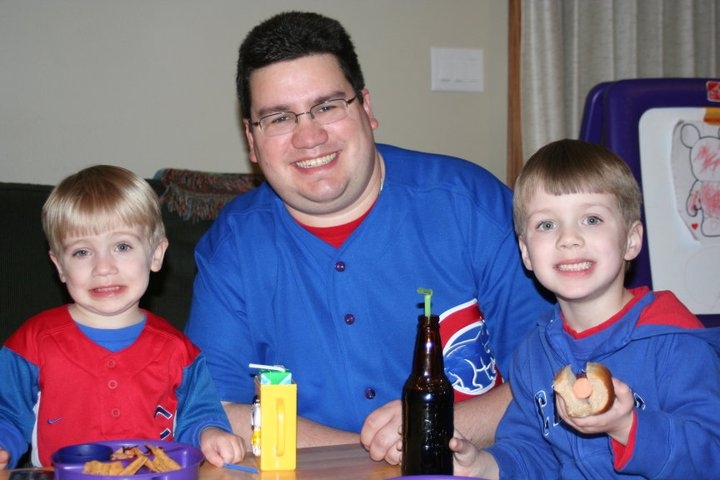 This last photo is from the Cubs opening day last year and gives you another idea of how to do a themed meal without having to cut up and decorate cutesy food.  We have a tradition of watching the Cubs opening game together with a meal of hot dogs, chips, Cracker Jacks and bottled root beer (Jonah got a juice box – no pop until you're 5 in this house!).  The boys look forward to this lunch every year and it's a great way to spend time together as a family!
Even if baseball isn't your thing, I hope you were able to get some ideas that you can use to celebrate your own family's interests!  Remember, it doesn't take much to make your meals memorable!