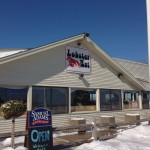 The Lobster Hut
25 Town Wharf
Plymouth, MA  02360
1-508-746-2270
http://www.lobsterhutplymouth.com
There is a food phenomena in New England seaside towns generically known as a "clam shack".  Typically these are not much more than a small shack-like building.  Some have received add-ons over the years so they are a bit larger than their humble beginnings but they remain true to their roots.  These are places that locals flock to when they need a fix of fresh, typically fried, seafood.  And french fries.  And onion rings.  And rice pilaf.   
This review is of our favorite home town clam shack, the Lobster Hut.

As is typical of this type of establishment, it is located right on the waterfront at the Town Wharf – which is pretty deserted in mid-February.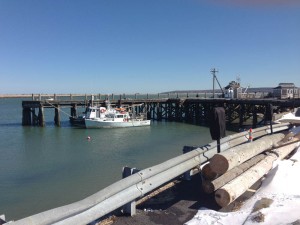 On entering the building there is a chalkboard with the day's specials.  Be sure to check for items of interest.  One of my favorite specials is fried lobster and shrimp.  Yes, fried lobster.  Its very tasty and I usually order it whenever it is offered.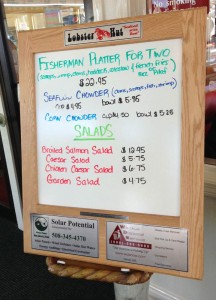 Inside, the regular menu items are printed on a large sign over the order counter and there is also another board with the day's specials. 

There is a certain etiquette in placing your order.  Know what you want before its your turn at the order counter!  Standing in front of the order taker, holding up the line, while you look over the many choices is frowned upon in these establishments, although they will be too polite to say anything.  Once you've placed your order, and paid for it, you'll be given a slip with your number.  Move out of the way and go look for an available table.  Your number will be called when your order is ready, which is usually less than 15 minutes. 
So, what is the food like?  As I said above there are a lot of fried foods on the menu.  You'll find their full menu available on their web site.  I know that lots of people prefer to avoid fried foods but its kind of the "standard" for a clam shack place.  At the Lobster Hut you'll find that they use a simple flour breading which is not at all thick or heavy so it doesn't absorb a lot of the cooking oil.  For those who absolutely must avoid fried foods, they do have a selection of broiled seafood.
Over the years we have kind of fallen into a routine when visiting the Lobster Hut.  I usually go for one of three favorites, fish & chips, fried popcorn shrimp, or the fried lobster and shrimp.  One of my wife's favorites is the fried swordfish nuggets, with rice pilaf.  Sometimes she will go for the Broiled Haddock or a daily special that catches her fancy. 
The Lobster Hut also makes a really good clam chowder.  Be sure to order a cup when you stop here.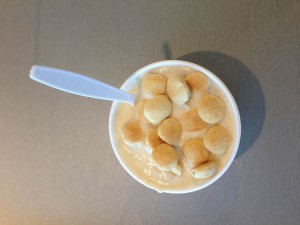 Speaking of fancy, don't expect it here.  When your order is called you'll go up to the counter and get it on a plastic tray.  With paper plates.  And plastic utensils. 
Another word about clam shack etiquette here.  You are expected to clear your own table after you are done.  Somebody will be along as soon as you walk off to wipe it off for the next customer.  
Total cost of this meal was ~$35.  A bit more expensive than usual because the shrimp and lobster dish was fairly expensive, accounting for nearly half the bill.  Dress is extremely casual.  If it doesn't get you thrown in jail, its ok here. 
Parking can be a challenge.  There are a few (about 30) free parking spaces for patrons of the Lobster Hut.  The rest of the spaces in the parking are paid parking spaces.  During the summer you'll find the free spaces, and even the paid spaces, are scarce.    This may require you to drive around the lot for a while until something opens up.   During the off-season you'll have no problem finding a spot to park.