Is there such a thing as too tout French? 
As in two very French meals in the same restaurant on the same day? 
Perhaps so.  But it was fun trying! 
So, where is this French restaurant you ask?  Well, that is not an easy question to answer.  As near as we can tell its somewhere around Latitude 23.87 North, Longitude 82.02 West.  Yes, that puts us in the middle of the ocean somewhere between Florida and Cuba.  You see, the name of this restaurant is Remy and it is on board the Disney Fantasy cruise ship.  You got it, Remy was the name of the lead character in the Pixar/Disney movie Ratatouille and this shipboard dining experience is in homage to Gusteau's restaurant in that movie.  Minus the rats of course.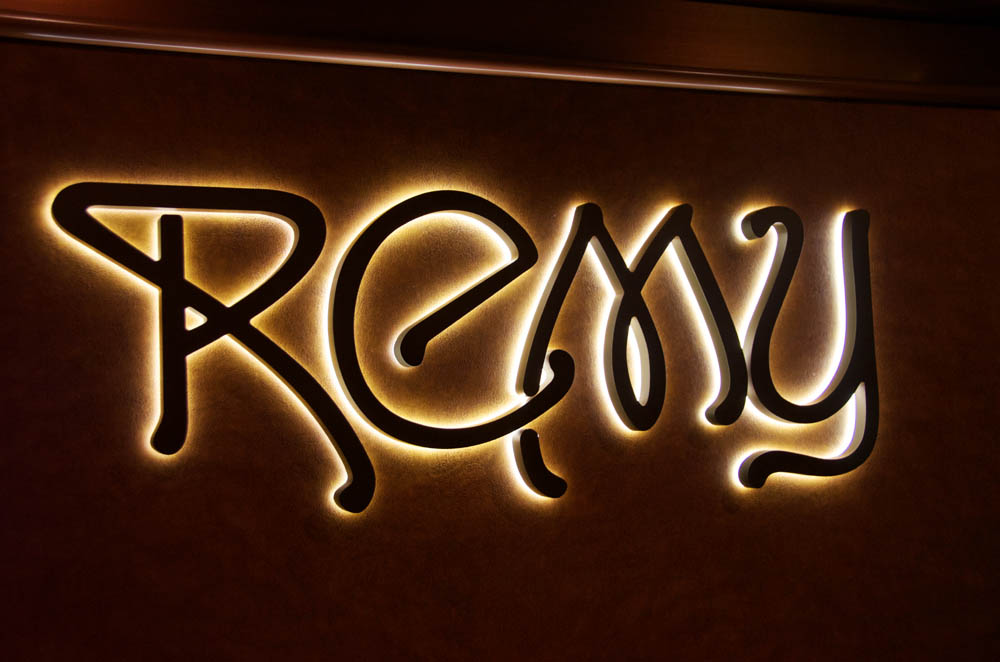 Remy is a very high-end restaurant.  The kind of place where you can't understand the menu without subtitles (fortunately provided) or an expert guide (also provided in the form of your server).  Even with this assistance a meat and potato person will likely look askance at many of the items on the menu.  Normally we would have passed on half the offerings simply because they sounded so "different".  That would have been a mistake.
OK, time to get on with the review.  First will be Brunch, then Dinner and lastly a comparison that may make it helpful to decide on which experience would be best for you.
Remy Brunch
Your Remy Brunch experience begins promptly at the designated time.  Your party, along with 3-4 other parties, are first escorted to the wine room by the maitre'd where each guest receives a complimentary glass of Champagne and a small plate of very thinly sliced Jamon Iberico.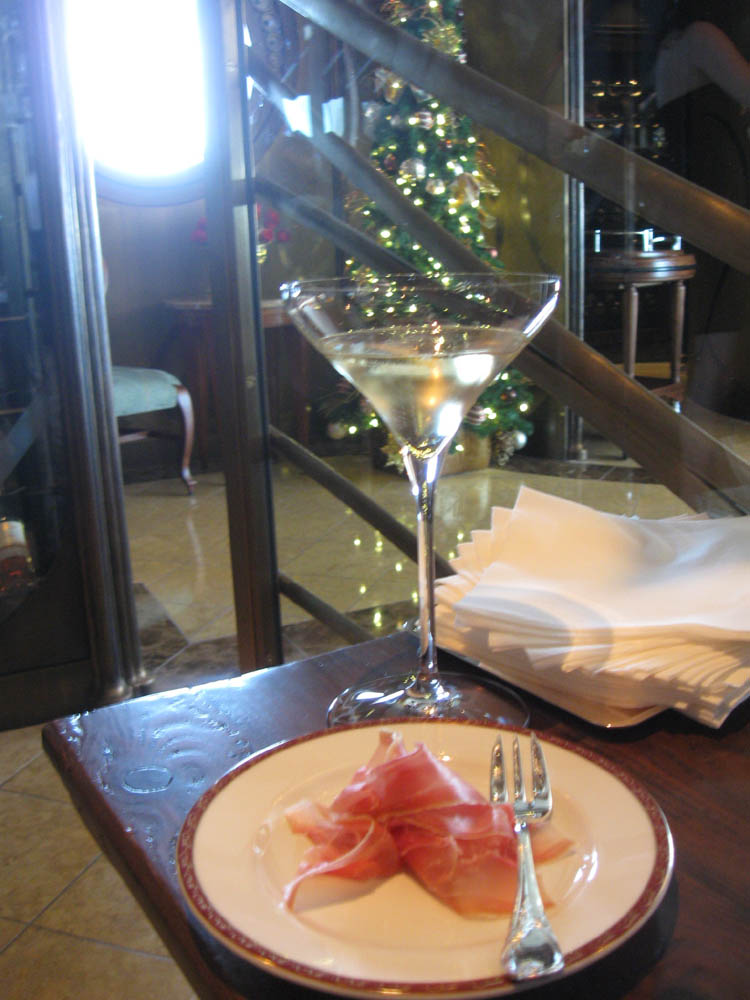 That is your first introduction to the mysteries of a French menu – most of us would call it ham.  But this is no ordinary ham.  It's made from a very fatty pig that has been cured for a long time.  It is shaved using a hand-cranked machine that produces the very thin, delicate slices.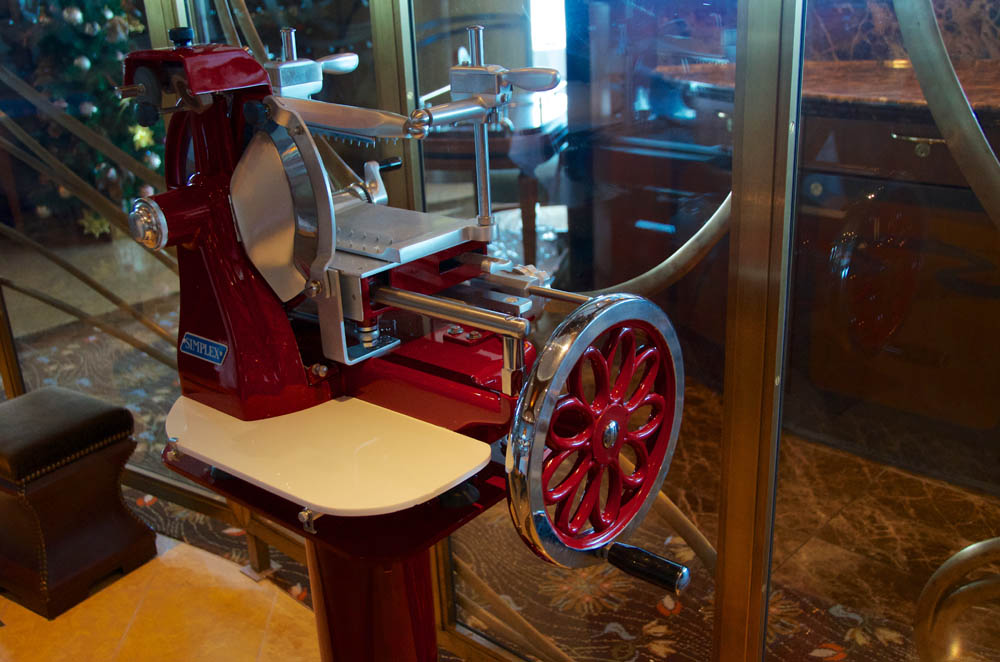 Because the slices are so thin you don't notice the fat level on your palate, only the wonderful flavor.  While in the wine room you are greeted by the chef, the sommelier and your servers who explain how the meal will progress and some of the delicacies you will be served.  From there each party is escorted to their table.  We had a wonderful view out over the ocean from our table.  The view was pretty but the meal was the real center of attention.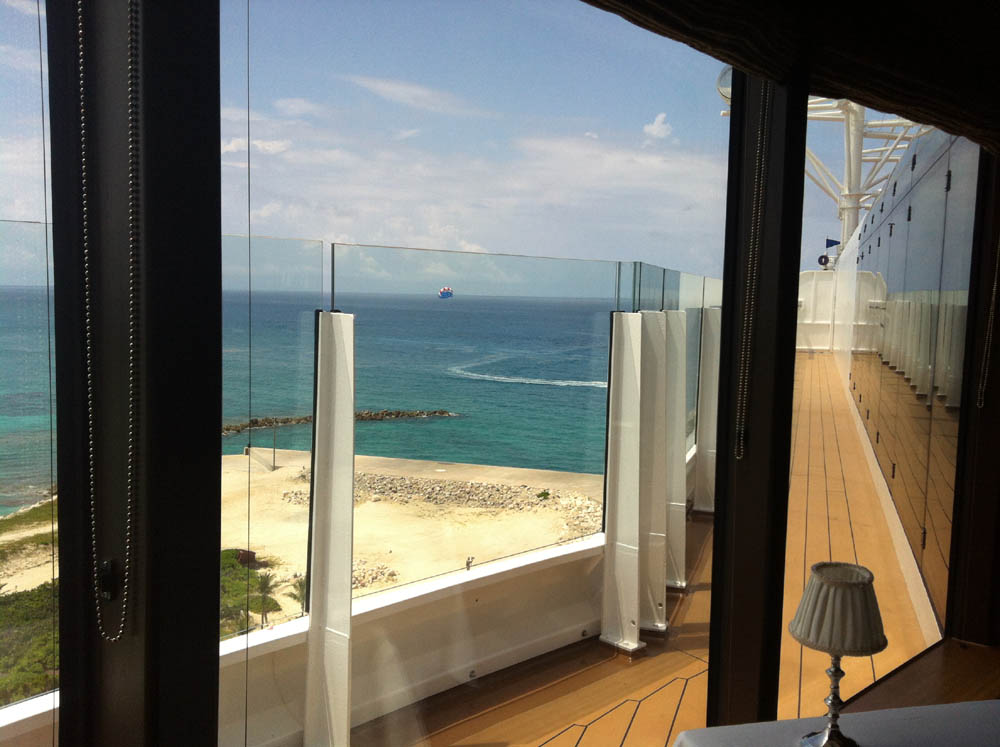 Service during Brunch is very carefully orchestrated.  There were four people in our dining party and our plates were each placed on the table at the exact same time.  Covers over the plates were lifted in unison creating the great reveal.  Immediately followed by Ohh's and Ahh's by us.  The food is simply beautiful in its presentation.  Brunch is a five-course event lasting 2+ hours.  At our brunch the fixed menu was:
Sweetcorn Emulsion
Lobster Cannelloni with Caviar
Shrimp and Potato
Poached Egg
Praline
However, the menu changes constantly based on the best available ingredients so your menu at Remy brunch will be different from ours.
Champagne pairings are offered with Remy Brunch.  Those that chose this extra-cost ($25) option get three glasses of Champagne.  A Taittinger Prestige Curvee Rose is paired with the first two menu items; a Pommery Gold '06 with the next two; and the desert course was paired with a Moet & Chandon Ice.  Again, this is based on the menu we experienced and these will change based on the current menu. 
Before dining here, we weren't big on champagne based on our limited experience with it at weddings and New Years parties; but after this meal it was obvious that there is much more to Champagne than we realized.  Note the capital "C" in Champagne used here.  Remember that this is a Very French restaurant so all the Champagne's do come from the Champagne region of France.  What is often passed off as champagne at weddings and the like is more properly referred to as sparkling wine. 
Your Remy Brunch also includes desert – hand made profiteroles.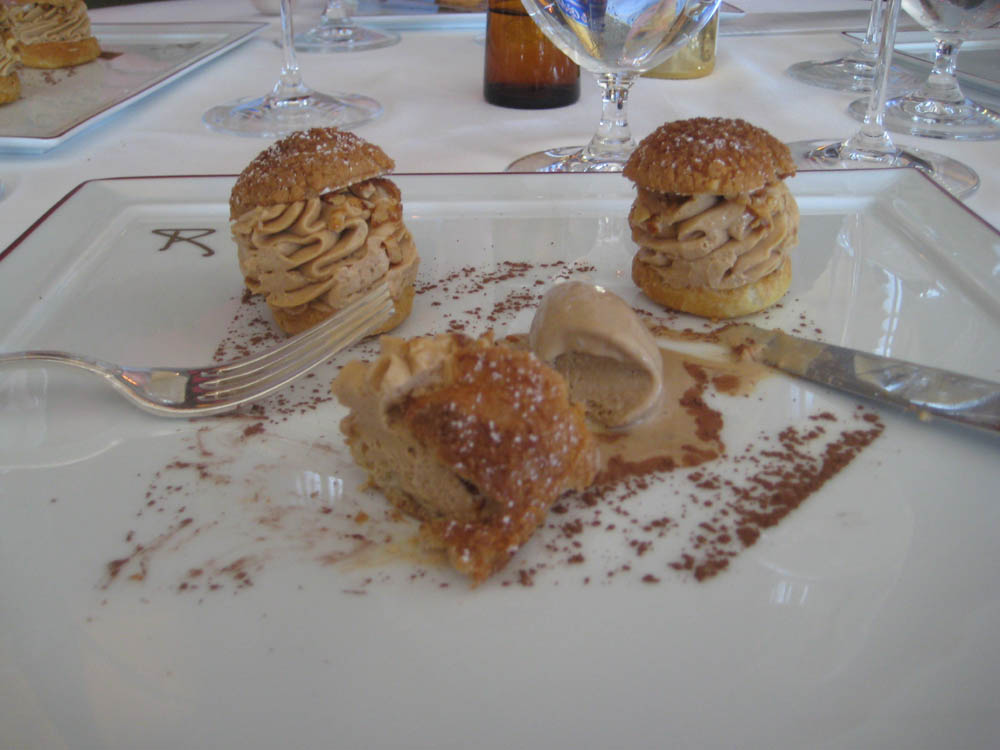 At the end of the meal we were all presented with some tasty morsels to take back with us.  This included freshly made marshmallows and lollypops.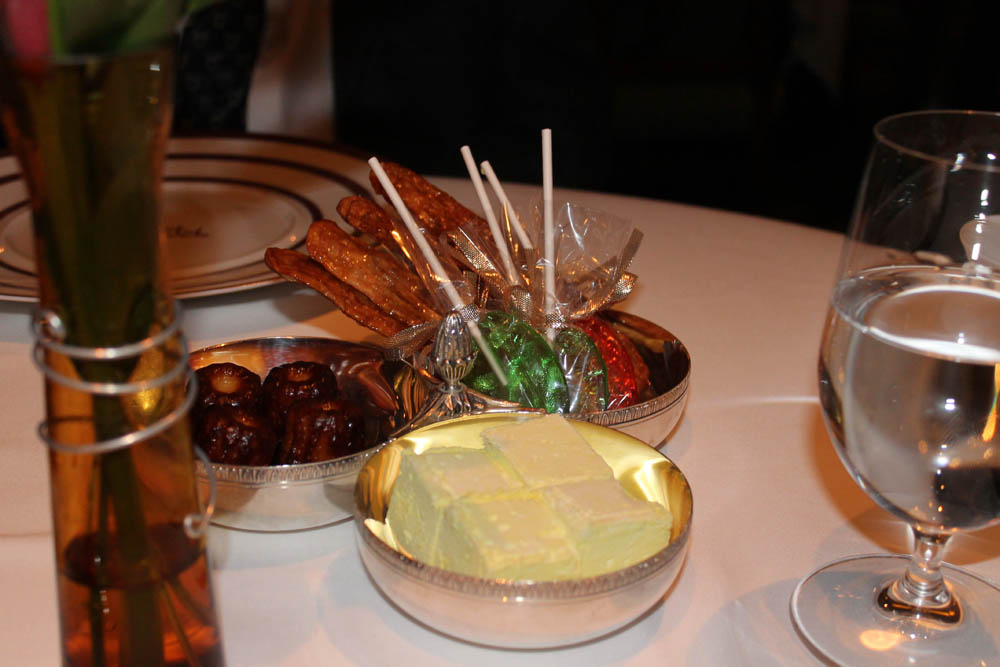 Remy Dinner
Unlike Brunch, you are escorted directly to your table for Dinner.  Each table has been pre-set just for your party.  This is mostly for show as the plates are swept away before the meal service begins.  Napkins are unfolded by the wait staff and presented to each guest.  Freshly baked bread still hot from the oven is offered to each and there is a container of unsalted French butter together with a separate container of sea salt on the table.  The combination of the freshly baked bread, butter and salt was heavenly but merely an intro to a succession of six courses.  Oh, and we were also given a complimentary Remy Signature Champaign Cocktail to start the experience.
Did I mention the deep-fried tomato soup?  A small cube (slightly larger than a sugar cube) of tomato soup that has been battered and deep-fried.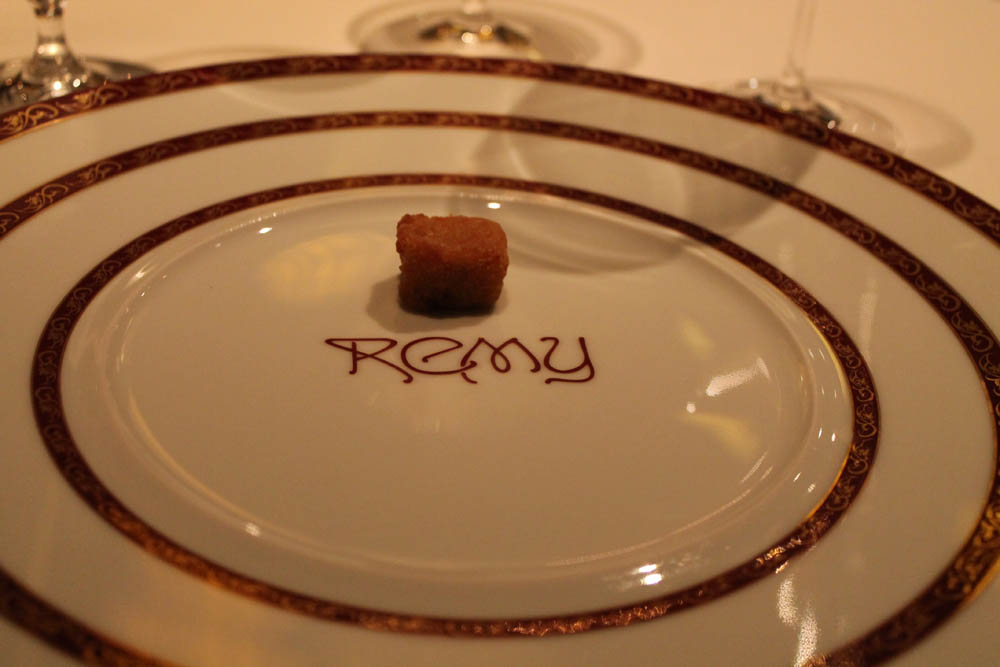 After allowing it to cool slightly we were advised to pop the whole thing in our mouth and, very importantly, to bite into it with our mouth closed so it doesn't leak over your nice clothes.  It was a fantastic burst of flavor.  Our server let us in on the secret of its preparation but I'll leave that for you to ponder.
The dinner menu isn't expansive.  This is a restaurant that prides itself in offering a limited number of items that are done really well rather than offering many choices but not maintaining quality.  Again a disclaimer that the menu we experienced will be different when you go.  Like the Brunch menu, the dinner offerings are based on the best available foods at the time.  We won't go into a lot of detail about the individual dishes since they will likely be different when you visit.
While we were reviewing the menu our sommelier stopped by to discuss the wine options.  We decided in this case not to do the wine pairings and instead ordered a bottle of wine to be shared among three of us.  We gave the sommelier a price range and he gave us a few recommendations.  Ultimately we went with his top suggestion, a Chateau Beauregard Pomerold 2006.  This was not an inexpensive wine by any means but still significantly less than the $99 per person wine pairings. 
For dinner, unlike brunch, you will have to make choices from the evening menu.  Since we had come to know and trust our server during brunch we took the easy way out and let her chose what she thought would be best for us with only the provision that there be a difference between what was served to each pair of us.  We did that in order to sample more of the different items.  This worked out well for us with each eating about half of a course and then swapping plates across the table.  We found our server had done a really good job of matching our tastes with what the kitchen did best and her choices were spot on. 
Rather than give a dish-by-dish description of this meal in this review, we will focus on a few of the menu items because at this restaurant the experience will be different for everybody.  Our server started us off with Sandwich a la Truffe and Homard du Maine.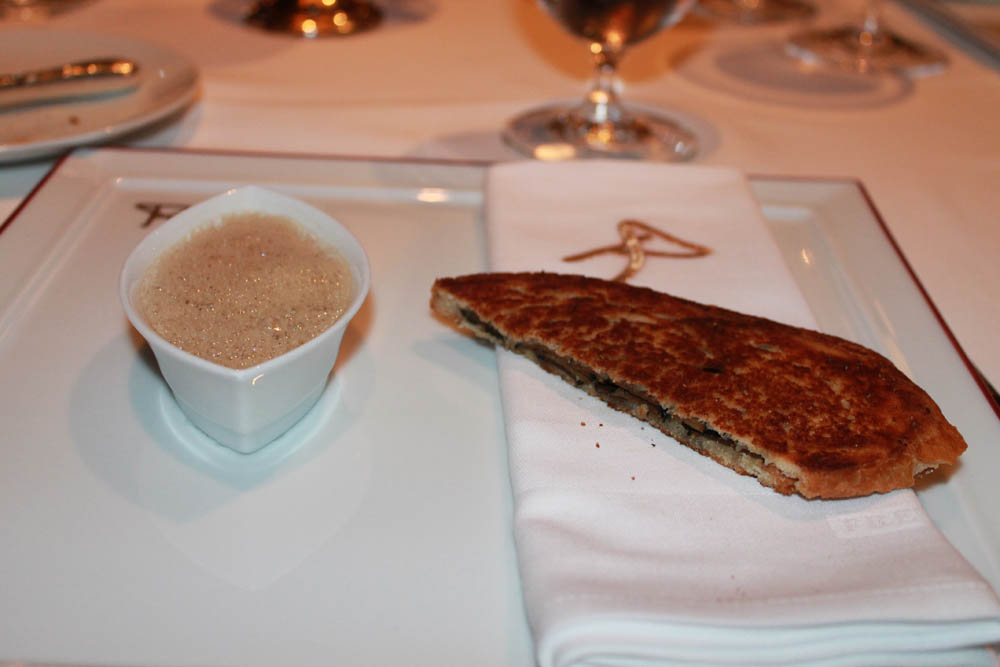 That's right, it's a grilled lobster and truffle sandwich, but in a suitably upscale French way.  There are more recognizable dishes as well, like this Colorado Bison.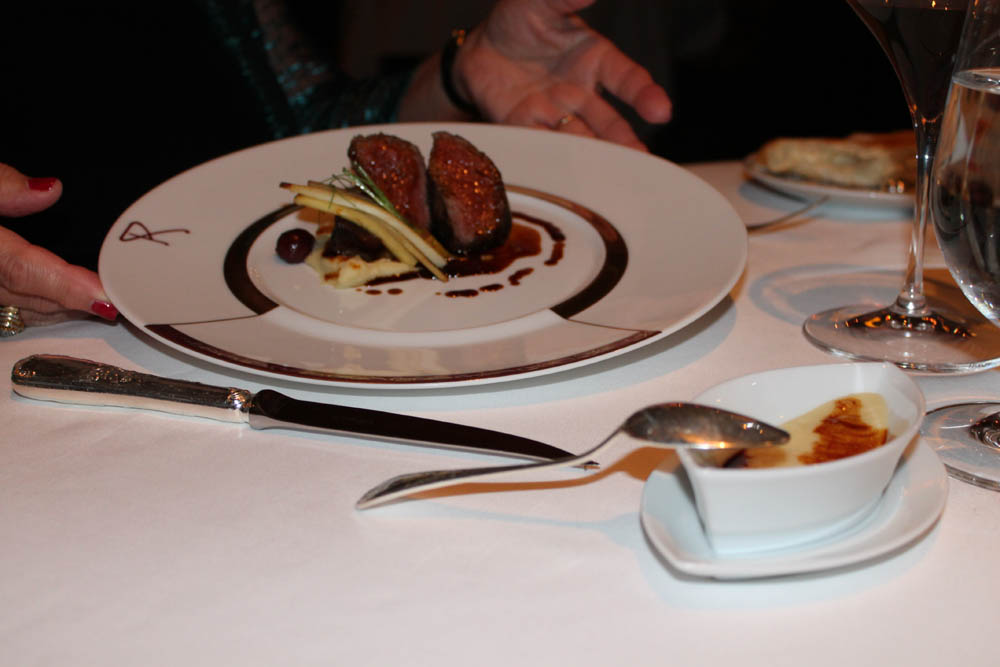 This Alaskan Sablefish had a wonderful buttery flavor: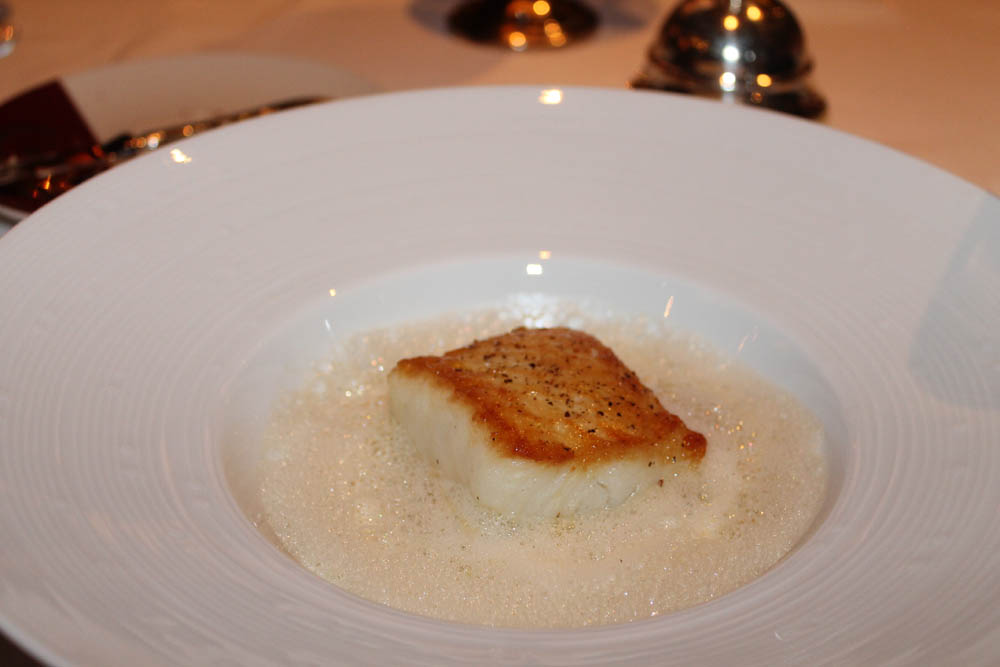 Near the end of your dinner the cheese cart is wheeled over.  Your server explains each variety and you can have a portion of as many as you would like.  Between the four of us we tried just about all the different cheeses.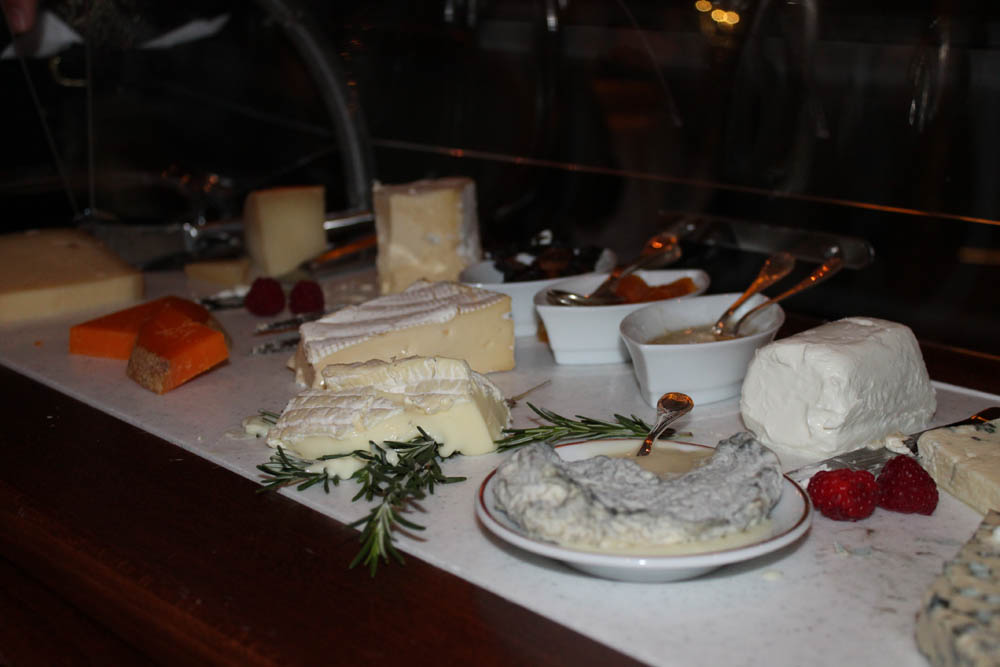 Of course there is also something sweet to end your meal: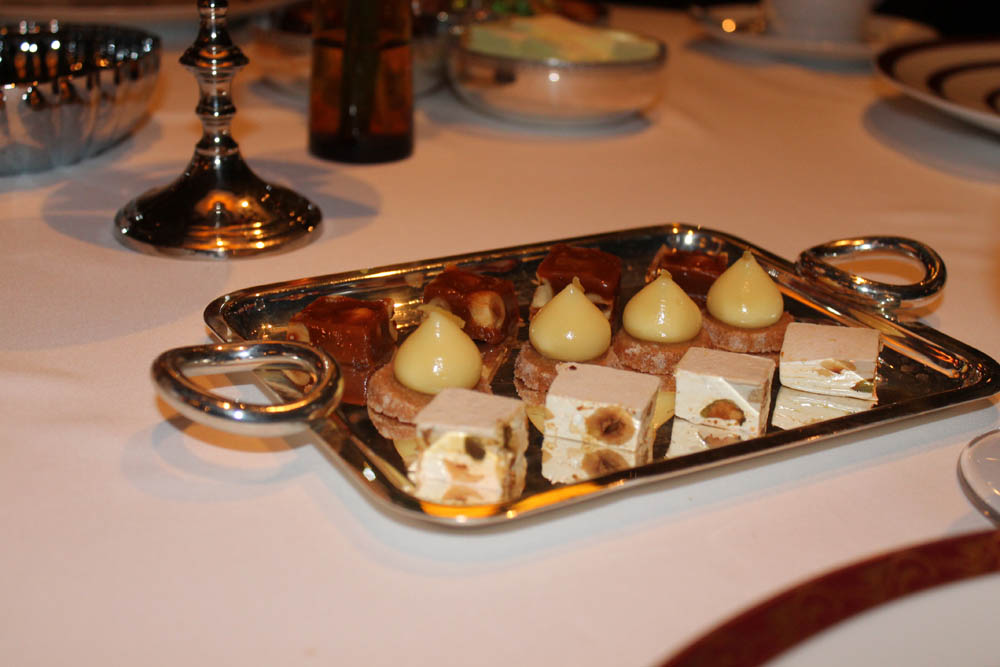 Dinner at Remy is a carefully paced meal that will take over three hours to complete.  If you are thinking that this indicates very slow service; that is not the case.  Keep in mind that there are five courses plus some surprises.  You are not rushed at any point. 
Environment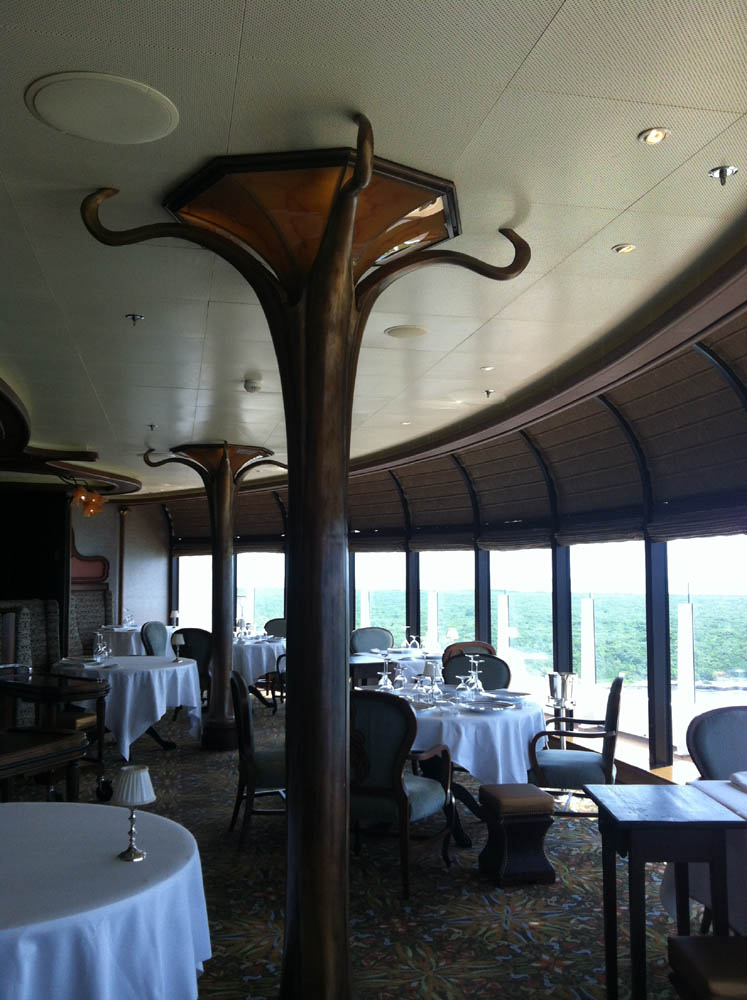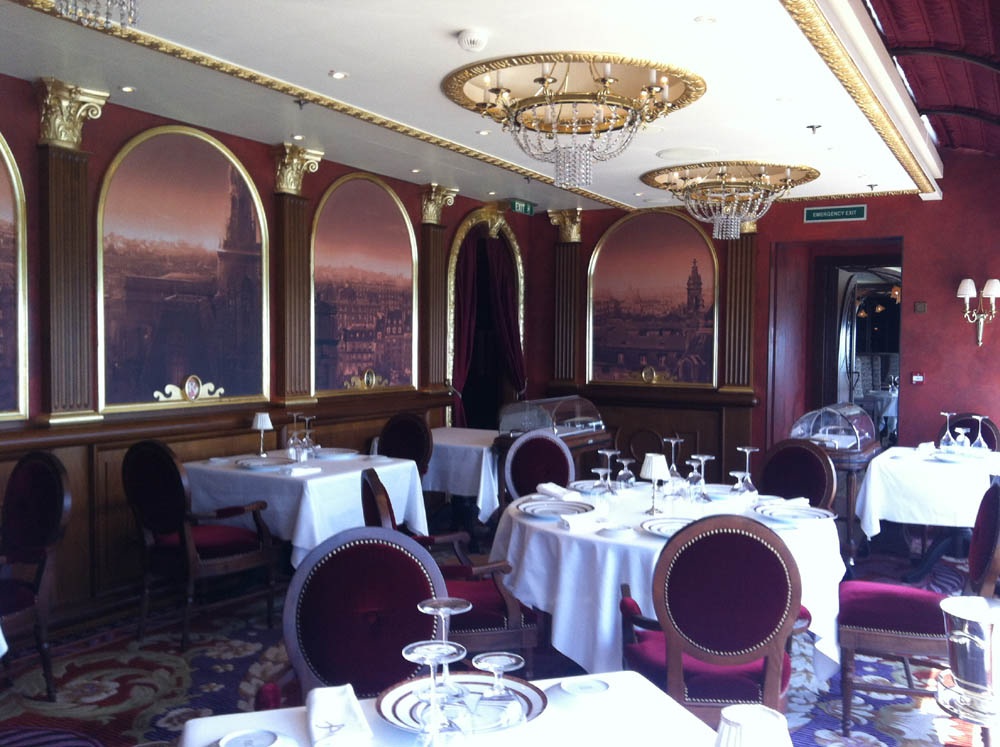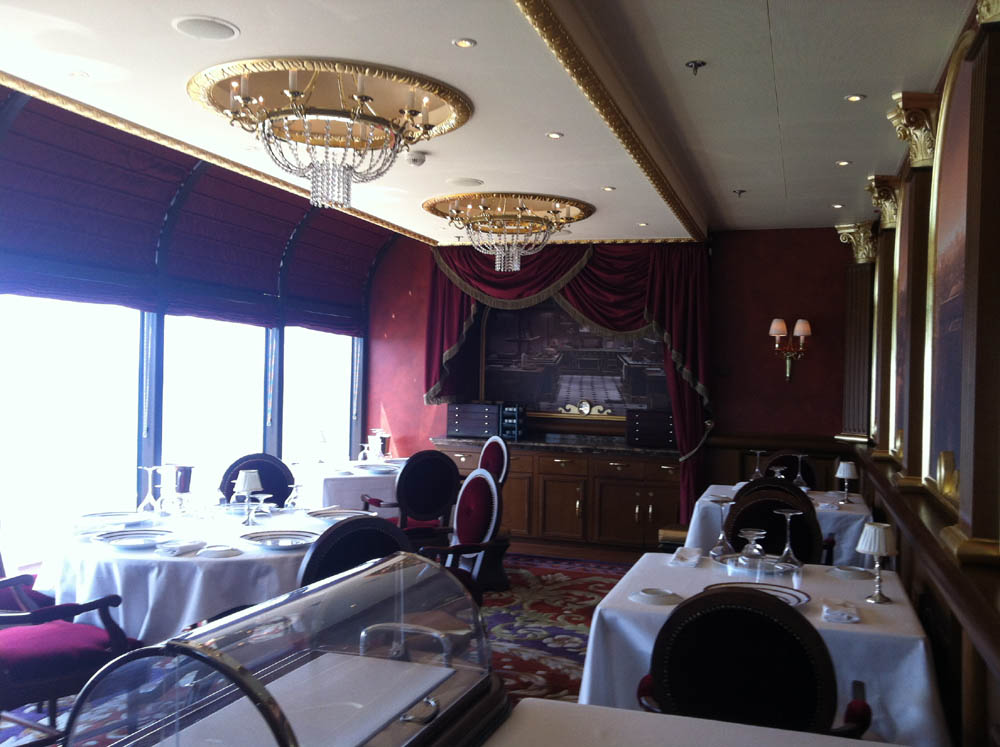 The restaurant is a beautiful space with many little details.  Hidden Remys abound as you can see in some of these pictures.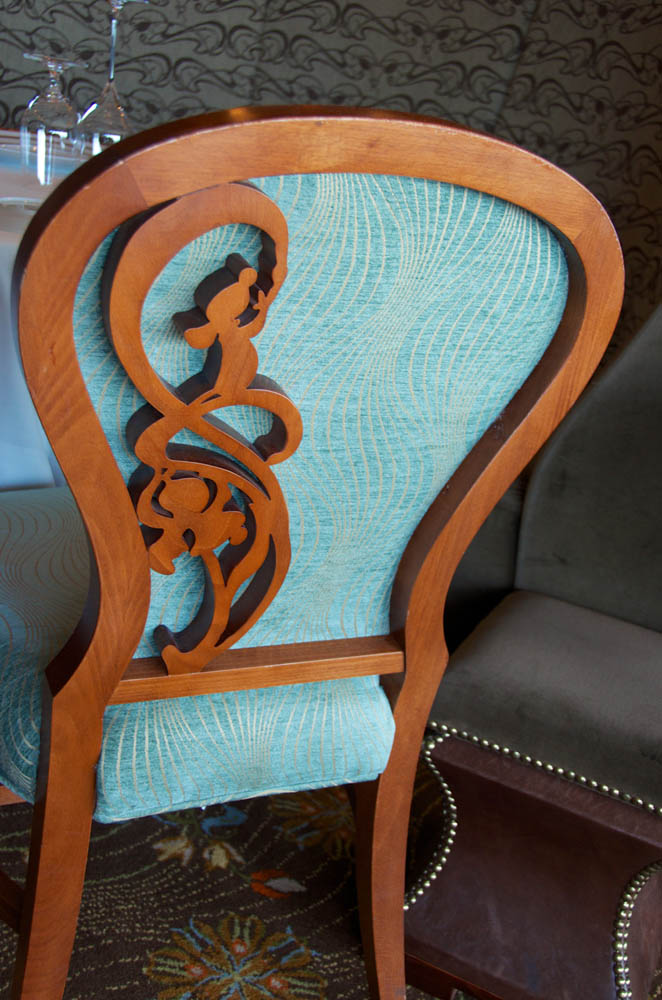 Chair back woodwork with a hidden Remy.  Notice the adjacent stool as well; each woman gets one of these next to her chair so her purse doesn't have to rest on the floor.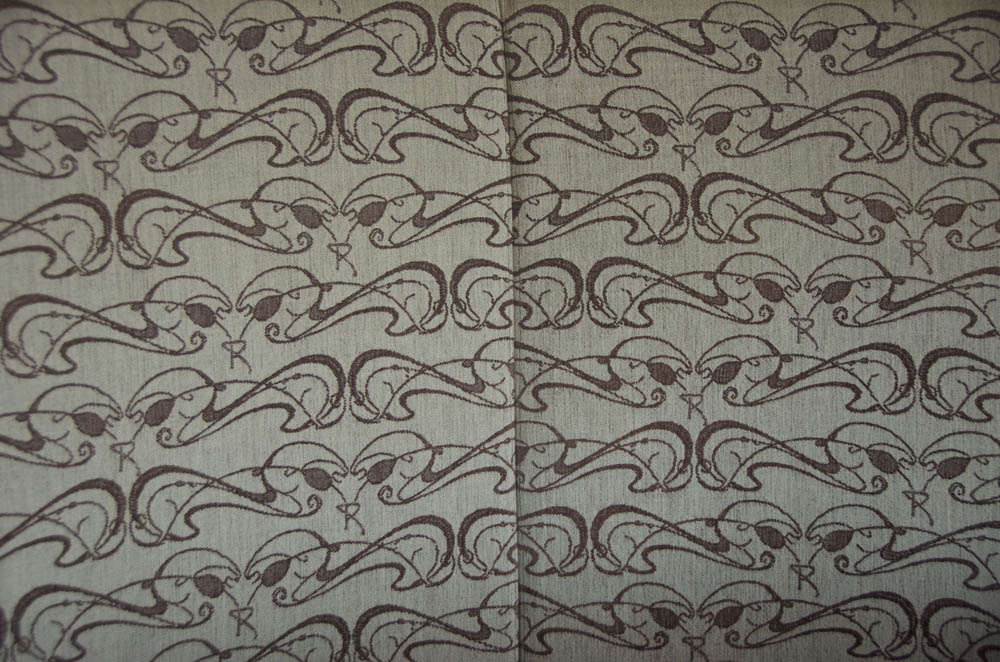 Repeating pattern with hidden Remy's on banquette seats.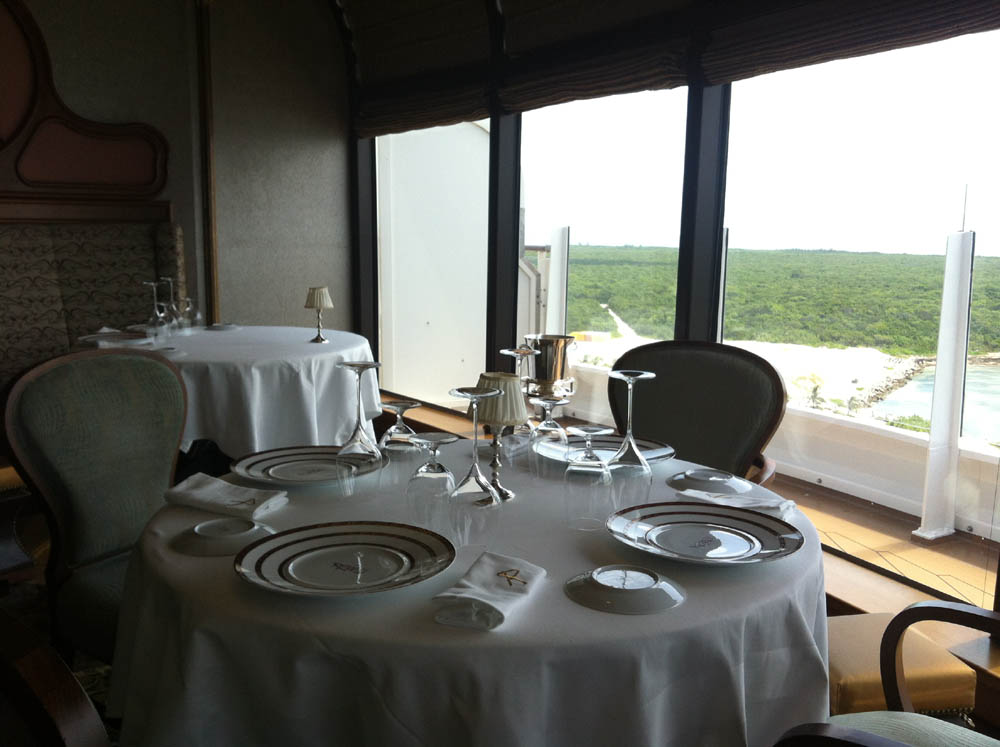 A typical Remy place setting.
Remy has a strict dress code, which we were advised of before dining there. At dinner, jackets are a requirement for men with suitably dressy clothes for women. Brunch is a bit more relaxed but still dressy. 
Cost
Brunch is $50 per person and the optional Champagne pairings, which brings two more glasses of Champagne, are $25 per person.  Dinner is $75 per person and the optional wine pairings are $99 per person.  Wine is also available by the bottle at prices ranging from around $60 to many thousands of dollars.  The sommelier is happy to recommend a bottle in your price range. 
Choosing between Brunch and Dinner
Our party of four did both meals on the same day.  We probably shouldn't have scheduled it that way but it did allow us to compare and contrast with fresh memories.  We also had the same serving team for both meals so there were no variations that could be attributed to them.   
Overall we found the whole dining experience to be great at both meals.  The evening meal is certainly even more elegant (and longer) than Brunch.  Those that are unsure if they will like Remy should probably try the Brunch first since its less expensive but still provides a great experience.  We also agreed that the Champagne pairings for Brunch were a good value.
In hindsight doing both Brunch and Dinner on the same day (separated by about eight hours) was a bit too much Remy at once.  We will schedule them on different days on future cruises.  Keep in mind that Remy Brunch is only served on sea days while Remy dinner is available every night so book your Remy Brunch reservations first and then fit in the Remy Dinner around the rest of your schedule. 
On reflecting about our meal at Remy we could not help but be reminded of this scene from the movie Ratatouille.
Mustafa – [taking Ego's order]: Do you know what you'd like this evening, sir?
Ego: Yes, I think I do. After reading a lot of overheated puffery about your new cook, you know what I'm craving? A little perspective. That's it. I'd like some fresh, clear, well seasoned perspective. Can you suggest a good wine to go with that?
Mustafa: With what, sir?
Ego: Perspective. Fresh out, I take it?
Mustafa: I am, uh…
Ego: Very well. Since you're all out of perspective and no one else seems to have it in this BLOODY TOWN, I'll make you a deal. You provide the food, I'll provide the perspective, which would go nicely with a bottle of Cheval Blanc 1947.
Mustafa: I'm afraid… your dinner selection?
Ego: [stands up angrily] Tell your chef Linguini that I want whatever he dares to serve me. Tell him to hit me with his best SHOT.
When we left Remy we had no doubt that the chef had hit us with his best SHOT.
Additional contributions P.S. That bottle of Cheval Blanc 1947 mentioned above?  You can get it at Remy for a mere $25,000.
Menu from Remy 12/9/12 
Saveur:                                                                     Gout:
Sandwich a la Truffe                                                 Masago Shrimp
Homard Boeuf                                                           Alaskan Sable Fish
Bar Poireaux                                                             Poulet Rouge
Biche Echalotte                                                         Colorado Bison
Chocolat                                                                    Tanzanian Chocolate Timbale
| | | |
| --- | --- | --- |
| Fraicheur/Freshness | Mer/Sea | Terre/Earth |
| Homard du MaineBoeuf Cru | BarPoireaux, Pomme de Terre | Biche& Chalotte Confite |
| Poulet RougeMushroom Ragout | Alaskan Sable FishArugula Pudding | Colorado BisonParsnip Puree, Thyme Jus |
| Truffe NoireEn Sandwich | CabillaudTruffe Noire | CochonNavet |
| Massago ShrimpPonzu Vinaigrette | King Crab GratinArtichokes, Violet Mustard | Niman Ranch LambPistachios, Candied Red Peppers |
Special thanks to my dining partners Ros Tobe and Mary Jo Wiley for the pictures and help filling in the holes in my rough draft.