I had the absolute pleasure of spending my birthday with my wife this year in California, specifically Hollywood/LA the day of. I was told that this is my day and we could do whatever I wanted. After some careful consideration I could only come up with one thing…..EAT! I have some favorites in the Hollywood area and a couple more that I had been dying to try.
We flew in the day prior and coming from the east coast we were of course up bright and early. The first stop on our culinary adventure was The Griddle. This establishment was previously blogged about on this very site by John Magi. I will not go into great detail as it was covered quite well in the aforementioned blog. A couple things I did take away from what John had said was that this place can get a line up. We took that warning seriously and arrived at The Griddle right around opening. We waited maybe 5-10 minutes as they slowly filled the restaurant. I loved this place right from the get go, the crowded seating area, the fast talking ADHD host to the extensive breakfast offerings. I had a difficult time deciding what to get but went with the "Cobb" omelet sans avocado. I know I'm in California but I just can't do avocado.  The hashbrowns and omelet barely fit on the large oval plate. The omelet was filled with chicken, bacon, green onions and blue cheese. My wife had the Mom's French toast. Oddly enough she has never had French toast before but we were told this was their specialty. The recommendation did not disappoint. This dish was thoroughly enjoyed by both of us. As we were leaving the small in stature hyper host thanked us by name and wished us a good day. Ordinarily not a huge deal but with the amount of people he sat in that hour I found this astonishing. I am a breakfast lover. I like it for lunch, dinner, snack….you name it. All I can say about The Griddle is that it is one of the best breakfasts I have ever had. I would almost book a flight back to LAX just to try another omelet.
Another favorite spot for us in California is the LA Farmers Market. Another location that has been discussed here on the Foodietales blog. We don't always come here specifically to have a meal. Sometimes we just like to browse and shop the market and The Grove. That being said it is impossible for me to head to the market without a stop at Bob's Doughnuts. This was stop number 2 for our mid morning snack. I don't like to mess around with Bob's. I like a plain old glazed doughnut for the most part. I have tried others but nothing beats the simplicity of a regular ole glazed for me. We actually stopped here a second time on this trip and had to get another ……..stop judging me until you try it.
After a quick stop at our hotel to drop off some purchases we decided to head down to the Hollywood & Highland center as they were setting up for the Oscars which were taking place the next day. It was hard to see anything with all the chaos but just a glimpse into this world was quite interesting. While at H&H we decided to have lunch. This is where some people might think I'm a little crazy but if I'm being honest one of my guilty pleasures in regards to chain restaurants is California Pizza Kitchen, yep, CPK. After such a large breakfast and a doughnut (or 2) we decided to go a little light for lunch. We shared a pepperoni pizza and each had a salad. My wife had the Classic Caesar and I had the Caramelized Peach salad. This consisted of field greens, spinach, warm caramelized peaches, cranberries, red onions, toasted pecans and gorgonzola tossed in a white balsamic vinaigrette. This was possibly one of the best salads I've ever had. It was no Cobb from the Brown Derby but man was it good. The Caesar was quite tasty as well and the pizza is always good as well in my opinion.
Now for me the thing that I was looking forward to most was dinner. We had a 7:15 reservation for the Tam O'Shanter. The Tam is LA's oldest restaurant run by the same in the same location for 90 years. It is located at 2980 Los Feliz Blvd in Los Angeles. 323-664-0228. The history of this restaurant is why I needed to try it out. Walt Disney himself used to frequent this place on a regular basis and I couldn't pass that up. Stepping into this restaurant it appeared they hadn't touched the décor since the 70's but in a good way. It was unassuming and quite comfortable. It seemed that every room led to another. I was almost convinced we'd walk to another county before we'd see the end. I had done some menu research prior to our trip and knew right from the get go that I was going to order the Brussels Sprouts ($8) with smoked bacon and caramelized onions. We also ordered the Mac & Cheese ($7) to share. The Mac & Cheese was ok but in my opinion the Brussels Sprouts stole the show. I'm sure my wife might argue that point. For our entrees I ordered the Toad in the Hole (Yorkshire pudding, filet mignon, cipollini onions, sautéed mushrooms and cognac @ $25). This dish was tasty but a little heavy on the mushrooms for me. The filet mignon though was almost perfect. My wife ordered the Corned Beef and Cabbage with roasted fingerling potatoes, heirloom carrots and Dijon mustard ($26). I'm not a huge fan of corned beef but this dish went over so well that I'm sure she would fly an order home if it would stay fresh. The dessert special on this day was Red Velvet Souffle. I consider myself a bit of a soufflé aficionado and this was just ok. Two of my favorites are available on Disney Cruise Line and this did not compare to either but was still good enough to round out a fantastic meal. We had the pleasure of speaking with the manager briefly about the history and Walt Disney in particular. He and his staff were fantastic and I would recommend the Tam O'Shanter to anyone looking for a good meal with a side of history.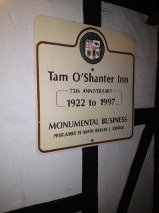 Needless to say after a day like this I was in a bit of a food coma by the end but I could not imagine spending my birthday any other way with any other person. Special thanks to my wife for making this day something to remember and allowing me to gorge for an entire day. After all, it's my birthday.