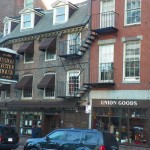 Union Oyster House
41 Union Street
Boston, Massachusetts
617-227-2750
As our day in Boston was coming to a close Kevin and I thought we would have dinner before heading towards home. One of our favorite places to eat in Boston is the Union Oyster House.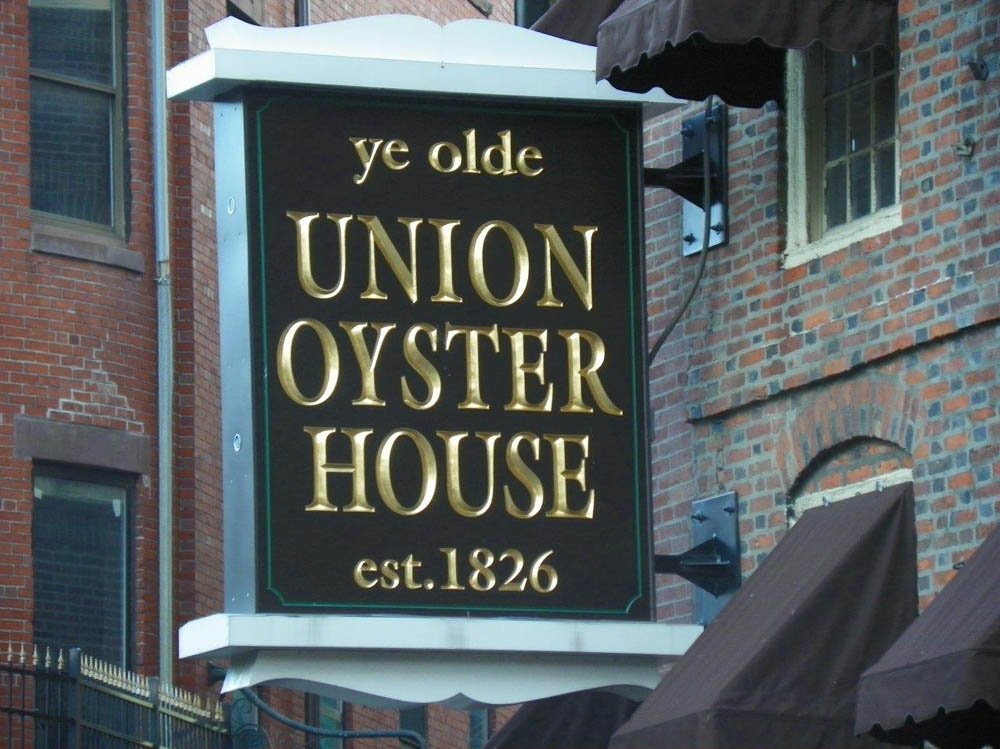 The Union Oyster House is famously known as the oldest restaurant in Boston and the oldest restaurant in continuous service in the U.S. Their doors have been open to diners there since 1826 and the restaurant is located on 41 Union Street, right on the famous Freedom Trail and only one block from Faneuil Hall Marketplace.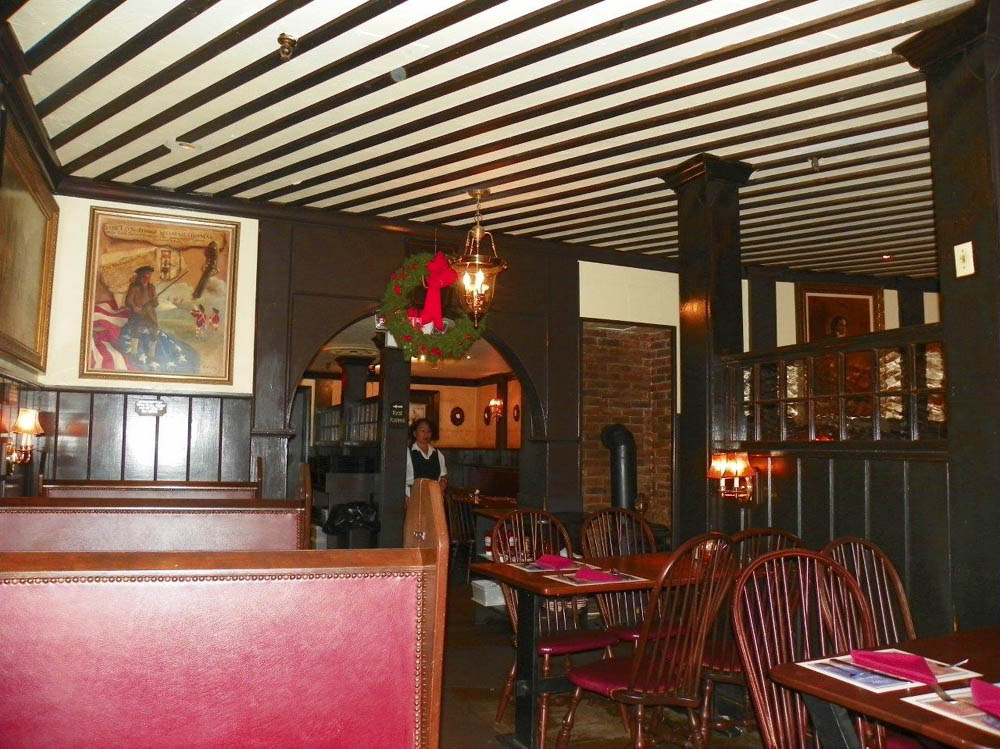 I just love walking through this area of Boston. There is so much history in the old buildings and I like to think to myself….oh if the walls could talk imagine how much we could learn.
We arrived within a few minutes of leaving Haymarket and were able to get seated fairly quickly as we had walked over earlier in the day and made a reservation as they are recommended. When you first walk in you will see a large live Lobster tank and the famous semi-circle oyster bar where Daniel Webster often punctuated his speeches with visits to this oyster bar where he drank a tall tumbler of Brandy and water with each half dozen oysters and seldom had less than six plates. Unfortunately since the restaurant was quite crowded in this area I was not able to get a photo of the oyster bar.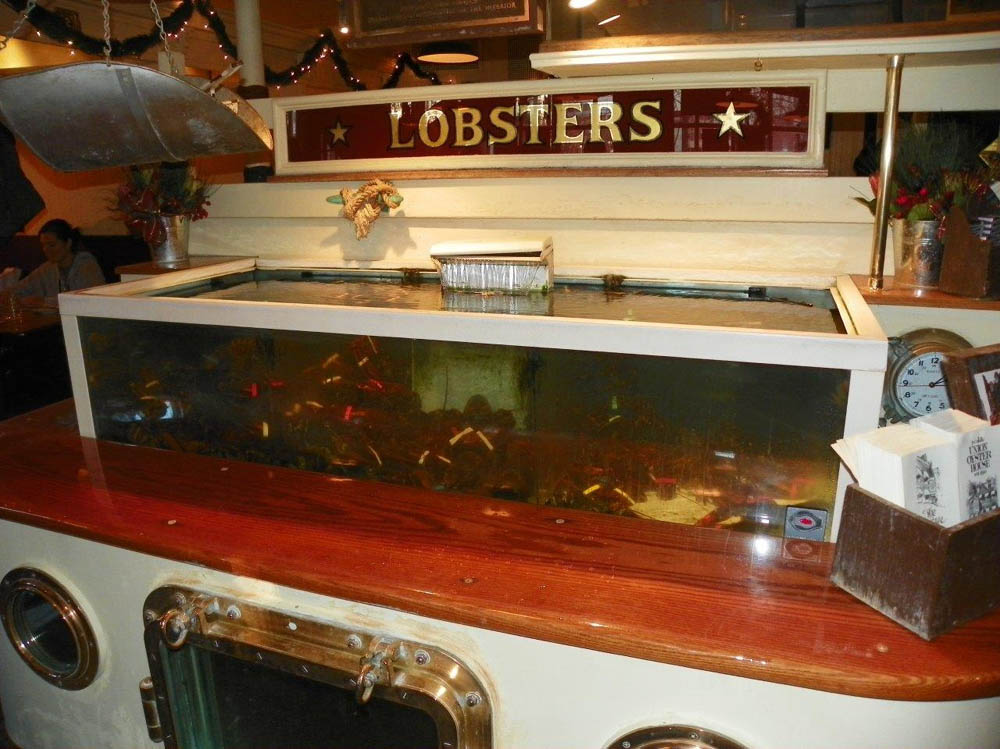 We were seated on the second floor of the restaurant and I do have to admit I liked the journey to our table. You will find a pictorial of Boston's history adorning the walls throughout the restaurant and the dining rooms are also themed to the era. Our server whose name was Brooke, was very pleasant and come to find out she has been working at the Union Oyster House for many years. We started off our meal with their famous cornbread. Which I must say was very warm, moist, and delicious!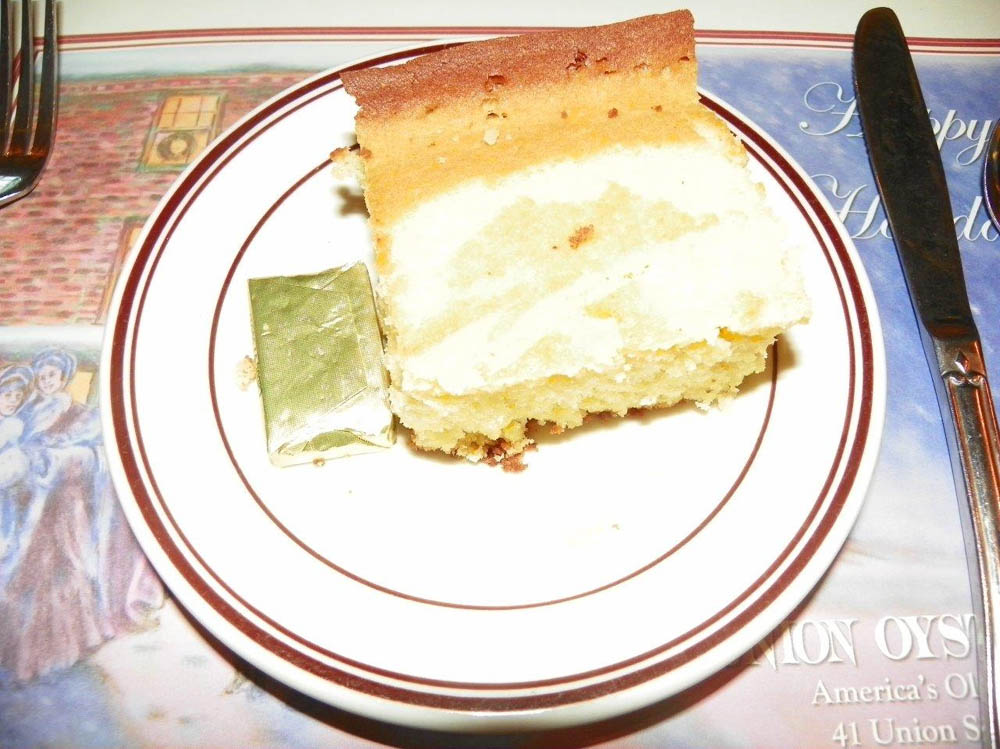 I do recommend bringing your appetite along as the menu has many choices from fresh seafood, soups and chowders, meat and poultry dishes, and all types of salad ( including Lobster salad rolls and platters ). There are too many to mention so I will name just a few of the appetizers available you can chose from. You may order Mussels, Steamers, Shrimp Cocktail and Fried Calamari. There is also the Hot Oyster House Sampler for two which includes Union Grilled Oysters, Baked Stuffed Cherrystones, Clams Casino, Oysters Rockefeller and Shrimp Scampi.
Kevin ordered the 1/2 dozen Freshly Shucked Wellfleet Oysters for $15.95.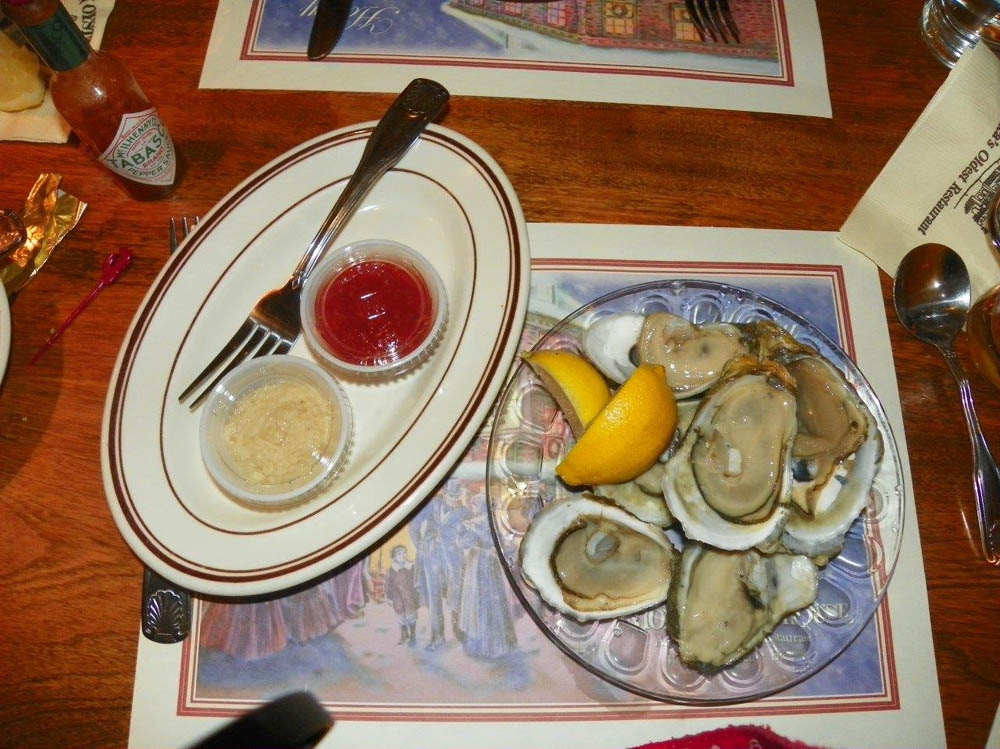 Ok…..I do have to admit that I have never tried an Oyster this way and don't think I will in this lifetime, but Kevin really enjoyed his.
I went with a more common appetizer, a cup of the Oyster House Clam Chowder for $6.50. All I am going to say is that Boston in famous for their clam chowder and the flavor was amazing! There is nothing better than a nice thick and creamy chowder, especially since it was a cold day. It really hit the spot.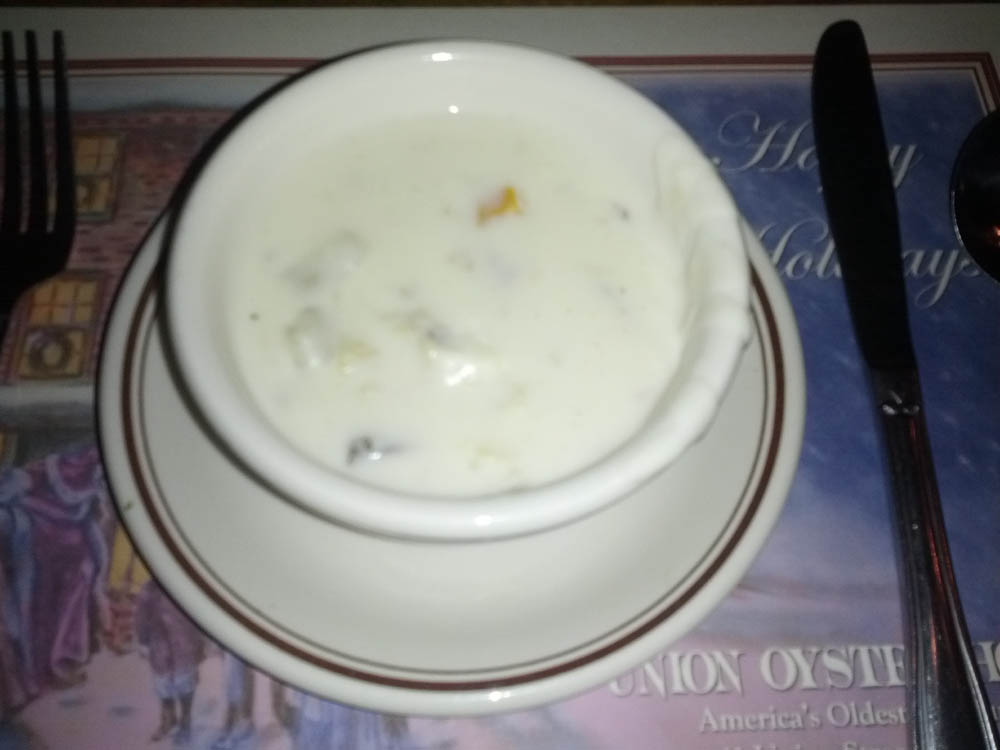 Kevin decided to choose his entrée from the Fried, Grilled, and Broiled section of the menu. To name a few of the choices available Fresh Boston Scrod, Sea Scallops, Tender Shrimp, Native Swordfish, and Salmon. Kevin ordered the Tender Sweet Fried Clams at (Market Price). As you can see from my photo, bring your appetite as you receive quite a large portion and a baked potato. YUMMY!!!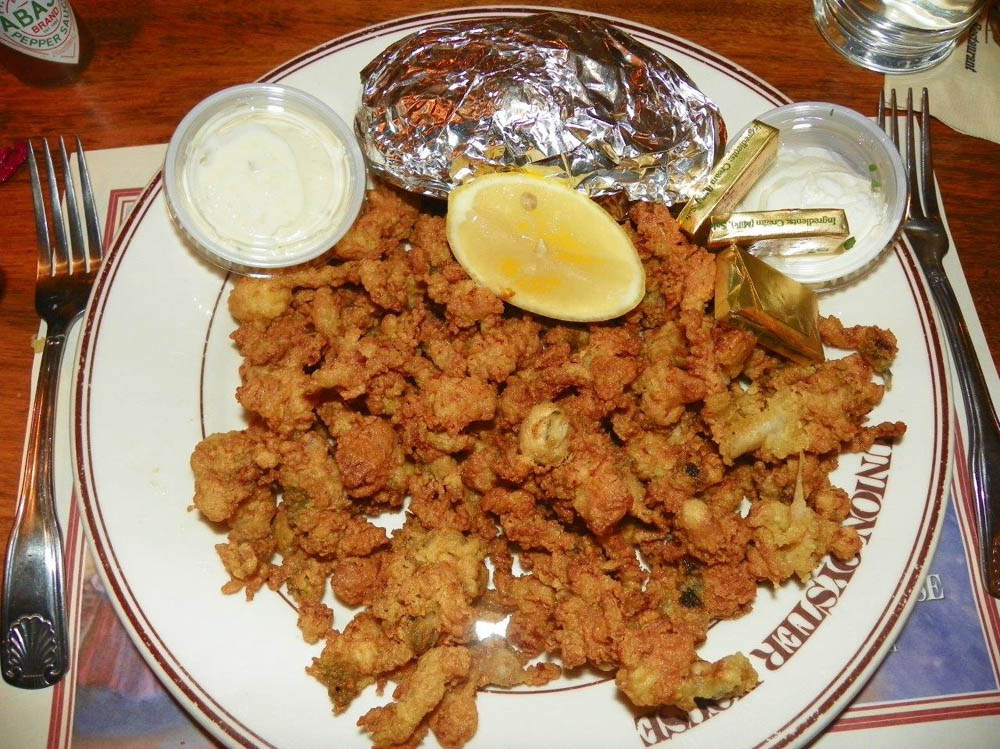 I am a lobster girl all the way and oh my there were so many ways you could have your lobster! From the Live Lobster Pot I mentioned above, you can have from as small as 1 1/4 lb. all the way up to 3, 4, and even 5lbs of Lobster all at (Market Price). To name a few you may also choose from Lobster Scampi, Lobster Newburg, or even an American Bouillabaisse which I like to call throwing in everything but the kitchen sink, Lobster, Steamers, Mussels, Shrimp, Fish, Littlenecks, and Scallops all poached in a seasoned broth, served with fresh garlic bread. I thought I would be different and tried the Union Lobster Special, which as you can see, is a baked medium Lobster with a New England style Seafood Stuffing topped with claws lazyman's style, warm butter, and potato's. I wasn't sure what I would think of the seafood stuffing and I was pleasantly surprised.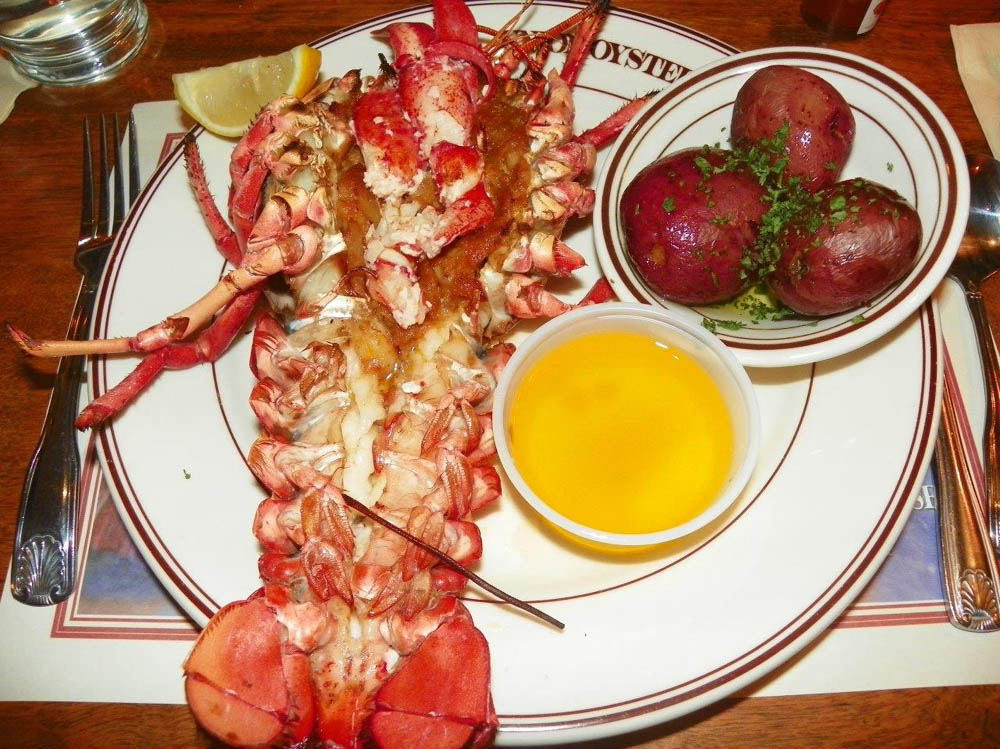 The menu here is quite large to mention everything in my blog and I did notice there is also a kids menu available. I highly recommend trying the Union Oyster House if you are in the Boston area. We had impeccable service and enjoyed our meal. The food was served hot and not rushed, which is always a pet peeve of mine. This did not happen here, each course was spaced out nicely.
When leaving the Union Oyster House make sure to stop and take a look at the model of a ship located on the first floor as you head into the Union Bar area and make a stop in the Union Goods store before leaving. You may find something unique to being home with you from Boston.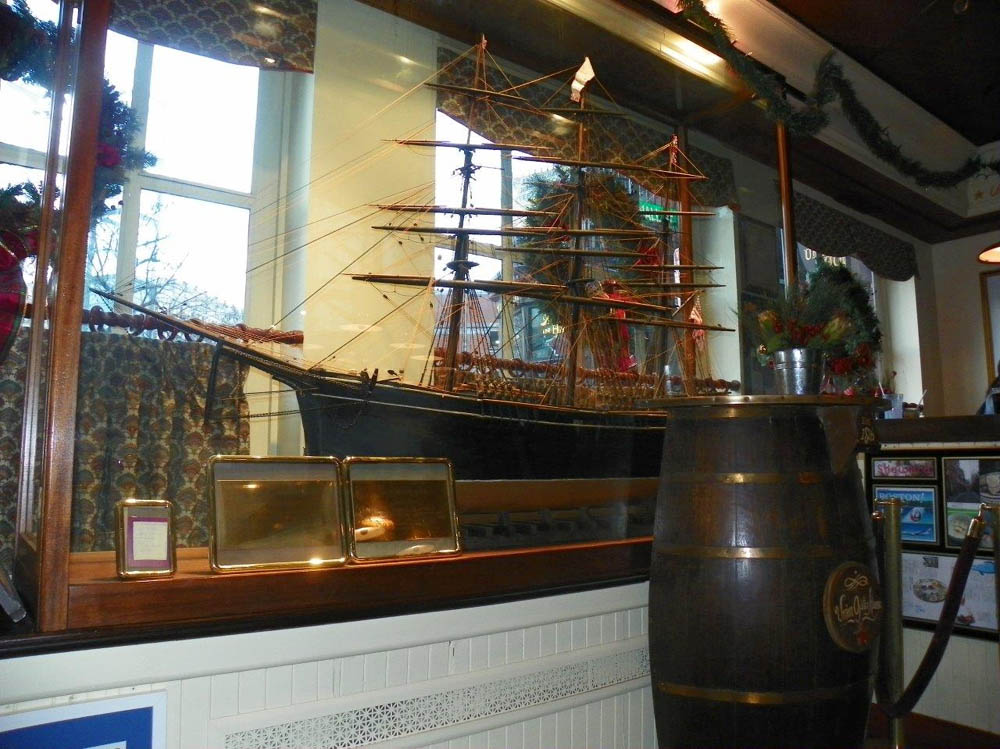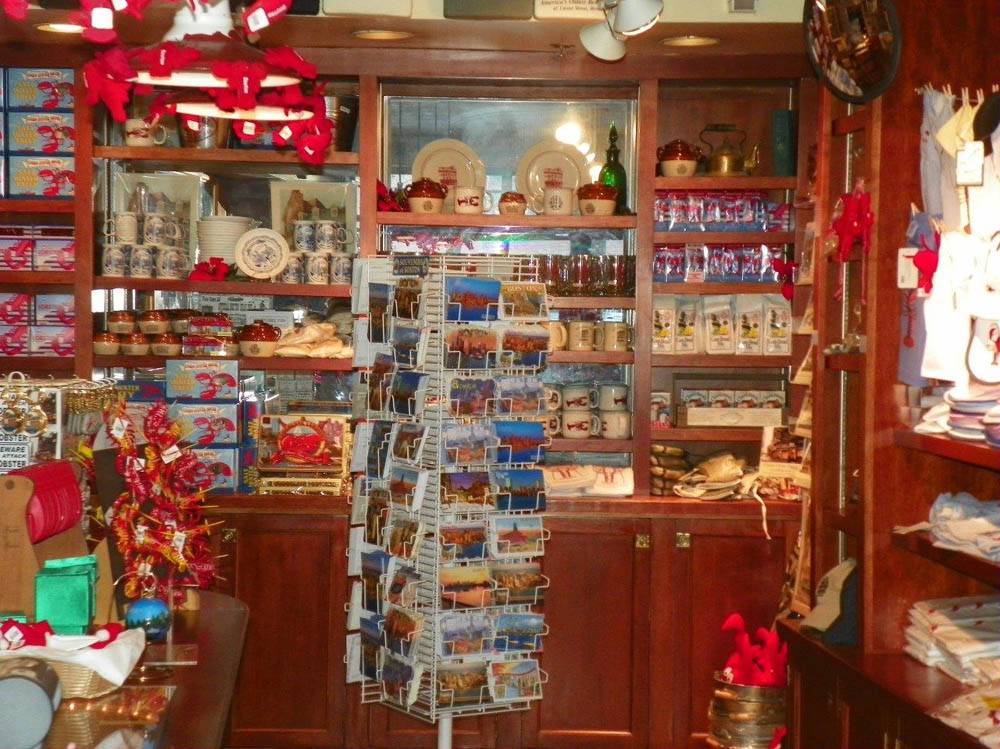 For more information on the Union Oyster House and a complete menu please visit their website www.unionoysterhouse.com. I do hope that you enjoyed our day in Boston and all that we experienced. I am going to end this blog with another little fun fact. Did you know that the toothpick was first used in the United States at the Union Oyster House?