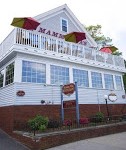 Mamma Mia
122 Water Street
Plymouth, MA  02360
Telephone: 1-508-747-4670
Internet: http://mammamias.net
Mamma Mia!
OK, show of hands, who likes Italian food?  Hmmm, just about everybody.
Now, show of hands again, who likes ABBA?  Hmmm, not quite as many.
Just so there is no confusion; this review is about good neighborhood Italian food, not a haunting song or broadway musical. 
Over time, we've found that some of the best Italian food can be found in some of the most nondescript places.  We're talking about good, solid, unpretentious Italian food.  Just a step or two up from a basic pizza joint.  A place that does a land mine business in takeout pizza's but also serves the Italian basic dishes like spaghetti & meatballs, veal parm, gnocchi,  manicotti, lasagne… You get the idea.  This review is of just such an unpretentious restaurant located right on the waterfront of Plymouth MA. 
Mamma Mia's in Plymouth is one of five restaurants owned by the same family.  All five are similarly unpretentious.  Walk in and there is no overblown quasi-Italian opera music, no red and white checked table cloths, no smell of aging cheese.  Its just a cozy restaurant.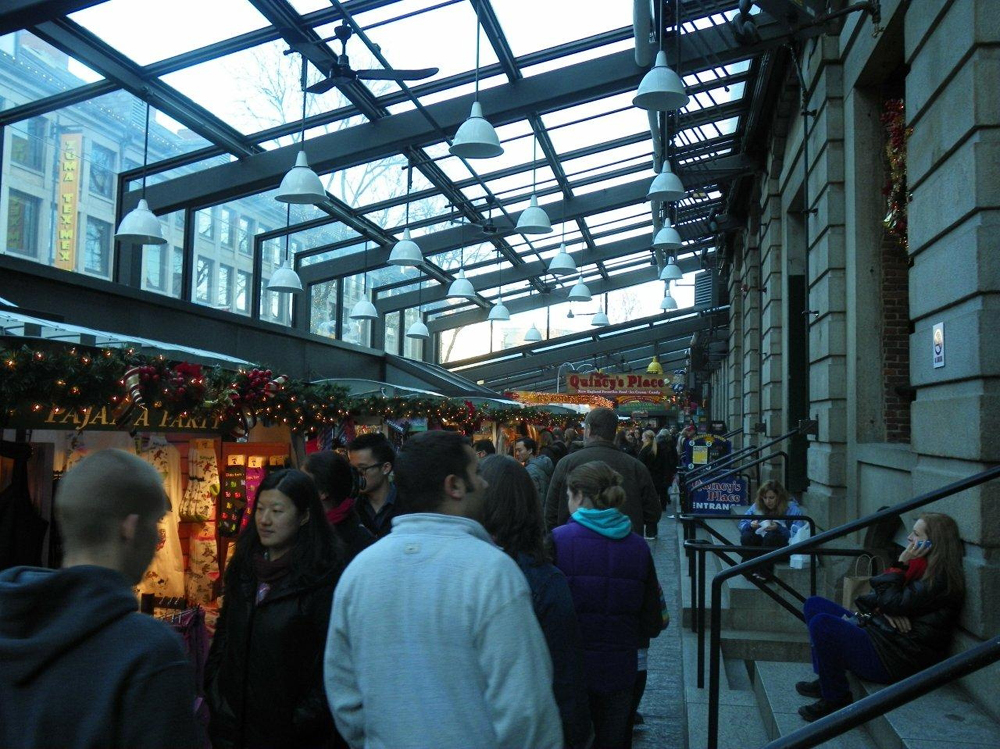 The Plymouth location has a nice view of the working harbor from many of the tables inside, especially those on the second floor. 
But we didn't come here to look, we came here to eat!  Those who arrive at busy times, especially in the summer season, may well be in for a long wait to be seated.  We usual go at off times to minimize the wait.  Service is typically quick and pleasant in this restaurant.  You'll be asked for a drink order very quickly and there is no pressure to order up-scale water, or wine, with your meal.  The wines offered are inexpensive.  In fact none of the bottles on the wine list were over $30. 
Since we visit frequently we normally don't look at the menu any more but we do ask about any daily specials.  On a recent trip we decided to go with one "tried and true" dish, the Veal Parmesan ($14.95), and one dish that was more unusual for us, the Chicken Broccoli Ziti Alfredo ($12.95).  The Veal Parm normally comes with either spaghetti or ziti but you can order it with homemade noodles ($1 up-charge) if you prefer.  The Chicken Broccoli Ziti Alfredo is also offered with a garlic and oil sauce instead of the Alfredo sauce.  We decided to try this dish with homemade noodles rather than the ziti it normally comes with.  While we waited, our server brought over some piping hot rolls fresh from the oven. 
As we've gotten older, my wife and I seldom finish a full meal.  The serving sizes at Mamma Mia's are pretty large so we usually just eat half and bring the other half home with us for lunch later in the week.  Today was no exception. 
The Veal Parm is a very simple, traditional dish.  Two pieces of veal, pounded thin, are breaded and fried.  They are then topped with a slice of Parmesan cheese and broiled to melt the cheese.  The veal is served over a bed of al-dente pasta (ziti in this case) with a thick tomato sauce.
The Chicken Broccoli Alfredo was something different for us.  Chunks of chicken and broccoli tossed with homemade noodles and the Alfredo sauce.  We found this dish to be quite tasty and the sauce was rich, not too heavy.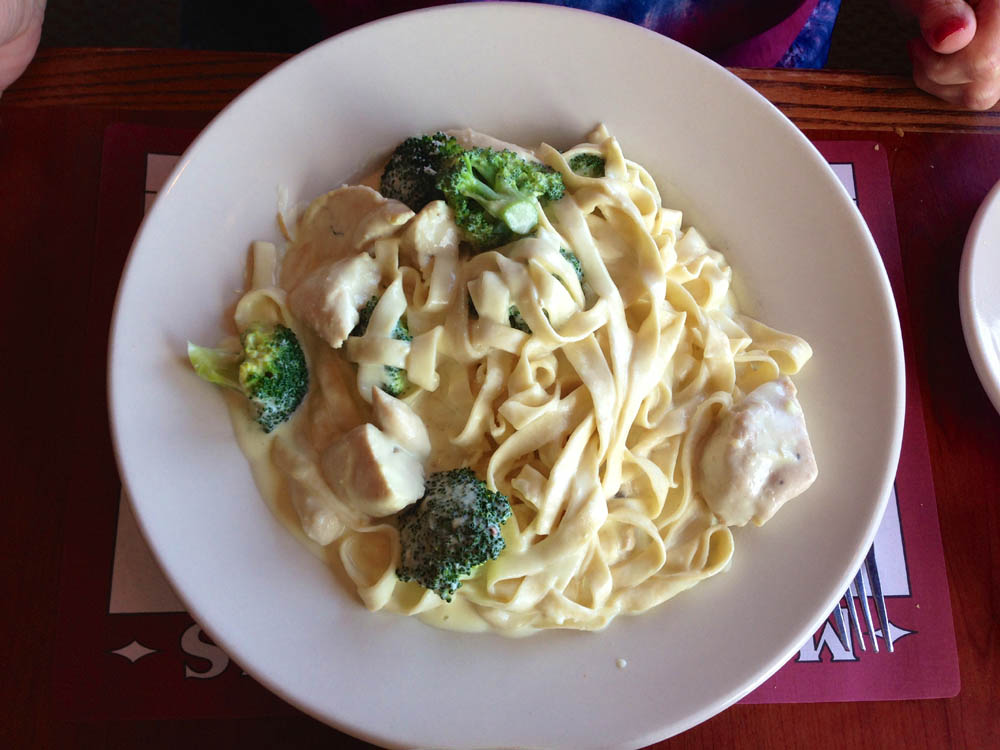 Mamma Mia's is also renowned for its pizza.  There is typically a steady stream of people coming in for take-out orders.  For those eating in the restaurant, it seems like over 25% of the patrons are there just for pizza.  Their style of pizza is thin crust with a zesty tomato sauce.  Pizza toppings include all the traditional ones plus a few unusual choices like grilled chicken, pineapple & ham, or buffalo chicken.
For those who have saved room, there are four items on the dessert menu.  Cheesecake ($5.50), Chocolate Cake ($3.95), Tiramisu ($5.95), and Cannoli ($3.75).  Of these four the Cannoli is pretty much a tradition to finish off a simple meal. 
After eating it is very nice to wander around Plymouth harbor to help work off some of the food.  Or at least let it settle.  As mentioned above, the working harbor is directly across the street.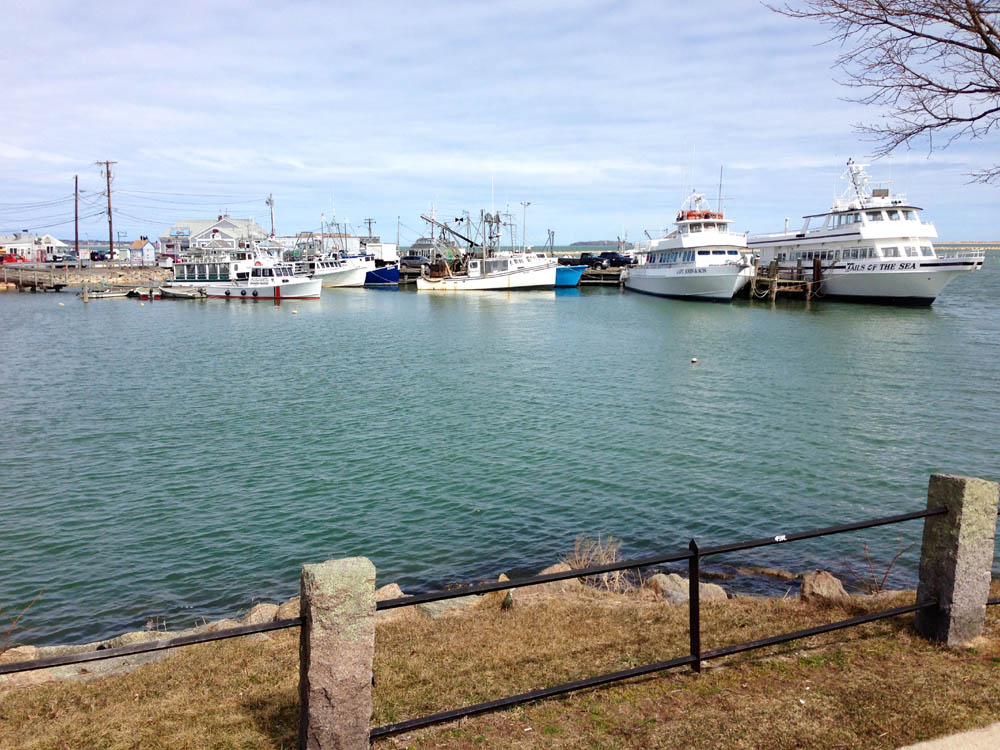 Just a short walk away is the historic harbor where you'll find Plymouth Rock and a replica of the Mayflower.