The Olde Pink House
Reynolds Square
23 Abercorn Street
Savannah, GA  31401
(912) 232-4286
Menu: http://www.plantersinnsavannah.com/menu.htm
Reservations: http://www.opentable.com/the-olde-pink-house-restaurant?ref=10069&ttr=1&scpref=41
Email: theoldepinkhouse@bellsouth.net
On a driving trip to Orlando in October, my wife Valerie and I decided to stop in Savannah Georgia along the way.  We had such a good time in Savannah that when we did another Florida driving trip in March we decided to stop in Savannah again.  We were both interested in seeing this historic city for a number of reasons.  We both are fascinated by US history, we love to explore new places, and we had read the book "Midnight in the Garden of Good and Evil" which is set in Savannah.  You may have seen the movie by the same name but the book has much more Savannah "texture" that you don't get from the movie.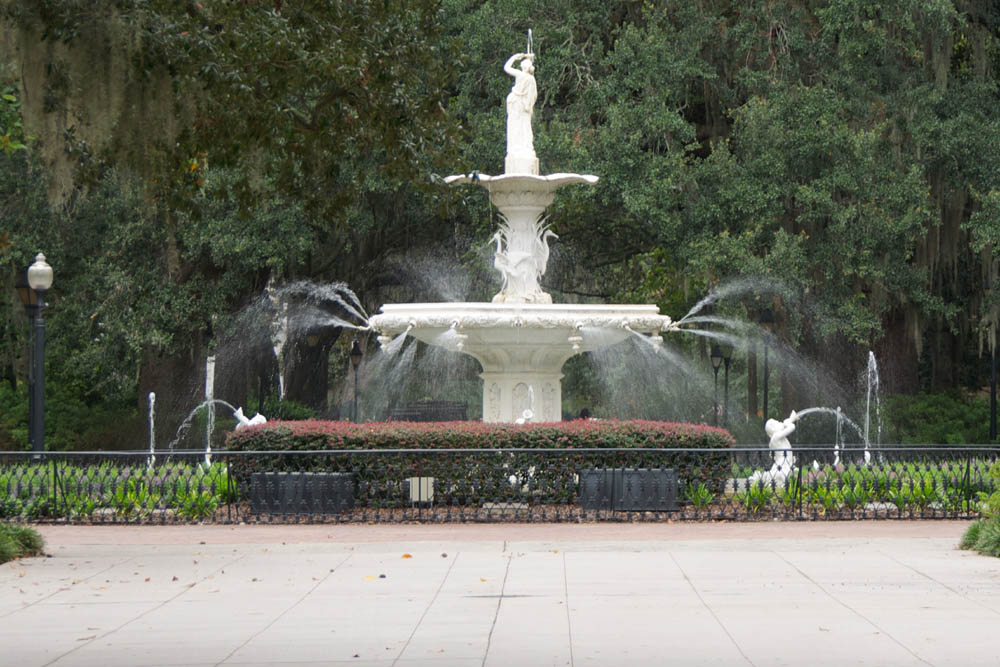 Of course dining in this fine city is also an art. Many of you are familiar with Paula Deen from her cooking show and recipe books featuring southern cuisine.  So, you'd think that a stop at her restaurant "The Lady and Sons" would be in order.  Well, it wasn't.  My wife is proud of being one of the GRITS.  That's "Girls Raised In The South".  In her case, "The South" is Lafayette, LA, which is some distance away from Savannah both physically and epicurean-ly.  Now understand, we weren't looking for Lafayette food in Savannah.  For our first visit (i.e. before Foodie Tales) we were looking for some good southern food representative of the area.  We checked around and had several people recommend the "Olde Pink House".  After looking at their menu on line we decided to make reservations there.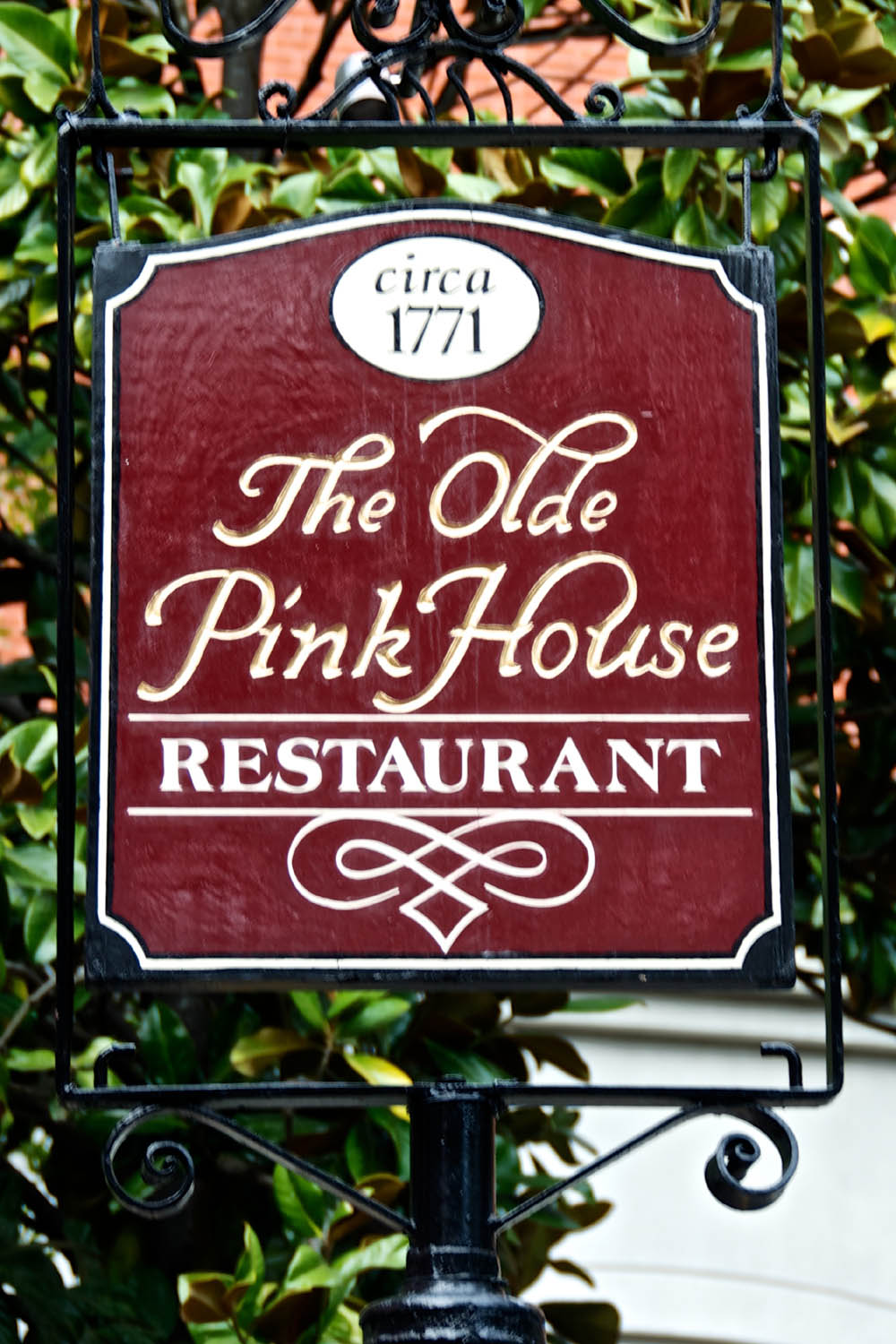 The restaurant is located at Reynolds Square in what was actually a house for one of Savannah's leading families.  The restaurant got its name because it is built out of brick that was painted white.  Over time the color from the brick has leached through and makes the building look pink.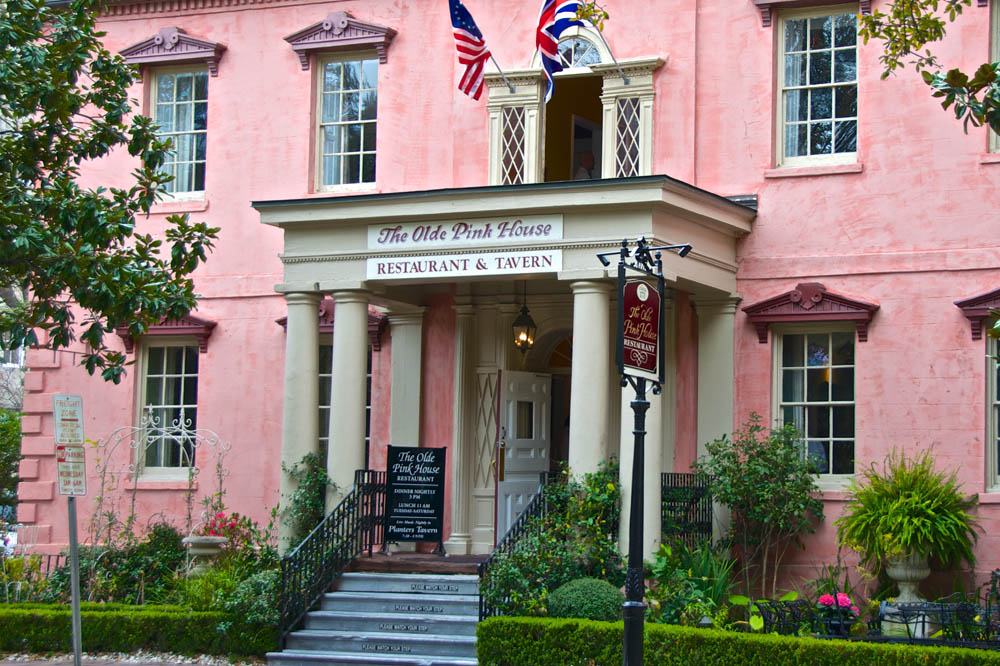 In October our reservation was for 7:15 pm and we arrived about 45 minutes early thinking that we would have a glass of wine while we waited.  I was a bit dismayed to see a large crowd of people standing around outside on the sidewalk and stairs as we walked up.  With trepidation that we were in for a long wait I approached the podium to give our names, mentioning we were a bit early.  The hostess didn't bat an eye and we were immediately ushered into one of the several dining rooms. 
We had a similar experience in March with a 6:15 reservation.  We had arrived in Savannah around mid-afternoon that day and after doing some touristy stuff we were hungry.  This early in the evening there was no waiting crowd and we were taken immediately to our table.  This time we were seated in the ballroom, an elegant room that is a recent addition to the restaurant but looks as though it is right out of the original period.
Noticing some impressive looking old portraits on the walls as we walk to our table, I asked who they were, thinking they may have been the original owners.  Well, the joke was on me as they were just portraits of unknown people that somebody had picked up for decorative purposes. 
Shortly our waiter stopped by to say hello, bring us a breadbasket and take our drink order.  First, a word about the breadbasket would be appropriate…drool.  It's a basket with three different breads; a yeast roll, corn muffins and biscuits.  The biscuits are slightly sweet because they add a bit of honey to the dough when making them.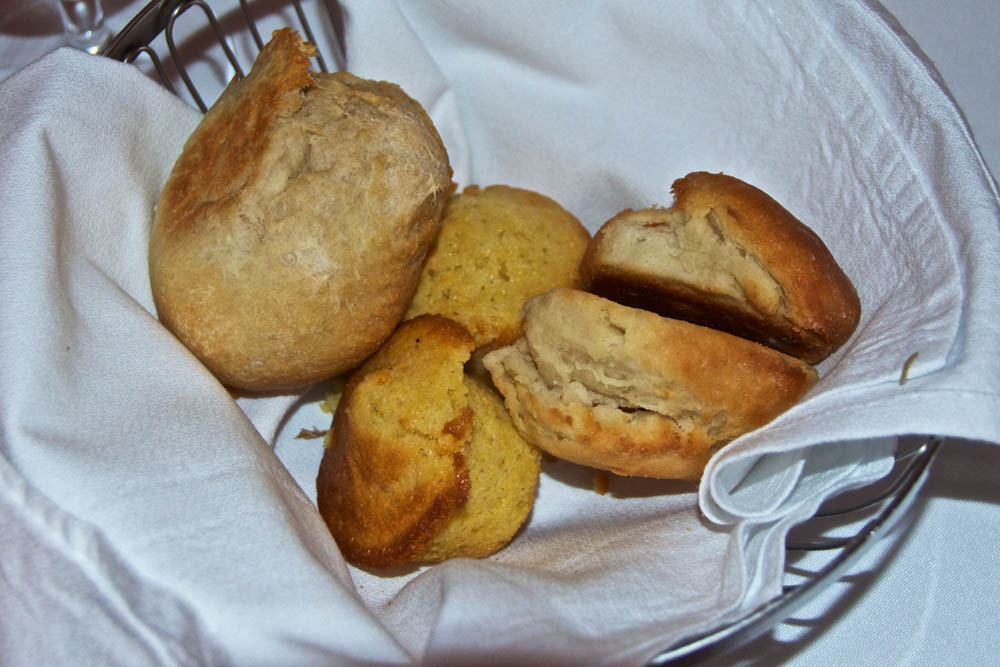 Those who know Val & I will not be surprised to learn that we were planning on having a bottle of wine with our meal.  But, how do you choose a wine until you know what you are eating?  It was time to peruse the menu.  Immediately there was a problem, everything sounded so good.  How could we decide what to order?  This is where a good waiter really enhances a dining experience.  After discussing our likes and dislikes and getting suggestions on the best items on the menu we ultimately narrowed down our choices to a manageable number.  That meant it was also time to order wine!  Here the waiter suggested a Marques de Morrieta 2006 white that is not widely distributed.  The price was right and that's what we went with.
In October Valerie and I shared the Shrimp, Crab and Sausage Spring Roll, Honey Mustard Drizzle ($9.95) appetizer.  These were marvelous.  A mixture of shrimp, crab and sausage, along with some cabbage and unidentifiable other vegetables are rolled into slim tubes of pasta and flash fried in very hot oil.  This produces a crispy outer shell with an inside that is just bursting with flavor.  This was worth a repeat on our March visit but I hogged them all for myself.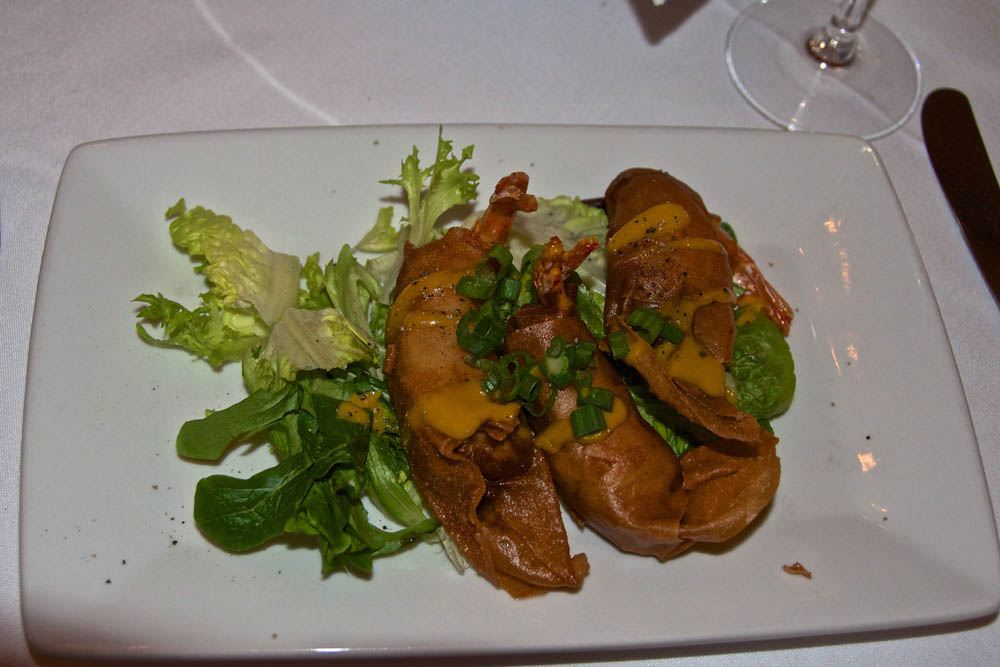 Valerie had the Sautéed Local Shrimp w/Country Ham Gravy & Cheddar Cheese Grits Cake appetizer ($9.95) that she loved. I'm not a fan of grits but I had a taste and it was actually pretty good.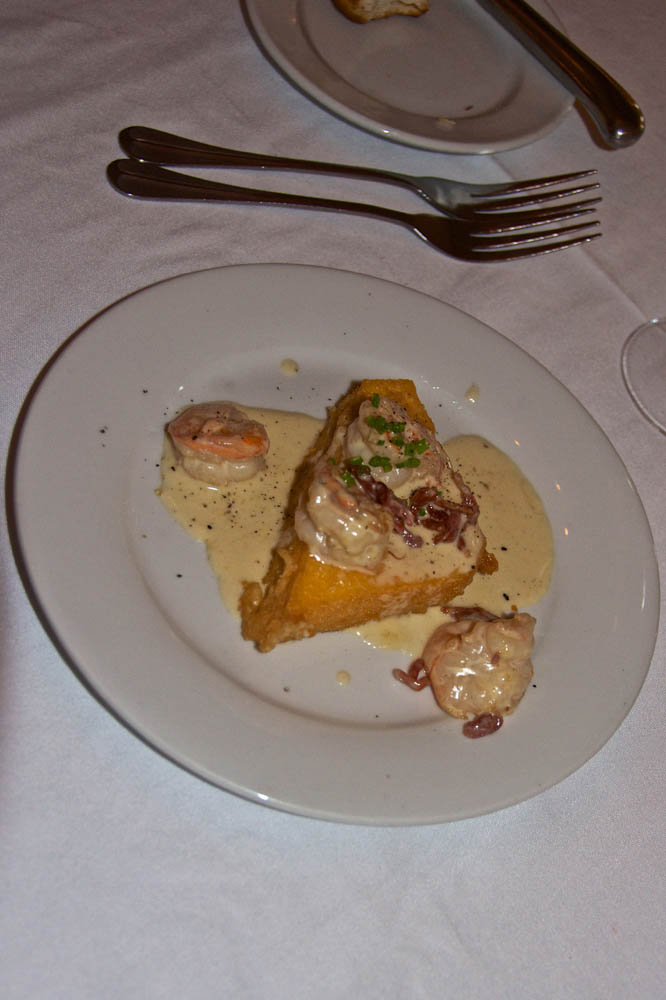 In October, Valerie went with our waiter's recommendation of one of the restaurant's signature main courses, Crispy Scored Flounder w/Apricot Shallot Sauce, Creamy Grits & Collards ($26.96).  This is a nearly whole flounder, with only the head missing.  The fish is scored in a crisscross pattern, glazed with the Apricot Shallot Sauce and broiled.  This produces a sweet coating and the broiling leaves the flesh in little bite sized diamond shapes that are easy to pick up with a fork.  Valerie enjoyed this very much although she was a little disappointed in the flip side of the fish, which didn't get the benefit of being exposed to the broiler.  I went with a different recommendation, the Crab Stuffed Grouper, White Wine Lemon Sauce, Mashed Potatoes and Mixed Beans  ($31.95).  It was a very flavorful fish and the crab stuffing was a very nice touch.  The wine was a nice accompaniment with both dishes.  This was also worth a repeat in March and just might be my choice again for the next time we stop by – yes it was that good.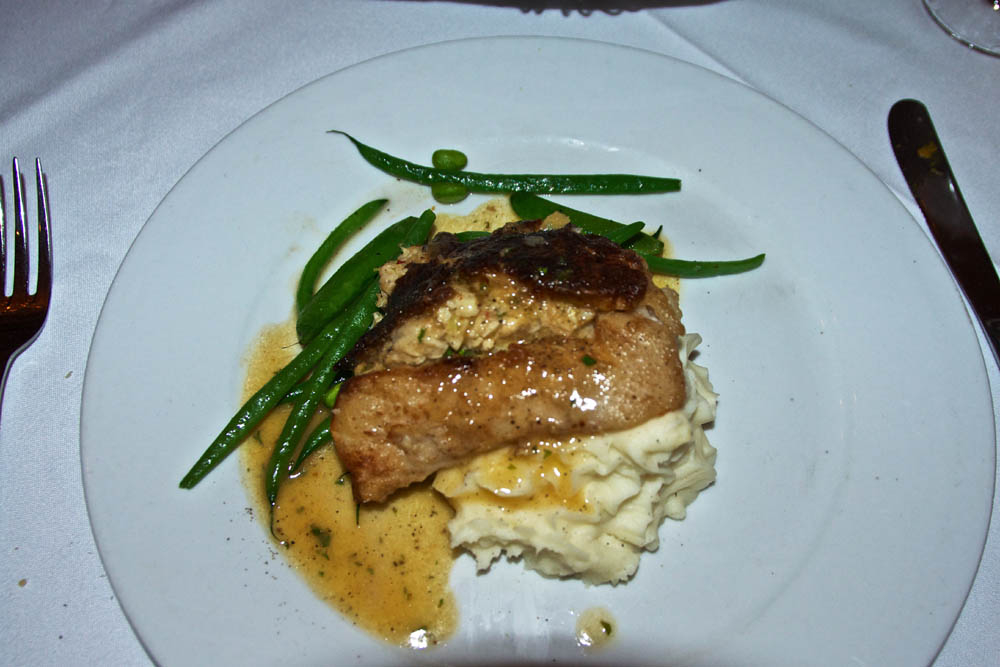 Valerie choose a different main course this time.  Originally she was going to try the Sautéed Shrimp and Scallops over Fettuccini but our server subtly suggested that she would be happier with the Almond Encrusted Tilapia w/Shrimp Herb Butter, Creamy Grits & Mixed Beans ($24.95).  Don't let the green sauce put you off on this dish, it may not be visually appealing but it is really very tasty.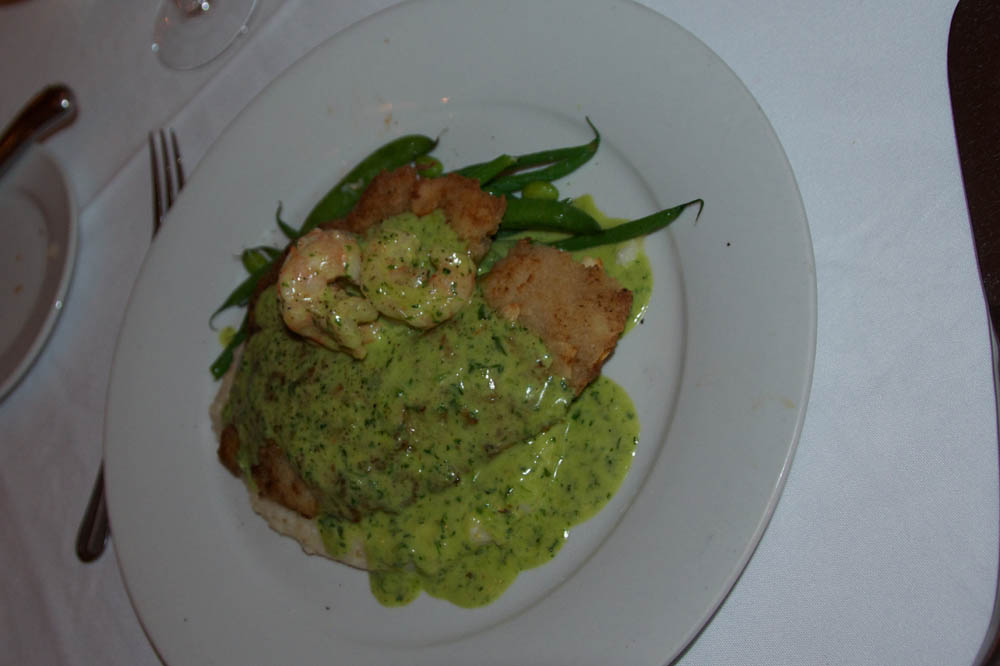 After finishing all this food we were both stuffed and thought we would skip dessert and wind up the evening with a cup of coffee.  Our waiter was no fool though and left us the dessert menu just so we could see what was offered.  A couple of things immediately jumped out at us; a chocolate cheesecake with house made rocky road ice cream, and a Saint Germain Crème Brûlée topped with berries and whipped cream.  Ultimately we decided to split an order of the latter along with some decaf cappuccino.  As we slowly walked (waddled?) back to our hotel, we agreed it was a marvelous finish to a nice evening.
If you go, reservations are highly recommended.  You can place your reservations by phone or on line through Open Table.  Plan on spending a little time exploring the nearby Reynolds Square area too with some pretty dramatic lighting on the various buildings.
Total cost of our meal for two, with wine, was about $135 plus tip on each visit.  Not an inexpensive place but well worth it for a fine dining experience.