The minions are here!!  My son Jonah LOVES the movie Despicable Me.  He's probably seen it 50 times.  I put it on my iPad and we'll often find that he's snuck the iPad off the counter and is hiding under a table or in a closet watching it!  To celebrate his favorite movie, I made a Despicable Me 2 themed meal for the kids today!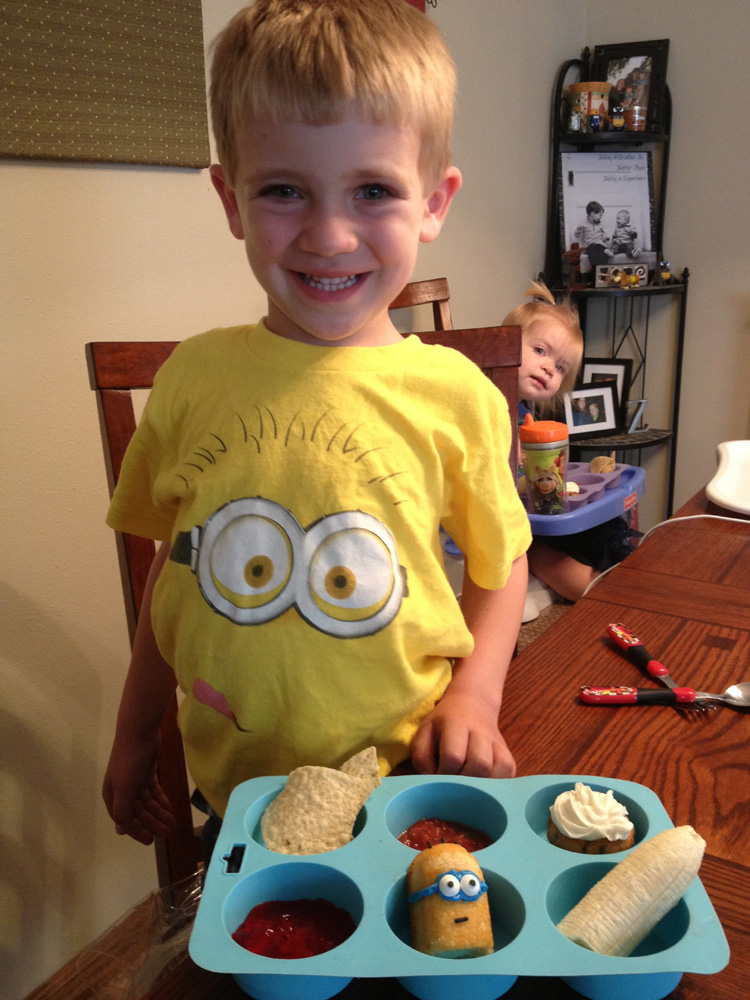 Despicable Me 2 just opened in theaters, so of course we were planning to go.  My husband got online to check out show times and we were surprised to find out that there was an advanced showing the night before the official release!  Of course, we had to go!  We didn't tell the kids where we were going, and they were so excited to find what the surprise was.  Once we got to the movie theater, we pulled out Jonah's minion shirt and broke the news!  After the cheering subsided, we got to watch the movie.  We loved it!  It really featured the minions, which is Jonah's favorite part. 
I've had the idea for making a muffin tin meal revolving around the movie for a while, but until seeing the movie, I hadn't really come up with a plan for all the components.  After figuring out what I was going to do, I probably had all three meals together in about 20 minutes, so it didn't take as long as it might seem.  Some of these things won't make sense until you've seen the movie, but you'll get the gist!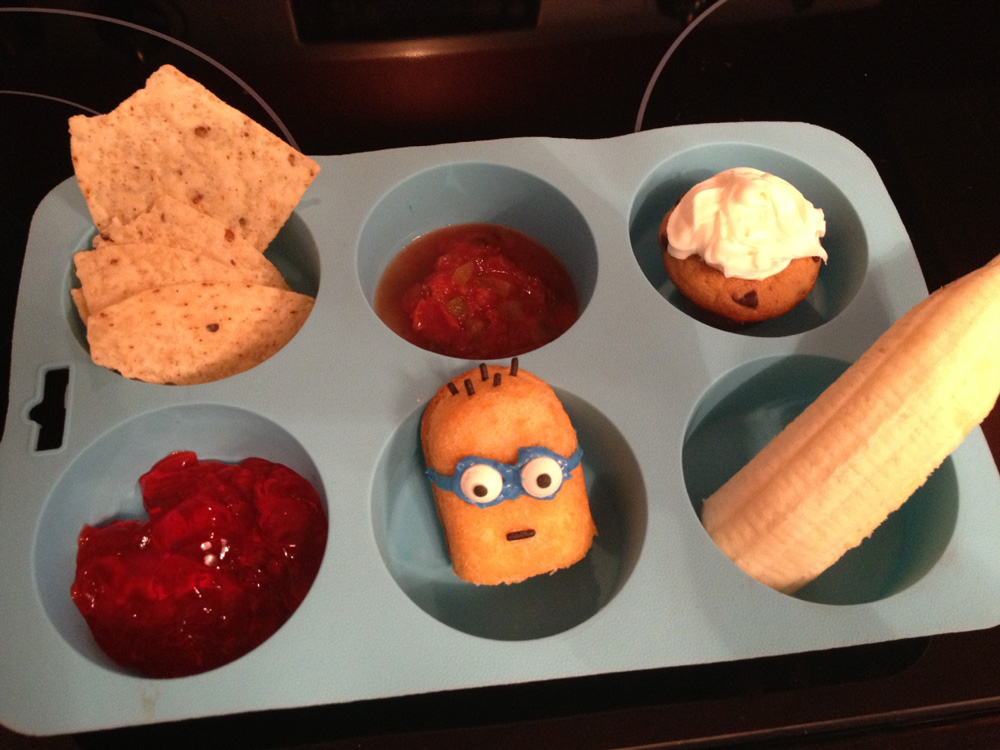 In the top row, we have chips and salsa to represent Eduardo's Secret Salsa and a cupcake from the bakery Gru works at in the mall.  I had just bought salsa yesterday, so that worked out well!  The "cupcake" was a last minute addition.  I had been stuck trying to come up with something for the sixth spot.  I had thought about a cupcake, but didn't have time (or the desire) to make cupcakes.  Then I remembered my trusty freezer.  Whenever I have bananas about to spoil, I make a batch of mini banana chocolate chip muffins and stick them in the freezer.  They're perfect for quick breakfasts and last-minute additions to school lunches.  Today, I just squirted a little frosting on top and voila – instant cupcake!
The first section in the bottom row is strawberry jello to represent Gru's jelly PX41 antidote.  The middle section is my favorite, so I'll spend more time on it in a minute.  The last section is a banana – a minion's favorite food.  Now for the star – a Twinkie minion!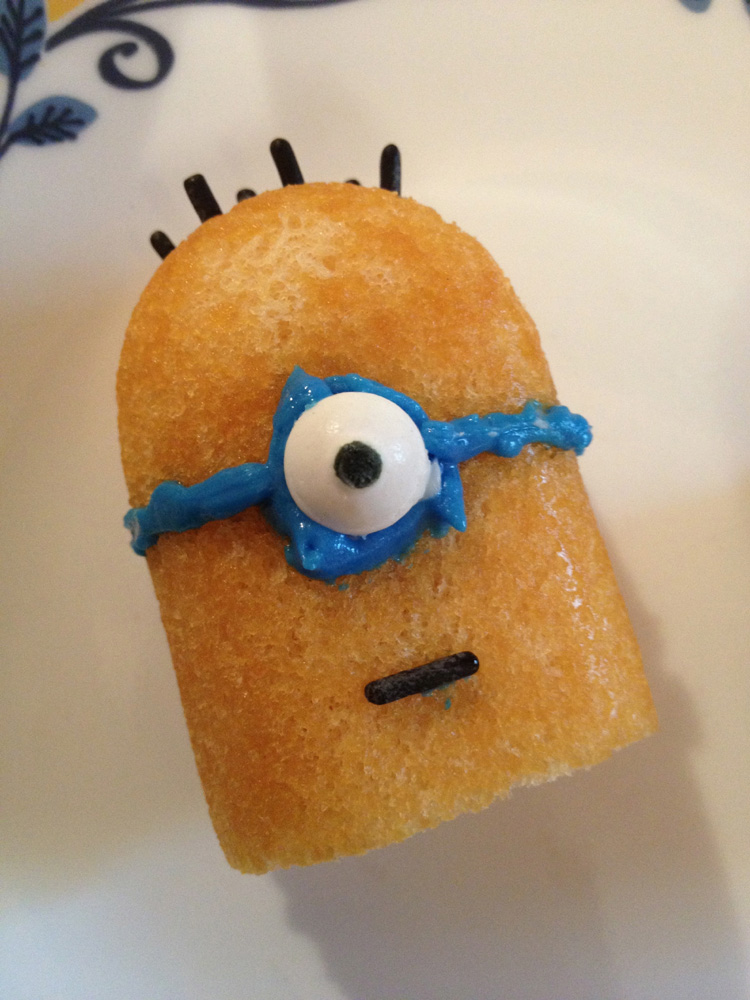 I saw these on Facebook at least a year ago and I happened to have some Twinkies at the time, so I saved a few of them just for this purpose (especially after the Twinkie shortage!).  When we saw the movie last night, I remembered about my plan and pulled out my stored Twinkies.  To make the minions, I started by cutting a Twinkie in half.  If you don't have Twinkies, I think these could be made with corn dogs, Milano cookies, a piece of cake or even a banana.  Using a little dot of icing, I glued on candy eyeballs.  These could also be made with a Smartie topped with a dot of black icing.  Using some more icing, I traced around the eyeballs to make the minion's glasses.  I didn't have black icing, so I just used blue.  For the hair and the mouth, I dumped some Halloween sprinkles into a bowl and picked out the black ones!  I had been planning to use blue sprinkles until I remembered I had the orange and black ones available.  I just poked the black sprinkles into the head for hair and "glued" one on with icing for a mouth.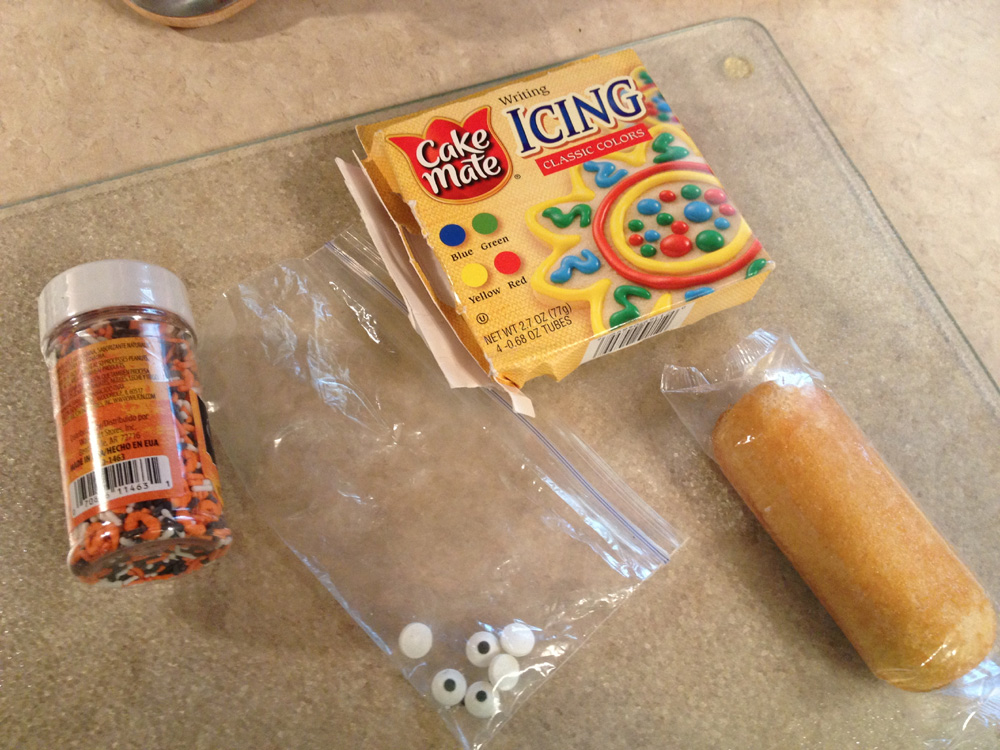 It was all actually pretty simple, because I always have things like icing and sprinkles on hand.  I keep a package of "writing icing" and a squeezable white icing in the cupboard just for things like this.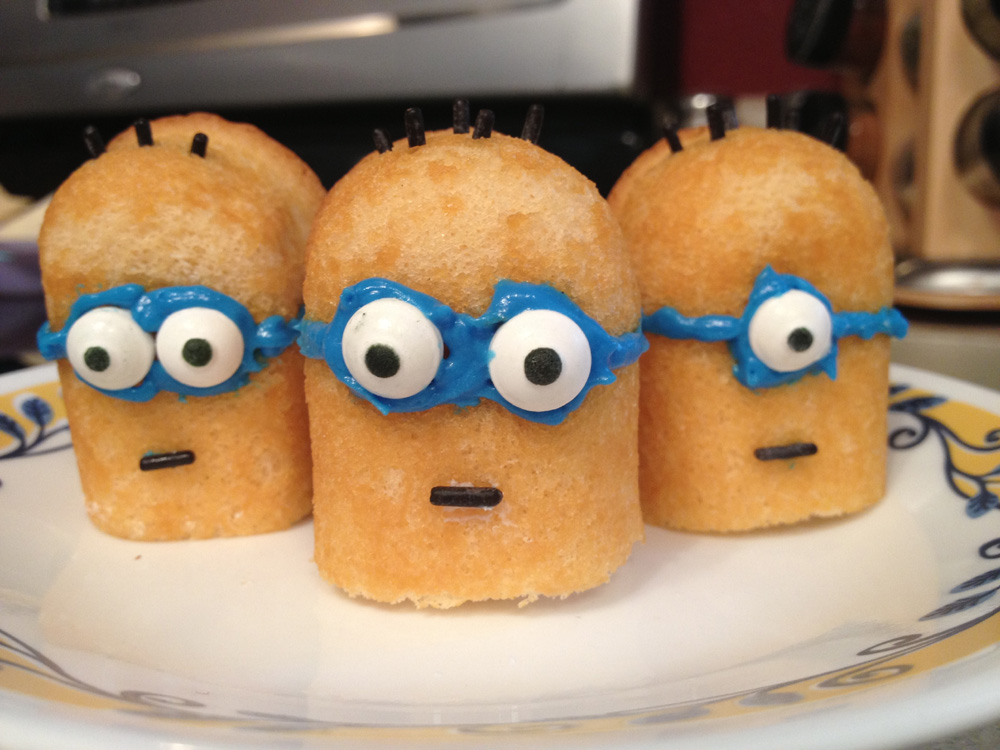 I absolutely loved the way the minions turned out and so did the kids!  They were thrilled to get to talk about the movie again and to eat their favorite characters.  I even made a meal for Lydia, and she loved getting to play with her food!  In the future, I'll have more meals based on some of our favorite books and movies – anything can become a fun meal!  Remember, it doesn't take much to make your meals memorable!