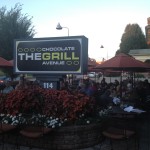 The Chocolate Avenue Grill
114 W. Chocolate Ave.
Hershey, PA 17033
(717) 835-0888
http://www.chocolateavenuegrill.com/
Mon – Sat:11am –10pm
Sun: Closed
After living my entire life in the Harrisburg/Hershey area, it is always nice to find a new place to eat.  A few months ago, friends of ours suggested going to the Chocolate Avenue Grill.  So of course, we said yes and we were not disappointed.  After the first few bites, Jayme and I said that we will need to come back and write a review of it.  I will try to cover some of both of our trips, but the pictures will be from our latest trip to the restaurant.
The Chocolate Ave. Grill at first appearance would not match the food that is served.  To me, it looks like almost any other family style restaurant, but the food is far more.  It is very close to Hershey Park (Sky Rush and the Kissing Tower can be seen from the restaurant), and worth the trip for lunch or dinner from the park for much better food than can be found inside Hershey Park.
To start off our trip, we wanted to try the garlic bread.  Many places serve garlic bread with cheese, but the difference at the Chocolate Ave Grill is that they make it on ciabatta bread.  This was a very nice change from French or Italian bread and made the appetizer lighter and very pleasant to enjoy.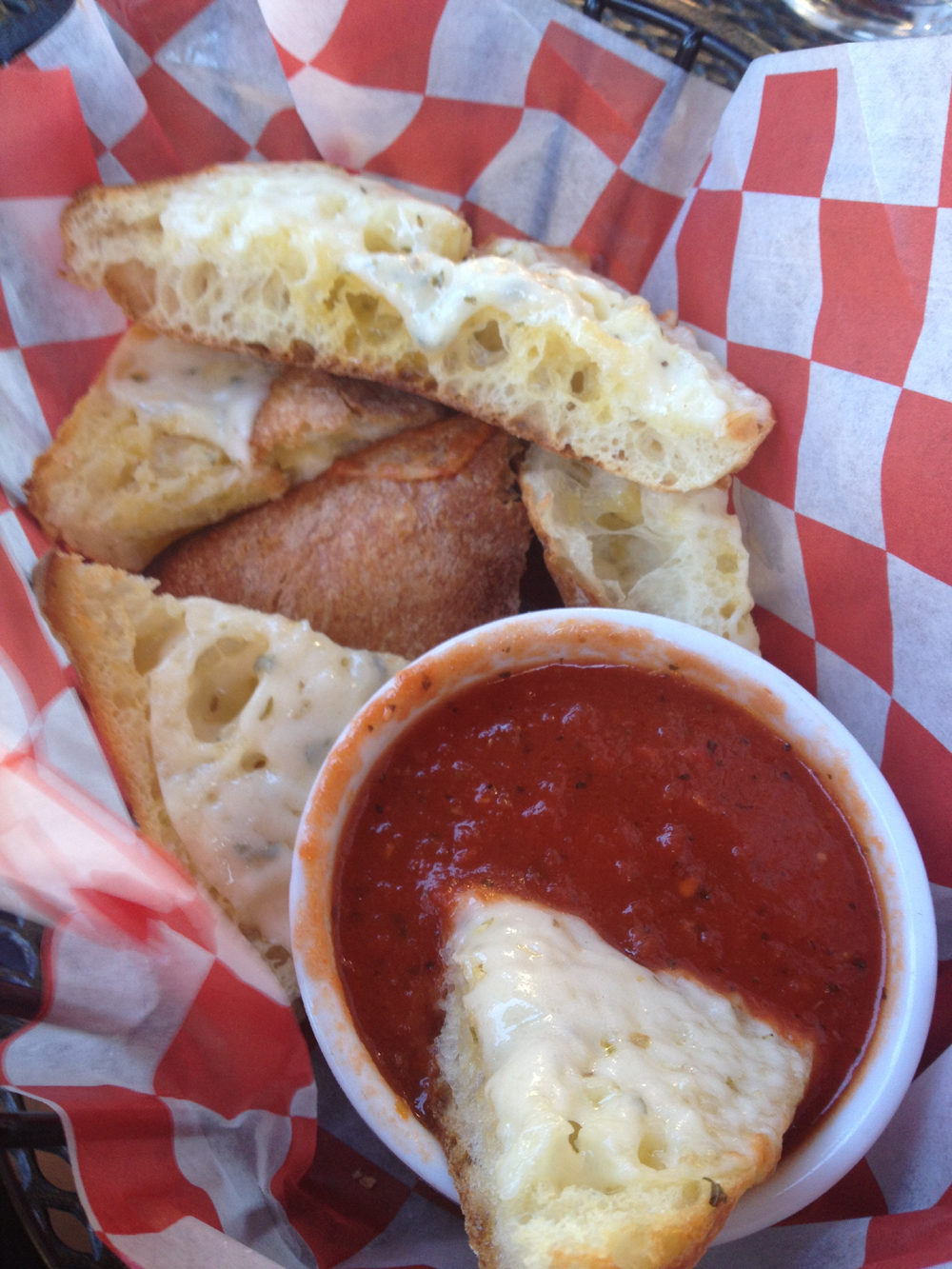 During our first trip, I decided to try something I saw on the menu which intrigued me.  I enjoyed it so much that our second trip back, we had to split the Milkshake Martini.  This drink tastes like a chocolate milkshake and is enough to be shared by two people. 
Next up were the salads.  Jayme ordered a Caesar salad and I ordered the house salad with honey mustard dressing.  They were both very fresh and enjoyable.  The special finding with my salad was that some of the dressings (including the honey mustard) are home made.  If you are able to give this restaurant a try, ask which of their dressings are home made.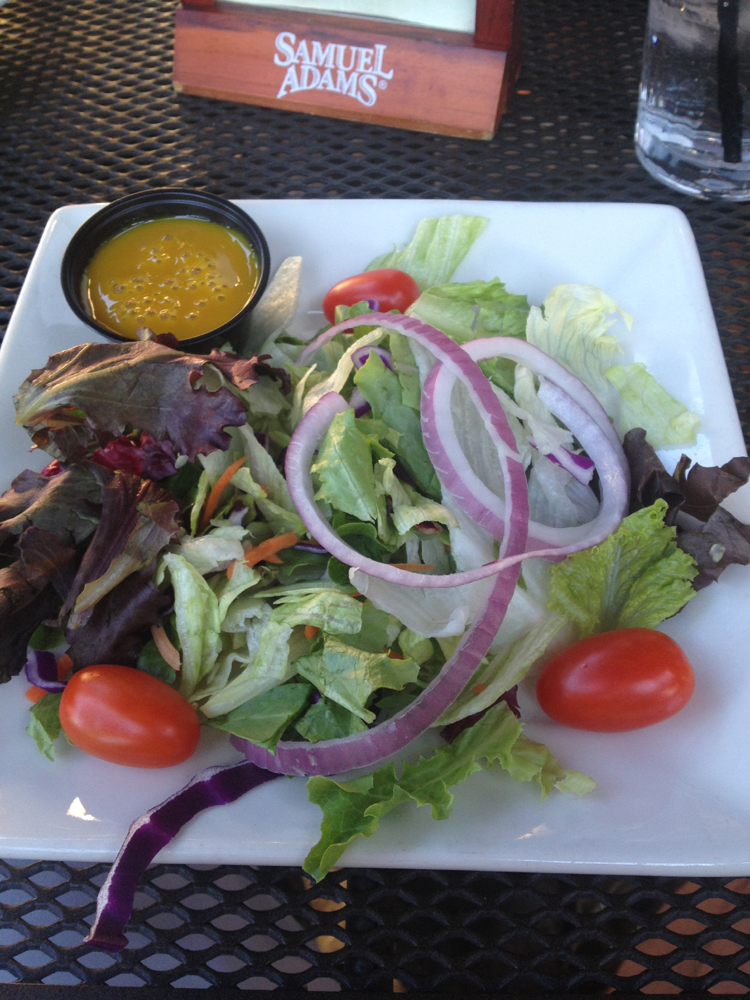 Both of our trips to the Chocolate Ave. Grill allowed us to choose a different selections of entrees.  Each trip has resulted in us being very satisfied with our meals.  For our first trip, I chose the Slow Roasted Pork Osso Bucco and Jayme chose the Steak Florentine.  Both of these we would recommend to those looking for a good meal.
This trip, I decided to try the Veal Oscar.  This is a veal cutlet topped with crabmeat and hollandaise sauce and served over asparagus and rice.  I do not normally like hollandaise sauce, but on this dish it worked very well.  The crabmeat, veal, and hollandaise all tasted very good with each other and one did not over power the other.  Each ingredient was able to be enjoyed before the next flavor would start.  It was surprisingly light for the richness of the food.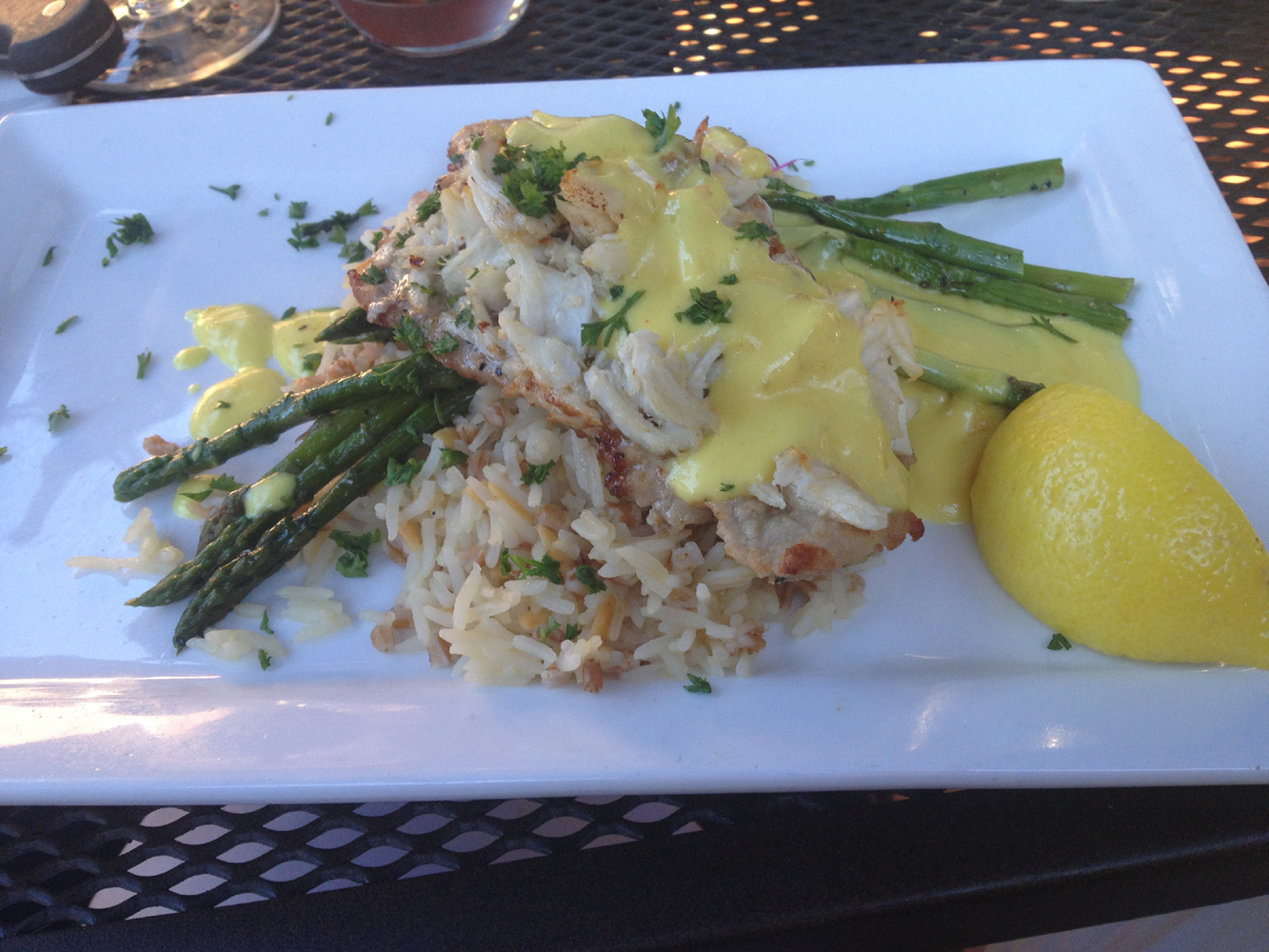 Jayme ordered one of their specials this trip which was a New York strip steak, topped with spinach, gorgonzola butter, and a balsamic reduction drizzle and was served with garlic mashed potatoes.  When the dish first came to the table, we were impressed with the size of the steak, which was 12 oz.  It was done perfectly to her specification, which is important when enjoying a steak.  Like I am with hollandaise, Jayme does not care for balsamic vinegar, but the reduction on the steak added the perfect amount of sweetness and flavor to compliment the other ingredients.  
The potatoes were different from other garlic-mashed potatoes that we have had before.  They contained not only some chunks of potatoes (which is common in some mashed), but also roasted garlic cloves.  There is no doubt when enjoying this side that they are garlic-mashed potatoes. 
So, now to dessert.  Around the Harrisburg and Hershey area, there are no shortage of excellent dessert locations.  This probably comes from being so close to the Hershey Factory and a very large German population.  The Chocolate Avenue Grill is one of these locations that serves some of these desserts.  Both trips, we had (yes had) to enjoy the Peanut Butter Melt Away Pie.  This pie tastes like a Gertrude Hawk Melt Away in pie form.  This was a nice ending to a wonderful meal. 
Finally, the only bad part of our meal is the bill.  The Chocolate Avenue Grill is higher priced than most places we would normally eat.  Our bill was $78.17 before tip.  This may discourage some from trying the Chocolate Ave. Grill.  However, we feel that it is a good alternative to expensive park food and much better in taste and quality.
If you are in the area and looking for a good quality restaurant with options that are not on the chain restaurants, stop by the Chocolate Avenue Grill.  You may just see us there sometime because we will be returning.