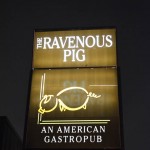 The Ravenous Pig
1234 Orange Ave
Winter Park, FL 32789
(407) 628-2333
www.theravenouspig.com
We recently had the opportunity to interview Chef Tyler Simmons of Il Mulino at the Walt Disney World Swan.
During our interview, we asked Chef Tyler what local restaurant he'd choose for dinner on his night off and he answered with The Ravenous Pig. That was enough for us and we were off to give it a try.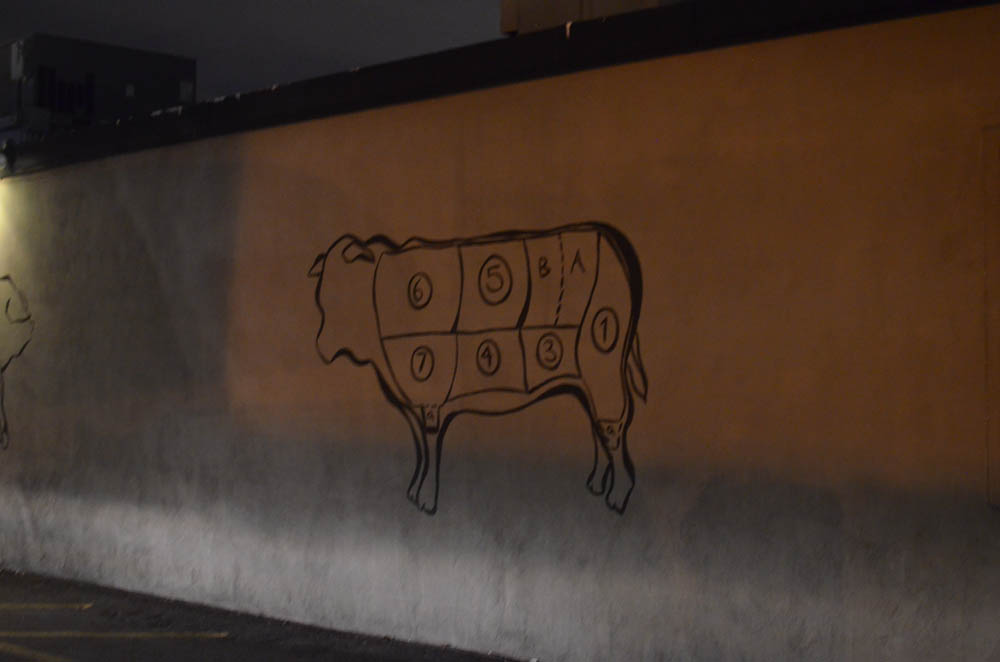 The Ravenous Pig is a self-described "gastro pub". The place has a bar/pub/restaurant feel. It's a large space and has a nice casualness to it. The tables are well spaced and comfortable.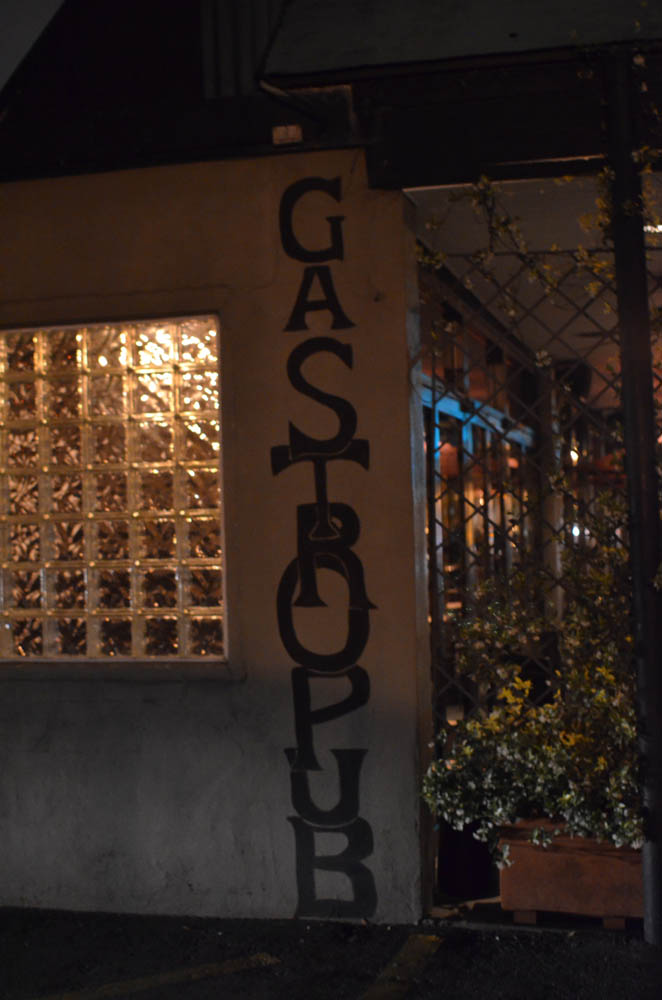 There were three of us on our first visit and we were up for a dining adventure.
Let me get the biggest negative out of the way right away.
We had the most talkative server I've ever met. He started by announcing (not asking…announcing) that he was going to tell us the highlights of the menu. This turned into him reading us the menu and then embellishing on what was already written. After several minutes of this, I tried to joke my way out of his soliloquy.
We were told that one entrée included an ingredient that was "the cousin of bok choy". I responded by saying that I didn't even know bok choy had family. It didn't work. I finally took out my phone and checked email. I figured he'd run out of steam eventually. One of our party finally stopped him by asking if we could order. That did it…for now..
We started with Gruyere Biscuits ($4) that were served with smoked sea salted butter. Do I need to even say anything else? They were light and fluffy and delicious. There were 4 of them and 3 of us. I explained politely to my dining companions that if there was to be peace throughout dinner…number 4 was mine!!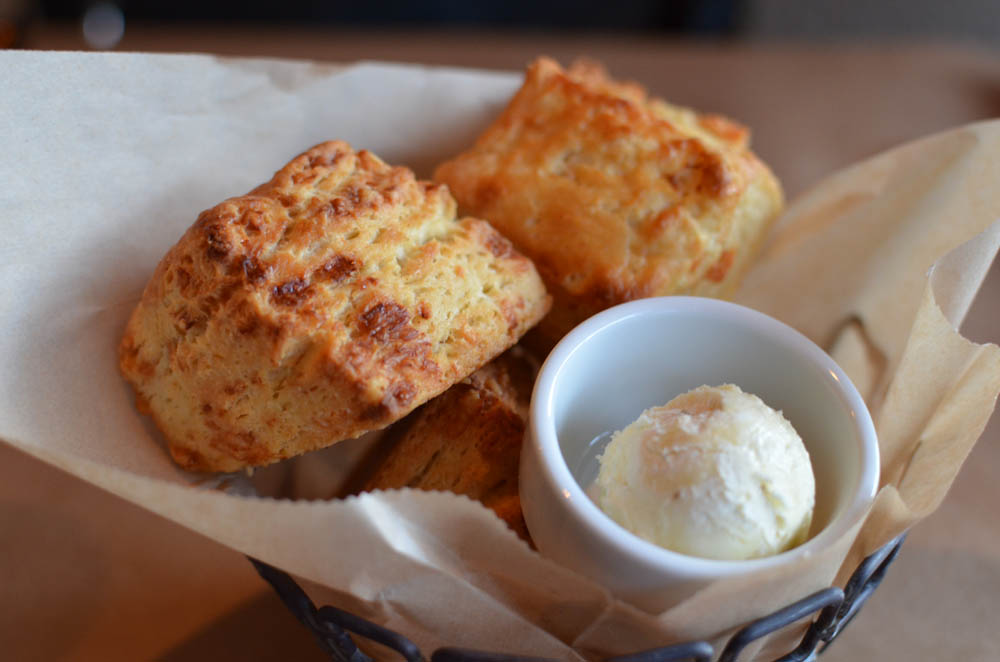 We also order House-made Soft Pretzels ($7) served with whole grain mustard and taleggio-porter fondue (a great cheese dipping sauce). These were good, but paled next to the Gruyere Biscuits. They didn't really have a chance after the biscuits.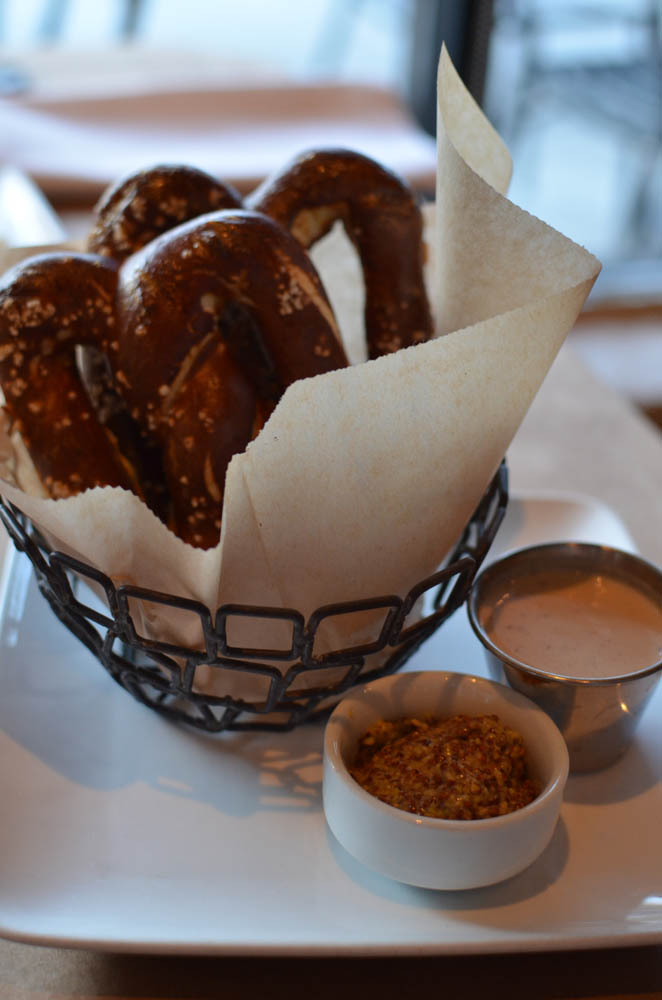 And just so I could tell you about it (uh-huh…right!) we ordered the House-made Charcuterie and Artisanal Cheese ($24) served with grilled bread, pickled veggies and grain mustard.
I'm just going to list what's included and let you look at the photo.
Tartufo salumi, coppa, soppresta, pork rillettes, chicken liver mousse, country terrine, cravanzina cheese and cocoa cardona cheese.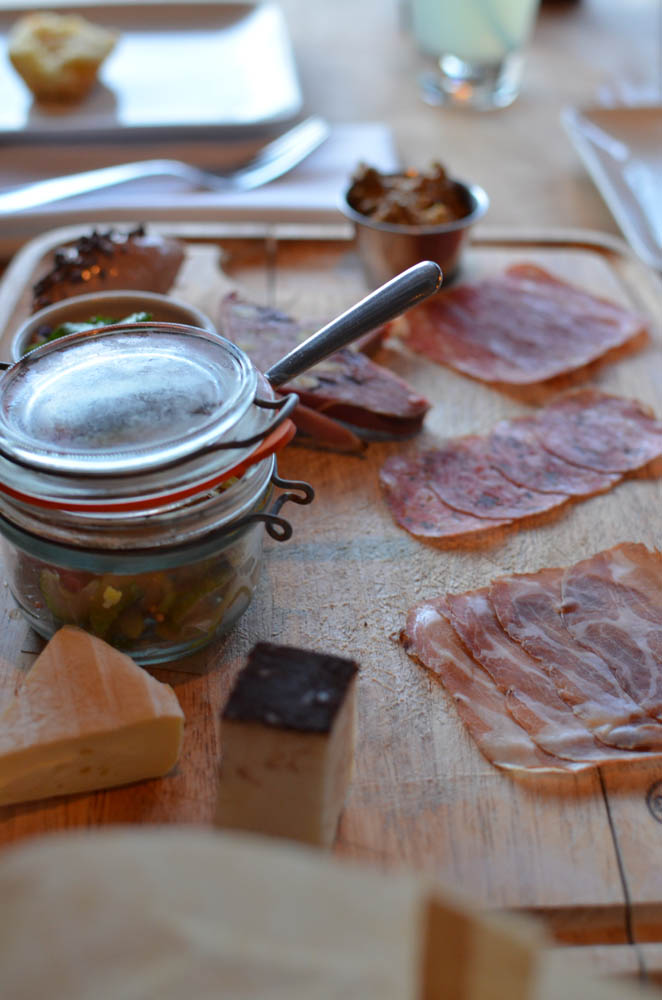 Every bit of this was delicious and devoured. We only sent back utensils. This and the Gruyere Biscuits will get me back to the Ravenous Pig.
Our final appetizers were the Gatherer Salad (half portion $7 / full portion $13) which included lettuce, avocado, pickled beets, radish, goat cheese, pistachios and herb vinaigrette and the Tea Smoked Salmon ($15) which included charlie's mei choi (I think this was bok choy's cousin) & salmon agrodice, black tea puree, Uncle Matt's local oranges and crispy ginger.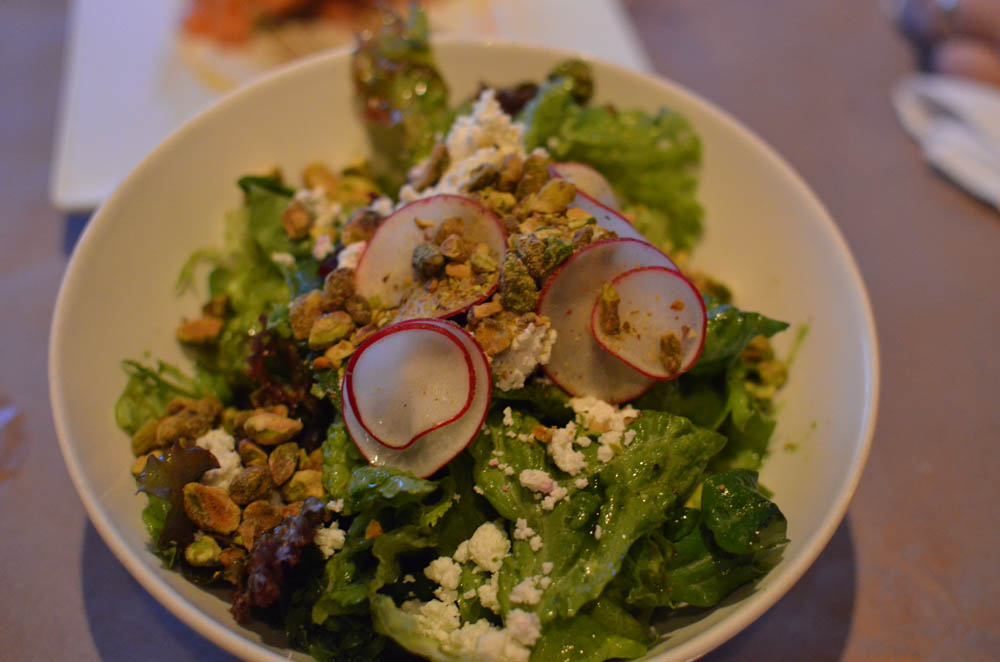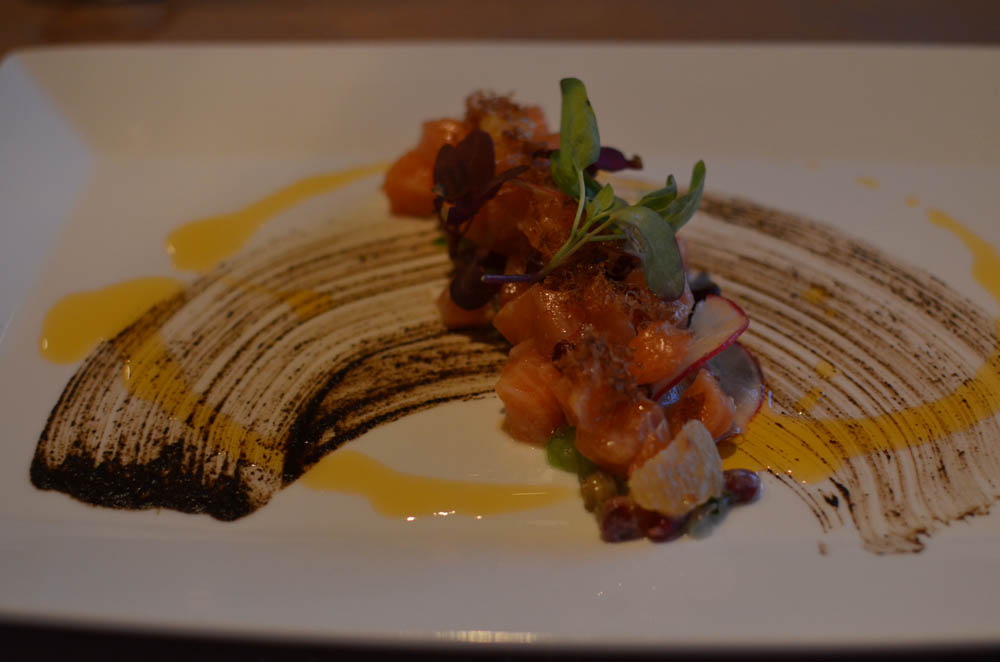 The half order of salad was a good size, fresh and delicious. I didn't try the salmon dish, but it got raves.
The entrée's ordered….
Steak Frites ($25) porcini marinated Ridgefield Farm flat iron steak, truffle fries and red chimichurri aioli.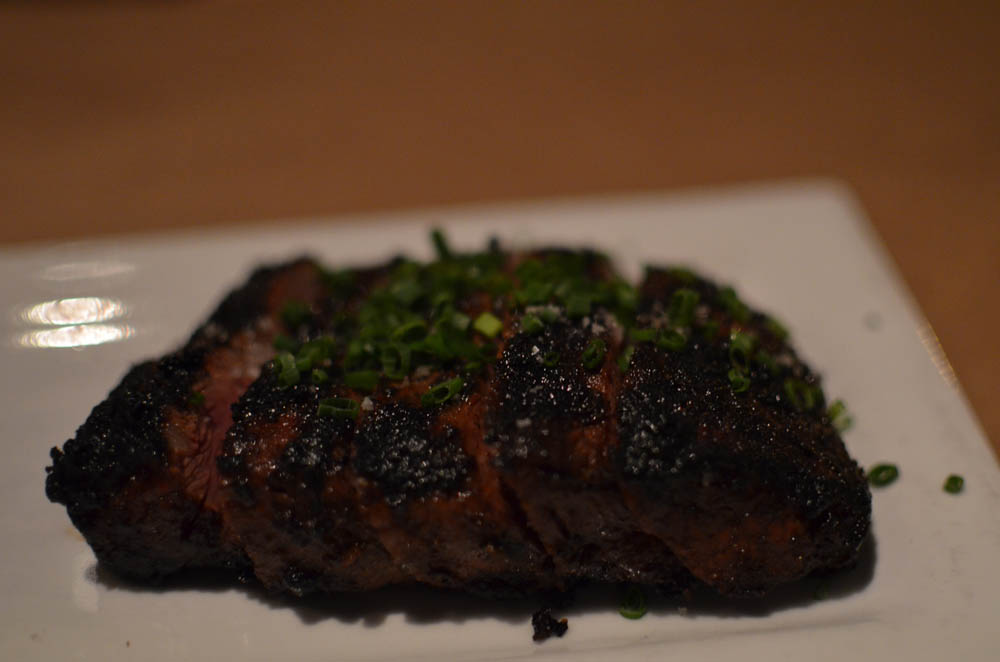 Pork Porterhouse ($29) creamed greens and turnips, citrus-currant compote and orange pomegranate gastrique.
Pub Burger ($13) Creekstone all natural beef, carmelized onion, buttermilk blue cheese and truffle fries.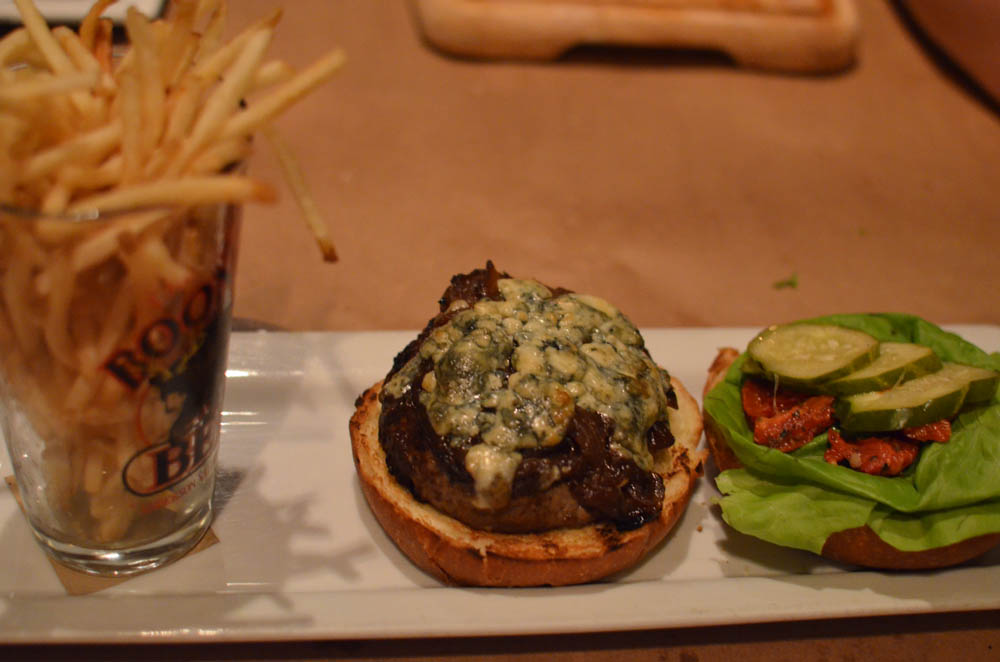 All three entrees were very well received. We shared bites of each back and forth across the table and everyone had the same opinion. All three were winners.
In an attempt to try as many things as possible, we over-ordered and portions of our entrees were brought home. They were just as good the next day.
One of our threesome actually looked at the menu for The Ravenous Pig as we were on our way to the restaurant that evening.  She read the dessert menu and had her mind set on the Parfait ($8) before even parked the car. The parfait was listed as red velvet cake, cream cheese pudding, chocolate chip ice cream.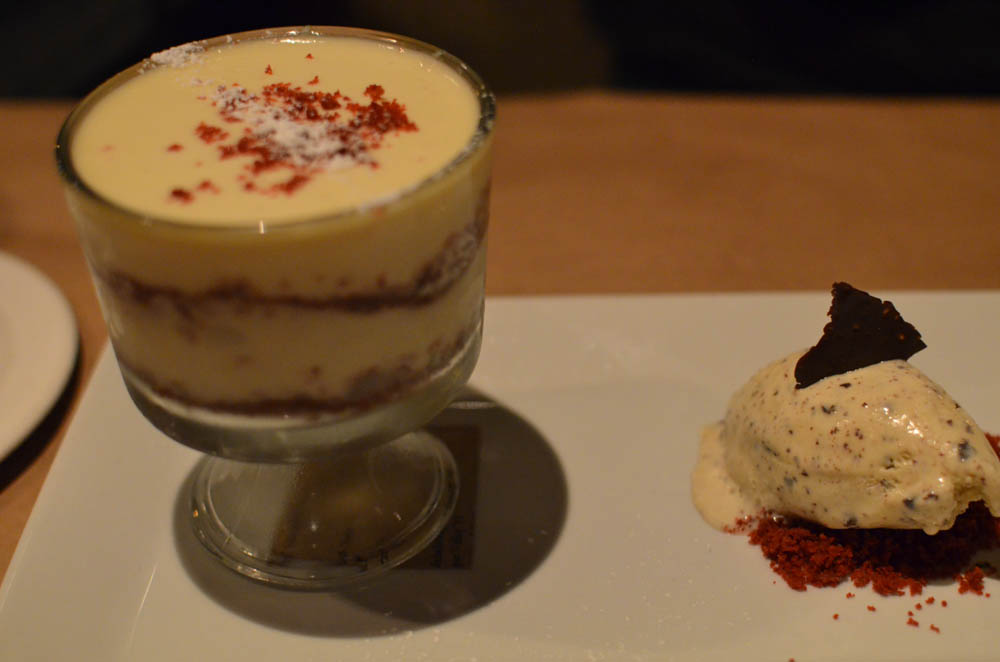 It all sounded delicious, but in reality, it had little flavor other than "sweet". Half of it was sent back.  At first, I attributed this to the fact that we were stuffed full, but all three of us agreed.
And finally, we had the Pig Tails ($8) – warm cinnamon-sugar tossed fritters with a chocolate espresso sauce. Simple and terrific. There was enough to share.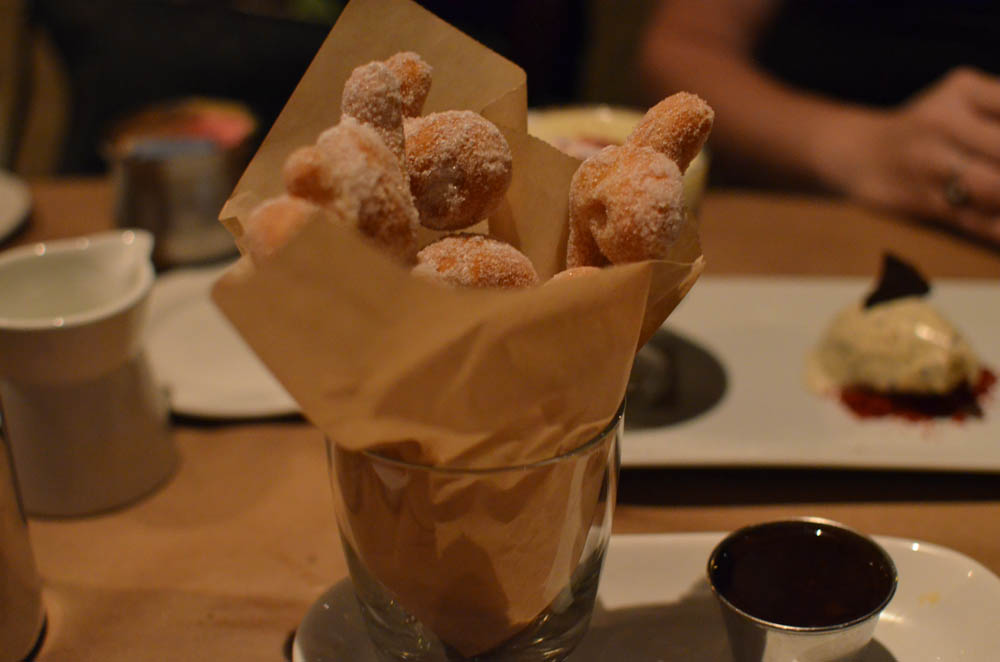 To finish all this , I'd tell you that the Ravenous Pig could be a lot of things to a lot of people.
It's a great place to meet after work. They have an extensive wine and beer selection as well as a full bar.
It's also a great restaurant if you that's what you are looking.
It's my understanding that the menu changes regularly and what we had might not be available when you visit. 
My hope is that the Gruyere Biscuits will be a regular offering.
The Ravenous Pig is located in Winter Park, Florida and more information can be found on their website. http://www.theravenouspig.com

Kevin lives in central Florida with his husband and two dogs. He has a life long love of Disney and travel and often gets to combine the two. Another passion is food, in all its many forms.....from fine dining to eating with a dish on his belly watching television. Good food doesn't have to be fancy. It just has to be good!