Palo
Address unknown…  Cuisine very well known….
But first, let me explain a bit about the restaurant and how we became acquainted.  Over several years we have been fortunate enough to cruise on all four of the Disney Cruise Line ships, the Magic, Wonder, Dream and Fantasy.  Each ship has an adult alternative restaurant in addition to the main dining rooms.  It is located at the stern of the ship with wonderful views out over the water.  We've made it a habit when cruising on a Disney ship to treat ourselves to dinner in Palo one night.  Usually we schedule Palo for a day that the ship has called at a port because we like to watch the island slip away while we eat.  Brunch at Palo is a different kind of meal and is only offered on sea days.  Since the ship was moving while we dined, we can't describe exactly where we were when we ate at Palo but we can certainly tell you a lot about the dining experience. 
As mentioned above, brunch and dinner are two entirely different dining experiences.  Let me first describe our Palo brunch.  While dinner at Palo is a dressy affair, brunch has a more relaxed dress code which requests that guests not wear jeans, shorts, flip flops, or tank tops.  We received a reminder of our dining time and dress code on our in-cabin voice mail system. 
Brunch is served as a combination of an up-scale buffet and table service.  On arrival you are escorted to your table which has been pre-set for just your party.  Your server introduces himself/herself and takes your beverage order.  Each guest receives a complimentary glass of champagne or a Mimosa to start off the meal.  After an explanation of how brunch is served you are then brought up to the buffet section where the various offerings are explained.  This is no ordinary chafing dish kind of buffet.  A huge variety of foods are artfully arranged for your consideration.  We were blown away, and a bit intimidated, by the available choices.  In addition to the traditional breakfast and lunch offerings you might expect, there are also some you will find unusual, like caviar or king crab legs.
Our favorite hot item here is the chicken parmesan on risotto with a tomato sauce, which is not to be missed.  We also enjoyed the duck and the oysters rockefella. 
What's brunch without dessert?  A large selection of desserts are waiting for you as you wrap up brunch.  Fortunately they are all small size and you are encouraged to try more than one.  I couldn't resist the Tiramisù, which was very good.  We also enjoyed the profiteroles and the Chocolate Creme de Pot.
Dinner at Palo is a more formal experience.  Which is not to say that it is stuffy.  This is Disney after all.  In the evening the dress code for men requires a dress shirt or jacket  and ladies are expected to be appropriately dressy which lends an elegant touch to the room.  Shorts, tank tops, swimwear and blue jeans are prohibited and Disney enforces this rule.   While the sun is up the views of the wake of the ship remind you that you are at sea.  As the sun goes down the windows begin to reflect the interior of the restaurant allowing you to surreptitiously study your fellow diners.  
During our recent cruise we made it a point to try several different appetizers.  A couple of favorites are the Grilled Portobello Mushroom and Polenta and the Sicilian Pesto Marinated Grilled Shrimp.  However all the appetizers we tried were outstanding and you should go with what appeals to you.  As is the case in any really good restaurant, a conversation with your server about what is best on the menu is in order if you're having a difficult time deciding what to eat.  
 A word about dessert – YUM!  Palo is justifiably famous for its chocolate soufflé and we are simply unable to dine there without having this for dessert.  It requires some advance preparation so its best to let your server know at the start of you meal that you will be ordering the soufflé.  It comes accompanied by both a vanilla bean and chocolate sauce which is poured into the center according to your taste.
Still, in the interest of research, we did force ourselves to sample a couple of other desserts, the Panna Cotta custard with berries and the Palo Homemade Tiramisu.  Both were excellent and make a good alternative to the chocolate soufflé.  
Atmosphere
The room has an understated elegance.  There aren't any great overblown chandeliers or dark wood panels.  Instead there is a clean sweep of the room with gracefully curving lines following those of the ship.  For larger parties there is a separate dining room which can be closed off from the rest of the restaurant.  Each table is pre-set for your party with signature plates and a cute vase with three rose buds.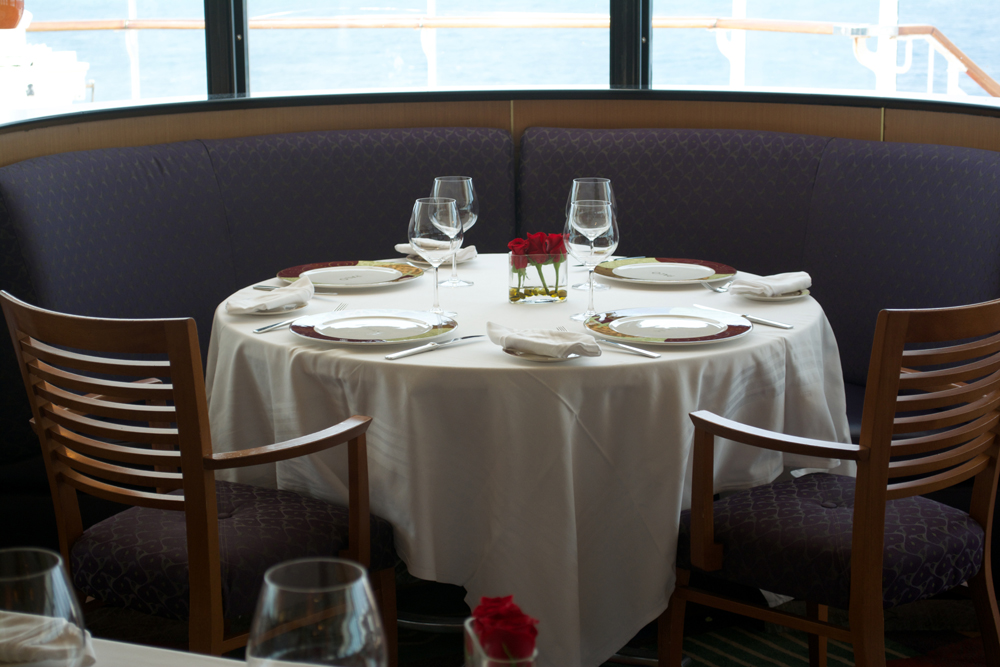 Reservations are required for Palo Brunch and Dinner.  You may make reservations for each once your Disney cruise is paid in full and you have reached your booking window.  Palo reservations can be difficult to secure ahead of time unless you are a Gold or higher level Castaway Club member.  Don't be discouraged though if you can't prebook since some dining times are held back for booking on board.  If you weren't able to secure reservations ahead of time you will have an opportunity to book the day you board the ship by going to the location designated in your Navigator.  During your cruise, depending on availability, it may also be possible to make a reservation for the same day by calling the Palo number and leaving a message.  Keep in mind that brunch seatings start at 10 am and continue through 1 pm.  Dinner seatings start at 6 pm and run through 9 pm.  Palo is an adult only restaurant and, as such, you must be 18 years or older to dine there.  This policy is also strictly enforced.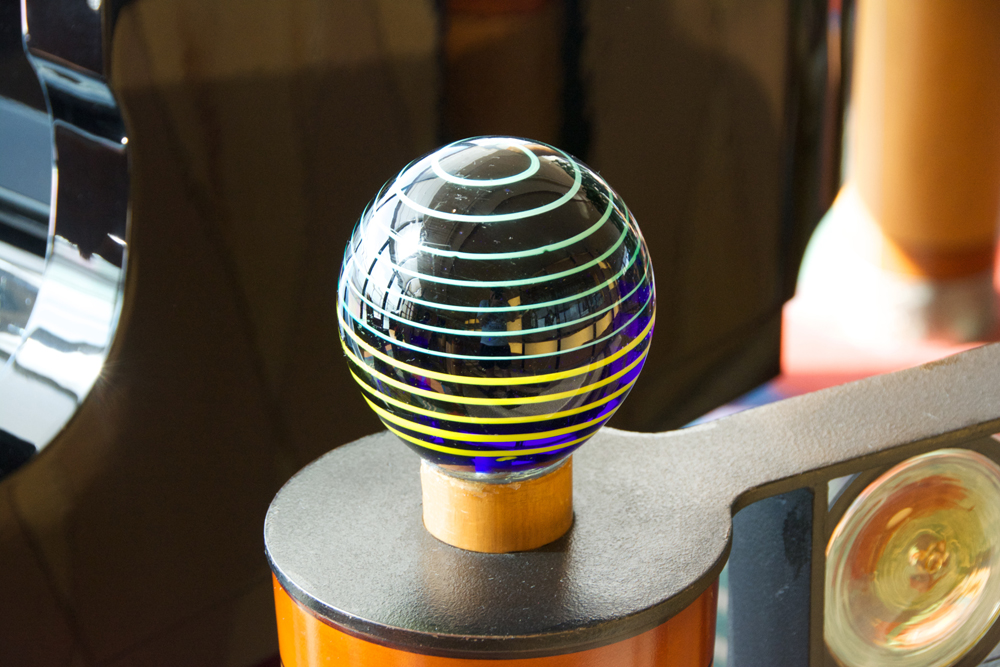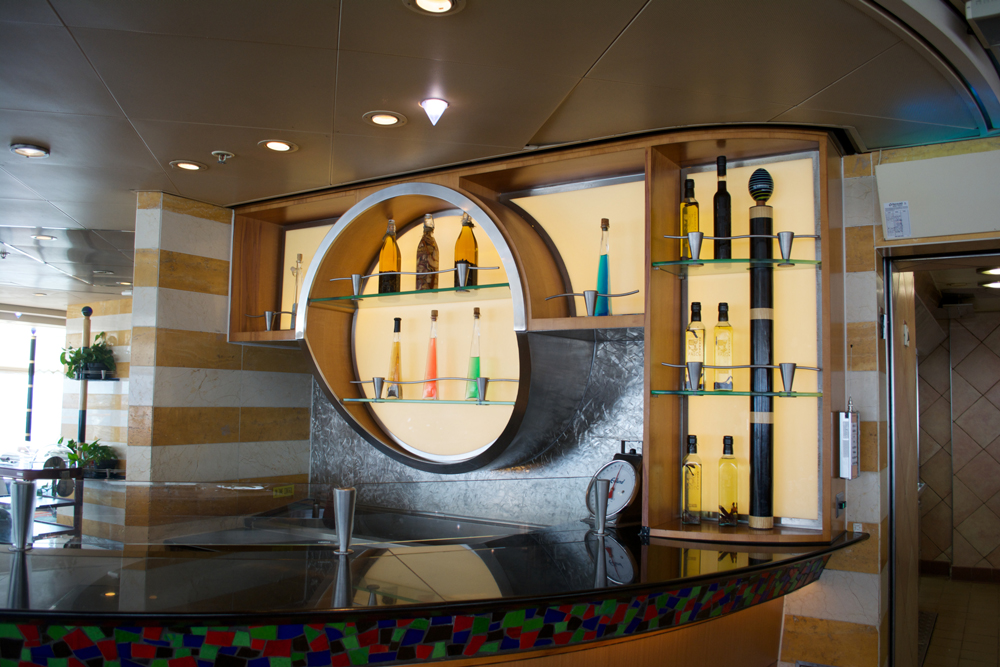 The cost for Brunch or Dinner at Palo is $20 per person.  Alcoholic beverages are extra and there is an extensive wine list with bottles ranging from $45 to over a thousand.  An automatic gratuity of 15% is added to any alcohol items.  Tipping at Palo is a subject of much discussion with some believing that the $20 charge itself is adequate and others believing that you should tip based on what a similar meal would cost at a fancy restaurant.  Your Palo waiter automatically receives a portion of the dining room gratuity, however we normally add an extra $15 to $25 for the two of us when signing the check at the end of the meal.
By now you are probably wondering which dining experience would be best for you.  Its a difficult question but fortunately there is no wrong answer.  It really depends on your individual preferences as either choice will be a pleasant dining experience.  We enjoy both experiences and are hard pressed to decided between them so we take the easy way out and do both.  Since Palo brunch is only offered on sea days, your opportunities to try brunch are limited.  I'd suggest that once your booking window opens you first try for brunch.  If there aren't any brunch times left, then reserve for dinner.  Once you are on board there may be an opportunity to make an additional reservation for brunch.