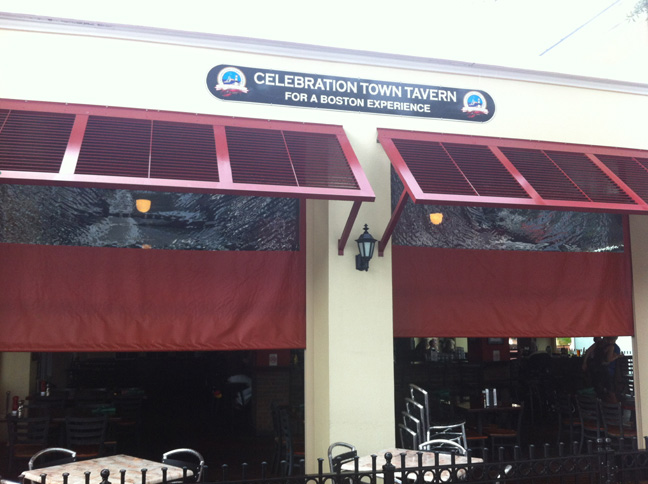 721 Front Street
Celebration, FL 34747
(407) 566-2526
Celebration Town Tavern, located in the town of Celebration Florida just a few miles from Walt Disney World, became one of my absolute favorite places to eat after just one meal.  It's the kind of place you can return to time and time again to be greeted by familiar faces and fantastic food.
Part sports bar, part local watering-hole and part family restaurant the Celebration Town Tavern is my go-to-place when I'm looking for some comfort food or when I have people in town I want to impress with an excellent meal.  So far no one has ever been disappointed by my suggestions and many people return on their own to make this restaurant a 'must' every time they are in town – even if they do go without me.
The menu is diverse with a slight emphasis on seafood.  One of their most popular items is their Clam Chowder Soup ($5/cup, $7/bowl).  On more than one occasion I've found myself craving a mug of this creamy, smooth, delicious soup that is overflowing with clams yet is not 'too fishy'.  Many folks swear by the Lobster Chowder ($7/cup, $9/bowl) , which is only served on Friday nights, but for me the Clam Chowder is still the best thing on the menu.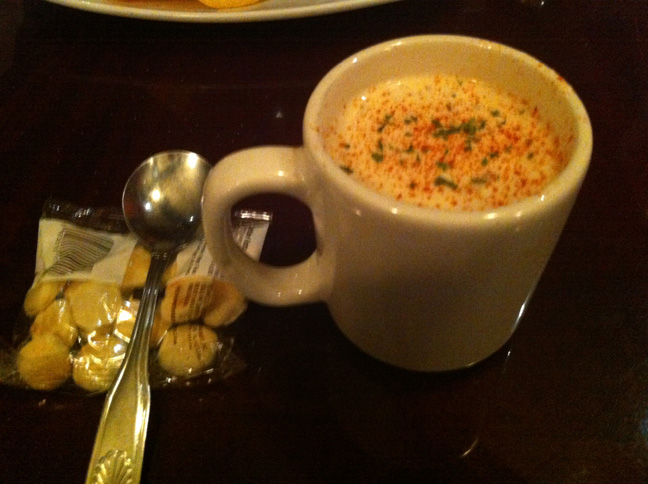 Portions are often too big for one person and I strongly recommend sharing, especially their onions rings ($6) which are lightly battered and piled to an impressive height.
Another favorite among our group is the spicy tuna dip ($7).  Served with colorful nacho chips this dip can often be too spicy for me personally.  However, the bowl always seems to leave our table looking like it was licked clean.
Menu choices range from chicken, to meatloaf, to fish and a variety of sandwiches.  There is definitely something for everyone.  Not a fish eater?  Try their Philly Cheese Sandwich ($10).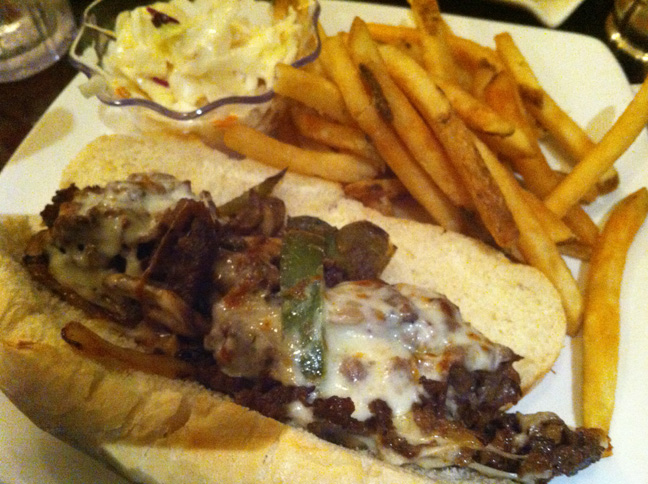 Another favorite is there Cape Cod Salad ($16) which is overflowing with lobster, corn salsa, bacon, egg, blue cheese crumbles, diced tomato, and avocado.  This one is big enough to share.
My go-to-meal is the Baked Seafood Medley.  At $23 it's one of the most expensive items on the menu but well worth the price.  Fresh scrod, shrimp, and scallops are all baked in a white wine and lemon butter sauce. Hot and bubbly when it reaches the table – trust me when I tell you this one will not disappoint.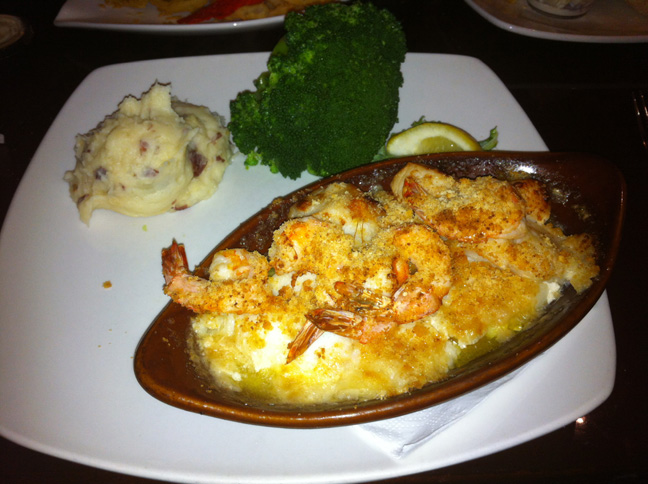 What I also love about the Celebration Town Tavern is they are very open to changes to their menu items.  On a recent visit one of my fellow diners got the Classic Caeser Salad ($8) and added fried scallops ($20).
To be honest I've never really been a fan of their desserts.  I think that by the end of the meal I'm just too full to enjoy anything else.  Most people rave about their Homemade Boston Cream Pie ($9) and their Fresh Strawberry Shortcake ($6).  At that point I'm just ready to be rolled out the door.
They also offer a full bar as well as a choice of 99 beers from around the world.  You can even join their Beer Club.
Their menu is extensive (http://www.thecelebrationtowntavern.com/menus/), the atmosphere and staff are welcoming and the food is outstanding – what more could you ask for?

John lives in Central Florida with his husband and two dogs. He has turned his passion for Disney and for Food into a career that has allowed him to travel all over the world and experience all types of food. He is looking forward to sharing many years of Foodie Tales.