In addition to the tremendous amount of complimentary food and places to eat on the Royal Caribbean Cruise Line (RCCL) ship the Allure of the Seas (and Oasis of the Seas) there are also several places that have an additional charge for food.  Pricing options range from a single coverage charge for all-you-care-to-eat, to a la carte pricing; some have a combination of both.
While some people feel that RCCL is 'nickel and diming' their passengers with these choices that are not included in the cost of the cruise, I actually think they not only make sense but offer a nice alternative for many passengers. The coverage charge on these restaurants range from only $5 – $20 per person, but the quality and quantity you receive will rival any meal you can purchase anywhere for much, much more.  In addition, the extra charge allows these places to offer smaller, more intimate venues with superior service.
I will be writing about the so-called specialty restaurants individually as I feel those meals deserve to be expounded upon in detail.  For now I want to tell you about the other 'extra cost' options available on the ship.
In the Royal Promenade on Deck 5 you will find Starbucks and The Cupcake Cupboard.
Starbucks is pretty much just like any other Starbucks you will find anywhere, except a little smaller and it's located on a cruise ship.  All the usual coffee options are available as well as the usual Starbucks snacks.  Prices are pretty much the same as you'll find 'on land'.  Something I was very impressed with is they will use/take your rewards card. If you have your rewards card on your phone, as I do, they don't have a way to scan your card from the app but they can manually enter your rewards number.  It was nice to be able to pay for my morning coffee and still earn my rewards from my phone (of course I had to sign up for the ships wifi to see the updates).
One thing I do want to point out is the free coffee on the ship is Seattle's Best and it's good coffee so it's not like you have to purchase Starbucks; but it's a nice option.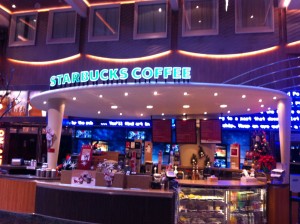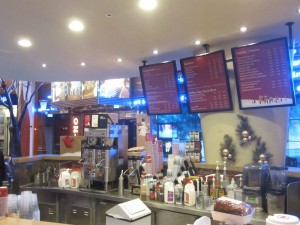 The Cupcake Cupboard is something that is truly unique to RCCL.  They make fresh specialty cupcakes every day.  These cupcakes are huge and delicious and only cost $2.75 each!!  There is a small discount if you buy them by the half or full dozen.  They also offer cupcake classes which look like a lot of fun.  TIP:  Don't forget to get and use your frequent cupcake buyer card.  It's free and for every 6 cupcakes you buy you get one free!!!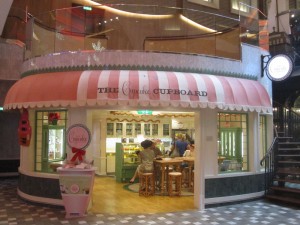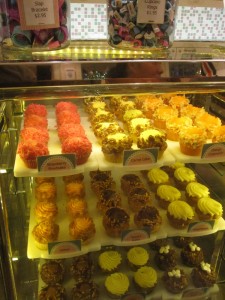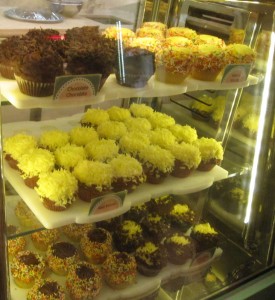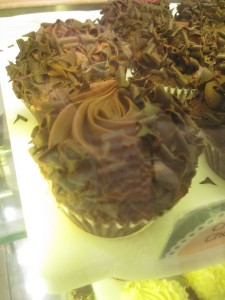 All of the other extra cost food options on the Allure of the Seas (that are not specialty restaurants) are located on the Boardwalk on deck six.  This kind of makes sense as many of these have a 'Boarwalky' vibe and feel at home in this open and lively space.
Candy Beach Sweets is a small candy store with a fun and vibrant decor.  The candy is priced by weight and features some classic candies from the 50s, 60s and 70s.  It's great fun to browse and reminisce and grab a handful of your favorite sweets as you head to a show.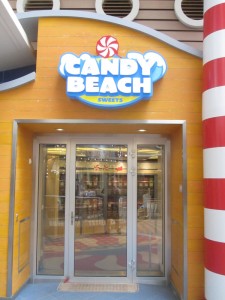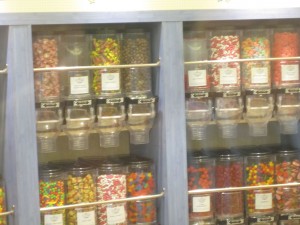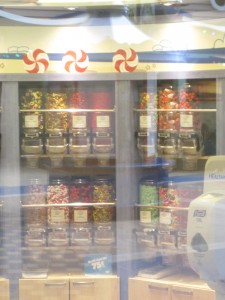 Just opposite Candy Beach is The Ice Cream Parlor.  Decorated in the style of an old fashioned ice cream shop you might find in a shore town somewhere, it offers a build-your-own ice cream experience.  Several flavors of Ice Cream are offered along with a multitude of toppings.  Prices range from $2 for a kids cup to up to $4.50 for a shake and even up to $8.25 for the Royal Sundae for two.  They also offer frozen yogurt and sorbet.  This is a fun addition to the ship but keep in mind free ice cream is offered up by the pool via a soft serve machine.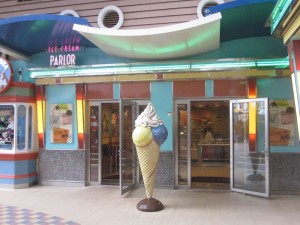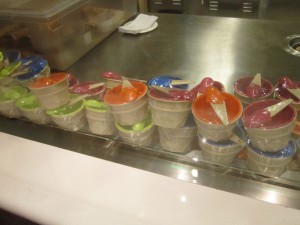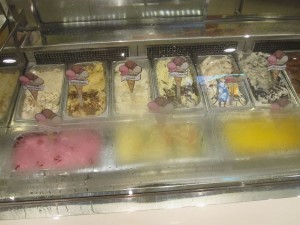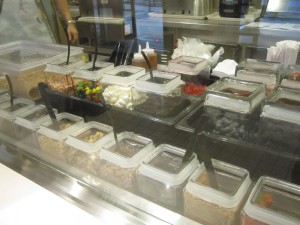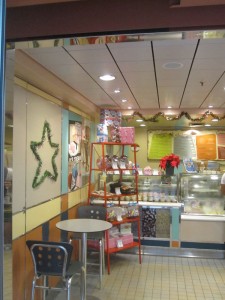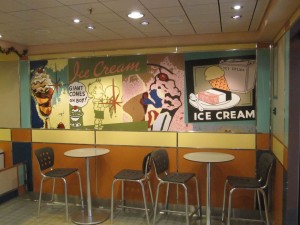 Also located on the Boardwalk are two sit-down restaurants, Johnny Rockets and Rita's Cantina.  I am including these in this section rather than giving them each their own, separate review for many reasons.  One of which is that these are a bit 'easier' to get into (you can walk up and get a table at both, especially at lunch, as opposed to having to have a reservation).  Rita's Cantina charges a cover charge plus the food is a la carte.  Don't let this scare you – the cover charges are low and the food is extremely cheap.
Johnny Rockets offers the same food as you can find at any of their locations; burgers, hot dogs, fries, onion rings, shakes, etc.  The $5 per person cover charge includes everything and anything you care to order except milkshakes, which were around $5 each.  We had a coupon for buy one milkshake at Johnny Rockets and get one free (for being a crown and anchor club repeat cruiser) otherwise I doubt we would have ordered them.  The food is good and when you're craving just a good old fashioned burger it can't be beat.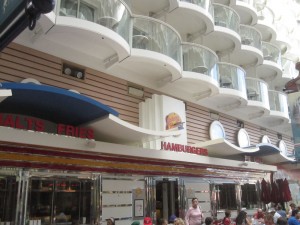 Rita's Cantina is their Mexican restaurant.  A $3 cover charge gets you unlimited chips and salsa, everything else is pay as you order.  Prices are very cheap ($2 – $3 per appetizer and $4 – $8 per entree).  The food was actually surprisingly good.  We had avoided Rita's on a previous cruise as we thought it might be 'one step above Taco Bell' – boy where we wrong.  Everything was fresh and hot and good.  The biggest surprise was the Chile Rellenos, at under $5 it was a huge delicious portion that rivaled anything we could get at our local Mexican place.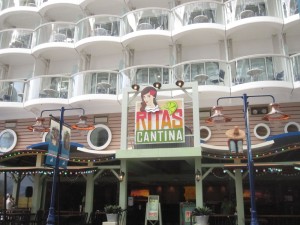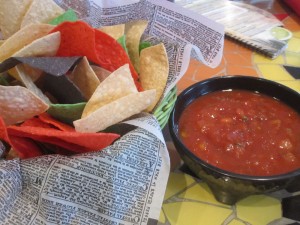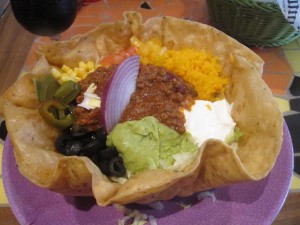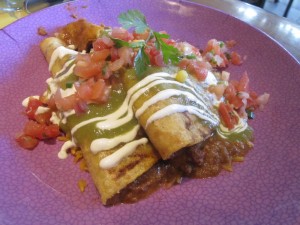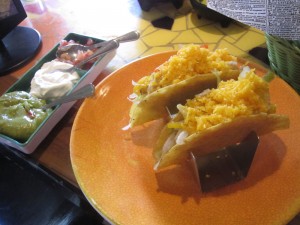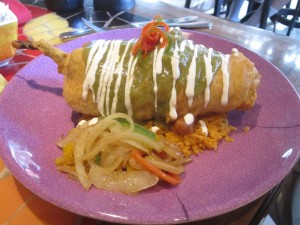 We did hear that the Rita's Cantina's on all of the RCCL ships will be changing over to Margaretville's in the future.  I will be sorry to see Rita's go as it was a pleasant surprise on our last cruise.
Even with the extra cost I feel these options are a nice addition to a cruise.  You don't have to eat at these places, and you could easily have more than enough to eat with all of the complimentary food opions.  For me they are part of make a Royal Caribbean Cruise special.
Now, the food options don't stop here.  I will be blogging about the remaining specialty restaurants within the next week or so.
If you're interested in joining us on our Royal Caribbean Group sailing on The Oasis of the Seas you can see pricing information HERE.  For pricing and information on a different Royal Caribbean sailing please check out this page at Dreams Unlimited Travel.