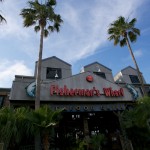 Fisherman's Wharf
2200 Harborside Dr
Galveston, TX 77550
(409) 765-5708
Recently, on a beautiful sunny afternoon, our family made an afternoon trip an hour south of Houston to Galveston Island.  Our mission was to bid farewell to the Disney Magic as it left the Port of Galveston for the last time.  As we waved good-bye to the ship, we decided to stop in at a long time favorite restaurant of mine, Fisherman's Wharf, located at 2200 Harborside Drive, for a late afternoon snack.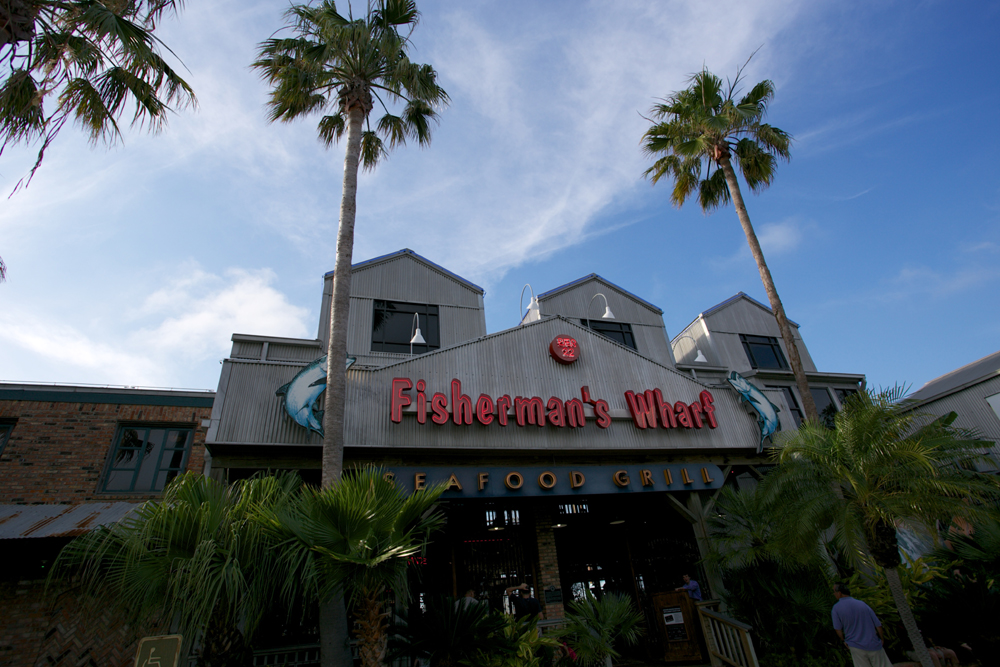 Nestled between the historic 1910 Galveston Cruise Terminal and the Tall Ship Elissa, Fisherman's Wharf offers both indoor and outdoor dining options.  The outdoor dining area is perfect for watching cruise ships, boats, and even dolphins go by.  The interior is adorned with all kinds of "nautical" artwork and unique creations.  This island jewel is a feast for the eyes as well as the stomach! 
 Their indoor dining areas are perfect on a hot Texas day.
Our snack adventure began with a Fisherman's Wharf specialty – Shrimp Kisses.  This heavenly creation is a Gulf shrimp, stuffed with jalapeno jack cheese, wrapped in bacon and fried and served on a bed of onion strings.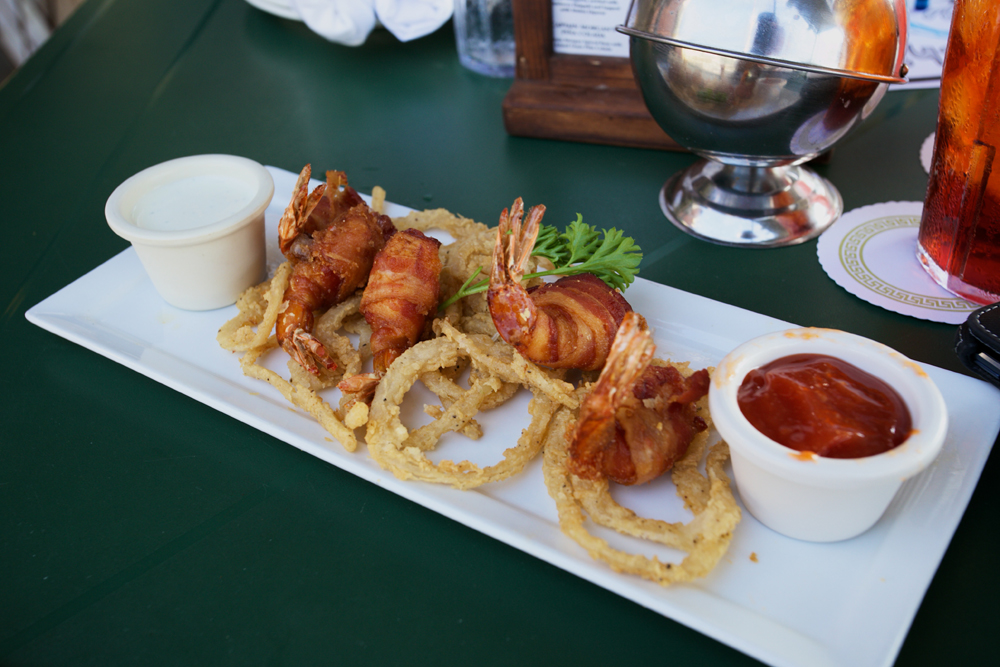 Our adventure continued with the Galveston Trio: seafood stuffed jalapenos, shrimp kisses (because there can never be too many!), and crab queso with chips.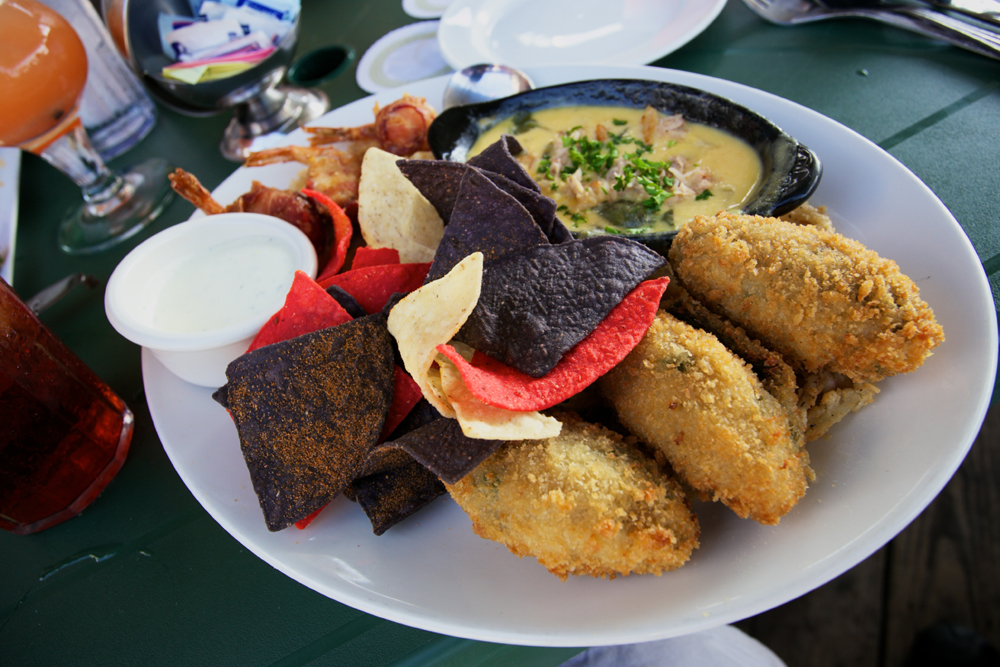 Fisherman's Wharf also offers a kids menu with seafood options in addition to the typical cheese burger, chicken strips, and grilled cheese sandwich.  "Little Fishes" as they are called on the menu, also have a choice of fried shrimp, fried chicken, fried shrimp, and fried fish.  Our "Little Fish" ordered the fried chicken and fried shrimp and promptly rated the fried shrimp "Great!"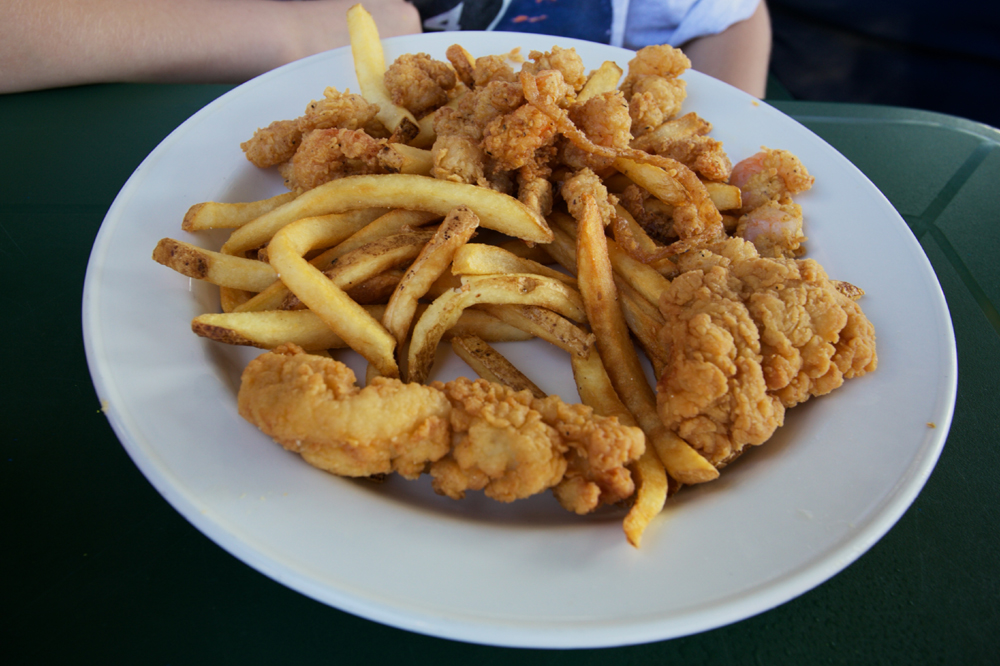 Fisherman's Wharf also offers a full menu of fresh Gulf Coast seafood and specialties.
Galveston Island is located 40 miles south of Downtown Houston and is a historic gem that has been nearly swept into the ocean on several occasions.  From historic homes and churches to the Strand shopping district, Galveston offers many different destinations for vacationers and locals alike to explore.