Jiko – The Gluten Free Place
I was so excited to visit Jiko located at the Animal Kingdom Lodge as the first dinner we were having upon our arrival at Walt Disney World on April 8th.  Why was I so excited about our visit to Jiko? One reason was I couldn't wait to catch up with some great friends and the other was Jiko has its own designated Gluten Free Menu!!!!! It is the only restaurant I have come across at WDW that has a dedicated menu and lots of delicious choices. Anyone with food allergies would appreciate LOTS of choices and safe food!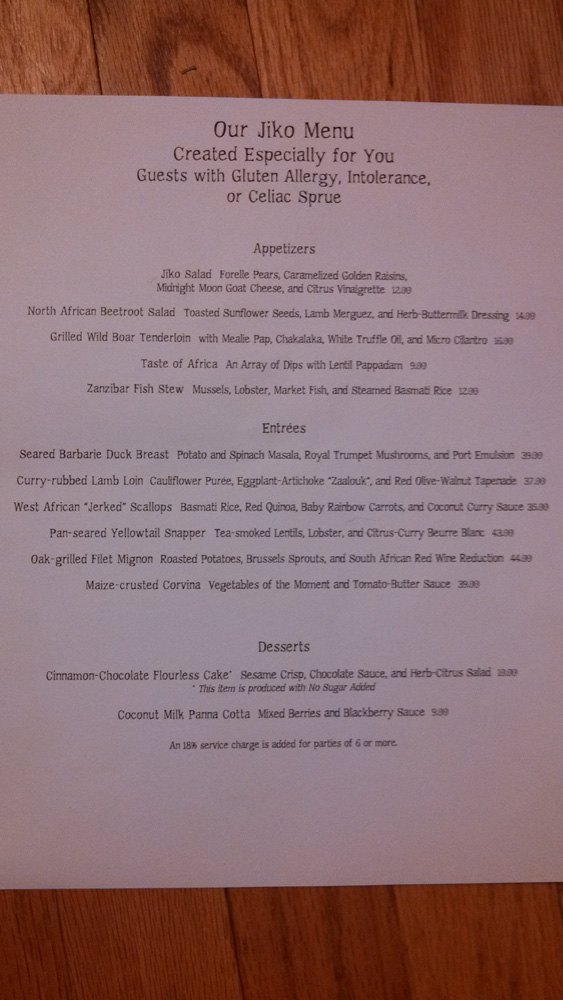 We were coming directly from the airport and meeting friends who had not been to Jiko before. We ran into a little traffic and they arrived first. Our reservation was held for the 15 minutes we were delayed and upon check in at the podium, we were greeted and my allergies were confirmed by the host. We were seated immediately at a table for 4 by the windows where we overlooked the courtyard and beautiful water feature there. We were also in view of the large oven and cooking area. The lights overhead are flying birds and span throughout the restaurant. As always the details and theme set the tone for our meal.  The atmosphere was comfortable.
As we looked over the menus the chef came out to address my allergy needs and I asked a few questions and chose my dinner selection. Because gluten is not my only allergy, we still had to tweak my choices to exclude garlic, soy and seafood as well. My combination of allergies can get complicated and sometimes pose a challenge for the chef but he did not miss a beat. He knew what all the ingredients were in each dish and guided me to my choice.
Our server returned and the others in our party were not ready to order quite yet. We asked for server recommendations for some authentic African cuisine and he left to let us discuss and ponder for a few more minutes. The non allergy sufferers decided to share two appetizers; the first was one of the Wood-fired flatbreads called KG's Peri-Peri Roasted Chicken , Lamb Chopper Cheese, and Pickled Sweet Bell Peppers $10 and the Crispy Beef "Bobotie" Roll Cucumber Raita, Green Mango Atjar and Roasted Groundnuts $9. I could not partake in these selections and decided to save my appetite for my entrée although there were actually FIVE gluten free appetizer choices ranging from salads to soup to grilled wild boar. For our entrees we were not a daring group and all ordered the Oak Grilled Filet Mignon at $44 with variations on the sides and accompaniments. On the gluten free menu it came with Roasted Potatoes instead of the Ancient Grain Rice Pilaf but the Brussels sprouts and South African Wine Reduction were the same. I asked for a different vegetable choice and went with asparagus. One of the things I try to do when ordering my meals is to scan the menu and put together a meal combining choices from the various dishes. The chefs at WDW are always more than happy to get creative and "make something up" to satisfy my allergy needs and palate.
After ordering we were brought two types of breads with butter. I was served gluten free crispy flat bread with a kick to it. I didn't care for it but everyone tried it and thought it had an interesting texture and flavor. The others were given a basket of soft sliced bread that they loved and devoured. The appetizers arrived and were shared by all but me and they raved about them. Both of those choices were beautifully presented, served hot and fresh. The Bobotie Roll had a spring roll texture on the outside and an awesome taste to the beef filling. The flatbread had explosive flavor with a crispy crust and they loved it. Our server's suggestions were appreciated and thoroughly enjoyed by the rest of our party.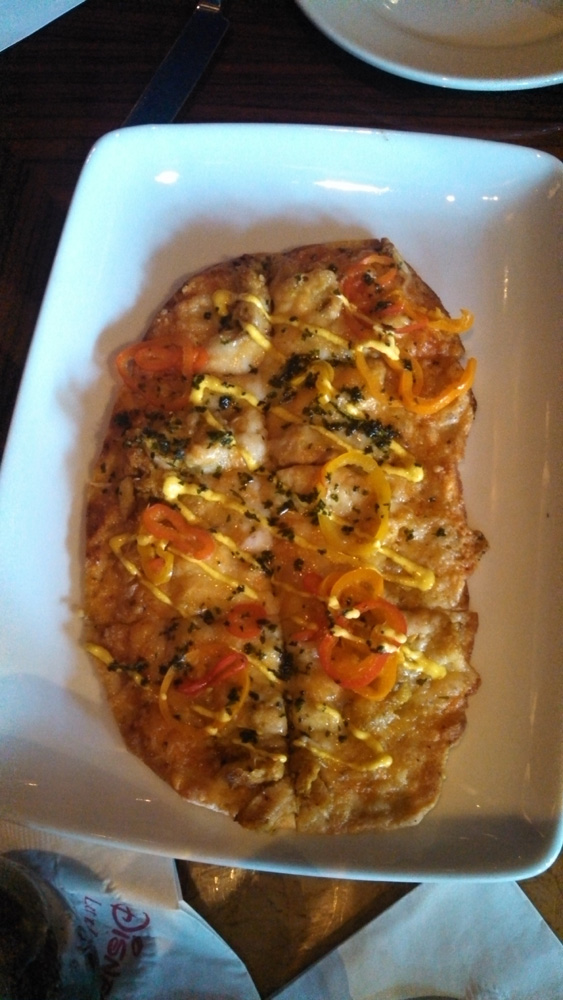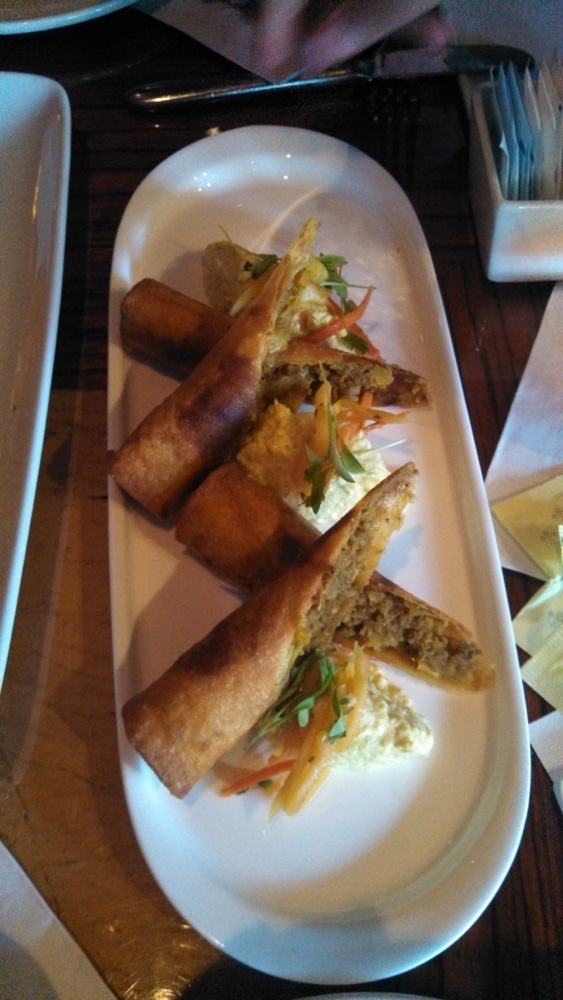 At a relaxed pace the dishes were cleared the steak knives were set and our entrees arrived. My steak was perfectly prepared and delivered to me by the server who confirmed that it was the allergy plate. The meat had an oaky flavor to it and was moist and tender. Although I did not try the wine reduction, our dining guests both enjoyed it. I loved the combination of the roasted potato and those who had the rice dish also commented that is complemented the meat well.  I cleaned my plate as did my husband Tom even though the meal was generously portioned. Although I did not still feel hungry, I have a weakness for dessert especially if there is a gluten free option that is unique. I was so excited to see a Cinnamon-Chocolate Flourless Cake with Sesame Crisp, Chocolate Sauce and Herb-Citrus Salad $10 on the menu and decided to share that with my friend. The others chose the white Chocolate Cheesecake $9 served with a pineapple frozen sorbet type garnish. I was told that it was amazing!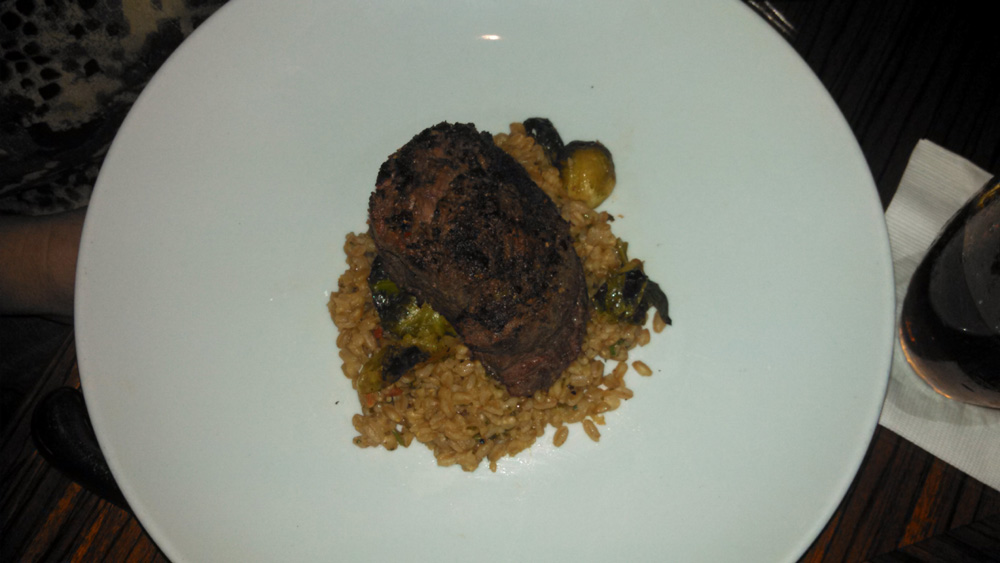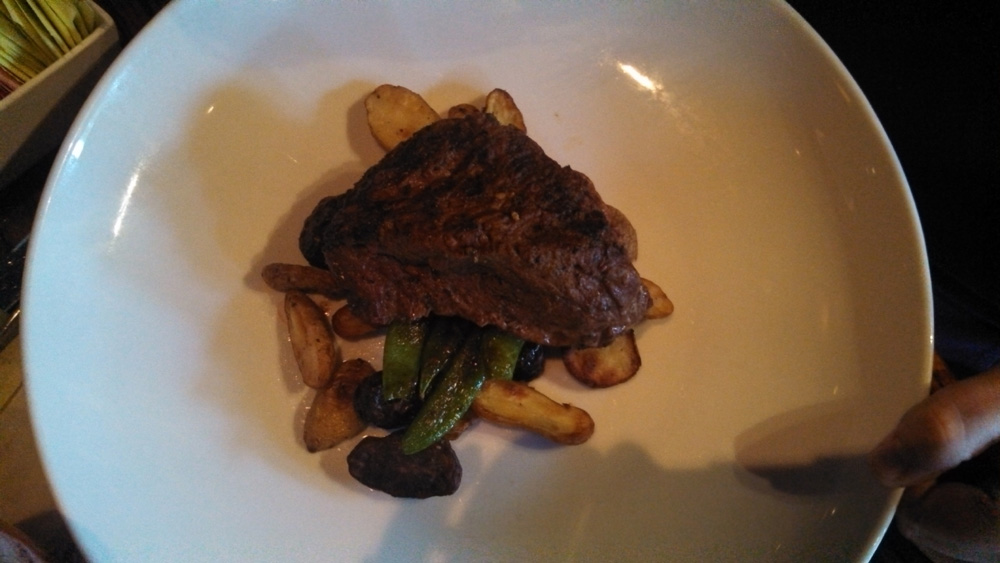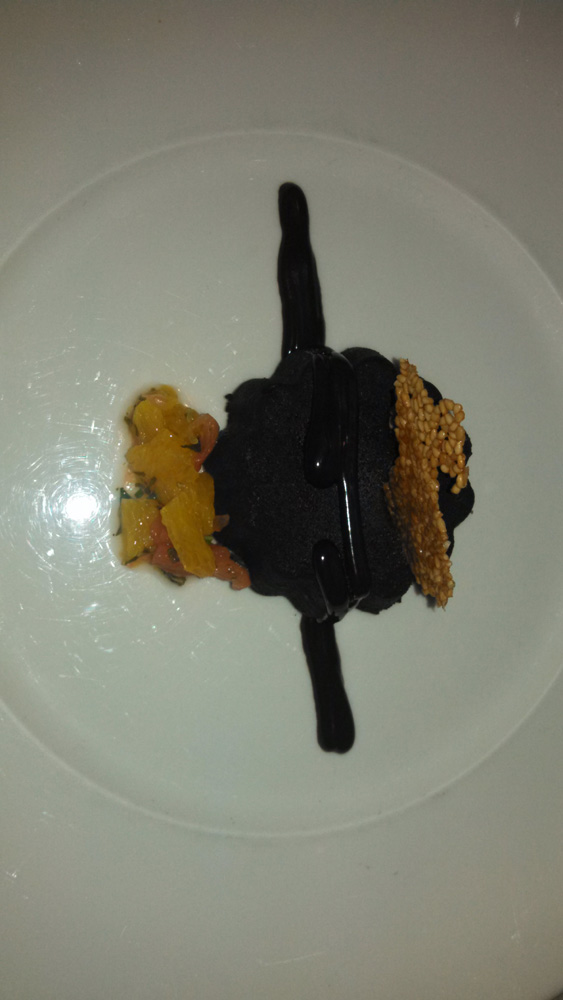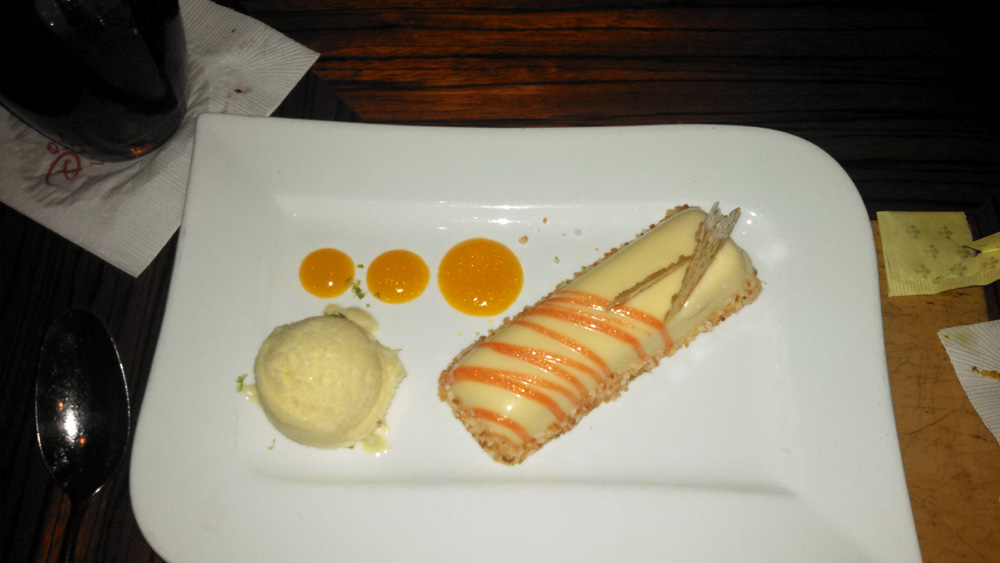 Our dinner lasted a good three hours. We were visiting and catching up with friends and the server respected and paced the meal accordingly. He was attentive, our glasses were always full but we never felt at all rushed. The food was unique and well prepared with great flavor combinations. I appreciate and love that they have an extensive gluten free menu. It is so refreshing to have so many entrees to choose from as well as appetizers and unique desserts. Our meal came to $187.97 with our Tables in Wonderland 20% discount. Gratuity of $42.29 (18%) was added and we threw in an extra $5 because the service was so outstanding for a total check of $248.00. Jiko will be a regular stop for us when visiting WDW and is worth the trip to Animal Kingdom Lodge and the price!

Erika is a financial planner and business owner who lives in Western Massachusetts with her husband Tom and their 3 cats and 2 dogs. She is the mother of two grown children, who along with herself, live with a gluten free diet due to Celiac Disease. She and her family enjoy seeking out quality dining establishments that offer a safe, delicious, allergen free dining experience. Erika enjoys her furbabies and traveling, especially to Walt Disney World.