I'm not the type of person who obsesses over age, so turning 40 was not a big deal to me. Not in the 'oh my God, I'm old' sense, at least. It was a big deal in the sense that I felt it called for a celebration. A huge celebration.
I had it in my head from early 2012 that I wanted to spend my 40th at Disney World. Seemed only logical to me. Why wouldn't I want to be at my favorite place on my birthday?
Dan and I had just gone to the World in November 2011. It took me more than 2 years to talk him into that trip. He'd never been, he didn't understand the draw, blah blah blah – lots of us have been there, I'm sure. But somehow I finally convinced him. We went, and we had a great time… but I still didn't think he 'got it', so that 'turning 40 in Disney World' idea just stayed in the back of my mind.
We had nothing booked. I wasn't even bringing up the idea, barring an occasional, fleeting mention. That didn't stop me from booking dining reservations, though.
In August, I booked dinner at Citricos for my birthday, February 7th. I'd never been to Citricos. It sounded wonderful, from all accounts, and I wanted to make sure we were booked somewhere, just in case we actually went.
I continued to book dining… Chef Mickey's, Crystal Palace for my birthday breakfast, Be Our Guest (as soon as it was possible to book, I jumped on it)… despite the fact that the trip was still more or less a pipe dream.
November rolled around, and Dan and I are at a wine tasting. We're having a great time, talking and eating and tasting… when Dan suddenly says, with no prompting from me, "Aren't we supposed to be going back to Disney soon?" That was all I needed. Two days later, we were booked!
And once Dan was in on the planning that had previously taken place only in my brain, we talked about restaurants. He was all for trying new places, but we both kept coming back to Jiko. We'd eaten there on our previous trip, and it was easily one of the best meals we'd ever had. Jiko wasn't on my list for this trip at first, but after some discussion and back-and-forth, Citricos was canceled, and Jiko became the location for my 40th birthday dinner.
February came, and we were enjoying a wonderful week in the World. It was more crowded that I'd expected it to be, but it didn't matter. We were there, and having one delicious meal after another. Breakfast at Crystal Palace on my birthday was wonderful, and we spent the rest of the day in Magic Kingdom. Perfect day so far.
Now, there were rumblings going on about some insane snow storm coming back home in New Jersey. Some kind of end of the world snowdemic. I checked the weather report a few times, but tried not to let it distract me too much… until we were on the bus from Magic Kingdom back to Port Orleans Riverside, when I happened to check to United Airlines website on my phone. Our flight, scheduled to leave Orlando the following night, was CANCELED.
Time to scramble! Back at our resort, we began to try to get on a new flight. I won't go into the string of expletives I screamed at the phone as I sat there on hold for all eternity, or getting hung up on by a recording… but it wasn't pretty. I didn't want to spend even a minute of my birthday dealing with this nightmare.
The castmembers at Riverside were a thousand times more pleasant to deal with. We got our reservation extended – so at least we wouldn't have to worry about where we were sleeping – and we would be able to stay in the same room. A+ marks for Riverside all around.
Finally, after two frustrating hours, we got re-booked. Two days after we were supposed to go home. On a flight going from Orlando to Chicago to Newark. It wasn't at all what I wanted, but it was the first available, so we took it.
I tried to let the stress of the whole experience wash away, as difficult as it was. We got ready, and headed over to Animal Kingdom Lodge.
There's nothing quite like the smell of the Jambo House lobby. It's instantly calming. The entire atmosphere is, in fact. Dimly-lit and cool, with that fire pit scent wafting through the air, it's a place I think about longingly very often.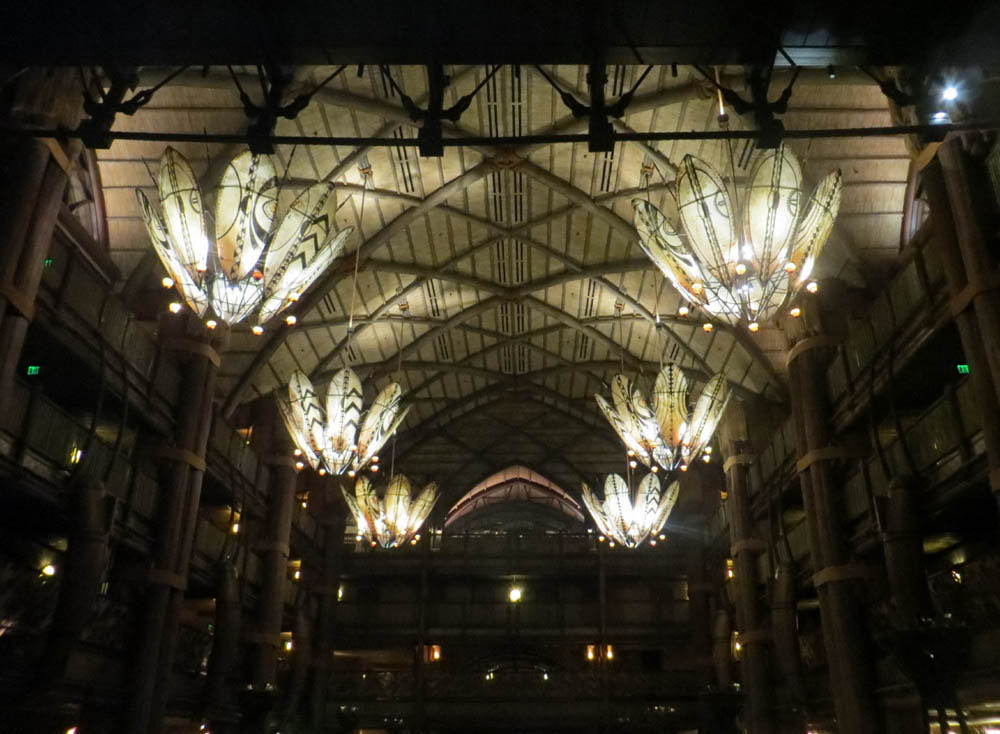 After soaking in the atmosphere for a moment, we headed downstairs to Jiko and checked in. A few minutes later, we were seated in the beautiful dining room and greeted by our friendly and attentive waiter. I wish I could recall his name, but unfortunately I can't. I do recall that he had only recently started working at Jiko (he was at The Brown Derby before that). I asked him what kind of sparking wines they had. It was my birthday and I was definitely having some champagne! He offered me a taste of one their bottles. I found that odd, but of course, accepted.
He soon returned with this: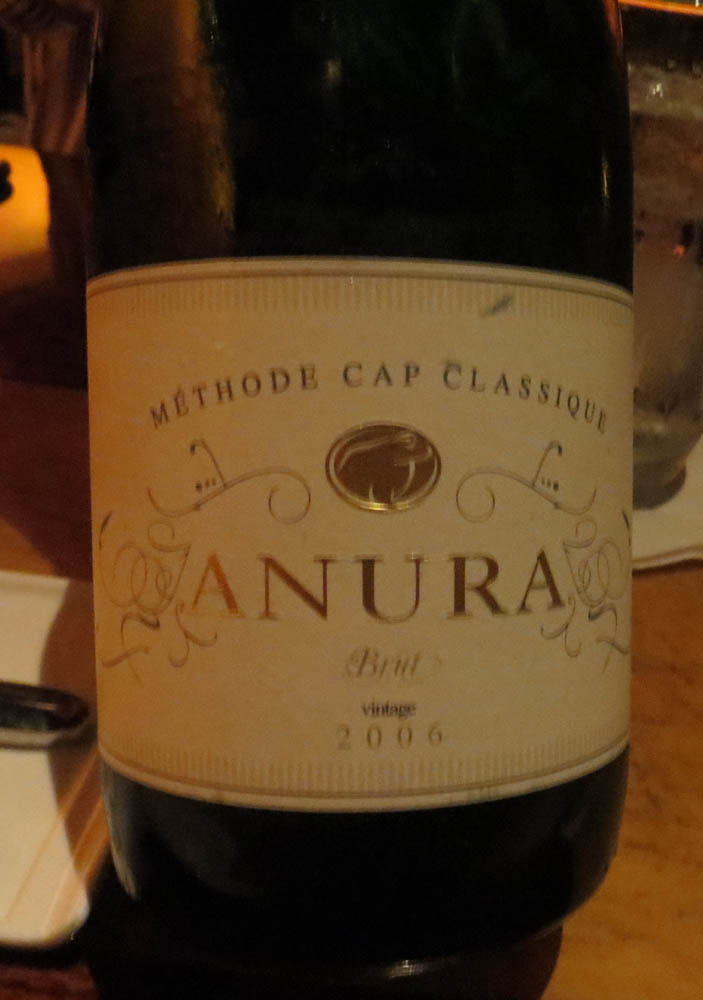 … and this cute little card: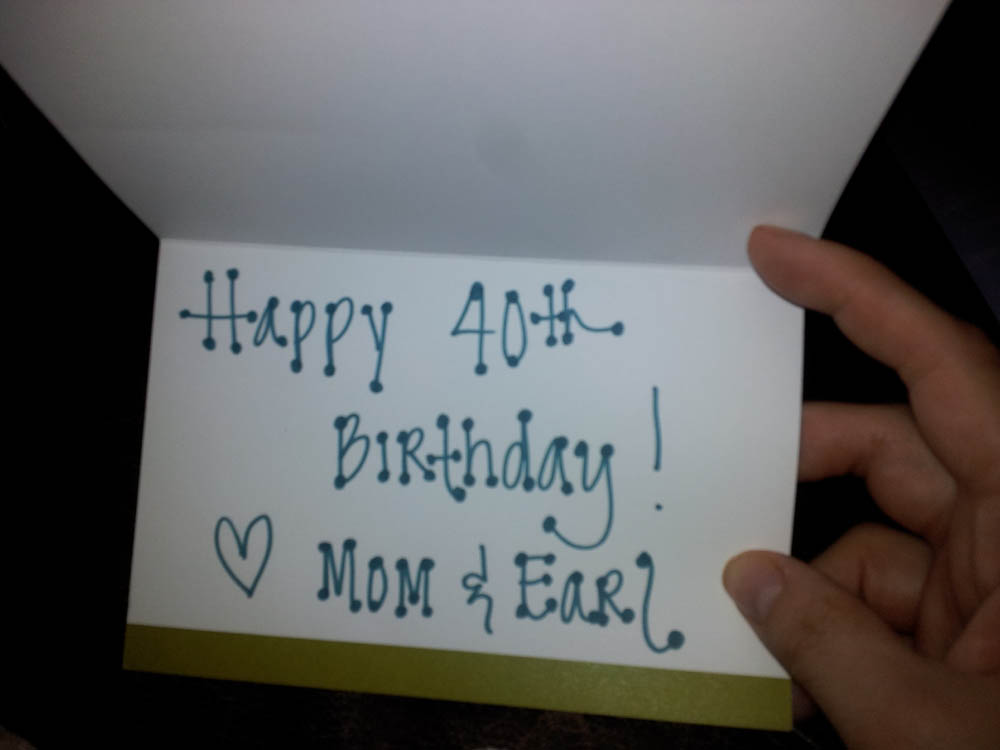 My parents are the best! They'd called down from New Jersey and bought me a bottle of birthday champagne! No wonder my mom asked to see my trip itinerary 🙂
This was a nice, dry sparkling wine (it's not 'champagne' if it's not from the Champagne region of France, and Jiko serves African wines exclusively). We would buy it again, if we could find it outside of Disney World.
Our next surprise was an amuse-bouche.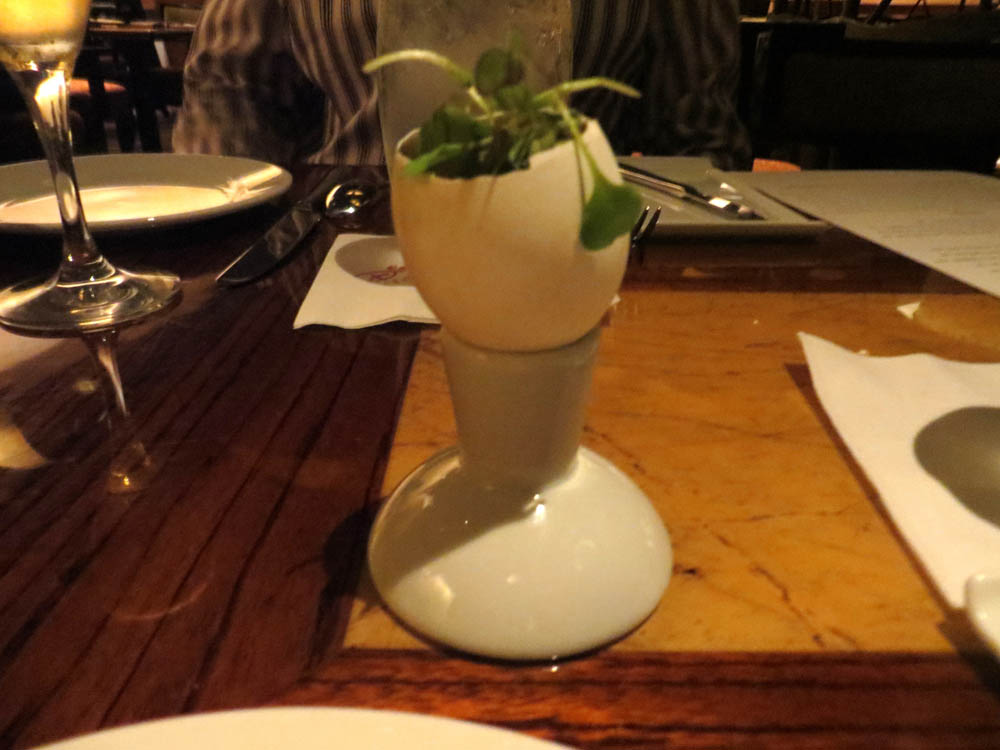 Inside this egg shell was tar-rubbed lamb, micro greens, and something like pap or quinoa – I couldn't really tell what it was. The lamb was cooked and seasoned nicely.
We ordered the Artisinal Cheese Selection. We are big fans of cheese. Seriously. If there's a cheese platter on the menu, we order it.
A detailed description of the cheeses we were served: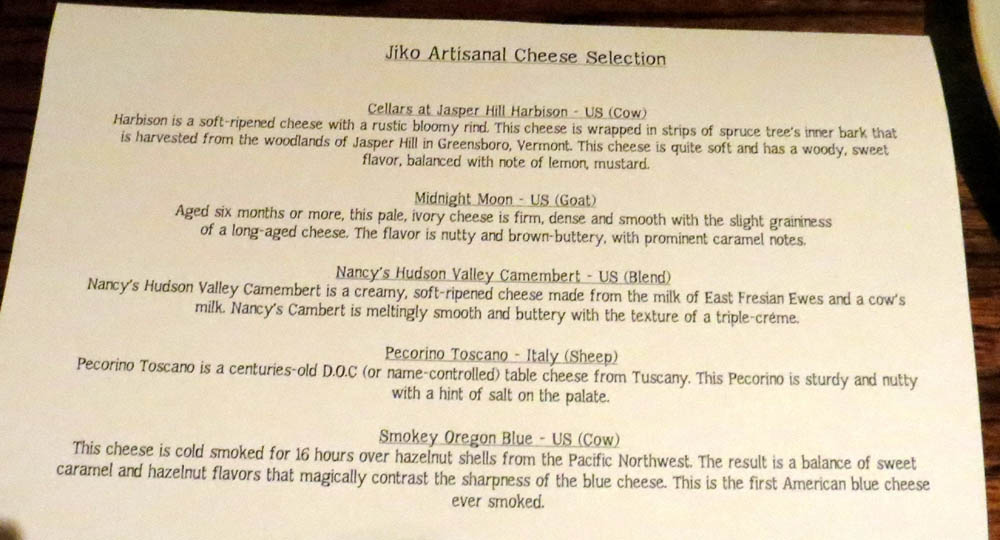 The accompaniments, to the best of my recollection and descriptive power, were, from left to right, thinly-sliced crispy bread, grainy mustard, fig jelly, honeycomb, and a jam-like strawberry sauce.

The accompaniments were good, but the cheese was much exciting – especially the Pecorino Toscano, and the Harbison.
Dan and our waiter discussed other appetizers, and we wanted to take our meal slowly, so once we finished the cheese, we ordered the Wild Boar Tenderloin.
Normally, I don't taste new things. Especially what I would deem 'unusual' meats. I can be horribly stubborn and picky, but I think I'm getting better. I will use the fact that I tasted wild boar as evidence of that.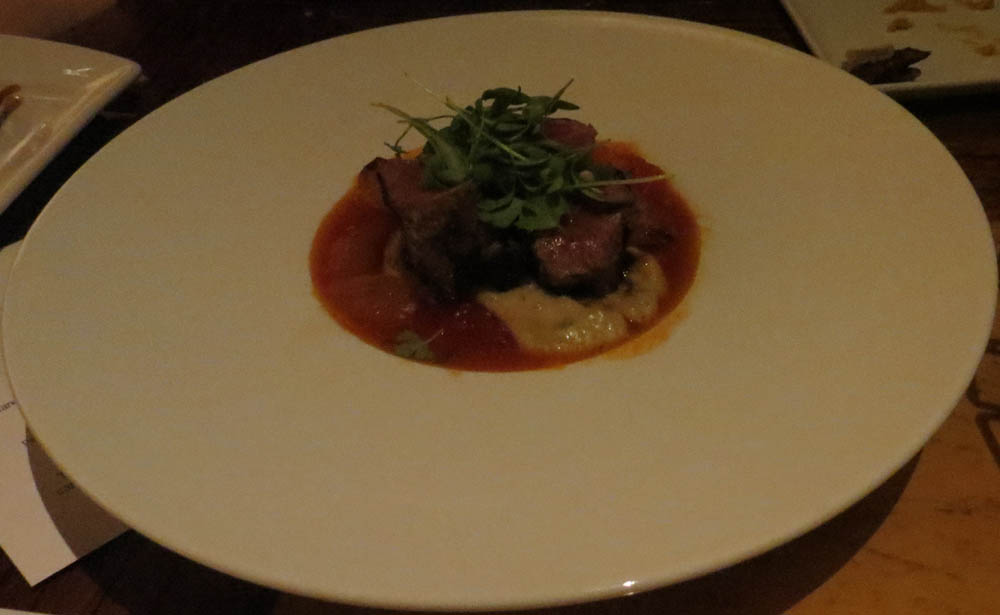 Grilled Wild Boar Tenderloin with Mealie Pap, Chakalaka, White Truffle Oil, and Micro Cilantro
The boar was fantastic! So tender and not at all gamey (which is what I expected). I left the Mealie Pap and Chakakhan to Dan – I'm not that adventurous – but the boar was well worth stepping out of my food comfort zone.
Since we were venturing into foods that are paired better with red wine than sparkling, we ordered a Cabernet Dan had noticed in the wine rack while we were waiting to be seated.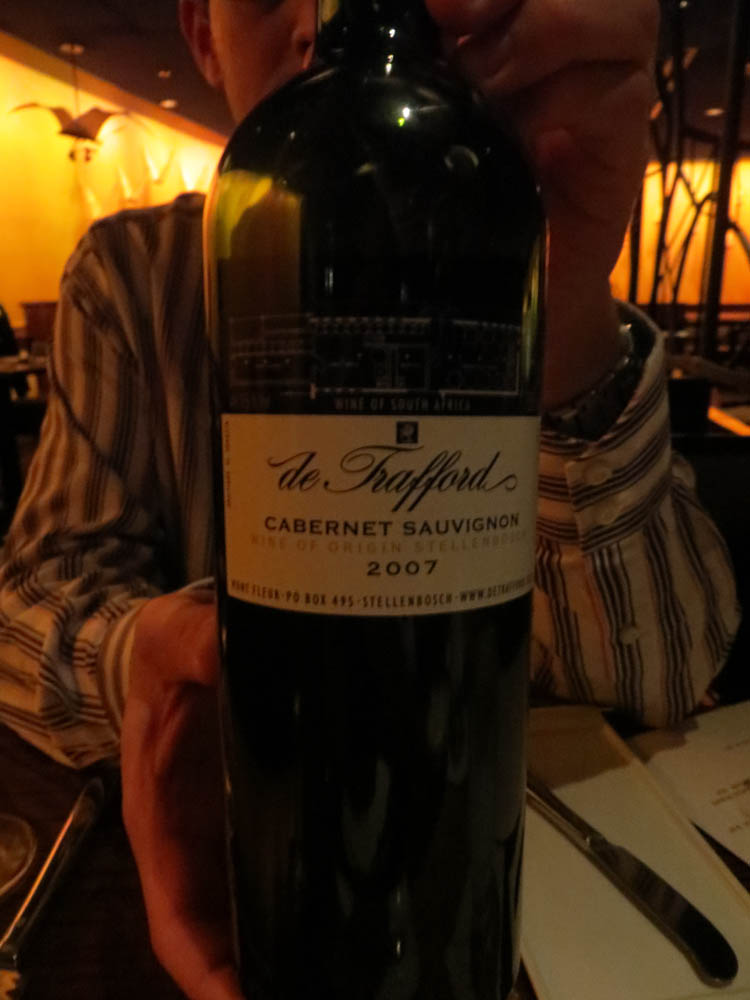 2007 deTrafford Cabernet Sauvignon (South Africa)
I honestly don't remember the exact details about this wine, but it was fabulous. 2007 was an amazing year for Cabernet Sauvignon, in our experience, regardless of where it is from. And 2007 bottles are getting harder to find. Just a little hint to you wine drinkers out there.
Okay, back to the food!
Another surprise followed the wild boar – a palate cleanser!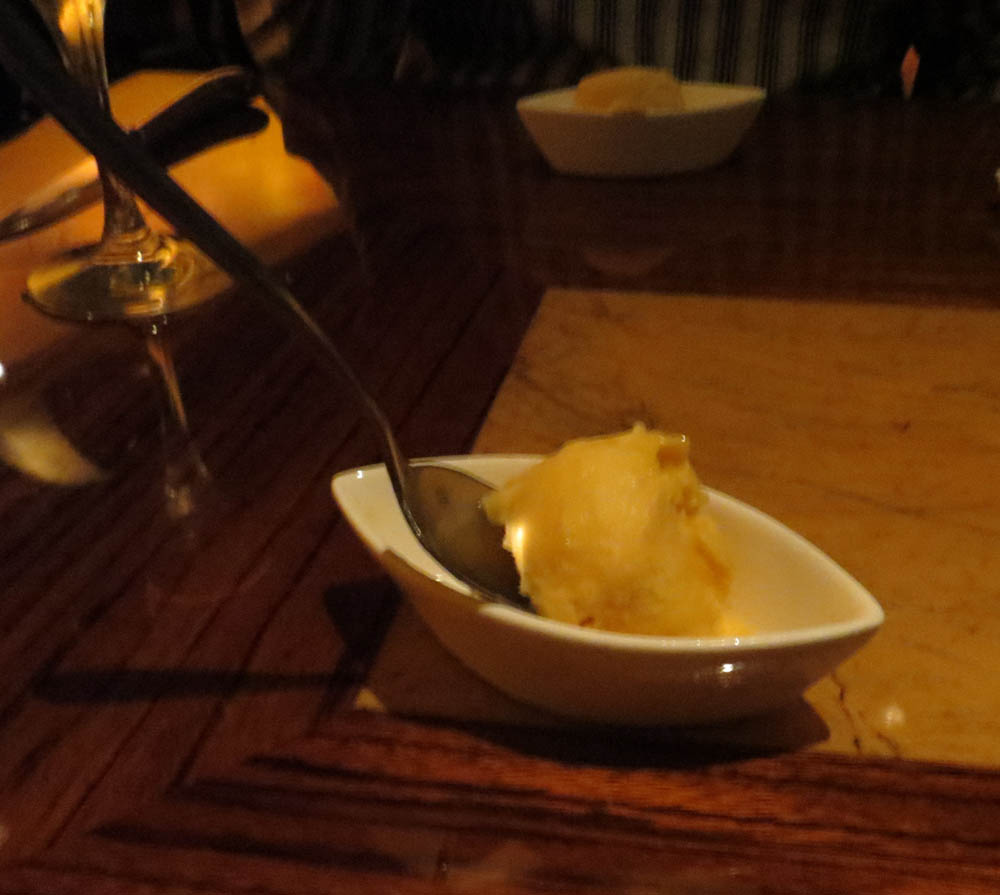 Our waiter didn't tell us what flavor sorbet it was, so Dan and I were trying to guess. Our imaginations picked out more exotic ingredients, like white tea and mango… and then he told us it was apricot. We had to laugh at ourselves. Oh well, it was still good!
Anyone who's been to Jiko can probably guess what we ordered for our entrees. The meal I daydream about so frequently…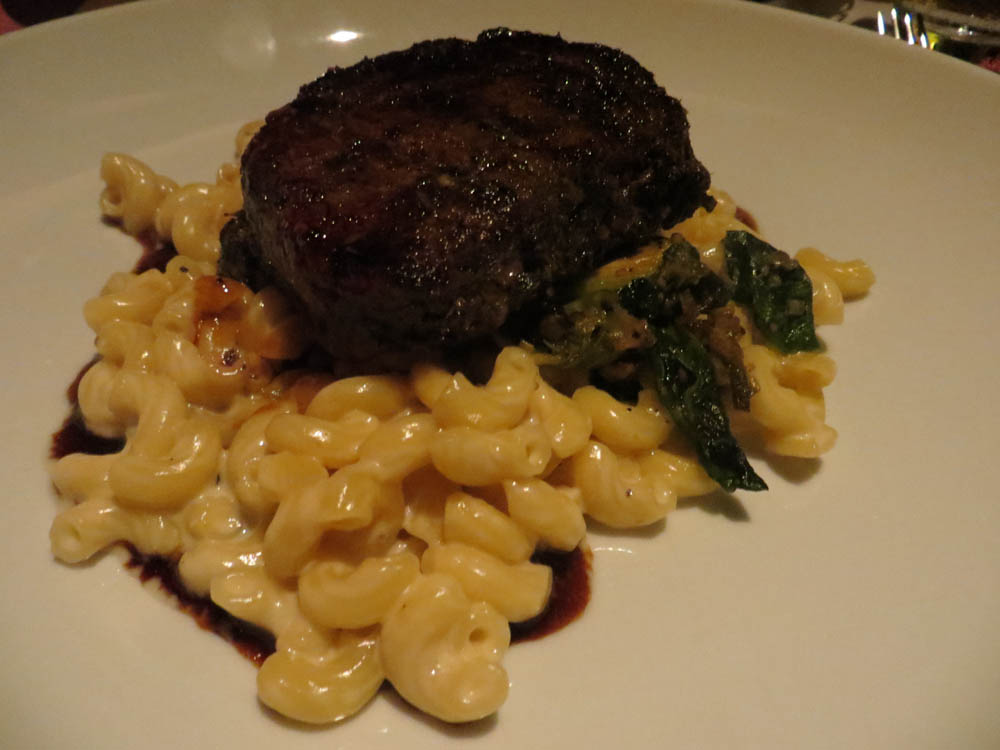 Oak-Grilled Filet Mignon, Brussel Sprouts, Macaroni and Cheese, and South African Red Wine Reduction
The side dish listed on the menu was Ancient Grain Pilaf, but thankfully, we were able to get the filet served with it's former accompaniment. It seems all you need to do is ask for this substitution. And that macaroni and cheese is worth asking for!
Dan and I pretty much never order the same entree, but all bets are off when it comes to the filet at Jiko!
After savoring our entrees, it was time for coffee and dessert.
I'm honestly not sure what either of these are. I didn't take a photo of the dessert menu. I was initially disappointed that my favorite dessert from our previous visit – One Last Cup – was no longer on the menu. But both of our desserts were absolutely delicious. That disappointment faded immediately.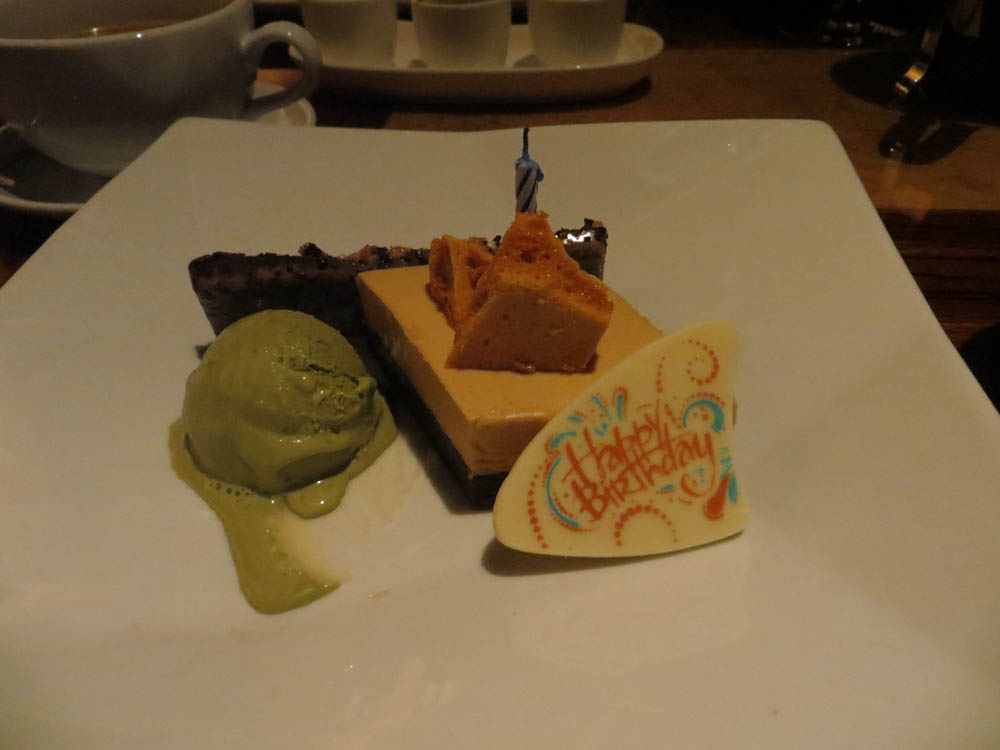 Judging by the current menu online, I believe this is the Chocolate and Tea Safari Vanilla Rooibos-Tanzanian Chocolate Cake, Free Form "Kit Kat", and Green Tea Ice Cream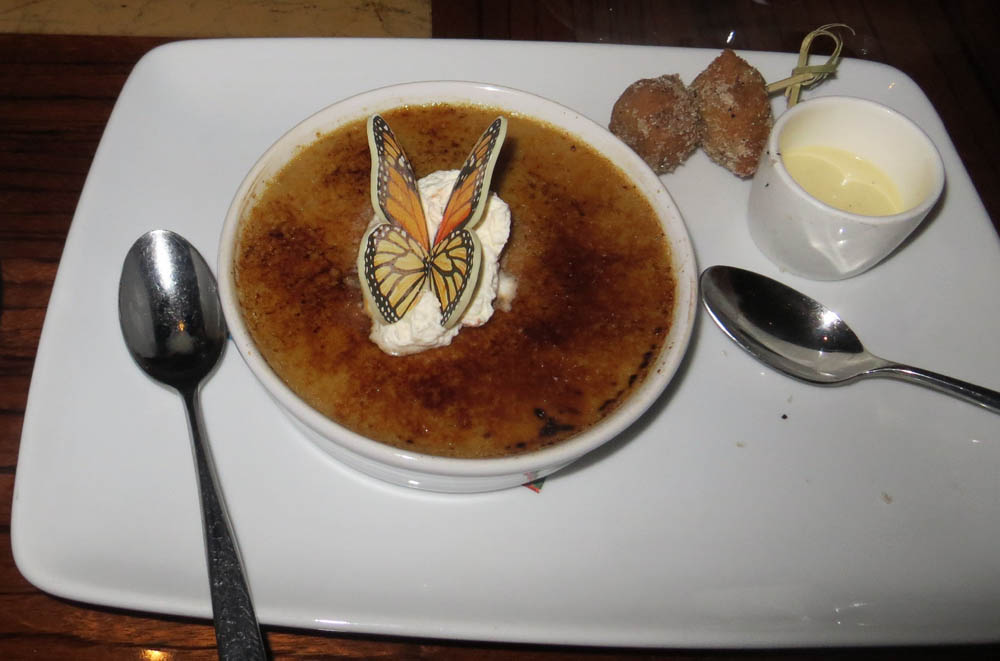 As for this beautiful creation – my best guess is it was a coffee or cinnamon-flavored crème brulee, with little cinnamon donuts on the side. Whatever it was, it's not on the current menu.
This was another stellar dining experience. Sitting in Jiko, you can easily forget you're moments away from the busiest theme park in the world. You're transported to a soothing, comfortable place, where you can linger over incredible, creative food, and enjoy a great wine list and top-notch service. The stress of our midday flight-finding fiasco was a distant memory. It was a terrific birthday. We were full and happy… and plans for our next visit began to formulate in my mind as soon as we paid the check 🙂

Indeed!

Gillian is a native New Yorker living in New Jersey with her boyfriend and their cat. When she's not busy providing technical support in the exciting world of mainframe software, she enjoys singing, writing, Disney World, and nights full of good food and fine wine with her friends and family.